Yesterday, I shared Summer Part 1 at Gibbs Gardens and today I'm back with Part 2 and the Manor House, which is where Jim Gibbs and his family live full time.  It's an amazing view on top of this mountain in North Georgia and the attention to detail in the landscaping is breathtaking.  This was my first time seeing the house and surrounding landscape and wow, were we impressed.
After strolling up the winding pathway and in front of that gorgeous arbor and flowering walkways, the house came into view.  I read that the house was built in the 80's in a European manor style and it certainly looks current and timeless.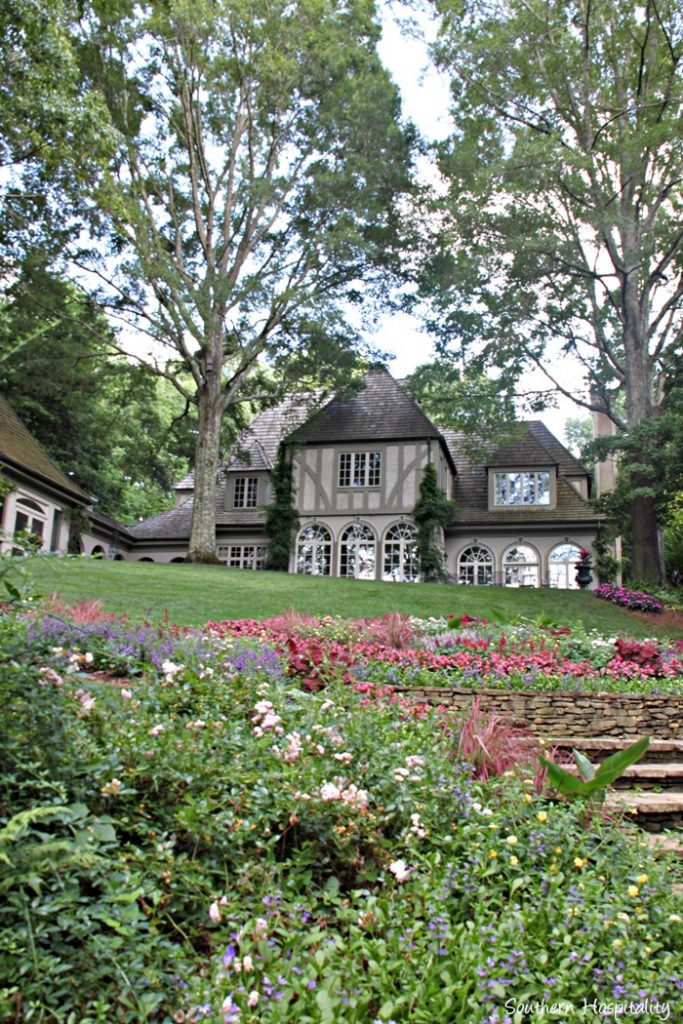 I'm sure all the details were thought out as this house was being built and situated on top of this mountain.
We thoroughly enjoyed seeing the house and gardens.  It's amazing that they allow visitors to Gibbs Gardens to stroll all around their house and even sit up on the patio right outside those windows above. There were wrought iron chairs up there and they encourage folks to sit and enjoy the view.
Still walking on the pathway up to the house, this beautiful iron gate was on one side, leading to another path it looks like.
I was so enjoying taking it all in and meandering up the walkway to the house.
There is even a pool house built with bathrooms open to the public for use.
The natural pool was so beautiful and I could imagine sitting out here for hours.
With a deck and pergola, it would be a wonderful place to relax.
All the rock work just adds to the ambience of a mountain retreat.
Gorgeous, isn't it?
All along the pathway were beautiful blooming annuals, all showing off this time of year.
Another stone walkway meanders up to the backyard where more beauty awaits.
The back of the manor house is equally as beautiful with plenty more plants to behold.
Amassed blooming impatience are so stunning.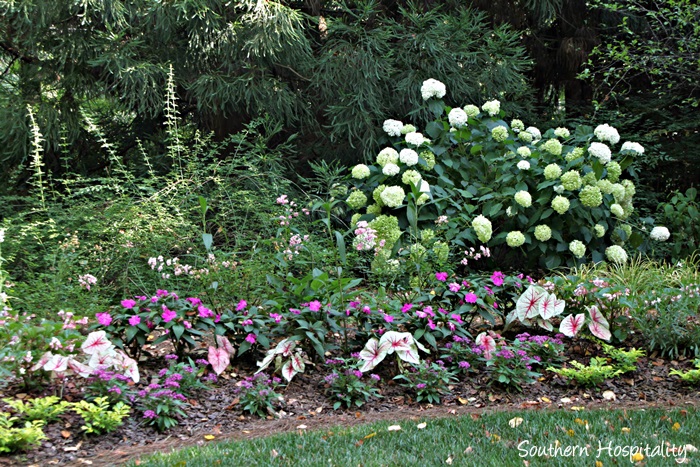 More hydrangeas and other annuals.
Coming around the side of the Manor house to the driveway, this house is so gorgeous.
We heard this statue was the first one that went in for one of the grandchildren of the Gibbs.  Then the other grandchildren all got their own statues as well.  I featured those in the Spring posts here and here. 
These gardens are truly and labor of love and you can tell that Mr. Gibbs is completely passionate about building the house and landscaping this property, which took 30 years to finish.
The fact that he has opened it up to the public to enjoy is really remarkable as well.  It's too beautiful not to share!
And I'm happy to visit and enjoy all this beauty less than an hour from where I live.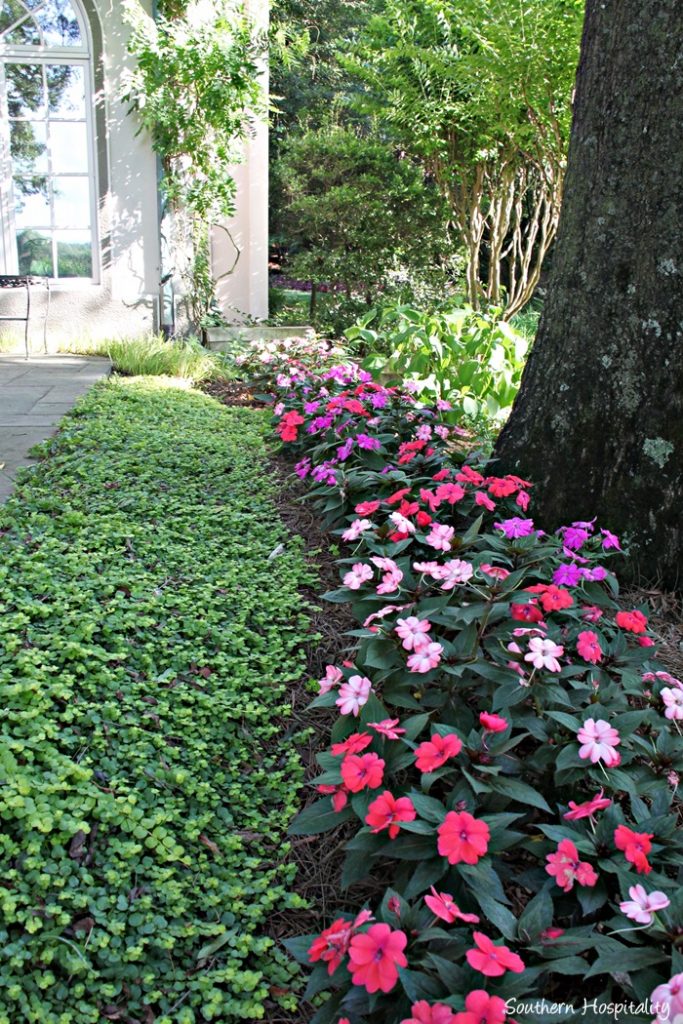 There were 2 kitty cats hanging around too and I have a feeling they get lots of love and attention from everyone.
The beauty at Gibbs Gardens is really remarkable and so enjoyable.
Nature at its best.
We strolled back down the hill that evening to the strains of blue grass wafting through the woods and sat for a couple of hours.  We grabbed something to eat at the cafe and so enjoyed the evening.  I ran into someone I had met before, Erica Glasner, well known horticulturist and author who lives here in Atlanta. She and I had met at Barnsley Gardens last year and she is now the new Marketing Manager for Gibbs Gardens and I'm so happy for her.  She's perfect for this job.   She's doing guided walks through the garden during the summer months too, so check out the Gibbs Garden website for all the details.
Watching the sunset in the mountains shining on these gorgeous blooming hydrangeas was a sight to behold.
If you live in the area, I'd definitely encourage a visit to Gibbs Gardens. You won't be disappointed!
Don't Miss a Post, join my list!