As promised, today I'm sharing all the sources for my sister's master bedroom renovation. We shopped wisely for the most part and found some pretty great deals on everything and I'm going to share step by step how we put it all together.
And don't you love to know what things cost?  I'm sharing that too!  This room redo is not one of those less than $1,000 deals.  The total might be more than you would think, it surprised me too, after we added it all up, but really for a complete TWO rooms redo, it's not bad at all.  The old saying, you get what you pay for, is so true sometimes in the decorating world.  Some of those budget rooms we see on TV, look like budget rooms.
My sister does have great taste, but she trusts my judgement on which direction to go and relies on me in the final decisions on decorating she does around her house. I'm her guide and the one she bounces ideas off of and she likes to have my stamp of approval on things before she buys.
She had already found a few fabrics that she had in mind to use and those are the main fabrics that we used for inspiration. I loved the scrolly fabric with all those great colors to pull from.
In case you missed it, this is the BEFORE of the bedroom.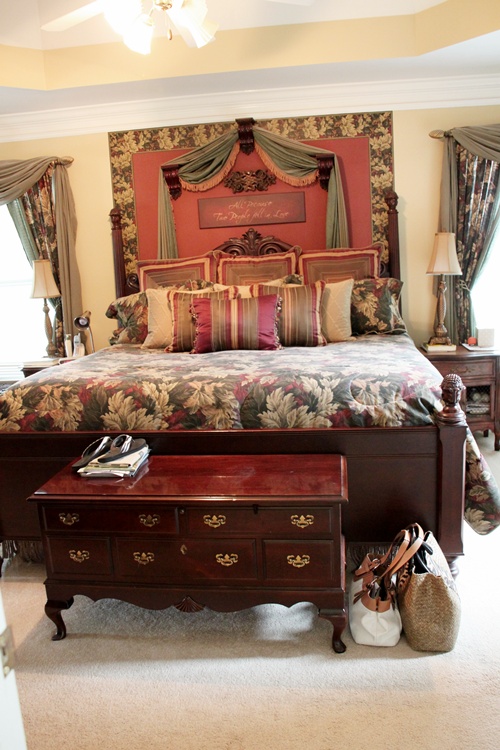 And the AFTER, which I posted recently.  You can see the whole post here.
By the way, my sister bought this King bed on Craigslist a couple of years ago. It's a beautiful bed, but she has decided to do an upholstered headboard.  If anyone in the Atlanta area is interested in the bed, let me know and I'll put you in touch with her.  It's solid wood and a very nice bed!
Other side of the sitting room. You will want to scroll back and forth a couple of times to get the complete awe at the changes.
BEFORE
AFTER
So, here we go on the product sourcing we used in putting this bedroom together.
She had already found the aqua/cream scroll fabric from Needful Things, a local fabric/accessories store.  They are on Canton Hwy. in Marietta if you're looking to visit.
She is going to use that aqua and cream fabric below top left in her bathroom eventually. We haven't done that yet.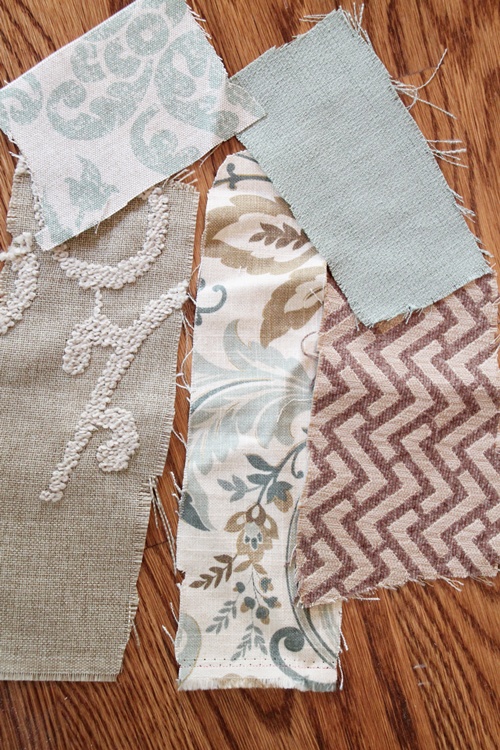 We then went shopping at Fabric and Fringe on Canton Hwy. and found the beigey fabric on the left, also with a raised scroll design.  It was decided to do a reverse duvet cover with trim out of these 2 fabrics and King shams out of the beige/cream fabric on the left also.  The large body pillow was made from the aqua scroll fabric.
King Reversible Duvet, 3 King Shams, and Body Pillow:
Custom made at Needful Things:  Labor $350
Fabric Total:  $380
Taupe and cream duvet and shams fabric: Ecstacy-Cafe from Fabric and Fringe Warehouse.
Fabric from Needful Things & Fabric and Fringe Warehouse.
Here's the tutorial on that fab stenciled wall!
Someone asked how the bedding is put together.  She started with a cream matelasse and shams from Tuesday AM ($70) and added the duvet (with down comforter insert) with 3 King Shams and body pillow.  The cream bedskirt is from Bed Bath and Beyond ($30).  The duvet is folded back at the end of the bed with the coverlet underneath.
The 3 King shams are at the back, with the 2 King matelasse shams in front and the body pillow at the forefront.
The cream rug was found online also for $360, sorry don't have a link.
She found the cute zebra stool at Target for $50.  Lamp from Homegoods for $39.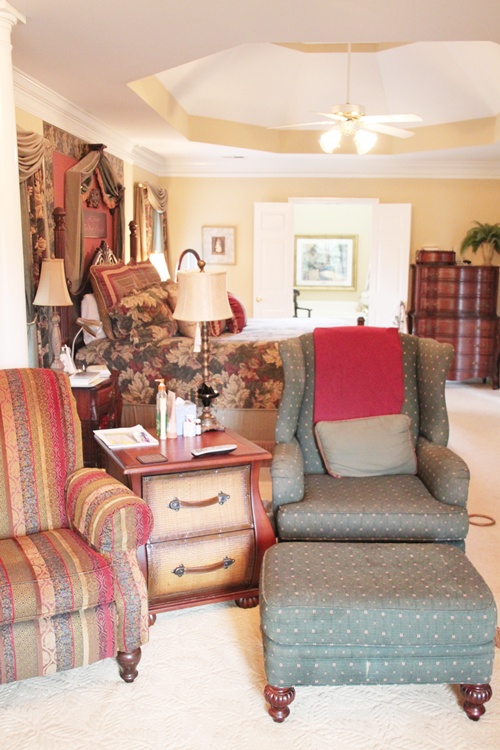 BEFORE pic of the chair(s) and ottoman in green.  What a difference new fabric makes!
The recliner on the left is mine.  My BIL used it when he had shoulder surgery recently.
The wingback chairs recovered in a chevron fabric.  The chevron fabric came from Fabric and Fringe Warehouse, (sorry I don't have the name or manufacturer) another local shop that is in Marietta on Canton Hwy.  I love this place!  It's definitely one of my fave places to shop fabrics and fringes.  They have great prices, so if you haven't stopped in, you must check them out.
She had them reupholstered at a local shop, Glaber Upholstery.  He did a great job and was fairly priced.  They are located at the corner of Bells Ferry Rd. and Barrett Pkwy.  Cost for labor on the 2 chairs and ottoman was $560, plus the cost of fabric at around $170.  So, not a cheap alternative, but better than buying new chairs.  These chairs are a very decent brand and are very comfortable, so she is glad she had them recovered.
Lamp between the chairs is from Homegoods and is mine.
She already had this throw, so not sure where it came from.  The large painting above the chair was a Kirkland's find at $159.  It's a large piece and fits the wall nicely and brings in the perfect colors to the space.
Plants she already had.
Accessories on top of fireplace.  Candlesticks to the left, she already had. 
Modern print in middle, Homegoods find at $60. 
Horse:  TJ Maxx,  $25
Tall vase:  Homegoods, $20
Manzanita branch:   Homegoods, $16
It was fun styling both the fireplace and the top of the entertainment center.
Top of entertainment center.
Grass in Vase: Marshall's, $10
Tall white vase:   Marshall's, $18
Mercury glass orb:   Marshall's, $25
Print on Easel, Homegoods: $30
Faux Coral: Previous Craigslist purchase
Dresser she found several years ago at an antique shop and bought the whole set. She decided to take off the mirror that came with it and added a print instead.
Lamp on left is mine and came from Homegoods.
Painting Print:  Homegoods,  $70
Faux orchid:  Homegoods,  $25
Silver Picture frame:  Marshalls – $6
The orchid is really pretty!
Silver container:  Homegoods or TJ Maxx, $15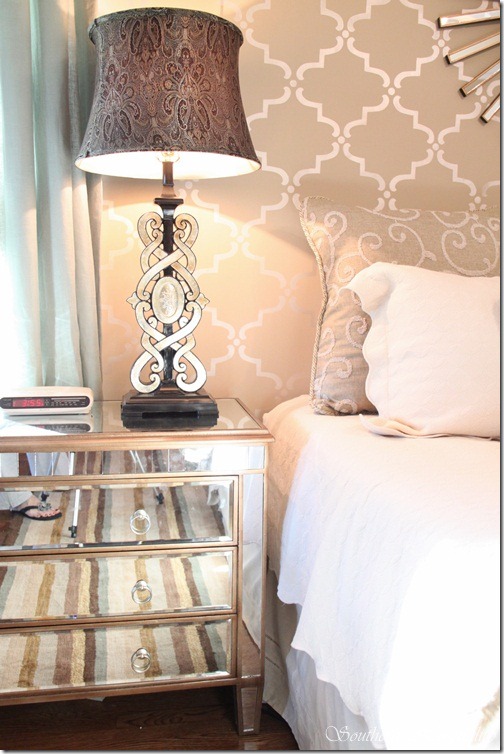 Lamps and mirrored side tables. I spotted the lamps at Homegoods and knew they would work well in here.
Lamps:  Homegoods, $60 each
Large floor mirror, Homegoods:  $99
Rug, found at a local rug shop and ordered online:  $517, no tax or shipping at Buy Area Rugs.com, with 20% off at the time she bought (9×12).  That link is no longer working but the rug is called Kaleen Chotu Sebring (Coffee is the color) and you can Google it to find it from other sources.
Here's another link from Rugs USA for the same rug.  It doesn't look at ALL like this rug, but trust me, it's the same one!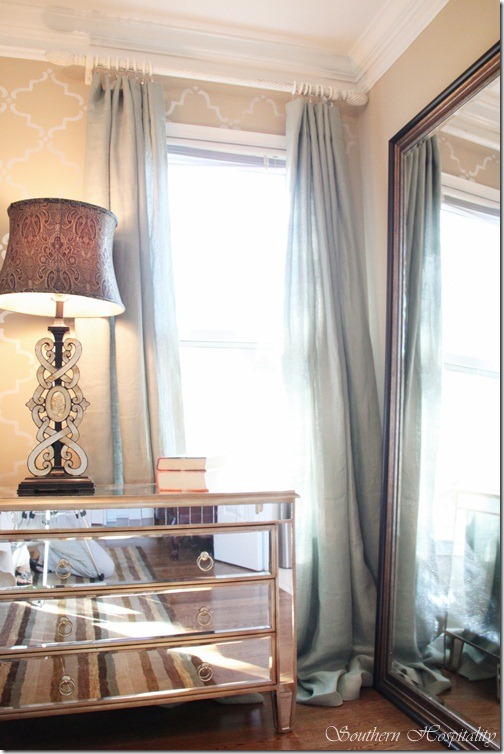 Drapes were purchased from Fabric and Fringe Warehouse, ready made in aqua linen, 96″ and lined: $79 per panel x 6 panels.  They carry quite a collection of ready-made panels that can be ordered.

Mirrored nightstands, Tuesday Morning:  $300 each
Zebra rug, online:     Rugs USA $60
Lamp, Homegoods: $29
Looking back out to the bedroom.
New colorful towels from Target.
Mercury glass covered vase, Homegoods:  $29
Willow House aqua vase to the right is mine.
The new and improved room.
Starburst mirror, local shop Outrageous Interiors:  $129
Bench, Marshalls:  $79
Bedding, with bedskirt and rug.
So, the total!  Drumroll please…..dumdeeedeeedum!
I did a quick add of all these numbers and came up with $4,624.
No, not cheap, but really if you compare it to the rooms they do on TV, it's a bargain for all that went into this space.  I've seen rooms done for less than a $1,000 and they can look quite nice, but you're not going to get this glam look for that amount of money.  My sis had been saving her pennies just for this room!  So, that gives you an idea of how much it costs to get this look and how much you'll need to get started.  You can always do a room in stages too.  Save up and do one thing at a time!
I can do a room on a shoestring budget with the best of them, like my black and white guestroom in my old house for less than $500, but sometimes spending more is worth it.
Tips on Putting a Room Together:
I'll share my tips on how I put a room together.  I most always start with fabrics.  I know a lot of designers start with a rug, but most of the time fabrics will dictate the direction I want to go in a room.
Start with fabrics – this will steer you in the direction you want to go in your space.  Choose at least 3 complementary fabrics to spread around the room.  I love mixing patterns and you can do that with a little practice.   Use only one heavily patterned fabric and mix in geometrics, stripes and textured solids.  Lots of texture is a good mix!  We used the 2 scroll fabrics on the duvet, the chevron on the chairs/ottoman and the solid aqua linen on the windows.  Try to envision how those fabrics will look spread around the room and you can get a good idea in your mind of how the room is going to turn out.  I can most always envision a complete room just by looking at fabrics in front of me!
Rugs to complement the fabrics.  Looking at rugs is a daunting task at times and it might be difficult to find rugs locally.  I will most always check out Homegoods first to see if they have something that will work, as their prices are always great.  They usually have a good selection of 8×10 rugs in all styles.  Wool rugs are my fave and that is what I go for first.  Mixing in a manmade and natural fiber rugs are good too.  The striped rug we found at a local shop and then found it online for $200 less, no shipping or tax.  When I spotted this striped rug, I loved it and my sister fell for it too.  We didn't find anything we liked better and the price was right after shopping online.  She also found the fluffy cream rug at the same local store and sourced it online too.  It's VERY soft and cozy underfoot and adds a lot of texture to that side of the room.
Mixing up nightstands/side tables in a bedroom is a fun way to get an eclectic look.  Gone are the days of all matching bedroom suites.  Most of us grew up with matching sets, but that trend stopped several years ago and now we all want a non-matchy bedroom set.  Mixing in a mirrored set with wood is a good way to get this eclectic look.  These make a great statement in the room!
Lamps – If your lamps are looking tired and dated, it's time to change them up.  I didn't have to talk my sister into getting new lamps for her blingy new nightstands and Homegoods cannot be beat for fab lamps.
Artwork – I don't usually spend a lot of money on art, but I know everyone has different taste on that.  Homegoods is also a good reliable source for artwork and mirrors.  We found several pieces there that worked in our space.  But, I'm also a lover of vintage artwork too, so that is another way to get a really personalized look for a new room.  I usually look for art that brings in the complementary colors I'm using in a room.
Accessories – Another great way to bring in vintage and older pieces in a space to give it that collected over time look we all love.  My sister is going to add some of those type pieces in her room along the way, we haven't shopping those places yet.  We mostly shopped at Homegoods, TJ Maxx and Marshalls, for the new accessories and again, they are always reliable for interesting and somewhat unique items.  My tip on accessories is to look for larger pieces. Go for larger and fewer items, that is something I'm finally learning.  It just fills out a space better and looks more interesting instead of having so many smaller, cluttery things around.  Try it, you'll love it!
I do love adding vintage pieces in a room too, so if you are taking your time, doing a collected over time look is always a winner.  You do not have to go out and buy every accessory at once.  In fact, it's better if you don't.  My sister and I did find a lot of neat accessories, so she opted to go ahead and pick them up now.  She can always go back and add some vintage too.
I think I've covered it all!  If you have any questions, feel free to ask in the comments and I'll come back and answer them.  I hope documenting this process has helped you get some ideas of your own on putting together a fresh new room.

Paint Colors:
Bedroom: Sherwin Williams Windsor Greige
Bathroom: Sherwin Williams Comfort Gray
Don't Miss a Post, join my list!