I can't believe we are starting a new decade with 2020! It just sounds weird, doesn't it? I was just mentioning to my dad that we are turning the year over to 2020 and it dawned on me that he was born in 1927 and if he lives that long will turn 100 in 7 more years. I knew that, but it's crazy to think about! I can't imagine how he must feel about that. I'm celebrating with my family today eating black eyed peas, greens and cornbread. If you want to see us in action, I'll be sharing it on my Instagram stories today.
I've got a Christmas post to share next week, but wanted to catch you up on a little bit of personal stuff today. My sister and I are taking my mom down to Florida tomorrow for the weekend to see her brother. He's one of 3 brothers that she still has left (4 siblings out of 7 are still with us) and he's not doing well health wise and so we want to go and see him while we can. We dearly love him and it's just hard to watch this older generation leave the planet, but it's just the way life is. He lost his wife 3 years ago and that was so hard too. So that's what is happening this week in our family.
On to Fashion over 50 today! I didn't do much dressing up over the Holidays. It seems to me that yoga pants and comfy clothes are the fashion of the Holidays and unless we were going somewhere, that's what I had on.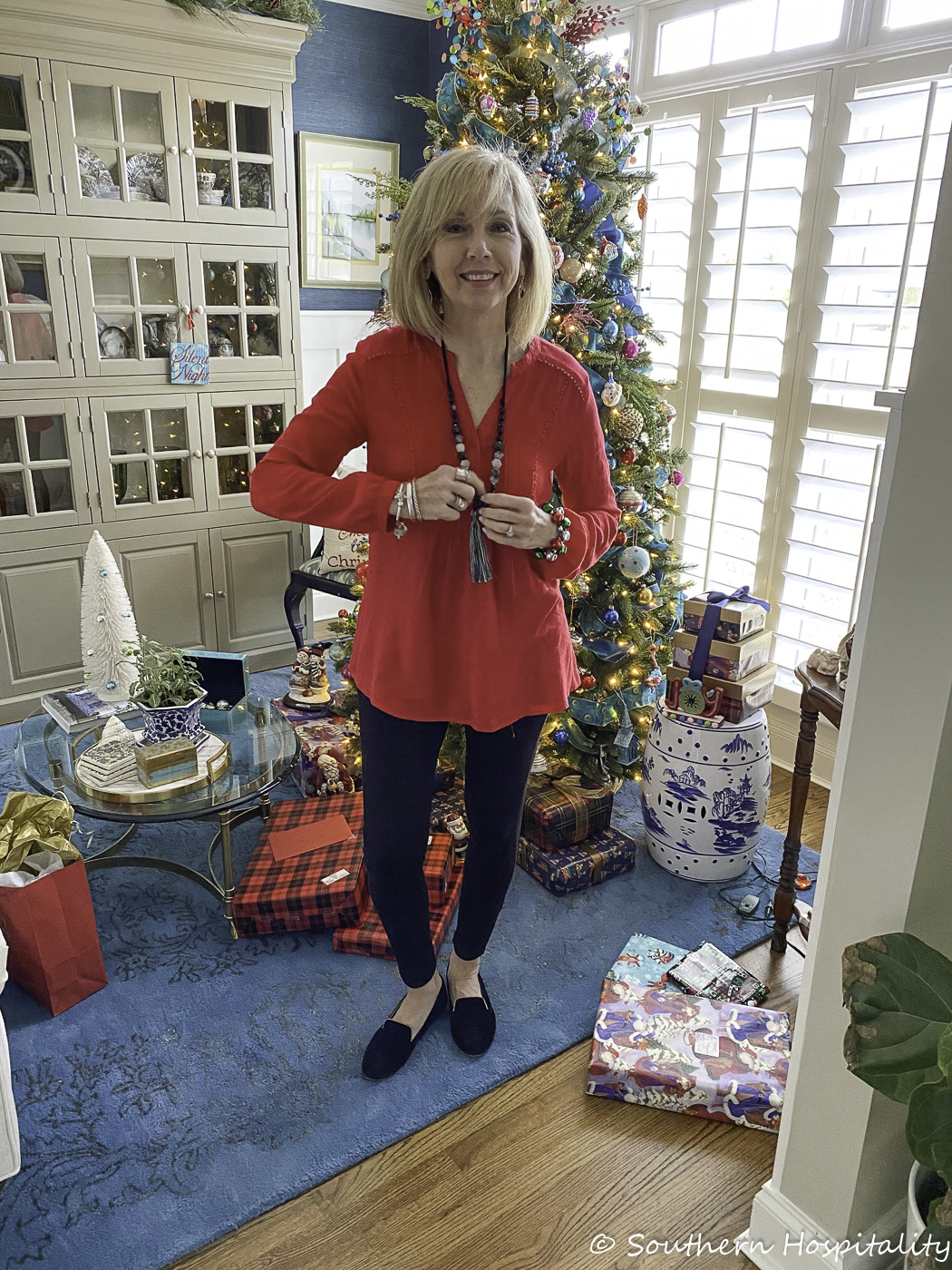 I did find some really comfy leggings that I want to share with you. I saw these shared by Cassie of Hi Sugarplum, she's in the know when it comes to Amazon fashion and so I trust her opinion on these things. I ordered these leggings, they are $20 and I really love them! They are thick and have pockets like pants as well as belt loops, so they feel like skin tight pants, but are still very comfy because of the material and they are so stretchy. So these are well worth it I think to buy on Amazon. I wore this outfit on Christmas Day. I bought a size Small Long/Tall. I like the extra length on these for me.
I will definitely be wearing these a lot with cardigans, boots, sneakers, and flats. They are versatile for dressing up or down. This red top is one I got a couple of years ago from Stitch Fix.
I'm wearing my Grace & Heart Jewelry with this outfit, so if you missed that post, you can catch up on what I'm doing. I'm going to be selling this jewelry from my blog and if you're interested you can buy through me. I can't say enough about the quality of the jewelry. It's beautiful and I have so enjoyed wearing it.
Here are the pieces I have on. Everything is sterling silver and semi-precious stones. If you're interested in checking out the jewelry, go to my page at Grace & Heart and click on catalog. I love the little bracelet that has added charms. Most of these came from Grace & Heart, but I had a couple I added too. You can screw off that little knob and add charms.
Grace & Heart is having a really nice sale on rings right now, so check out these styles if you're in the market. I have 5 rings and they are all so pretty. I'm enjoying wearing these chunky rings!
I'll be sharing more jewelry as I get more pieces, but feel free to ask me any questions if you're interested in getting some. I love my pieces and it looks so much better in person than it does in the catalog.
On another day over the Christmas holiday, I wore this outfit out. We have had some really nice weather the last week and it's been very mild weather. I just got these new slip on Dr. Scholl shoes for Christmas and love them. I'll link them too.
This is another Grace and Heart necklace I'm wearing. And this faux leather moto jacket I found on sale at Steinmart recently and love it.
It's the perfect little casual jacket to wear out. The white T is from Old Navy and those black jeans are Chico's. They are skinny jeans, but the legs weren't tight enough for me, so I took the legs up on the sewing machine to make them more fitted. I like the fit of Chico's jeggings best and always get a size 4.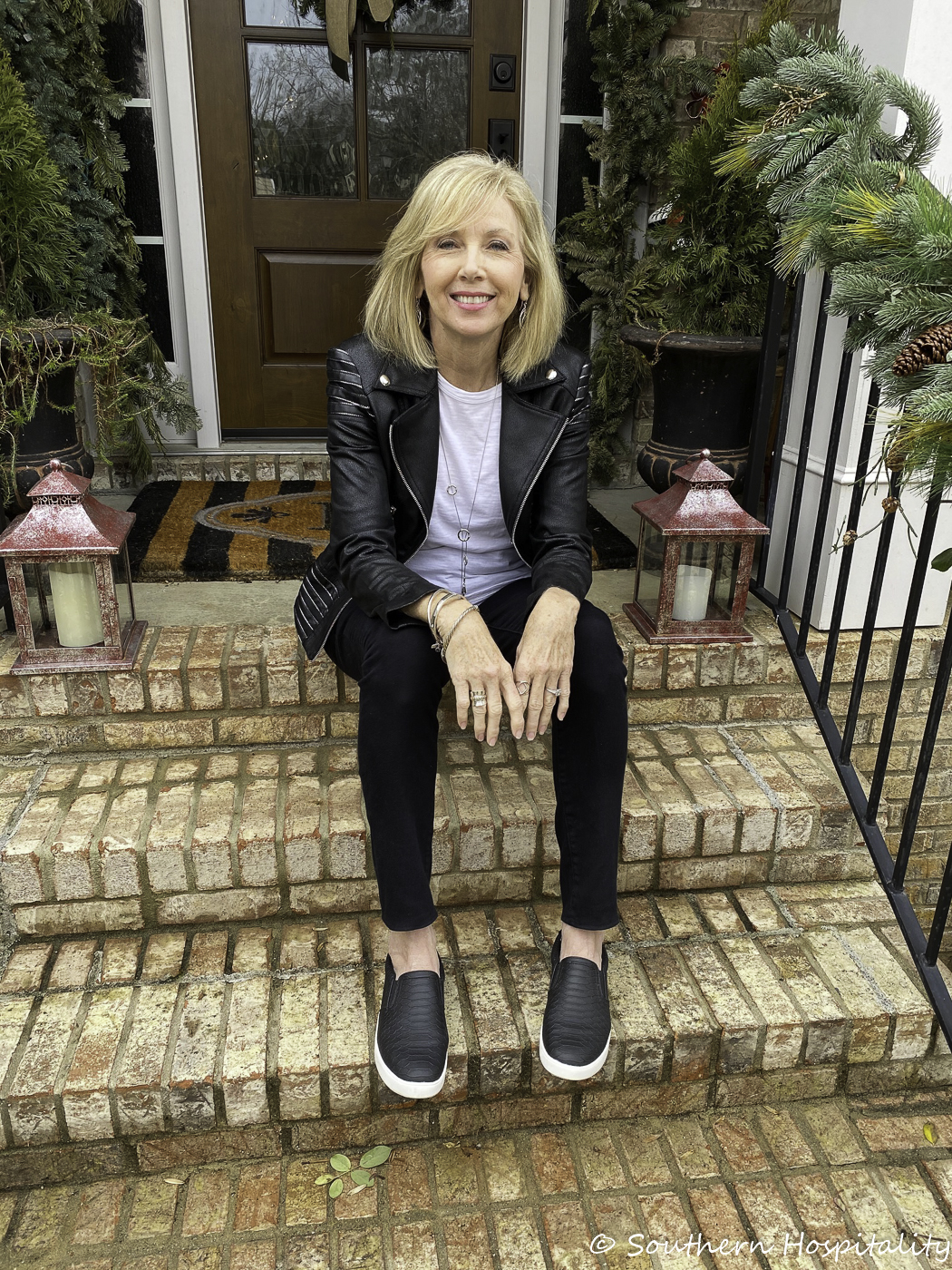 That's a look at my casual outfits lately. Not a lot of dressing up over the Holidays, but I do love casual clothes too.
Here's a link to the shoes and the moto jacket. Those shoes are very comfy with gel inserts. I've been wanting another casual pair of slip ons like this.
And Chico's is having a great sale right now too with 70% off many items. I'm linking some great deals as well as that gray cardigan set I shared with you awhile back. It's on sale and each piece is sold separately, but really a great deal.
Don't Miss a Post, join my list!