This post is sponsored by Esteem Media
It's been 5 years since I participated in the High Point Influencers tour with Esteem Media and I'm happy to announce, I'm going back again this year in April for the spring 2022 market. The High Point Market is such a vibrant place to visit with all the brands of furniture lines showing their new designs to interior designers and all the visitors and retailers who come to the market. It's so lively and inspirational and I can't wait to see what's new at the market this year. I'll be coming back with lots of things to share with you as I visit showrooms and see all the new trends in furniture and accessories. I can't wait!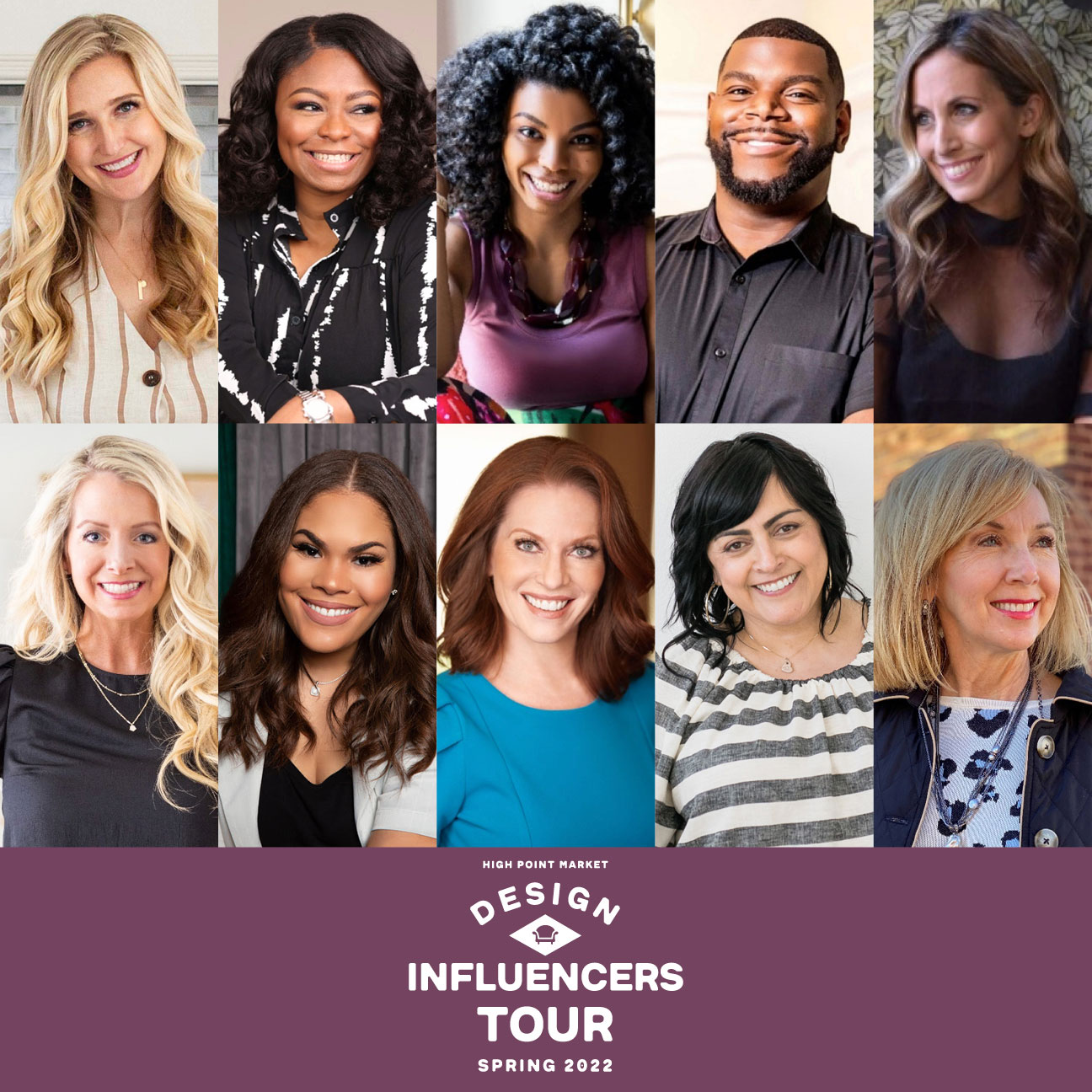 I'll be one of 10 who were chosen to go to the spring 2022 market. We have to apply for this honor and I'm happy to be chosen again this year. It will be a fun filled time as we walk the halls of the market and visit lots of brands along the way. I know two of these ladies (Haneen and Jennifer) and looking forward to meeting the rest.
Joining me on the tour will be:
Heather Fujikawa, instagram.com/house_sprucing
Rasheeda Gray, instagram.com/grayspaceinteriordesign
Amber Guyton, blessedlittlebungalow.com
Don Ricardo Massenburg, instagram.com/designinkredible
Haneen Matt, haneens-haven.com
Jennifer Maune, tiktok.com/jennifermaune
Marissa Nelums, instagram.com/glasshouseinterior
Pamela O'Brien, pamelahopedesigns.com/blog
Rebecca Plumb, studioplumb.com/blog
The sponsors for spring 2022 in High Point are:
Cisco Home, ciscohome.net
Crypton Home Fabric, www.crypton.com
Hooker Furniture, www.hookerfurniture.com
Hubbardton Forge, www.hubbardtonforge.com  
InterHall, www.imchighpointmarket.com/interhall
Jaipur Living, www.jaipurliving.com
Stickley, www.stickley.com 
Theodore Alexander, www.theodorealexander.com
Universal Furniture,  www.universalfurniture.com
The High Point market spreads all over town and it's so busy and dynamic for the week or so that market is going on. It's an amazing place to visit.
There's a lot of walking and lots of events and parties going on, so I'm so looking forward to going back again and taking it all in again.
I saw so many beautiful brands last time I was there, like Theodore Alexander.
Universal Furniture, which Mark and I ended up buying for our bedroom when we moved in our house.
Bunny Williams
And Bernhardt Furniture, which I love as well. I ended up working with them after the market and chose this same fabric for our sitting room chairs.
Design and furniture is something I really love and it's always fun to see the trends and styles that are coming out each year. I'm so glad to be going back and to get to see it all in person will be so much fun. Of course, I'll be sharing it all with all of you too, so stay tuned for lots of inspiration after I return. You'll be hearing a lot about High Point!
Don't Miss a Post, join my list!