Happy New Year and Happy Friday! In all my years of blogging, I've had the pleasure of touring several HGTV Dream Homes, Smart Homes and more. This is the best job in the world! Next week, I'll be heading to Hilton Head for a couple of days where I'll join a whole group of other bloggers who will be touring the new HGTV Dream Home with designer Brian Patrick Flynn. I'm so excited to see this home in person and I'll be bringing all the pics back to you all!
In the meantime, enjoy this tour of Lake Tahoe and the Dream Home of 2014. It was such a fun event!
I still am amazed at all the fun things I get to be a part of. I never know what email I'll get next, inviting me to be a part of a blogger event and this one with GMC and Lake Tahoe was an absolute dream come true. First, I had never been to Lake Tahoe, so to get to experience that beauty and scenery during December with snow on the ground AND get to tour the world famous HGTV Dream Home 2014 in person, well….it was almost too good to be true. But true it was and I enjoyed every single second of this trip.
As I shared in the earlier post, we all piled in brand new GMC Denali vehicles and drove the 45 minutes or so to the community where the dream home was built.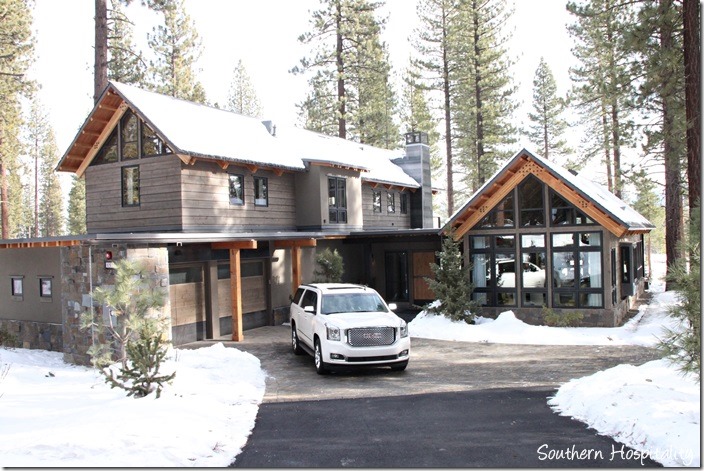 This sight awaited us as we drove up and got out.  This brand new GMC Denali Yukon is part of the prize package for this year's HGTV Dream Home.  Wouldn't you just be over the moon to win this house and car, as well as a cash prize?  I can't even imagine.
The surroundings in this community were just breathtaking too.
I did a little Vanna White impression, showing off the house.
Real icicles were hanging from the roof.
And snow on the roof too, which made for a picture perfect day.
There were rain chains which I've just started seeing on homes lately.
Snow drifts and evergreen trees made for a beautiful setting.
Jocelyn with GMC got ready to open the doors to let us in.
Just for an FYI, here's a link to the entire fact sheet from Scripps Network on the HGTV Dream Home, so most anything you might want to ask is in the fact sheet.
And here are the principals involved in the planning and design of the house:
Jack Thomasson, Professional House Planner, The Home Department
John Marlin, Developer, Schaffer's Mill
David Bourke, Architect, Ward-Young Architect
Kreg Rowe, Builder, Tanamera Construction
Linda Woodrum, Interior Designer, TS Hudson Interiors
We all had to put on those booties to keep the place nice and clean for the owners.  The tiled entry way was where we dropped out things and then got to really see the house.
Inside the front door, beautiful metal and wood.
Jack Thomasson, master planner for all of HGTV's dream homes, welcomed us into the house.  I had met Jack previously at the HGTV Green home here in Atlanta's Serenbe community almost 2 years ago, so it was nice to catch up with him again.
I asked to get a pic taken with him and he agreed.  He's got such vision for these homes and does a tremendous job on all of the planning.
Looking into the spacious open kitchen and dining area on this side of the house.  Note the soaring ceilings with rustic wood beams and all the metal bolts in a pattern that is just beautiful.  Such attention to detail!  Linda Woodrum did an excellent job with the interior design of the house and we noted that Ethan Allen provided all the furniture.
Dining area with all glass looking out.
The kitchen has a huge long bar that runs down the middle of it, with lots of seating around it.
At the other end of the kitchen is this gorgeous living room area, complete with fireplace and lots more glass. The views in this house are amazing.
Kitchen island with so many details to take in.
Loved the color display with these apples on this rustic dough bowl.
Modern open shelving in the kitchen.
Artichokes are so pretty.
Sink area with window looking out.
Lamp and tomatoes as an accessory.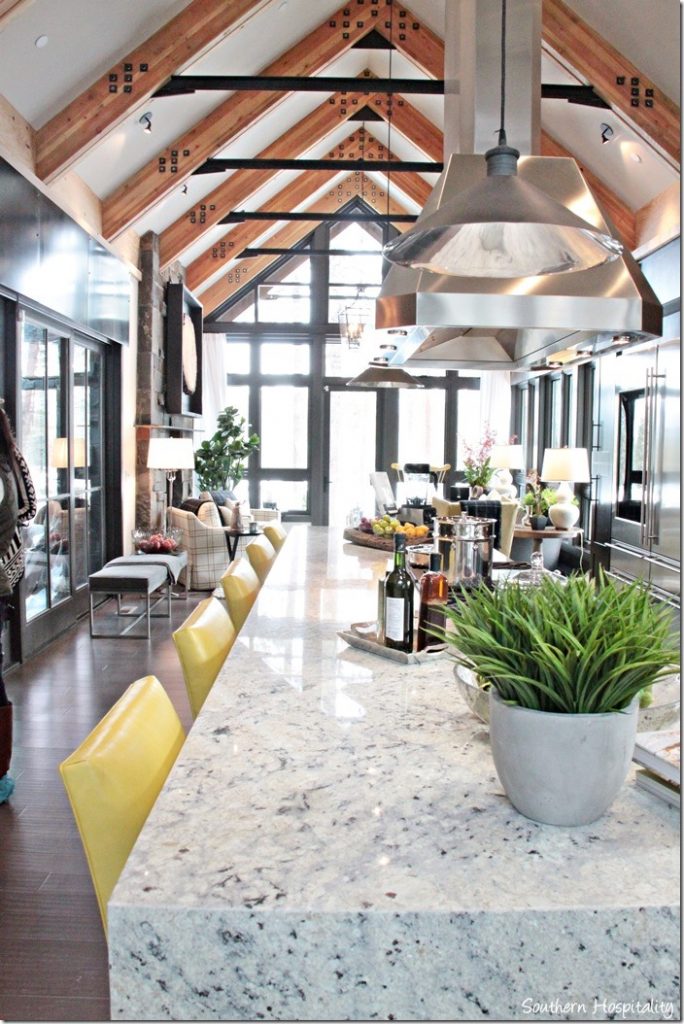 Huge chunk of granite island.
This was an impressive island with the stovetop on this side.  Definitely a party house for sure with this layout.
More florals. I loved the accent of yellow that was chosen for the house.  Sunny yellow was a bright spot with all the natural elements.
Rustic wood tiled wall in the kitchen.
The irresistible appeal of fresh fruit, the best accessory there is.
OK, one more shot, just because I couldn't stop with the pics.
That impressive island was hard to resist too.
Back side of cabinets were dark ebony wrapped in that beautiful granite.
A shot of a few of us bloggers, these were the other home bloggers that I know:  me, Chelsea, Liz, Dan (not a home blogger), and Brittany.
The HGTV Media guy, Lee took this pic of us all playing on our phones.  Social media and blogging go hand in hand.
A better look at the window and that beautiful WOOD tile backsplash. I had never seen this product before.
More accessories.
Another view of that beautiful soaring ceiling.
Living room again.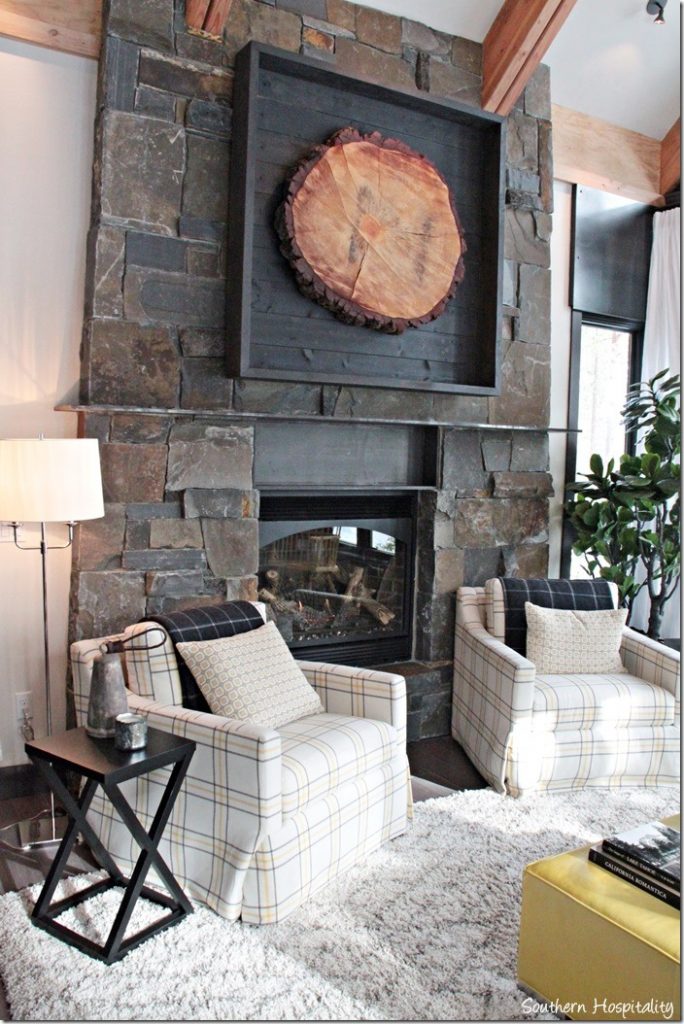 Seating area beside the fireplace.
This impressive piece of art was above the fireplace, a rustic slice of pine tree.  I loved this idea for this house! I'm kicking myself for not keeping a slice of the big pine tree I had cut down in my front yard. It was about this size in diameter.
Yellow coffee table in the living room.
Just outside is an open patio.
Complete with drink and s'mores station.
This home sits on a golf course at one of the holes.
On the other side of the house is the master bedroom and this corrugated metal wall is in the hallway.
Console table in foyer.
Leaning mirror in foyer.  You can find the mirror maker at this site.
Back hallway
Laundry room
Cabinet in hallway nook.
Doggie area under the stairs. How cute is that?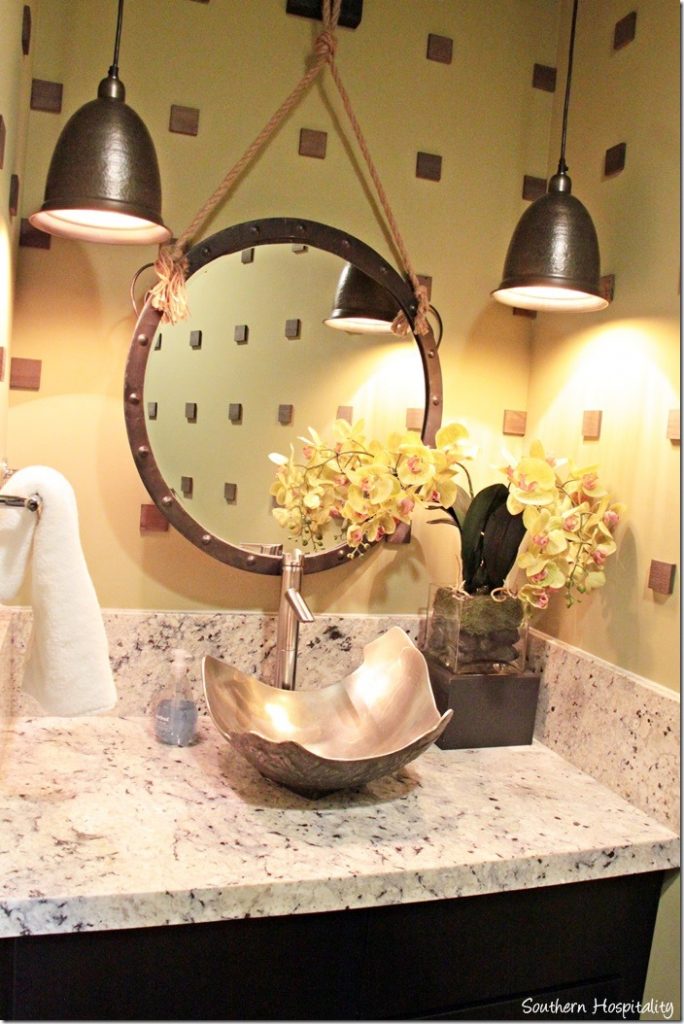 Downstairs powder room. Note the rustic wood blocks on the wall.
A group shot with all of us, the bloggers, HGTV team, GMC team.
What a delight it was to experience this HGTV Dream Home in person.  It's one thing to see things online, but to be there in the flesh is a wonderful treat.  I'm so grateful to GMC for this opportunity to participate in such a once in a lifetime experience.
Don't miss Part 2 of the Dream Home!
I'm heading to New Orleans today with my mom and sister and we'll be staying with Lauren for a few days. We have another baby shower to attend down there and want to experience the whole baby-thing to the hilt.  Little Parker will be here before we know it!
Note:  This trip was a sponsored trip by GMC and all travel expenses were paid for by GMC.
Don't Miss a Post, join my list!