I'm back today with Part 2 of my trip to spring High Point Market 2022 with the Design Influencers tour. We saw and experienced so much inspiration and I hope these posts will give you ideas as you decorate your own homes. Getting new ideas is a great thing and by seeing what's new on the marketplace, we can play our own homes and see lots of fresh new furniture and fabrics. What fun it is to see new things! If you missed Part 1, be sure to start there and catch up.
Our next stop on day one was to Wesley Hall, a beautifully appointed furniture showroom with traditional, transitional and modern pieces. There's something for everyone's taste.
STYLE TREND: SPICE COLORS
We saw a lot of spicy tones at market this year. Rust, green, golds, deeper moody colors were prevalent in many showrooms.
Wesley Hall offers gorgeous furniture, with beautiful styles and features. They've been in business over 25 years and are known as a leader in the luxury upholstery market.
They had a lot of large sectionals and beautiful chaise lounges, sofas, chairs and case goods as well.
See the spice tones in this room.
Blues are still going strong too, which is fine by me. Blue is a classic color!
We were welcomed in by designer, Peter Jacob and learned more about his fabulous designs with Wesley Hall as we looked around the sumptuous showroom.
STYLE TREND: GREEN
We also noticed a lot of green hues throughout the market in many showrooms. It definitely seems to be a trending color, which is great with me, I love the color green. This ottoman color is yummy and the fabric is too.
Crypton Fabrics is also a partner with Wesley Hall so you can get performance fabric on these beautiful frames.
This lovely chair had a beautiful herringbone print fabric.
An array of fabrics hanging in the showroom.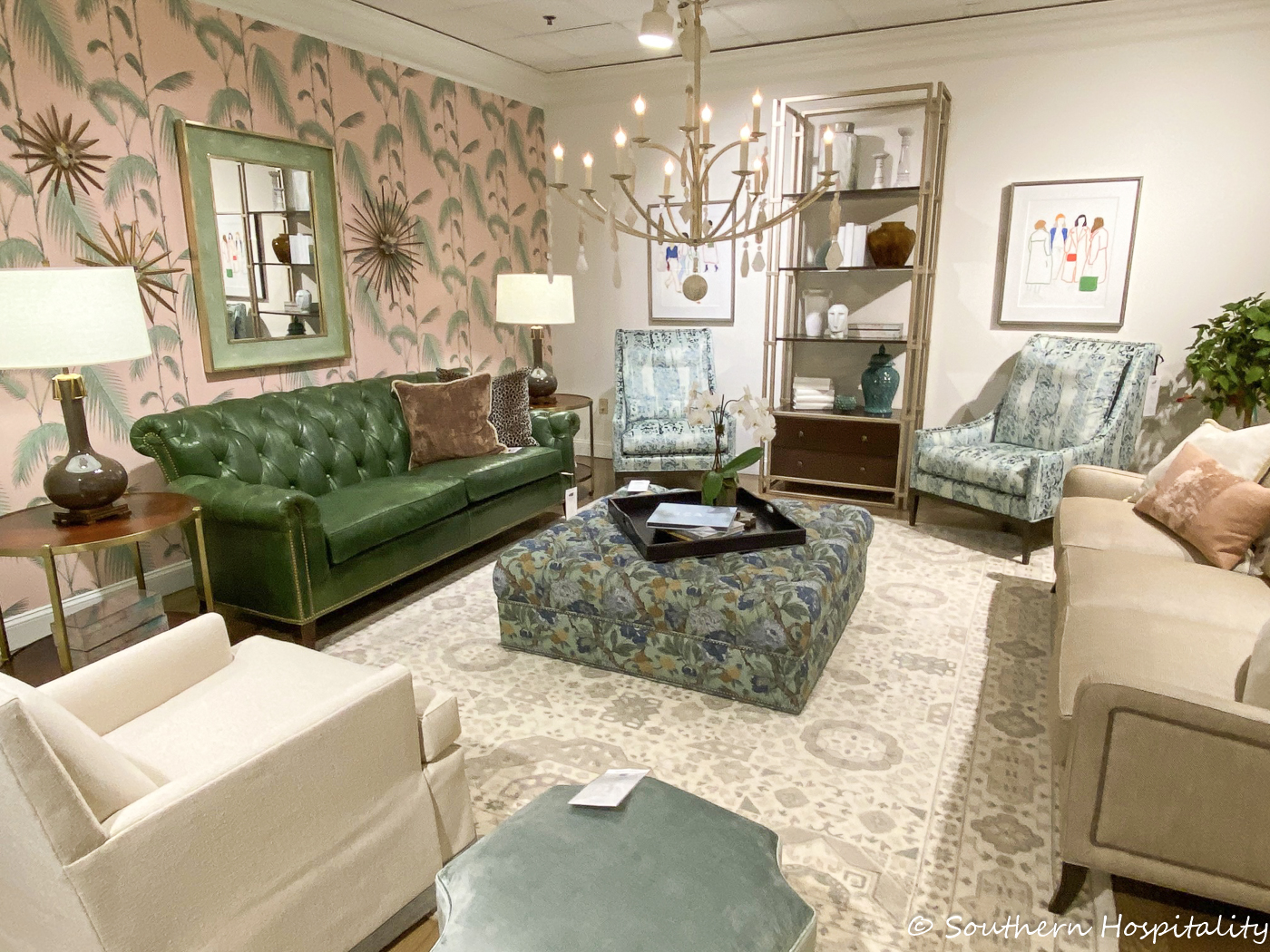 Another green leather sofa takes center stage in this transitional room.
There were so many lovely spaces at Wesley Hall.
They offer a large selection of wood tones in their upholstery frames and case goods.
This pair of chaise lounges were so luxurious and comfy. We tried out much of the furniture too as we moved around the showrooms.
This large sectional needs a huge room to accommodate it, but wow is it nice.
Another beautiful space at Wesley Hall.
One last piece from Wesley Hall, this frilly sofa was a little bit of a surprise. I haven't seen a style like this in awhile, but who knows this may come around again. Furniture as everything else, definitely goes in cycles and we may see some older things be newly reinvented.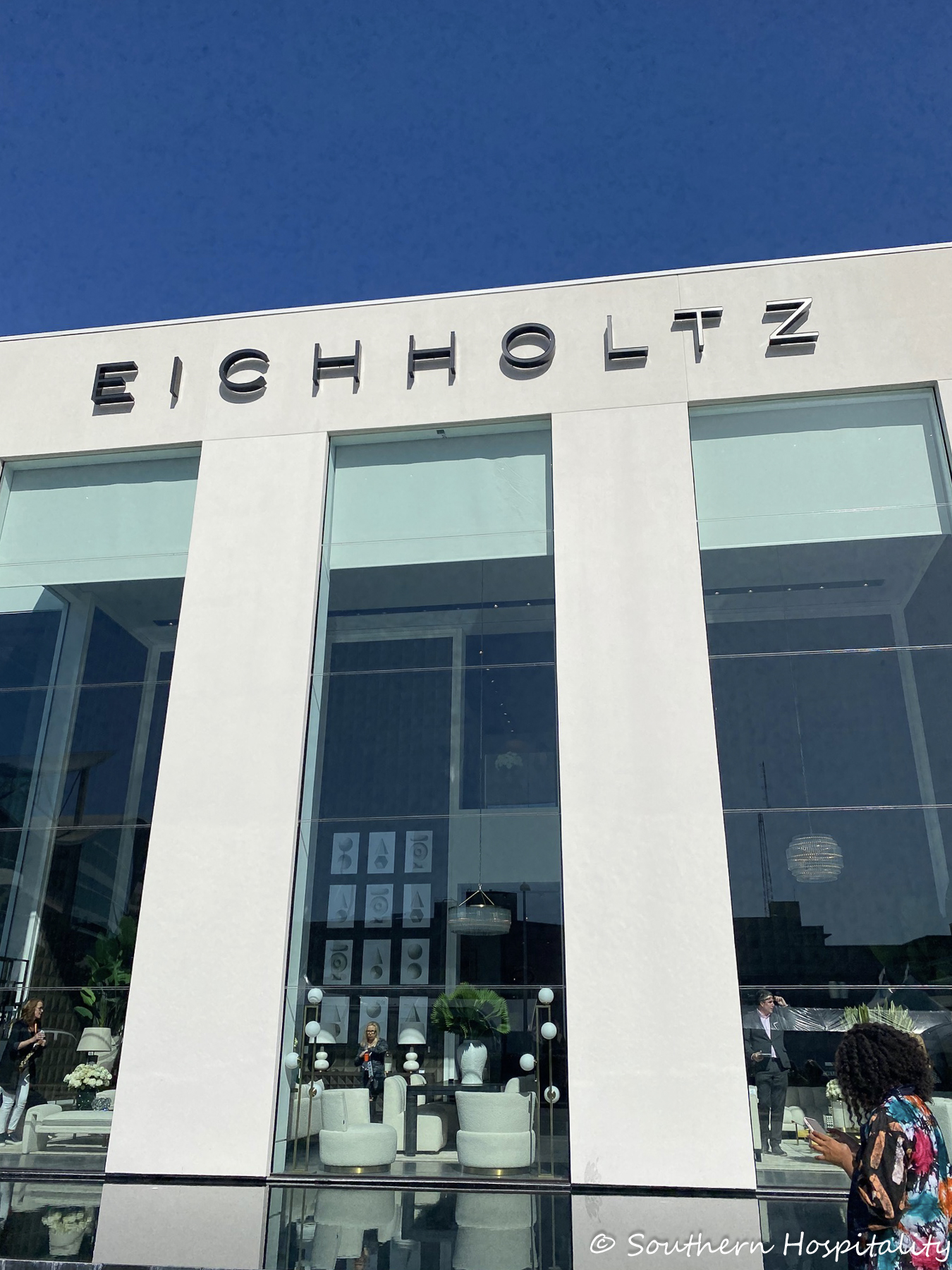 Our last stop of the first day was Eichholtz, a European company in the luxury furniture market. They also have warehouses here in the US, so it's readily accessible to our market here. They have a beautiful showroom in High Point.
Luxury and sumptuous are two words I'd use to describe Eichholtz. With 150 skilled employees, they have furnished more than 10,000 prestigious hotels, restaurants, clubs and stores around the world.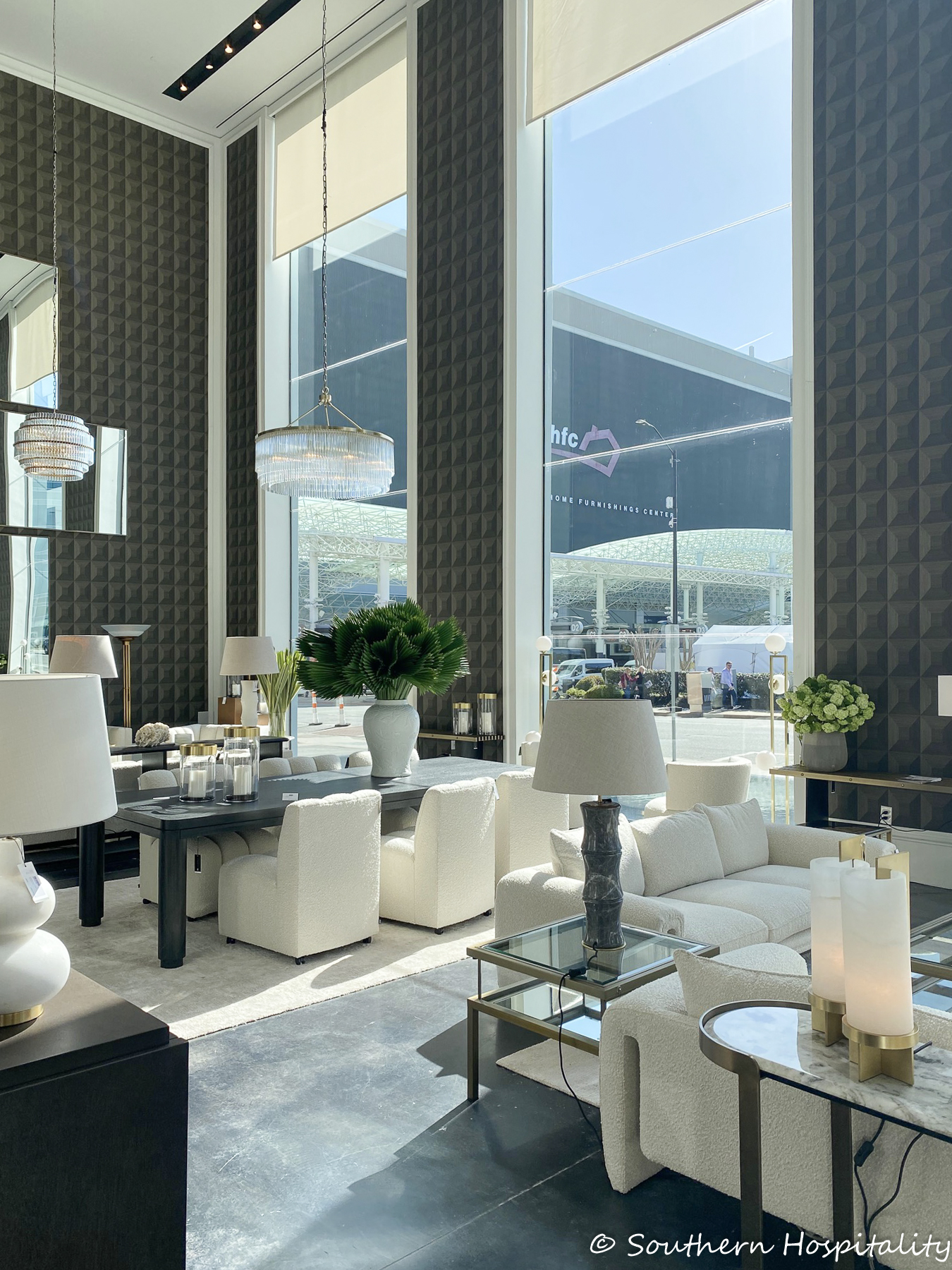 There were plenty statement making pieces in this showroom and it fun to see it all.
We saw lots of white upholstery pieces, which seems to be their signature, as well as statement lighting and accessories.
That's Heather with House Sprucing lounging on the sofa, who was on the tour with us.
We enjoyed sitting on the pieces as well. This gold side table caught my eye, it was delicate, yet I can see very useful.
Modern artwork and many beautiful accessories were dotted around the showroom.
They definitely have a more modern aesthetic and I could appreciate the workmanship and quality of the furniture and accessories in this showroom.
They had some beautiful eye-cathing light fixtures that you won't see everywhere.
This one was particularly gorgeous to look at.
Their accessories were beautiful too, loved the brushed gold in these candle holders.
A very modern living room setting.
I matched these flowers, so had my picture taken.
This curved sofa was very eye-catching and I can see this in a luxury hotel.
More statement making pieces from Eichholtz. If you're interested in seeing more, just click the link to their website and they have lots of information there.
Day 2 brought us first thing in the morning to Minted, a company I knew about. I have one piece of Minted art in my home office. From stationary, greeting cards, gifts and more, Minted is more known for it's artwork.
Minted is known for their customizable artwork, like these beautiful canvas prints that are large and make a big statement. At 48″ x 70″ these got a lot of attention at the show. They said everyone was taking pics of them. I can see these in our house! I looked these up and they are Rosy Tomorrow I & II by Stephanie Goos Johnson.
They work with independent artists and offer an array of prints and canvases with something for everyone.
Since 2007, Minted has grown into the world's leading design marketplace, with its products in more than 75 million homes worldwide. They house 10,000 artists representing all 50 states.
Dome Deco was another stop in the market and they are based in Belgium. This beautiful brand has distributed home decoration, furniture and lifestyle products throughout Europe, and now turns its eyes towards the United States.
Cosmopolitan living describes Dome Deco's aesthetic, with a modern sleek look.
They offer warm, sophisticated interior atmospheres consisting of furniture, home accessories, lighting, and textiles to offer a total interior concept — a contemporary interior, suited for those who enjoy an urban lifestyle with a refined look.
Their accessories are bold and create the wow-factor.
There's green again, a trending color for sure.
And you can see this rusty spice colored furniture that the fabric swatches (note those moody spice tones) are sitting on, again showing those spice tones are definitely trending. I was thinking back to my first sofa I bought when I moved into my first and only apartment with my best friend back in 1978. It was a rusty brown velour shade. What goes around, comes around, right!
Here's an eye-catching outdoor sofa from Dome Deco.
Next stop, Bungalow 5, who is rebranding with the name Villa & House. This was one of my personal favorite showrooms and after you see pics, you'll understand why. They have lots of color and texture and I'd say fit in with the grand millennial style that I feel a part of.
Their philosophy:  Inspired by history, made for today, always reaching for the future. We have a passion for bringing a modern perspective to classic luxury.
You'll notice they use a lot of different materials, including burled veneers, lots of wicker, caning, and natural materials. Remember the style trend I mentioned in Part 1, definitely saw lots of these natural materials throughout the market this year. That makes me happy, as it's a big part of my aesthetic too.
Close up of a beautiful burl wood table.
They also have soft goods like this colorful array of pillows.
This bar cabinet was very unique.
I really loved their classic designs reinvented with new materials and finishes.
They use cerused oak for many pieces and it's a lovely finish color. This look is definitely trending in furniture design.
Of course, these natural fiber looks are right down my alley. Notice the hardware is bold and beautiful.
They had so many unique items in Bungalow 5, it was eye-candy galore.
This updated white desk/vanity with a beautiful caned chair caught my eye.
And this gorgeous black and natural cabinet was another eye-catching piece.
Another piece, a coffee table made of burled wood was especially pretty.
Cerused oak coffee table.
Beautiful bamboo chairs and a white table with gold base is a fresh look for a dining room or breakfast room.
They also offer accessories and a large selection of lamps.
They had so many case good pieces that caught my eye. These side tables and chests are a lovely updated classic look made fresh with new materials and finishes. I loved Bungalow 5 as you can see.
That's my recap post 2, so I hope you enjoyed a further peek at what we saw and experienced in High Point or the Design Influencers tour this spring. I would love to add a few fresh pieces in my house, so I  will be thinking on areas that I'd like to refresh. My head is now full of design inspiration that will keep  me busy!
Did you see anything that caught your eye or got you excited? Please share with me, I'd love to hear. I have one more recap post to share, so stay tuned for Part 3. 
Note: This tour is sponsored by High Point brands and hosted by Esteem Media. All opinions are my own and we are compensated for our time. 
Don't Miss a Post, join my list!