I promised a look inside Lauren and Philip's dwellings, with a look at how differently each of them look at decorating their surroundings.
Oh, the differences, they are pronounced as you will see.
Lauren loves a romantic cozy cottage look, with lots of florals, a big comfy chair to sit in and places to curl up and read a book.  She enjoys her stuff and is very sentimental in keeping things for a very long time.
See that Asian style coffee table there (with end tables too)?  That is a hand-me-down from when I first moved into my first house in the mid-80's.  Once I replaced it, the tables went with her and she still has them.  She's going to have a moving sale once they get married and she needs to clean out her apartment, so if you are in the New Orleans area, you might want to go.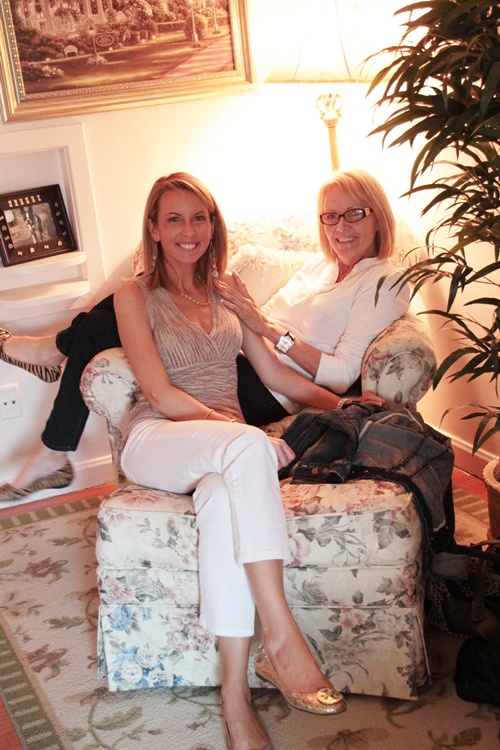 This is her favorite spot in her apartment, this cozy chair that she's made into a reading nook.  Reading is a favorite past time for all 3 of us.  We love to read and always have!
She does get it honest, since she was raised around me and my sister.  We have always enjoyed decorating and cozying up our nests. 
The small kitchen barely fits 3 people.  Mom made her that cute valance over the window, it has strawberries on it.  Lauren is like a little old lady sometimes in what she likes to have around her.
The stove with all her spices above.  She definitely has a love for strawberry things, as evidenced by the towel.  I don't imagine that Philip shares that fondness.
Antiques and florals in the bedroom, it's a perfect retreat for her.
It's not a huge space, so she had to crowd in a dresser and vanity in this small area.
The long and skinny bathroom has original vintage tiles.
With peachy pink tiles on the wall.
Her office space craft room is in the 2nd bedroom.  Lauren has a monogram machine and loves to create pretty things with it.  I've been the lucky recipient of several items myself.
Sewing supplies on one side and her art gallery wall, all done by herself.  I think those are pretty cute.
So, you can see what style Lauren is.  Come along to Philip's loft and we'll take a look at where the newlyweds will be living once they return from the honeymoon.
It's a very cool space, but so different from Lauren's apartment.
From the sidewalk, we walk through these really tall vintage doors to the inside hallway and we take an elevator up to Philip's floor.
These are the doors in the loft.  It's an airy space with beautiful hardwoods and brick clad walls.  Philip likes bold colors and has used several throughout.  I really love his choice of colors in here.
This orange/terracotta highlights the main hallway coming into the kitchen and living room.  Colorful artwork on the wall is a great choice too.
Looking into the living room, this side holds a small table and chairs right outside the kitchen.  Love that brick wall and beams on the ceiling.
Here's the open kitchen, very nicely done.
And the blue in here is very pretty.
Here's a great look at that brick wall and the eating area highlighted with some modern artwork.
Do you see a little difference between styles?  I thought you might notice that too. 🙂 These 2 will have to compromise on decorating together. 
Here's the main living area, with leather sofa and chair and a big flat screen.  Modern jazz paintings are hung above.   To the left through those French doors is the guest room.
Lauren plans to put her sewing machine in here to work on her monograms.  She'd love to cozy this space up a little.  She will probably have to make do with what is there for now, but maybe adding some pillows, throws and lamps to the space, will cozy it up some.
That old stationary barn door is very cool and another part of the brick is in here too.  They don't have a lot of extra space, so will have to utilize what they do have.  And oh my, does that girl have some stuff.
Here's the efficiently small guestbath right off the main hallway.
Down the hallway and around the corner is the master bedroom.  It's fairly compact too.
He's promised her she can do whatever she wants in this room, so we will see what she comes up with.  I'm going to try to help her with the cozy factor in here, so that it can be masculine, but feminine at the same time.   They do manage to compromise on those decorating shows, so I know it can be done!
The master bath.
With tiled tub area. 
Brick archway in the hallway leading to the master bedroom.  There are some very cool features in this loft.
I'm quite sure that Lauren will manage to put her stamp on it somehow.
And bring some coziness in there too.
Philip has great taste (of course he does, he chose Lauren!)  like his bird sculpture made from an old microscope and all metal.
I thought it was the coolest piece!
We had fun getting a look at it too.  I'm sure the newlyweds will make it work for both of them with possibly a few discussions along the way.
The large windows open up and you can go out on the roof.  Not exactly a balcony, but it's flat enough to sit a chair on.   Flanked by those large shutters, it could work as a great parade spot for Mardi Gras.
Which, from the looks of these Mardi Gras beads, the parade route goes right by here.  The loft is in the edge of the French Quarter, within walking distance to a lot of interesting places.
I wish them the best and hope that they can reach an agreement on decorating for both of their tastes.
If any of you in the Birmingham area are planning to stop by my final sale again this weekend, I am now changing it to Saturday, March 12th from 8-12.  This will be mostly Christmas decor that I'm paring down.
You can email me for any details!  Email is found under the envelope on my right sidebar.  Thanks!

Don't Miss a Post, join my list!