Happy Friday friends! The season is not complete without a tour of the Atlanta Homes and Lifestyles Home for the Holidays Designer showhouse. I always love getting to tour the house before it opens when designers and other worker bees are still scurrying around to get it all finished. It also gets me in the mood to decorate my own house.
This year's house was just beautiful and a delightful remodel that fits into the surrounding area so well. You'll get a peek at our Fall leaves which are just peaking this month in the backdrops of the house.
The Home for the Holidays showhouse is open to the public until December 8th, so hurry and get your tickets if you plan to attend. I think it's worth it for so many beautiful ideas you'll see here on my blog, but seeing it in person is even better. Architectural designer Frank Heery of Harrison Designs reimagined this older home into a 5,500 s.f. give bedroom home with new additions, each built with limestone foundations and clad with handsome wood lap siding. A new office tower on one end of the house is balanced by a master bedroom wing on the other side and the master bath is cantilevered over the grounds, which you'll see in the photos. You'll be amazed by that master bathroom!
All these pictures are mine, so I did the best I could to capture the spaces. I took a lot of shots so will not try to narrate all of them. You can see the list of participating designers here, so be sure to check them all out. I going to try to properly label the designers with their rooms, but sometimes it's hard to remember every detail.
Exterior Holiday Decor: Randy Korando & Dan Belman
Boxwoods Gardens & Gifts
Mudroom, Tower & Stairwell: Lorraine Enwright, Intuitive Dwellings by Enwright Design
Standard Walls, Ceiling and Trim: Sherwin Williams Shoji White
Tower Lounge: Jimmy Stanton, Stanton Home Furnishings
Paint color: Benjamin Moore Dark Pewter 2122-10
It was a pleasure to finally meet Jimmy Stanton. I've heard so much about him and his fabulous designs, he's out of Madison, GA.
Butler's Pantry: Shawn Amtower, Amtower Interior + Design
Jaw dropping beautiful!
Kitchen, Family, & Breakfast Rooms: Chris Holt, Holt Interiors
Dining Room & Wetbar: Jena Salmon, Jena Salmon Designs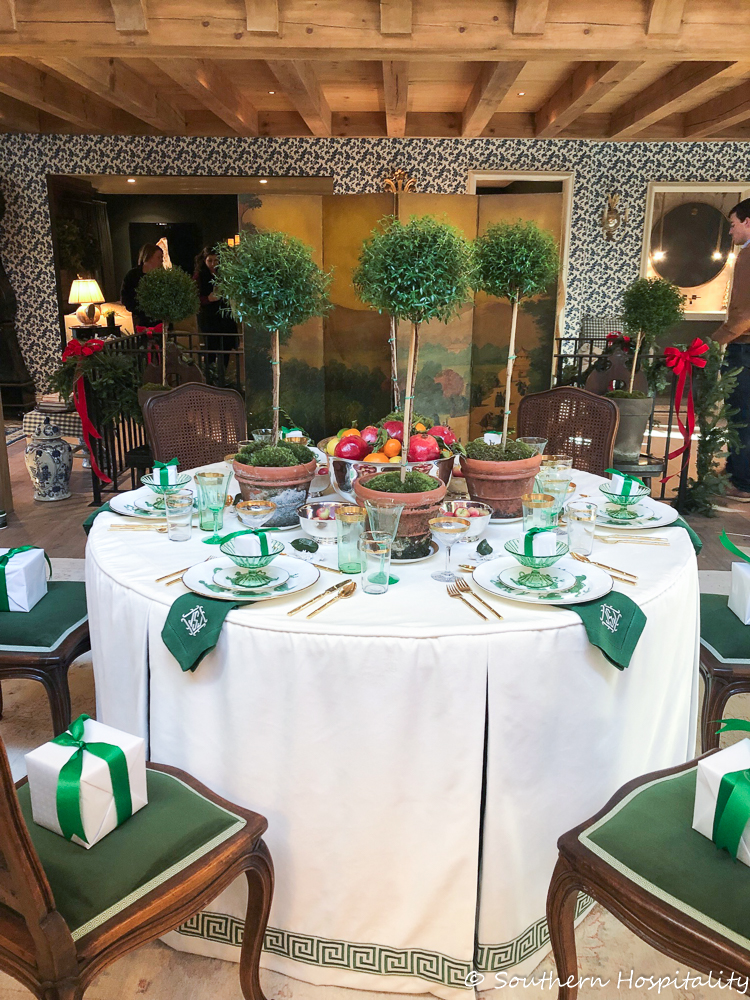 Entry Foyer: Anna-Louise Wolfe, Anna Louise Wolfe LTD
Walls: Scrolling Acathus, Cobalt
This was probably the most unique powder room sink I've ever seen. It's chiseled stone that looks like a river and waterfall and see where the water goes? To the floor? I tried the water but it wasn't on yet, I really wanted to see water come out and go down that drain. Amazing what is out there now!
Study: Anna Braund, Anna Braund Interiors
Paint color: Farrow & Ball, Studio Green #93
Master Bedroom & Vestibule: James Wheeler, J Wheeler Designs
Color: Pierre Frey, Kimono Sable FP475001
Master Bathroom: Tish Mills Kirk, Tish Interior Design
Get ready to be wowed over this bathroom. It was definitely the talk of the tour!
Like a glass box that hangs out into midair, the master bathroom is all windows with shades as needed. I asked the designer would the homeowners shower or bath in here with the shades not pulled down and she said, one will and one won't!
I can definitively say that I would be a won't! Can you imagine standing in here stark naked for the woods to see? I don't care that neighbors might not be that close.
The tub had a filler that came down from the ceiling.
Floating vanity.
There's a good view of all that glass. Pretty, but I'd have to put the shades down while showering.
You can see how gorgeous the trees have been in Atlanta this month.
Laundry Room: Beth Kooby, Beth Kooby Design
Laundry Room Wall & Ceiling: Custom, Rye Matte Gold
Covered Porch: Robin Burnett, Robin Burnett Design
Upstairs Bedroom 1: Stock & Trade Design Co.
Paint color: Sherwin Williams Alabaster 7008
Upstairs Gallery and Reading Loft: Grayson Pratt, Grayson Pratt Interiors
Upstairs Bedroom 2: Maria McLauren, McLaurin Interiors
Terrace Level Spa: Robin LaMonte, Rooms Revamped
Robin is one of my friends here in Atlanta and I loved her space!
So that's the tour for this year. I really loved the house and hope you enjoyed it too! I know some of these homes are way over the top and you all don't mind telling me when you don't like them, but I thought this one was very nicely appointed as well as warm and approachable. Even with the totallty out of the ordinary master bathroom, this house is very well done for the owners who live here. I'm sure they are delighted with the renovations.
You can visit the house through December 8th and proceeds of the tour go to Children's Healthcare of Atlanta, so a worthy cause indeed. You can buy tickets at Atlanta Holiday Home!
Don't Miss a Post, join my list!