Happy Friday my friends!  It's Christmas weekend and I decided that I'm going to relax this weekend and not do much else on the blog until after Christmas, so today I'm doing a repeat from 2013.  This is one of my favorite Atlanta Holiday showhouse tours from 2013 that is still fresh and pretty today, so enjoy it all over again!
*******************************
Browsing showhouses is something that I've been doing for years and I still love it. It's always fun to go in these humongous homes that are so far out of my price range, yet still so exciting to see how they are decorated and the beautiful millwork that is in these homes is always a treat.  There's a showhouse in Atlanta, now called Home for the Holidays, that is decorated for Christmas every year and usually I miss it, but this year made a point to go and check it out.  I'm SO glad I did and you'll be glad too, because they let us take pics inside and I got a TON of pics to share.
You are going to be as inspired as I was! This is a gorgeous and yes, large, Southern style estate home, built by Dovetail Homes and is in the Buckhead area of Atlanta, one of the most desirable real estate neighborhoods in the city.  It's Colonial American in style and designed by Harrison Design Associates.  You can find out more about the house and the tour hours at the link above and if you live in the area, please go!  It's a treat you will enjoy during this beautiful season.
I'm not going to attempt to narrate all of the pics and I took so many, this tour will have to be broken down into at least 2 to 3 posts, so enjoy them all!  I knew y'all would love seeing this too.  I love the use of mostly natural materials all through the house and it is stunning, particularly the dining room, kitchen and breakfast areas, living room and the master bedroom, all my personal faves.  Enjoy!
Keep in mind that this is a brand new home, somewhere in the neighborhood of $3 million, I heard. I don't have the square footage on this ginormous home, but believe me it is spacious.  It was built to look like a home that was added on to over the years and it is a sprawling home for sure.  I'll be showing the outside of the home from the backside of the house too in another post , so stay tuned for that.
Keep in mind too that I was snapping pics in a hurry, so not all of them are really clear, but you get a good idea of how magnificent this home is.  I tried to capture all of it the best I could on the fly!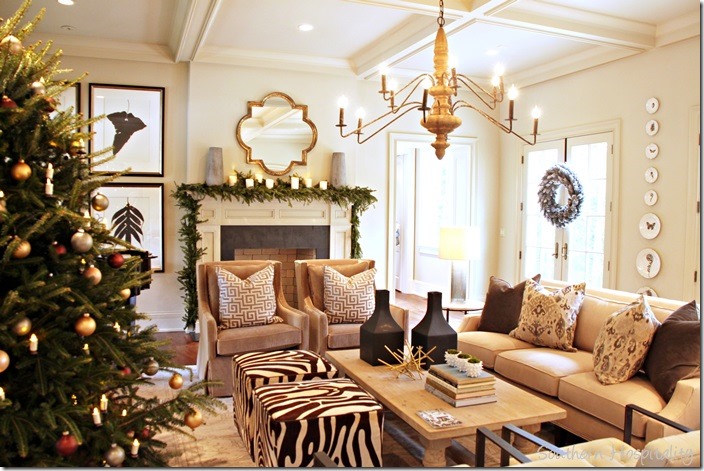 OK, I had to chime in here! Isn't this the most beautiful staircase garland you've ever seen?  My jaw dropped on this one!
Wasn't that just stunning and so fun to see?   I knew y'all would love it too and so happy that they allowed pics this year.  I met Kimberly Sundt, Event Manager for the showhouse the day I went and she was so warm and friendly to me.
Hope you enjoyed seeing this one again, one of my alltime favorite ones!
Don't Miss a Post, join my list!