Thanks for stopping by the Home May'd Recipe party today!  I'm thrilled you are here.  We are going to have a great time sharing summer recipes, those tasty treats that we all love to eat this time of year.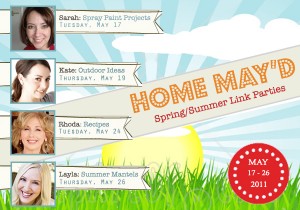 A delicious recipe from my archives, this is a great summer dish when you want something light and easy.  Tasty too!
This is for those times you don't want to make cake from scratch, but you need something yummy to feed several people. Got this recipe from my Aunt Mary in Florida. It's delicious and uses store bought angel food cake.
Can't get easier than that!
Here's what you need:
Easy Strawberry-Pineapple Shortcake
1 Angel food cake
1 box Instant Vanilla pudding
1 15 oz. can crushed pineapple, Juice Drained
1 small container Cool Whip
Frozen or fresh strawberries, sliced with juice and/or sugar added.
You can make this as light as you'd like by using Sugar free pudding, light Cool Whip and no extra sugar added to the strawberries. It's light and delish, perfect for summer!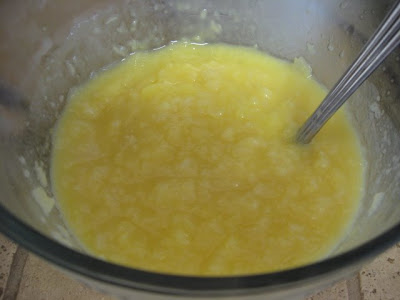 Prepare one box instant vanilla pudding, put in fridge until set, then add the can of crushed pineapple and mix well. Slice the cake twice around the diameter, making 3 layers.
Ad pudding mixture between both layers and also on top of cake, placing each layer of cake back on as you go. It's OK if the pudding oozes out of the cake, this makes it really yummy. Sit in fridge for a couple of hours and the pudding mixture will soak into the cake.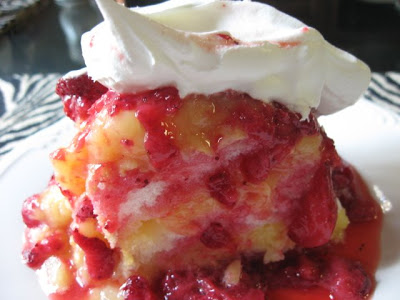 Slice yourself a big ole' chunk of cake, add the crushed strawberries and a dollop of whipcream and have yourself a lip-smacking time!
Hope you will try this one!  I love light and easy for summer months, when the heat is rising.
Let's see what you've got to share for summer fare!  Add your linky and enjoy blog hopping. I hope you'll stop in and say hello to some new friends along the way. And don't forget Layla's Summer Mantel party on Thursday.  I don't have a mantel, but I'll be stopping by to check them all out.

Don't Miss a Post, join my list!