My alarm went off at 6 a.m. Saturday morning and I was sound asleep. It's not often that I get up that early anymore, I enjoy my beauty sleep these days. But, last Saturday reminded me of my yardsale days of blasting out of bed at the crack of dawn to get the deals.
The high we got from the HomeGoods party was just like that! I got to the store, along with my sister and roommate, Rhonda, around 7:30 a.m. and met up with the HomeGoods PR rep, who flew in from NY. She's been fun to work with and it was a pleasure working with HomeGoods, a store I love and admire.
It was so much fun to meet many of my readers who came out and also fellow bloggers who I had already met, that's always a fun thing to do. We have some great bloggers here in the Atlanta area. HomeGoods did it up right and had a nice breakfast set up for all of us who had gotten out so early to shop. Shopping before the store opened was a big treat! One of my readers, Wendy, actually drove over from AL and met up with her sister who lives here to come and shop. And a couple of brave men showed up with their wives too, that was impressive!
Everyone who came out got a $10 giftcard to get them started on their shopping spree.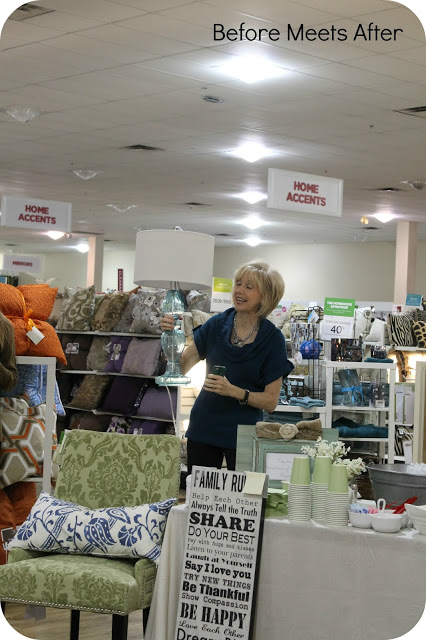 (photo from Lisa at Before Meets After)
We started off by playing a guessing game where I chose 5 items from around the store and people guessed the prices and the one closest to the HomeGoods price won an additional $25 giftcard. Of course, everyone wanted to win one of those! I knew we had some seasoned HomeGoods shoppers since every one of the 5 items were guessed to the dollar.
I walked out of the house without my big camera, so had to use my iphone pics, so that's why they are not totally up to par.
I had fun walking around the store and chatting with everyone, seeing what all they were buying. I thought these chairs were cute, no I didn't buy them.
I'm highlighting some of the fun finds I saw, like this $99 turquoise side table. This would look beautiful on a porch (or anywhere for that matter).
Sorry I didn't get everyone's names, but I loved this find. It was a rolling basket cart and breaks down for storage. Cute! I've never seen anything quite like it.
More fun finds, from colorful pottery, to dining chairs, subway art and a really cool industrial table made from salvaged wood. There's a lot of salvaged wood in HomeGoods now, which I'll show you more of in a minute.
My roommate, Rhonda, picked up several things for her room, including this cute metal side table for $19.99. It's perfect beside a chair for sitting a drink.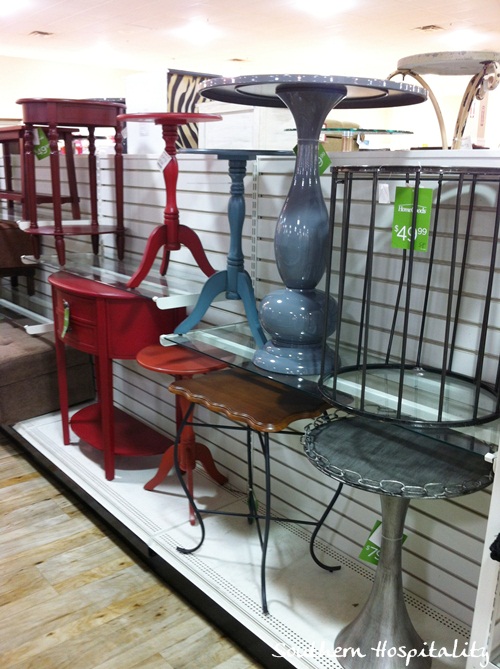 I spotted plenty of cute side tables.
Heidi got this sign and she said it's going in her boy's room. I can see that!
She also didn't pass up this beautiful bench (I think it was only $79) and these colors are just gorgeous and a perfect jumping off spot for a room makeover, Heidi said.
Another reader found some peacock items that caught her eye and she bought the print and plates. Lovely!
Lisa (Before Meets After) found a really cute wire birdcage that hangs on the wall for her laundryroom. She said she is going to clip lost socks on it. Brilliant!
I had fun looking in everyone's carts to see their pretty finds.
Homegoods has such a wide variety of things from occasional chairs, chests, lamps, linens, and so many accessories, it's unreal. I loved that white chest above with the vines. Gorgeous!
Tracey found an adorable stool. She's the one I featured a few weeks ago on Feature Friday, I helped her with her living room makeover, the rusty red and teal colors. So fun to see her smiling face again.
This piece caught my eye too. It's one of the more expensive pieces I've ever seen in Homegoods at $799, Italian pottery. Beautiful piece though!
So, that was the Homegoods party. We all had so much fun shopping together, it was exhilarating for sure.
Let me share what I got! For hosting the party, Homegoods gave me a $500 giftcard to buy whatever I wanted. I already had my eye on a low TV console that I had seen in the stores a couple of months ago. I had no idea if I would find one again. But, I did!! As soon as I went in the store Saturday morning, I headed to the back where all the furniture is and spotted this gorgeous reclaimed wood piece. Perfect for my den and for watching TV. My antique piece that I had in this spot is going behind the sofa and this one will be used for the TV and is so much more comfortable to view.
It was love at first sight.
I'll be working this week on rearranging this room and getting things somewhat straight in there, in preparation for my Open House this coming Saturday. Can't wait. Things won't be totally perfect, but they are well on their way to being mostly finished. This piece definitely looks like it's old wood that came from all different places. I can imagine what my dad is going to say when he sees it! 🙂
Thanks so much to all the ladies (and gents) who came out to shop with me at Homegoods. I enjoyed meeting every one of you, it was a blast!
The winner of the extra $50 HomeGoods giftcard is Heidi, with a Tweet about her favorite find, the pretty bench above. I love it too and agree it was a great find!
Note:  I received a giftcard from HomeGoods to host the shopping party and I loved every minute of it!
Don't Miss a Post, join my list!