This is a compensated review from BlogHer and HomeGoods.  COMMENTS ARE NOW CLOSED.

Imagine my excitement when I was recently chosen (thank you BlogHer and Homegoods!) to do a review for Homegoods and given a $500 giftcard to redo a room or area of my home! I'm a huge fan of Homegoods anyway and have bought lots of things at that store and to get this opportunity was just amazing.  I was dancing a jig at the thought of a shopping spree at one of my favorite stores.  I immediately began to think of just what area I wanted to redo and the logical conclusion was our upstairs guestbath.
This bathroom hasn't been touched in about 8 or more years and all the things that are in there came from my old house, plopped themselves in the new bathroom and all I did was paint the walls to coordinate with the shower curtain and rugs that I already had. Even the accessories came along and I really have not touched this room since then. The only thing I did buy was a $10 light fixture about 2 years ago from a yardsale and it happened to go along with the somewhat tropical feel that the bathroom had going. But, even recently I had already made plans to change out that light fixture once again and "trade up". That was all I was going to do… until that $500 giftcard landed in my mailbox.
And boy, oh boy, did I have a ball going to my local Homegoods and spending that card. Not really having a firm direction to go in, I wanted the bathroom to somewhat flow with the next door guest bedroom, which has neutrals, toile and some accents of pear green. So, when I spotted a pretty striped rug with chocolate brown, taupe, cream, and olive green, that was my starting point! That's all I needed to get the inspirational juices flowing and lo and behold, my new and improved bathroom began to come alive.
I walked through the store, picking out another chocolate brown rug, a pretty green shelf, some artwork of botanicals that would fit in with my new look. And one thing I decided to do was lighten up the walls, so out came the paint. I have been enjoying the new and lighter look of the dining room so much that I used the same paint in the bathroom too (a dead match to Sherwin Williams Antique White). With my already painted chocolate brown vanity and mirror, the antique white is a good balance of neutrals. And with my new love of that wonderful beadboard wallpaper, I decided that one feature wall with that and a new chair rail would really make a difference in that little bathroom to add some architectural details.
So, take a look around the new bathroom and see what you think! Don't you think it's a nice improvement? I sure do and I know that my hubby will enjoy it. This bath is right next to his office too and this look is a little more masculine. Clean and classic.  I love it!  Thank you SO much Homegoods for this wonderful opportunity.
I'm not kidding when I say that Homegoods is one-stop shopping for so many things in your home.  Lamps, rugs, bath, kitchen, dishes, glassware, artwork, and more accessories than you can imagine in one store, as well as furniture items too.  That's what you'll find at Homegoods.  I know of more than one decorator here in my town who relies heavily on Homegoods to complete their client's jobs, because they know they can stop in there and come out with a car full of great things.
Now for the really good news!  One of YOU will get the chance to win a $100 giftcard from Homegoods. In fact, you'll have 8 chances to win!
Check out what the rest of the BlogHer Reviewers found at HomeGoods – you've got 8 chances to win a $100 HomeGoods gift card.
Check out Open House – HomeGoods' blog "for anyone that loves their home."
To enter to win a $100 HomeGoods gift card – take the StyleScope Quiz and tell me what your style is in the comments below – or you may leave a link to your post on your own blog in the comments below. The contest will begin at September 14th and will end October 14th. Make sure that the e-mail address you leave is correct.
I took the StyleScope quiz myself and here's what it said about me and I think it's pretty accurate:
Rhoda, you are a

Bohemian Classic
You have a refined sensibility and bring a sense of history and tradition into your decor. You appreciate how symmetrical arrangements and beautiful, well-crafted pieces create a solid foundation to a room. But you like to shake up this restraint with objects and accessories that express your personality and your love of other cultures. When traveling, you seek out unique objects that reflect what you love, and you use them in a sophisticated way. You want people to feel comfortable in your home, and cozy chairs, ethnic fabrics, unique pieces, and even a little touch of quirk or humor give your house a laid-back, Bohemian flair.
You value creativity. You are stylish and fun loving, and can be an inspiration to others. You have a natural sense of drama, and you know you have to be willing to take risks—whether with colors, finishes, furniture choices, or ideas—for your home to stand out. Your home can be happy and lively and the place all of your friends want to be.
Rules:
No duplicate comments.
You may receive an additional entry by linking on twitter and leaving a link in the comments.
You may receive an additional entry by blogging about this contest and leaving a link in the comments.  Yes, please, if you do a blog post, come back and leave an additional comment and link to your post or Tweet!
This giveaway is open to US residents, aged 18 and over
Winners will be selected via random draw, and will notified by e-mail.
You have 48 hours to get back to me, otherwise a new winner will be selected.
Please see the official rules here
Those of you who are with  Blogher advertising network, if you have not signed up to be a Blogher Reviewer, let me urge you to get over and fill out the forms pronto (online).  They offer some amazing opportunities for us as bloggers.
The striped rug that got me started on this project.  I almost always start with one fabric item to get a room going in the right direction and these colors just drew me in.
I had already decided to upgrade this light fixture from the one I found at a yardsale 2 years ago.  To get a really good visual on the BEFORE of this bathroom, go to the post I did about framing out the mirror.  You'll be amazed at the difference. I'll add a couple here, just for fun.
This was the tropical light fixture I found a couple years ago at a yardsale for $10, but now I've traded up, yet again.  And funny, one of my readers wanted to find a fixture like this for her bathroom and asked me where I got it. I told her I was changing it out and would sell it to her for the same price I paid, plus shipping, so it's already been shipped out to a new owner.  I didn't mind it with the look I had in here, but I was ready for a change.
BEFORE, but the first pic was more accurate on the gold color that was here.
And AFTER! I decided to lighten up in here, since I have been enjoying the lighter dining room so much and went with some left over paint from Grandma's little house, which is all a dead match to Sherwin Williams Antique White.  I love it in here too and with the dark chocolate vanity and mirror, it just works well for what I had in mind.
The fixture I found at Lowes for $40 and they have a collection of fixtures that you can add your own globes to, so I chose these seeded glass globes for a clean and classic look, but there are many to choose from.  The globes were $16 for all 4, so if  you're looking for some affordable bronze fixtures, these are great.  I didn't want anything too fru-fru in here and this one is perfect.
The leafy green shelf is from Homegoods and works with my botanical feel, as well as the bronze and creme canister in the middle bottom shelf.  All the rest are things I've found, mostly from my yardsale junkets.
Yardsale bottle finds a spot.
All the artwork is from Homegoods and I decided to do a botanical feel in here, with soft greens and neutrals.  The towel bar I already had, as well as the hand towel ring, but the hand towel is new from Homegoods.
And just to add a little architectural interest to this small space, I added more beadboard wallpaper and a chairrail (and yes, I did it all by myself).  I'll do a post on this later for the beadboard wallpaper party we're having on Sept. 22, so prepare to get inspired once again. I love the difference it makes in here!
Again, this artwork is from Homegoods too.  I actually tweaked this piece after I got it home.  The raw wood flower in the middle was very light wood and I got out my Provencial woodstain and went over it with a Q-tip to darken it.  Perfecto now!  I tweaked my little lamp with some burlap.
Stepping through the door to the toilet and bathtub area.  Art from Homegoods.  I kept the black foral valance for now, but added a dark wood bamboo blind (ordered from Overstock, Homegoods doesn't have these).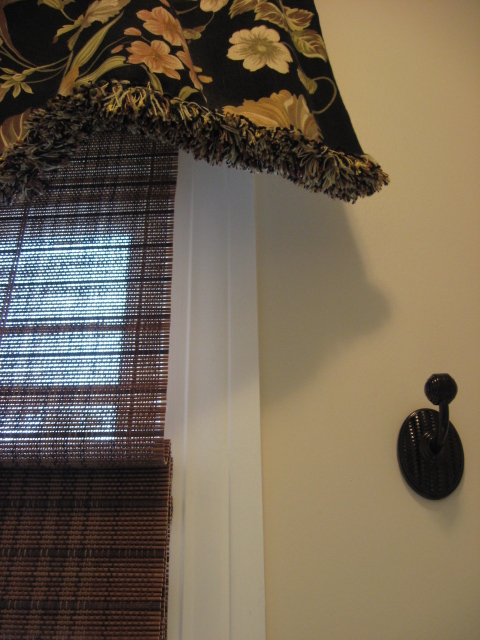 I will probably change out this valance later too to another punchier fabric with more green, but for now it looks fine.
And I added this beautiful cabinet from Homegoods which is perfect for my hubby to store his reading material in.  I'll have to do a post on that sometime.  I have to say that this glass front piece is much better at hiding the papers than the old bakers rack I had in here.   I added a few of my white pottery pieces in here and the new fern botanical that I put together in an ironstone planter on top.  The pretty shell mirror and trashcan, also from Homegoods. I'm loving this lighter paint color in here.
So, here's where my realistic fake ended up.  Don't you love this with the mirror?
The tub area in here is just white tile and I'm waiting on a shower curtain that is white and extra long to arrive from Target online. I couldn't find just the right one at Homegoods.  I'm going to add a brown monogram in the middle, so I'll still be working on this part.
So, that's one way to overhaul a bathroom!  I hope you enjoyed seeing all the changes in here.  I sure had fun doing it!  Thanks again, Homegoods and Blogher for allowing me the opportunity to participate in this fun event.
One of you will get the chance for a mini-shopping spree at Homegoods too!  And that makes me happy for YOU.