Recently, I tried out the fresh pizza dough that Publix carries in their bakery department.  Have you seen it?  It's a big ball of raw dough in a plastic bag, all ready for baking.  I have made my own crust before, but for about $2.50, I like this even better than mixing my own.
We absolutely loved it!  Being partial to veggies, that's all I usually put on our pizza, so you can pile it all on and it's a meal.
Spread the dough out and roll with a rolling pin to get it nice and flat.  If you have a pizza stone, all the better.  I used my rectangular one the first time and will do that again next time, but I think those stones can only be used up to 450*, that's what I've read.  But, that's hot enough  for pizza.  I tried it this time on my cookie sheet at 500* and it stuck slightly, so back to the stone for me next time.
Add your fave pizza sauce.
I sauteed some fresh veggies in a pan to add to the pizza:  spinach, onions, mushrooms and green peppers, all our favorites.
Add it all to the pizza.  I also added some Kalamata olives that I love too.  Those small cans come from Walmart and I try to keep them on hand for lots of things. Found the pizza sauce at Publix too, Dei Fratelli.
Add slices of fresh mozzarella and it's ready to bake.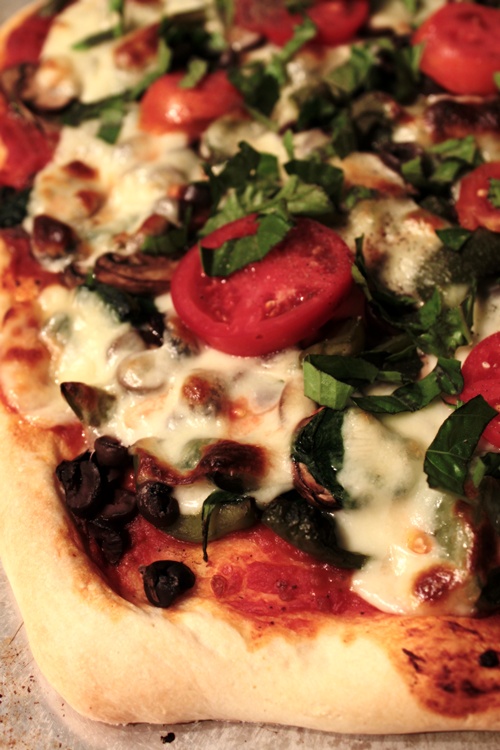 Out of the oven, nice and golden brown.  I had some fresh tomatoes from our garden, as well as fresh basil, so I sliced those up for the top.
Can you tell it was just yummy?!  Well, it totally was.  This will be a favorite way to eat pizza from now on and will join our weekly menu plan. Much better than any frozen we've tried. I've tried the premade crusts too and this is even better than those to us.
Give it a try and let me know what you think!  Have any of you tried it yet?
Adding to Jen's Tasty Tuesday.

Don't Miss a Post, join my list!