Happy day, happy day!!
You'll have to excuse the lack of Feature Friday today, but I've got some news to share that is making me about to burst with excitement.
I haven't written a lot about my house hunting journey, mainly because it's been fairly uneventful and not a lot to talk about.  It would have been along the lines of, look at this cute house, we put a bid on it.  Aww shucks, we didn't get it, outbid again.
I really wasn't planning to actively begin the house hunting process this early, until I started looking for fun, then we would go check out the houses in person, just to see what was out there.  It really got interesting and then as the last 2 months continued, we actually decided to start the bidding process on a few houses and see what they were going to go for.   My parents have been great and when I found a house to look at, they eagerly went with me to check them out.
There have been some real bargains around, listing at $50,000 to $70,000 and I was looking at some of the low ones to get an idea of what was out there in that price range. If I could snag one that cheap, it would be amazing.  Major fixer uppers for sure!  And we quickly found out that bidding wars are happening in those lower prices too.  Like 12 and more bids on one house, kind of bidding wars!  House hunting for a foreclosure fixer-upper is not for the faint of heart.  You can't get too attached, cause chances are it is not going to happen in a market this tight.  We made bids on a few houses, really fairly certain that we would get that one.
And we didn't!  So, after 5 heartbreaks in a row, over about a 2 month period, I toughened up and knew that the right one would eventually come along. I could not become emotionally attached to any of these houses, although I couldn't help but walk in and decorate and renovate them all in my head in the short amount of time we walked through. You'd do that too, right?  🙂
Let me stop here and just say this!  Some people live like pigs.  No kidding!  We could NOT believe the condition of some of these houses.  Did these people ever clean their carpets, bathrooms, or vacuum the air vents?  It sure didn't look like it when we were looking.  That just amazed us that so many of these houses were just trashed.  Holes in the walls, doors missing, and so many things wrong.  I know some of that was probably vandalism, but all of it wasn't.  Some people just live that way apparently.
We tried to look at the market objectively.  Would it be better for me to keep saving my money and have more to put down, so that possibly I could get into a better house that didn't require so much work?   That became the question that increasingly became difficult to answer.  With all those bidders out there, it seems that is driving prices up, at least it is for the near future.  Banks will catch on to the bidding wars and raise those prices, you can be sure of that.
Not only that, the bank practices have been really frustrating too.  When bids are put in and there are 12 or so bids on one house, then it was nothing to wait a few days and get notice that the bank now wanted our "highest and best offer".  What in the world!  I thought that is what we entered in the first place.  The object was to get people to frantically raise their bids and thus, drive that house price up.
This happened at least 2 or 3 times.  We lost out every single time!  I could only go up to a certain amount, since I don't have tons of money sitting around.  My dad is helping me get into this house and I have been fortunate to save a nice chunk of change for buying a house in the last year.  God has blessed me SO much in all of my trials and I'm so happy to be out of the mess I was in.  We will pay cash now and fix the house up with my cash during the next 6 months.  Then, I'll pay my dad back what he let me borrow and it will be something that I can afford to get into.  That's the only way I could do it now.
Come along with me and I'll share the 5 that we didn't get and when I look back, I know that the one we are getting is the best one for me out of all of them.  God is SO smart!

All of these houses were within 10 miles of my parents, so that was an important factor in looking.   I wanted to stay close to my family and so I looked at a few zip codes that were in the surrounding areas, scouring the MLS every week.
This was one of the first ones I looked at and when I drove up, I could immediately see myself in this house.  That cute front porch was begging for some rocking chairs.  It had been completely repainted and recarpeted inside and was move in ready.  Not to say, there weren't some things I would change in the kitchen and bathrooms, but it wasn't anything that couldn't wait until later.  Unfortunately about a dozen other people decided they wanted it too and the bidding wars commenced.  We didn't get it the first time around, but the asking price was $75K and that was the top of what we were comfortable with.  Someone else got it and then about a week later, it fell through and they came back again asking all the bidders to bid again.  This happened one more time and now it's under contract again.  What we found out the 2nd time around was this house is in a flood zone and in fact, HAD flooded in the great flood of 2009 here in Georgia, so that is a blessing in disguise.  Whoever buys this house will have to buy flood insurance on top of regular home owners insurance, so that one is out.  As cute as it is,  I wouldn't want to be in a flood zone.  It may never happen again in 50 years, but you never know!  This one ended up going for only$76K.  Someone must have paid cash and didn't mind the flood zone.
This next house was another contender.  I liked the outside and inside and it was a pretty nice layout, a split foyer, with a nice room downstairs that could be used as a den.  Double garage and deck in back, but nothing really fancy.  Listed at $54,500, I think (it's hard to remember them all) we bid around $63K on it, but it ended up going for $67,500.
This cute Cape Cod was another one we looked at.  Of course, I started falling in love with all of them, but quickly learned that I couldn't get my hopes up, as we got one NO after another.  This one was listed at $52,500.  It was really outdated inside, but the bones were good.  Both bathrooms and the kitchen needed major updates, but all the bedrooms and baths were good size.  It only  had one main living room and no extra bonus room and no dining room either, so I wouldn't have been able to use my dining room furniture or my den furniture in this house.  It went for $61K.
I really didn't love the exterior of this house, but liked the floor plan inside.  I figured I could get the exterior painted one day. It was listed at $75K and was a short sale, top of my price range.  Swarms of people were stopping by and that happened with every house we looked at, for the most part.  We could just about be sure that someone else would be looking as we checked them all out, one by one.   It went for $80K.
This last one was in the same neighborhood that my friend, Tammy, just bought in.  She bought a foreclosure too and has just moved in within the last month.  She is tickled to get something too.  In fact, this house is the exact same floor plan as her house.  I liked it well enough and knew that I could fix it up and make it cute.  It had a nice big deck across the back and the inside was not in bad shape, just needed plenty of cosmetic work.  It was listed at $70K and we put in a bid slightly over that.  We didn't get it and it ended up selling for $79K.
One year ago, I did not dream that I would be where I am now, buying a house!  I have saved my money, lived frugally and lived with my parents for the past year and it's been great.  But, I do miss having my own space and being able to spread out and use my own furniture.  My stuff!  I sure didn't think it would happen anytime soon.
But, the good news is, after 5 heartbreaks…..we finally have a winner!  And I'm about to pee my pants with excitement.  Never thought I'd be so excited over a 1979 fixer-upper that needs tons of work and TLC.  I'm more than willing and ready to jump in there and tackle what needs to be done and my dad will be right there with me.  Mom too!  It will be a family project and you will see it every step of the way.
I'm about to bust out with happiness over the prospect of getting into this house! 
Are you ready to see it?  How about a BIG woooohooooooo!!!
We got this baby for $70K, still a bargain for sure and we had to bid $10K over the asking price to get it.  Never did I dream that I would be able to find a house to fix up and something that I could afford to get into one year after moving back to GA.  When my friend, Tammy bought a fixer, that is when I found out that they were out there for such a great price right now.  This is the best time ever to find a fixer-upper, it seems.  When is the last time you saw any houses selling for less than $100K?  It's been a long, long time in the area we live,  Cobb County.
She is nothing fancy, but has plenty of potential and that's all I need.  No landscaping was ever done to this 1979 house, but you can bet, I'll be adding some later.  There are 3 flowering trees in the front yard, 2 cherry and a beautiful pink dogwood.  That's a sign, I think that God was smiling on me.  It will take years to complete, but I enjoy working in the yard too and adding plants and flowers will be a joyful journey for me.
I really want to add a cute peaked roof to this little front porch, to protect the door and get folks out of the weather.  That will probably happen after we finish the inside.  You can see the stairs were recently replaced. The bank did a few repairs before it was put on the market. I  love the door!  It's begging for a new light fixture too.  Yep, she's got potential!
Stepping inside the tiny foyer, there's a short set of stairs.  I'll be ripping up all this carpet.  I'm lucky that there are hardwoods in the dining room and kitchen and I'm hoping to be able to afford to get hardwoods in the greatroom and sand down all the existing floors, stain them all darker and finish them out.
Here's the large greatroom with fireplace.  There are 2 sets of windows on either side of the fireplace and this room is very spacious.  This is where I want to add hardwoods. All the trim will be painted white. Those white marks on the walls are where the bank had a handyman come in and at least start some repairs.  That's less that we have to do, so we are grateful for all of that!
The stone fireplace is begging for a rustic mantel and that's what I'll do.
Looking back towards the foyer, that flight of stairs on the right goes up to the 3 bedrooms above.  The master bedroom suite is at the end of the hall.  The stairs to the left go downstairs to a bonus room in the basement area.  It's really large and I forgot to take a pic of it, but it will make a nice den.  You can see some paneling and carpet down there.  The first time we looked at the house, that area had concrete floors, which in my head, I was going to stain the concrete.  When we got the bid on the house and came back, the bank had added carpet.  OK, I'll take that!  The rest of the existing carpet will have to go.  It's nasty!
This is a small dining room, but I'm so happy to have one for my round table and chairs.  I have fun plans for this space too. Through those sliders is a cute little screened porch.
Do you see the smile on my face?! I know that the Lord gave this to me, He knew how much I wanted a screened porch. It needs work, but it will be adorable when I'm done with it.  The backyard is nice and flat, nothing fancy, but no dangerous trees nearby, which we were glad about too.
The kitchen needs work!  When we came back the 2nd time, a handy man was putting in a new dishwasher, courtesy of the bank.  We are so grateful that they have done some repairs on the house since we looked at it and put in our bid.  The house was also missing the hot water heater.  We totally thought we'd be responsible for all of that, but were thrilled to come and find that there was a brand new hot water heater installed too.  We are checking out the furnace and AC and don't know what shape it is in yet, so we may have repairs on that.  But, if we don't get any other concessions, we are happy with what they have done so far.
These pine cabinets are not worth saving, so I'll gut the kitchen and start over.  I think I can find some reasonable cabinets to put in here and it should be a cute little kitchen when I'm done.  There are 2 huge windows on the far side.  It's not a big kitchen, but I can make it work.
Upstairs, here is one of the bedrooms.  I'm planning to get a roommate when I move in, so this will be her room. I've got a friend in mind already, who is living in Colorado, but is planning to come back to Atlanta in the Fall. We are hoping our plans work out.  I've got swirly ceilings, but I can live with those.  Better than popcorn! 🙂  Yep, we've got some wallpaper stripping to do.  Glad it is only on one wall.
The other extra bedroom upstairs, this one will be my office.  It's plenty big for that and yes, more wallpaper to strip.  We've got to add some trim around that window too.  Luckily, there were brand new vinyl windows installed in the house, so that is a HUGE plus.
Closet space in what will be my office.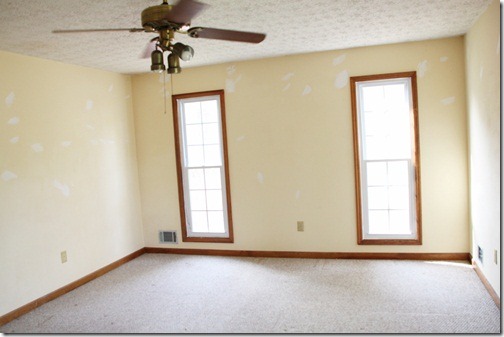 Master bedroom at the end of the hallway.  It is nice and big and has 3 windows.  I love having a lot of light coming in a house and this one has plenty of windows.
The other end of the room, with a one sink vanity and the bathroom is to the right of this space.  I will more than likely tear out this sink vanity. It's ugly and I don't really need it, since there is another sink in the other part of the bathroom.  They did that a lot back in the 70's.  I would like to put my vanity desk in this nook and I'll have to see if it fits.  Great place to put on my makeup. The master has a small walk-in closet to the left.  Not huge, but I can make it work.
The master bath is nothing special, more wallpaper to remove and I hope to be able to replace both of these vanities and sinks.  They are butt-ugly in both bathrooms, not to mention falling apart.  Check out that lovely laminate countertop, original to the 70's.  Hey, someone framed out the mirror, not the best job, but maybe I can do something with it.
Tub and shower.  Just basic, but I'll make it pretty!
So, that's the house!  You can bet, this will be a journey that I'll be sharing along the way.  I'll never run out of blog material now!  It's going to take me years to get this place totally the way I want it.
Going through what I have and losing so much has taught me a valuable lesson.  Finding contentment and happiness in the small things is what life is all about.  I could care less about having a fancy big home anymore.  I will be so proud and happy to fix this place up and make it a home.  Once I can bring all my things in here, it will be my own little haven and I will absolutely love it.  I could not be happier about a house.  It's not the fancy house I used to have, but it will be mine and I will praise God for it.
He has brought me SO far the last year and I know you all have watched the journey with amazement too.  No one is more in awe than I am at where I am a mere one year later.   God has answered one prayer after another for me.  It was one year ago this month, when we packed those moving vans and brought me and my stuff back to Georgia and in with my folks.  I envisioned years of waiting for another house, so to have it happen this fast, well, I'm just so happy about it all.  I have my parents to thank for their willingness to help me do this, they are the BEST!
Never in my life have I experienced the grace and faithfulness of God in such a real and tangible way, as I have experienced this past year…the hardest, yet possibly the most blessed year of my life.
So, get ready to watch a real-life home renovation in progress.  I'll be taking pics all along the way.  We are going to take our time and I probably won't be moving in until Fall, at best.  We are not going to rush and I'm going to be paying cash along the way, fixing this place up and making her beautiful.  And you know I'll be sharing every step of the journey with all of you.
Thank you ALL so much for your prayers, support and love!  I appreciate all of you more than you know.
My  head is spinning with ideas, colors, and inspiration on all I want to do in this place!!  It's going to be a blast.  Lots of hard work, but I cannot wait!
Don't go anywhere, we've got lots of work to do! 🙂
I'm heading to the beach on Saturday for a week with my sister and brother-in-law in their camper.  We had such a great time last year and I can't wait to do it again.  I've got plenty of fun posts saved up, so will have them up next week while I'm having fun in the sun and sand.
Don't Miss a Post, join my list!