The first thing we had scheduled in the new house was getting the carpet out on the lower level and site finished red oak installed.  They came out, took out the carpet, laid the new floor, then came back to sand, stain, and seal the new floors.  They came out absolutely gorgeous and we couldn't be happier with them!
We are getting new Shaw Floors Epic Plus engineered hardwood flooring on the top level of our house, so wanted to somewhat coordinate the new flooring with the existing flooring downstairs, so we tried to find a good color that would be complementary to the site finished floors and I think we did it.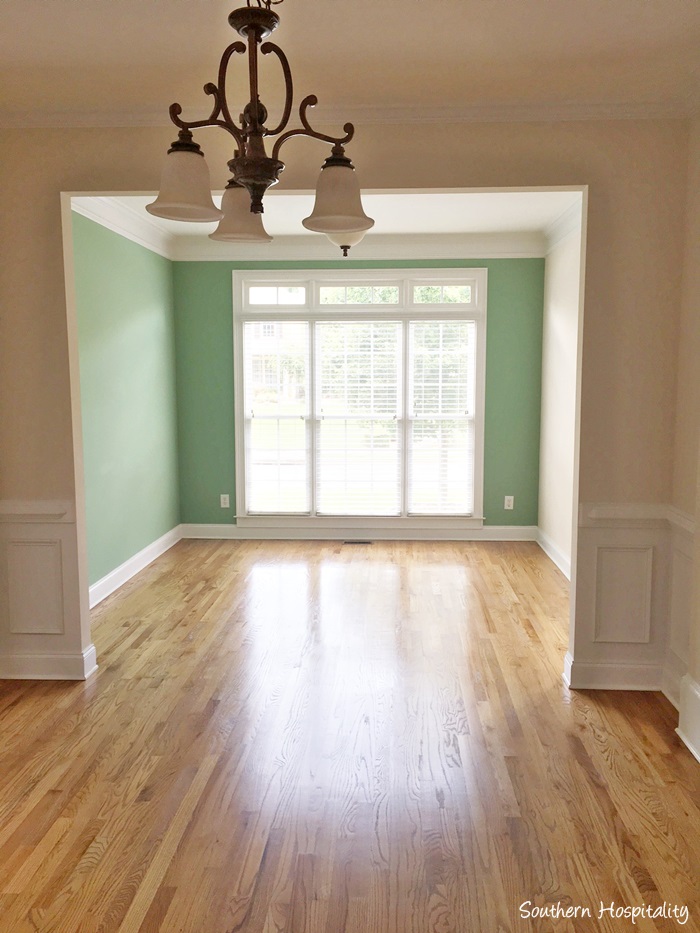 This is the floors as they were and the color was fine, but we wanted to blend the new floors upstairs with these floors and needed to have them sanded and re-stained a bit darker to get the look we wanted.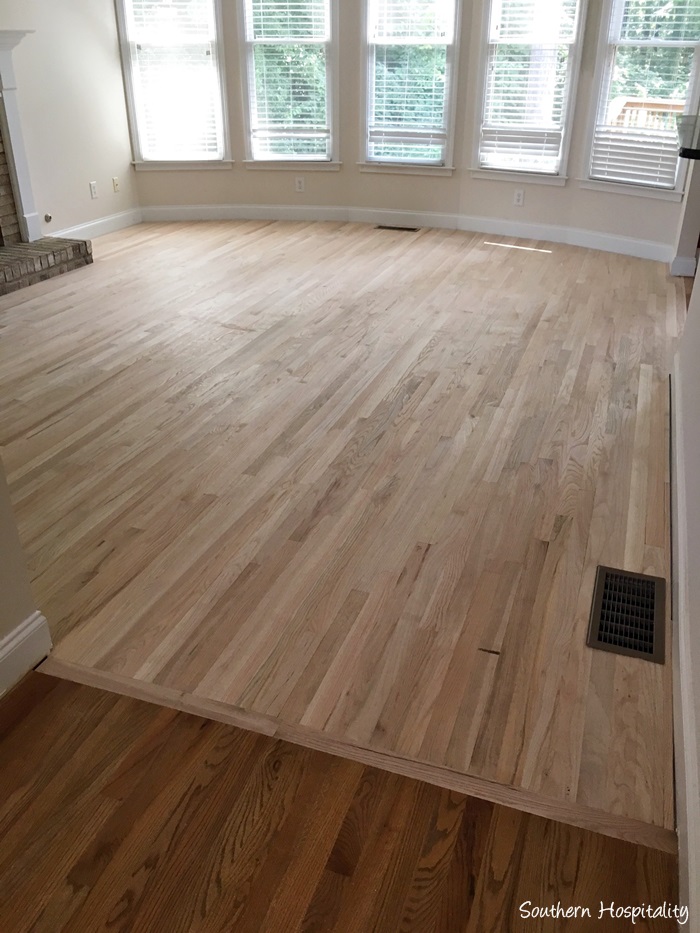 We used Dalton Wholesale Floors for the installation and they did a fantastic job. This wasn't sponsored, we paid for it but it's the same company that we will use for our Shaw Floors upstairs too. They happen to do site finished jobs as well, so we got an estimate that was fair and went with them.
You can reach them at Dalton Wholesale Floors in Adairsville, GA. 770-773-2681.   We were very happy with the outcome of our new floors and worked with Chad King.  They work in the Atlanta area often.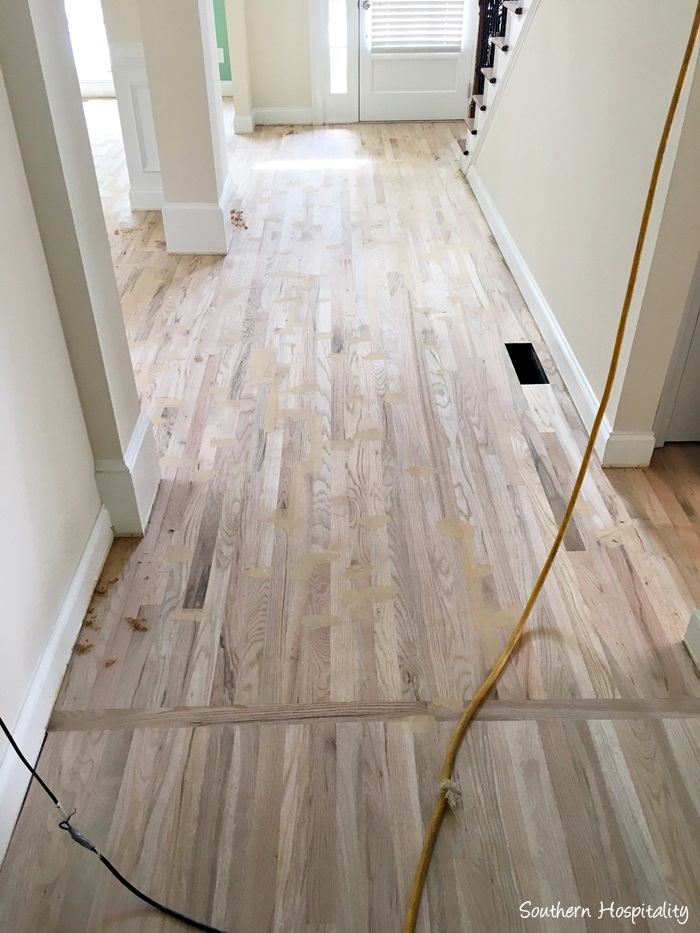 New Red oak was installed and then the sanding and staining process began.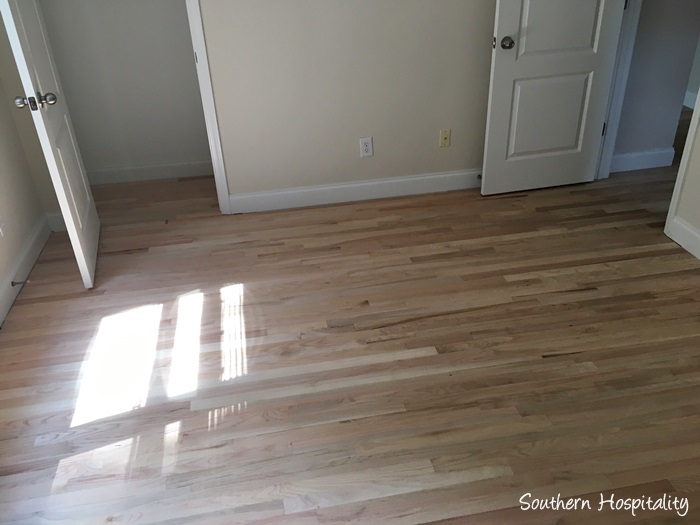 The guest room got new floors too.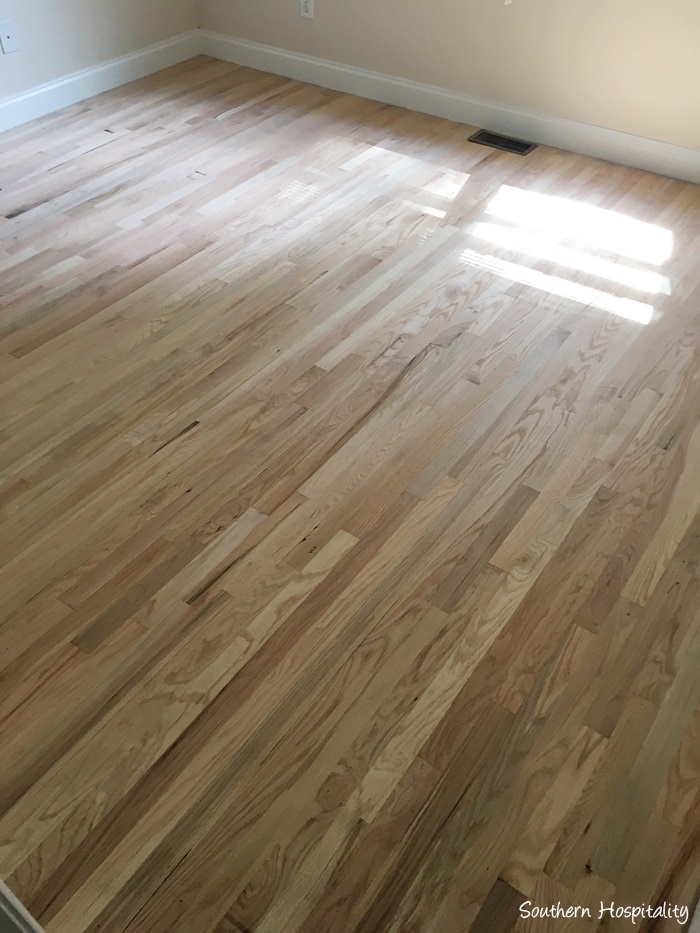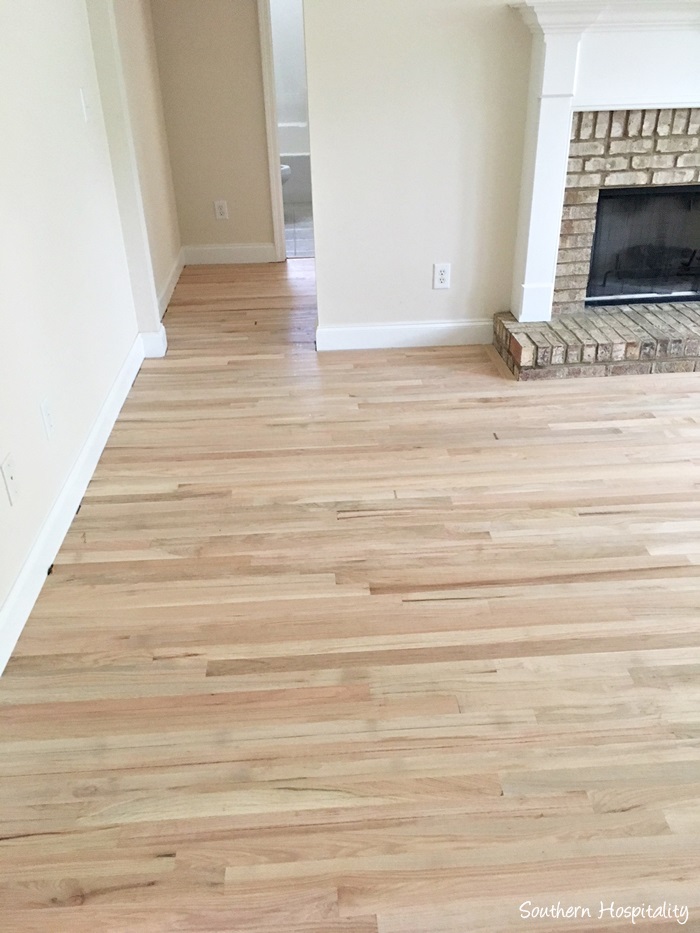 So nice to have all the carpet removed and hardwoods all through the lower level.  I just love hardwoods!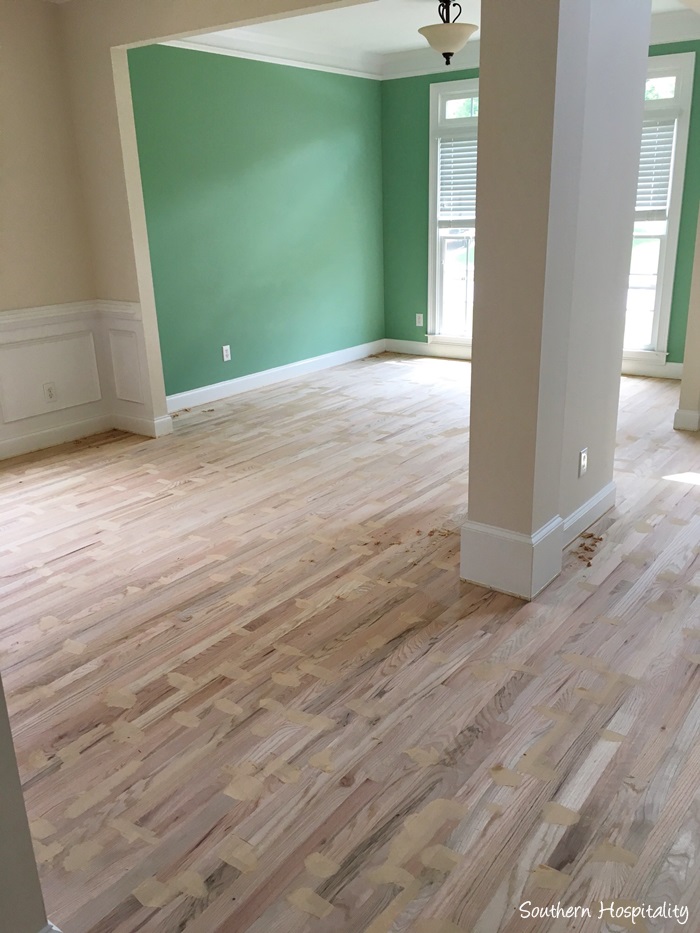 All the floors were sanded down and prepared for the new stain color.
We are using a medium brown toned Hickory Epic Plus flooring upstairs and chose the one above.  It's called Epic Plus Pebble Hill Hickory in Warm Sunset and we think it will be beautiful on the top floor.  I knew about the Mixwax stain color, Provencial, so that is what I chose for the stain color and it turned out gorgeous. It's a tried and true color and looks good with anything.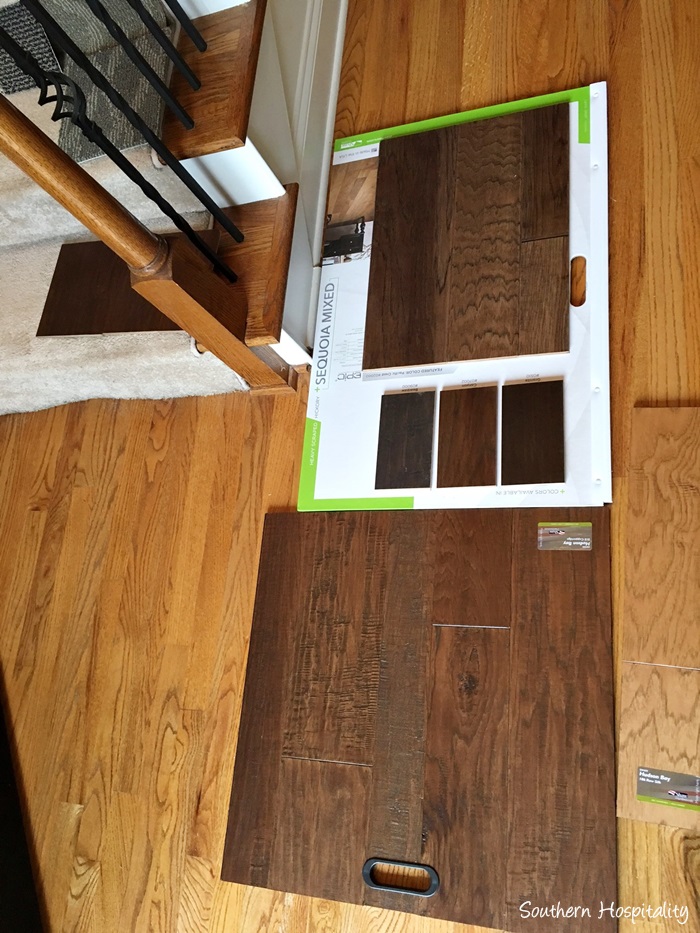 I had brought home a few samples to try out and didn't want to go as dark as the floors in my current house so  we were looking at more mid-toned browns and really like the one we chose.
I've been choosing runners too for the stairs and we've decided on this pattern in the color Carbon, which is Black and gray (I think it's the top right one). We think it will look great with the black iron  spindles on the stairs and really give an elegant look to the stairs. This is from Shaw Floors as well, they have some gorgeous carpets to choose from.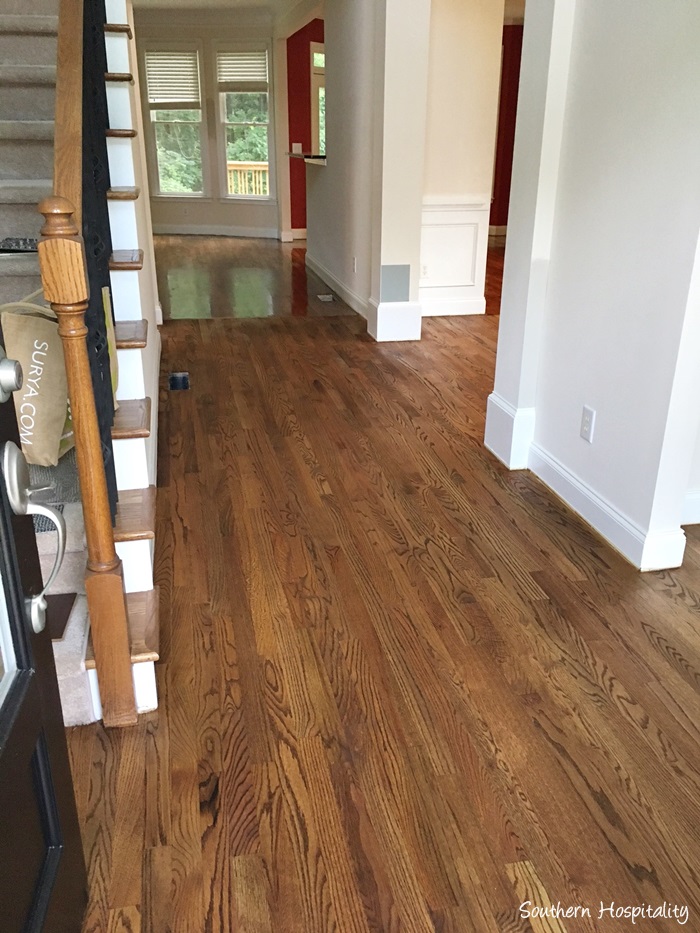 The staining process began and then 3 coats of poly to seal it. We went with a matte finish poly and it's so soft and gorgeous.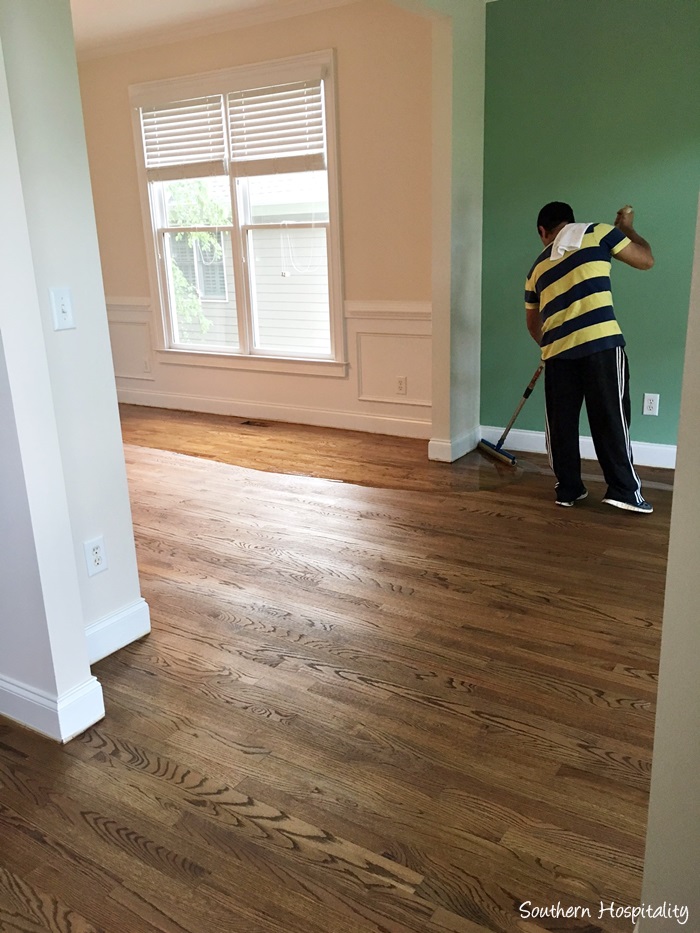 The guys did a fantastic job with our floors and we couldn't be happier.  It took 3 days for all 3 coats to go on and everything to dry well.
Now we've got this beautiful wood floor all throughout the lower level and it feels and looks so good.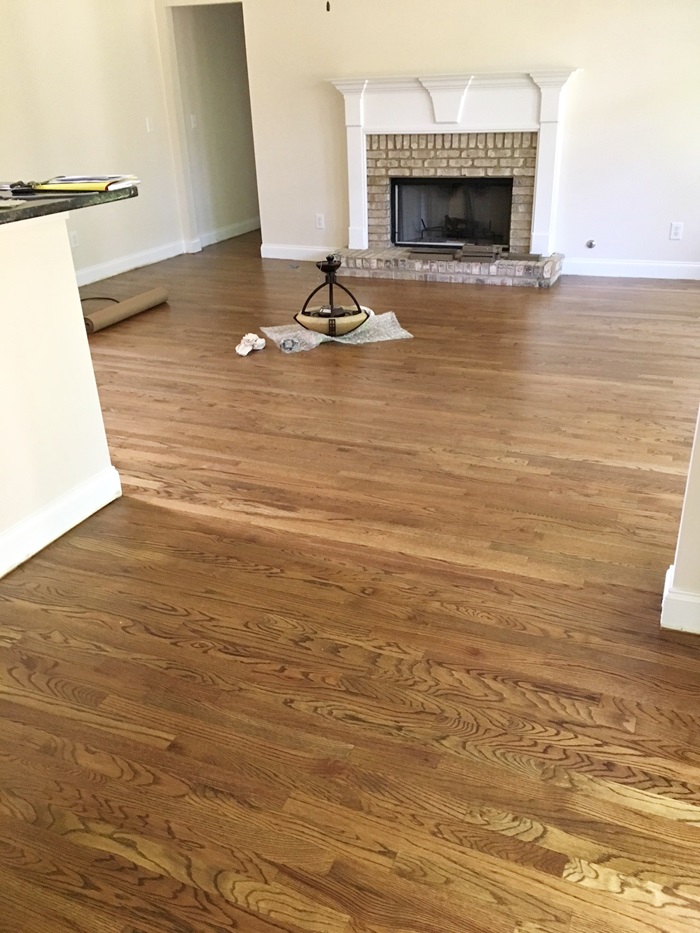 No more carpet in the den which makes both of us really happy. Can't wait to put down some area rugs.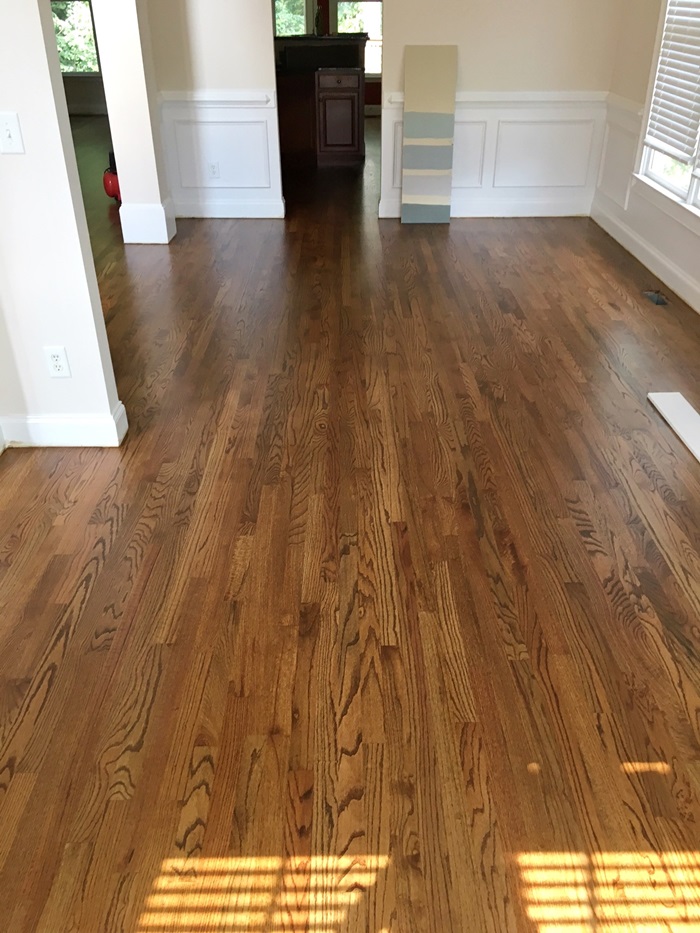 Provencial stain is a really nice warm brown tone and a great color for stained floors.
So, that's an update for this week.  We've had a week or so with nothing going on, but the painters are coming this week, so we hope to get those projects started.  We are getting the main living areas along with the 2 story foyer painted and then we will paint the rest of the rooms as we get to them.  I really wanted to get the kitchen cabinets sprayed by a pro painter, so glad we are doing that before I try to move anything in the kitchen right now.  We both like painted cabinets and like a lighter and brighter kitchen, so it will be nice to get them painted. It will brighten up that area so much.
It's a work in progress, but we will get there! It will be awhile before we get all moved in so August will be slow as well. We have a family beach trip for a week in August that we are excited for and I have to pack up my house to get moved by the end of the month, so I have a lot to do, but I'll keep you updated as we move along on moving in.
SaveSave
SaveSave
Don't Miss a Post, join my list!