As long as I can remember, I've loved walking on the beach collecting shells. They are so pretty and organic. Their shapes are unique and shells of many colors are found on the beaches across the world. So whenever I'm at the beach, I look for shells. Do you do that too?
Let me show you what I made with my shells!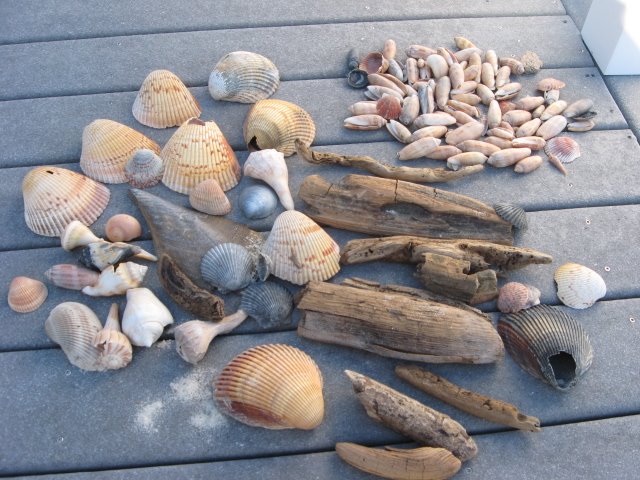 These are a lot of the shells and driftwood I've collected over the years picked up from the beaches I've visited and shared here on my blog. In the almost 14 years I've been blogging, I've been to the beach a lot of times and I have quite a nice collection of shells and driftwood. I still enjoy getting them out and using them in my summer decor.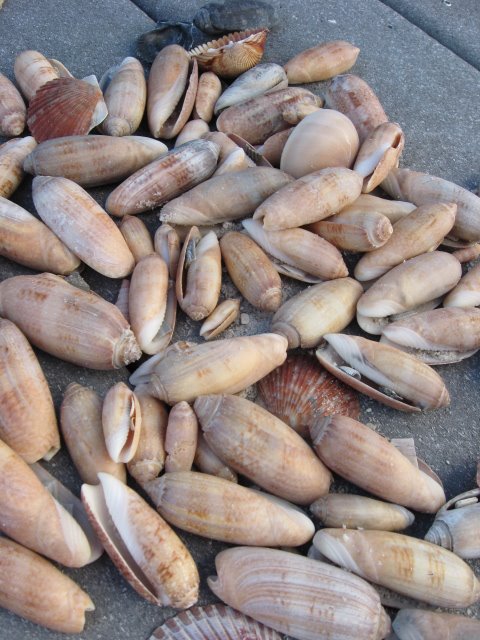 This particular trip to the beach in Alabama, I found so many olive shells it was crazy! They are so pretty and smooth.
I love all the tiny shells too, they are so delicate and unique.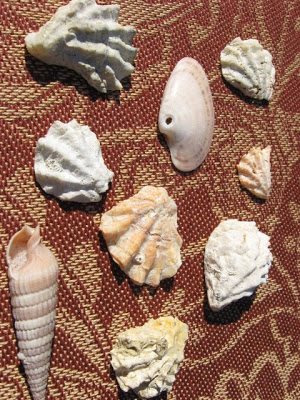 Cats paw shells were always fascinating to me too. Have you seen those above? They do look like little kitty paws. So what to do with those shells?
Way back years ago (2009 to be exact), my friend Layla from The Lettered Cottage was selling shell boxes on her site that her mom was making. Pretty sure she's not selling them anymore, but that is when I got the idea to make a shell box with my shells and so I shamelessly copied her idea for my own shell box back then. I never shared it here on the blog, but thought it was worth sharing now, so here you go!
I made my own shell box several years ago too and it hung in my old bedroom, but when we moved I decided to hang it here in our guest bath. It just seems to fit this space and looks great on the grasscloth. I added it after I shared the reveal, so you all never saw it.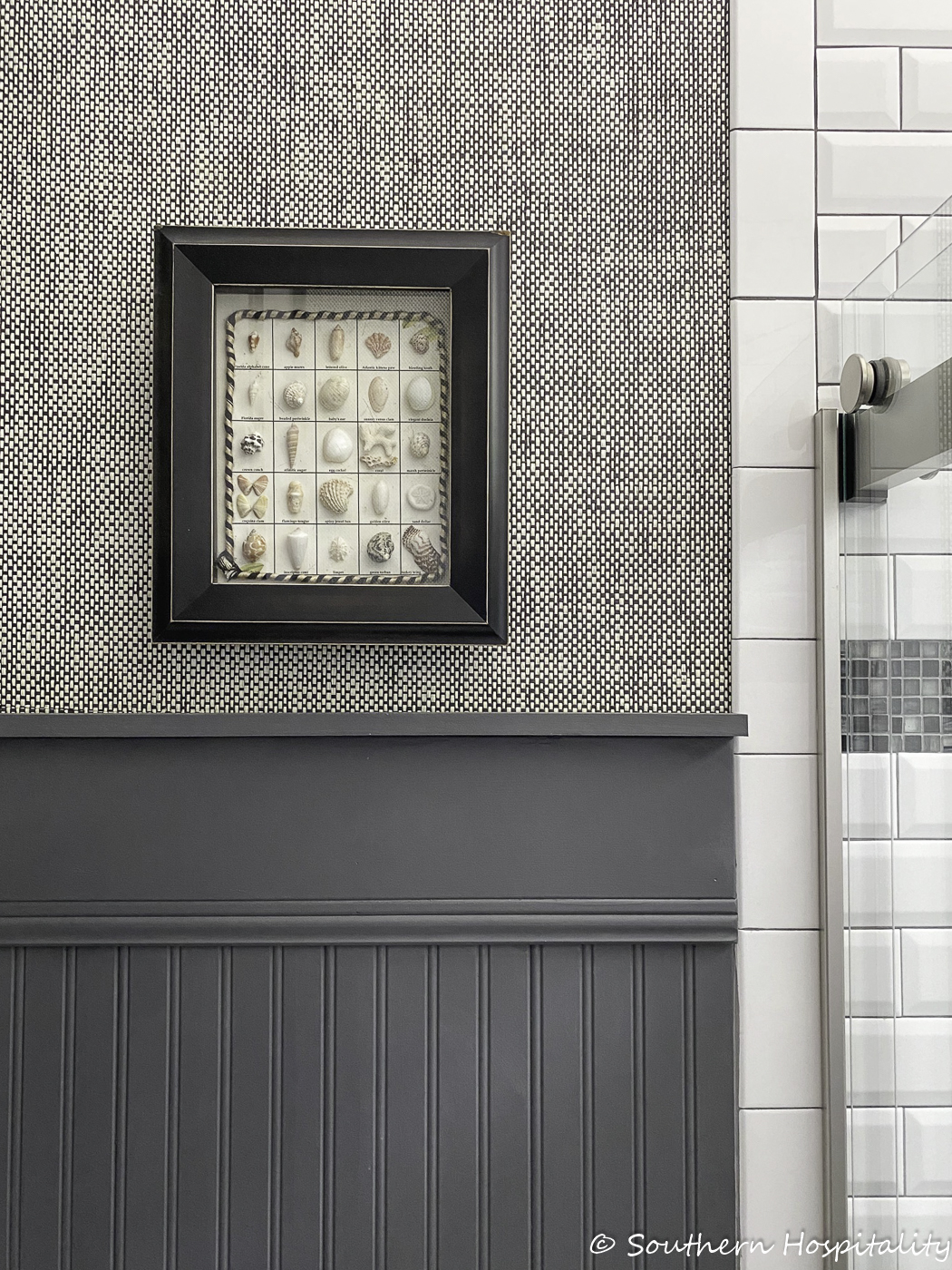 It's hanging right above the toilet on a little hook. This is a shadow box and is perfect for displaying my tiny collection of 25 seashells, all unique and perfect. I'll share how I did it and you can do it too!
I used some paper that I had and simply printed the grid on cardstock paper and ran it through my printer. Then I outlined it all with some braided cord I had that flows with the color of the frame. I glued them down with a hot glue gun.
Here's a closeup of the paper. It was a botanical type paper that I had on hand and it had shadings and leaves on there, which worked great for my shells. I used Word to print out the grid and simply figured out how many boxes I wanted and used the Label feature to make my squares the size I wanted, all even and spaced out. I think I darkened the grid too as I printed it. Any linen or cardstock paper would work so use what you like. I think you could find something to work in those paper bins at Hobby Lobby or Michaels. My box is from Michaels (I think) and it's hinged with a magnetic closure. The frame size is about 12×14″.
I laid out all my small shells and then went online to figure out what my shells were called. There are many sites that identify shells, so I did the best I could to match up my shells with the ones pictured online and I think I got them right. Here's a good online site to identify shells. Here's another shell site too. I was amazed I had so many varieties of shells collected.
Then I typed in each name in the grid and printed it off. I cut the paper to exactly fit inside the shadow box and I used a grid of 25 squares. You can make this any size you want to fit your shells. I made sure all the shells I used would fit inside the box.
I had so many cute little shells and they all had such unique characteristics to them so it was fun to mix them up and display them all. I love my little shadow box and will keep it forever as a memento of my love for the beach.
Are you a shell collector and would you make one of these. I'm pretty sure I got my shadow box at Michaels.
For more information and to see the entire guest bath reveal, click that link.
Here are a few shadow boxes I found online in case you want to try this project yourself. Let me know if you do!

Don't Miss a Post, join my list!