Once Ruby and Bill were moved into their new lake house, one of the projects we had planned to do was to paint the concrete floors in their basement. It's a great walk-out basement with lots of light. They decided not to spend the money on laminate flooring down there (it was going to be $3K!), but I told her that painting the concrete like I did in my laundry room would make that space feel very fresh and clean. They worked on getting the concrete dust up with a shop vac and also mopped it a few times to get the dust and debris off the floors before we started. You really do need a clean floor to do this project, so make sure as much of the dust is up as possible if you are going to try this on a brand new concrete floor. An old floor is even easier to paint, since the dust is knocked down with age. In my laundry room, I just vacuumed and used a mop to get as much of the dirt up as I could before I started to paint. Sweep and vacuum to prepare the floor.
If you missed this post from when I was renovating my laundry room, check out how I painted the floor with bold stripes, using this same Porch and Floor paint.  It turned out gorgeous!Using concrete paints is an easy way to update. Water-based concrete paint is the way to go, it's much easier to work with. Concrete stains are also an option to use.
If your concrete has any cracks, you may want to use concrete filler for a better look.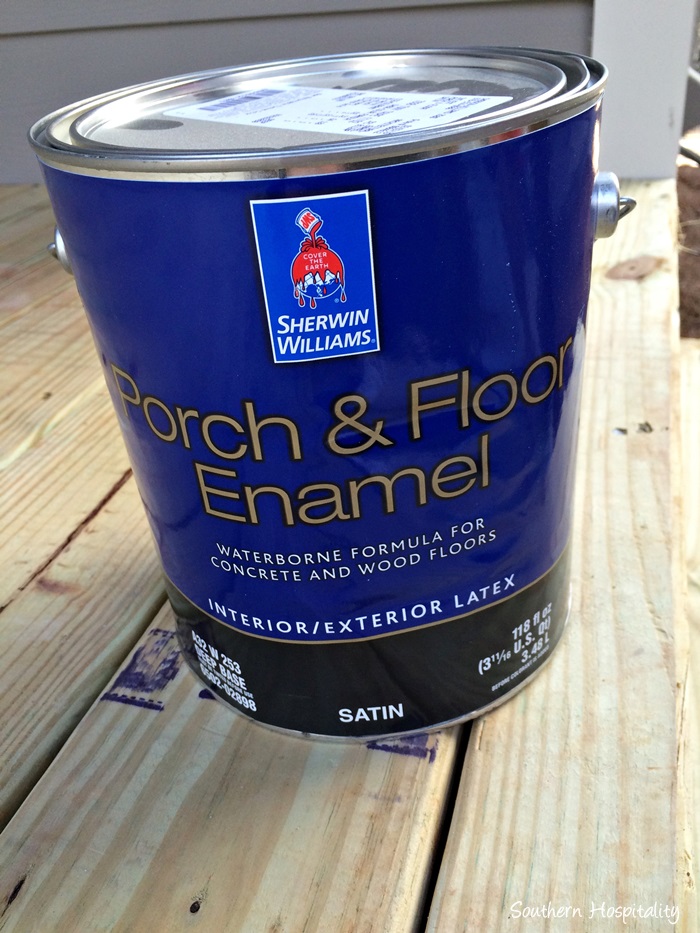 We used Sherwin Williams Concrete floor paint for this project and sealed it with H&C glossy clear topcoat.  Color is Tony Taupe.
That really finishes it off and is the same process I used in my laundry room. I've been completely happy with my painted concrete floors too. If you want to paint a garage concrete floor, I would ask the pros about which product would work best for that. I am not sure that this porch concrete paint would work for a garage, but there are other products available that are more durable.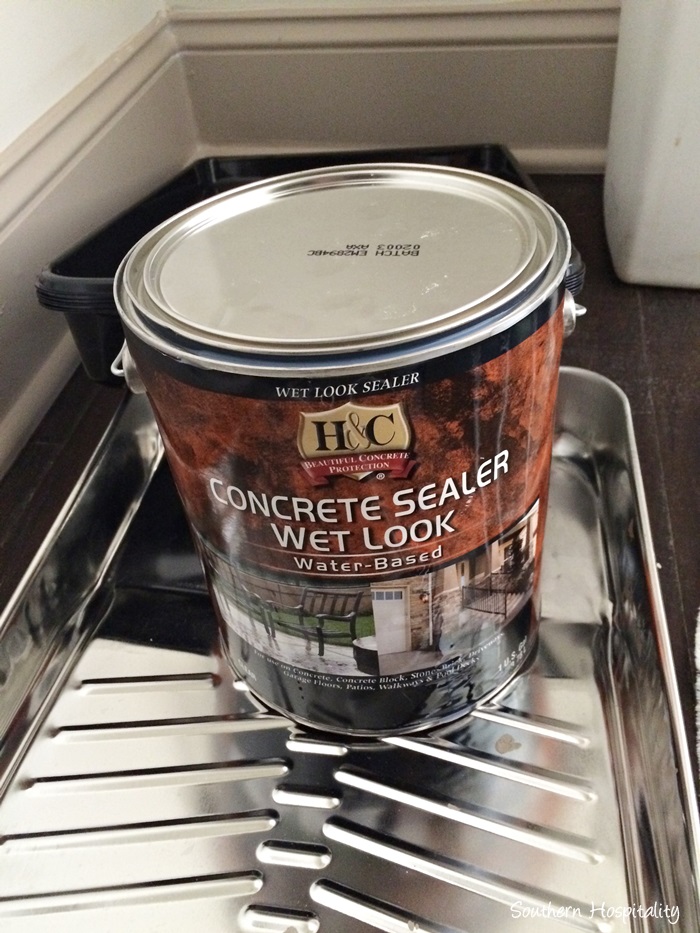 How To Paint a Concrete Floor:
Love this concrete sealer by H&C, water-based and glossy. Really finishes off the look of painted concrete.
We got everything ready to paint and both of us worked around the baseboards, cutting in with a paintbrush, so we could then use rollers with long poles to roll the paint on the floor.
Cutting in takes the longest time, but even that went fast.  I didn't get pics of all the cut-in.
This is a little foyer space that goes to the extra garage bay and extra storage room to the left.
This little nook will get a built-in seat with cushions and storage drawers underneath.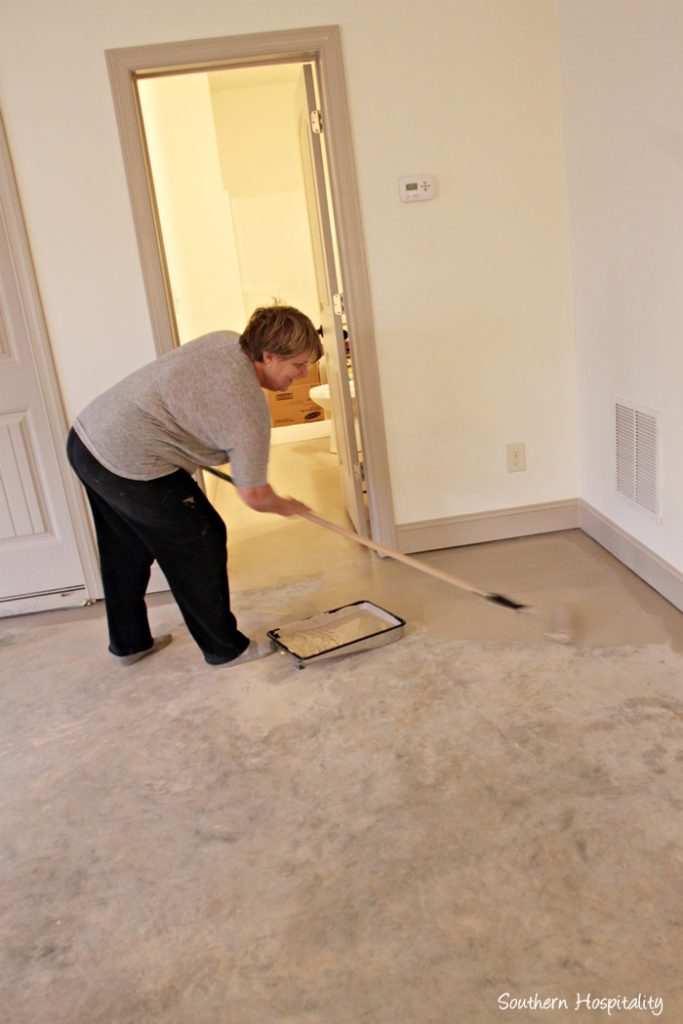 You can see where we cut in around the baseboards (about 3″ out) and then we were ready to rock and roll, literally. With both of us rolling, the first coat was on in no time. We let it dry for a good 2 hours and went back and did the second coat. A paint roller is your friend.
After one coat.  Be sure NOT to paint yourself in a corner.  We painted backwards towards the stairs going back upstairs and that worked out perfect.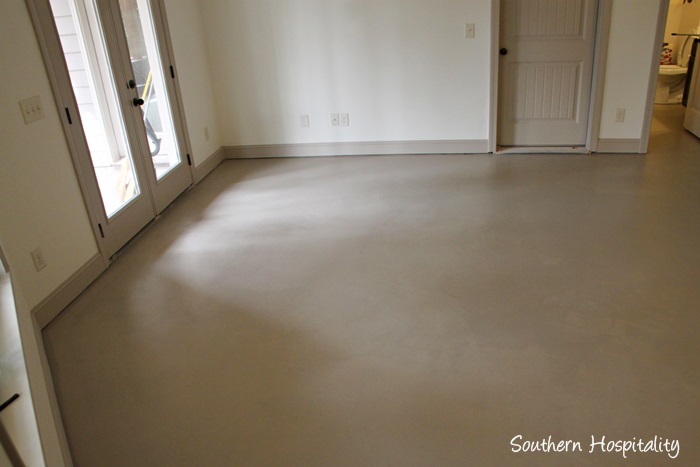 Painting a concrete slab is a great way to update your basement floors.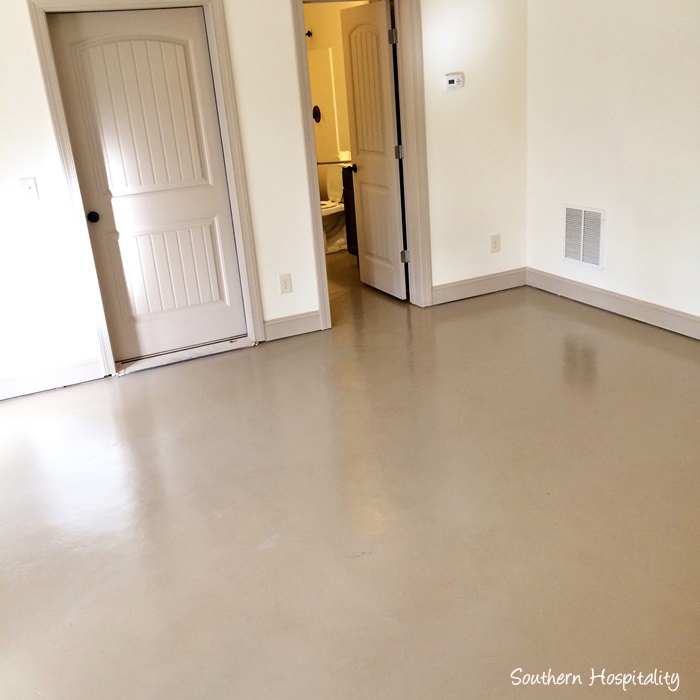 Then, 2 days later, we went back with the glossy sealer and rolled on the top coat. It gives it a nice shine and looks so clean and fresh now. And no, it's not slippery! It's no worse than a tile floor and should really hold up to lake traffic. She will add some area rugs down here and furniture and what a great space it will be for relaxing and watching TV.
I hope these instructions are helpful if you are planning to paint concrete yourself.
SaveSave
Don't Miss a Post, join my list!