We all have heard about and appreciate the benefits of sleeping well, haven't we?  Our bodies were created to rest every single day and 8 hours is what I've always heard is the optimal amount of sleep we should get every night. But, wanting to sleep and actually sleeping are sometimes two different things. I'm sure most of us have been through periods in life where we don't sleep well and it can be so frustrating and downright hard to deal with.
There's nothing worse than trying to sleep and those eyes are wide open and sleep refuses to come.  Counting sheep may sound good in the stories of old, but does it really work for getting some shut-eye?
Probably not!
I've had my own bouts with sleep deprivation.  After going through menopause a few years ago, I experienced several years of not sleeping well.   Anxiety was also part of my life back then (ugh!) and kept me awake at night.  Losing sleep night after night for several years in a row will take a toll on your body.    I tried lots of things to sleep and some of them worked temporarily, but after getting my life back on track 5 years ago, I'm sleeping better than ever now.  My chiropractor has me taking 5-HTP, a natural supplement that helps with sleeping and it really does seem to work for me. I took it years ago too and am back to it now just to make sure I get enough rest at night.  I still have the occasional tossing and turning night.
Having a good mattress is also a wonderful prelude to sleeping well. I have some back problems too and sleeping on a good mattress helps that considerably. Getting a good night's sleep is so important to our health and well-being and crucial for healing our bodies.  I love to sleep through the night with minimal waking up, don't you?
Almost 3 years ago, I was fortunate enough to work with Sleep Number® beds and received one of their beds.  I'm going to partner with them again this year to share more tips and information about sleeping well.
I went mattress shopping at my local Sleep Number store and looked at both the pillow top version and the memory foam version.  Shopping for a mattress can be very daunting at times and everyone has a different opinion on what kind of mattress they love and want to sleep on every night. What is comfortable for me might not be for someone else.  We all have our own comfort needs to take into consideration.  Likes and dislikes when it comes to mattress comfort.
The pillow top was nice, but I chose the other one.
I chose the m7 memory foam bed.  It has two air compartments on each side that can be adjusted separately, so that if there are two people sleeping in the bed, each person can decide just how firm they want their mattress to be by adjusting their Sleep Number setting.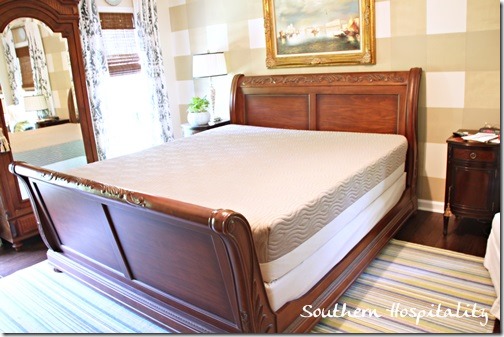 Getting it set up at my house was an adventure and they came out and put it together for me, which was really great.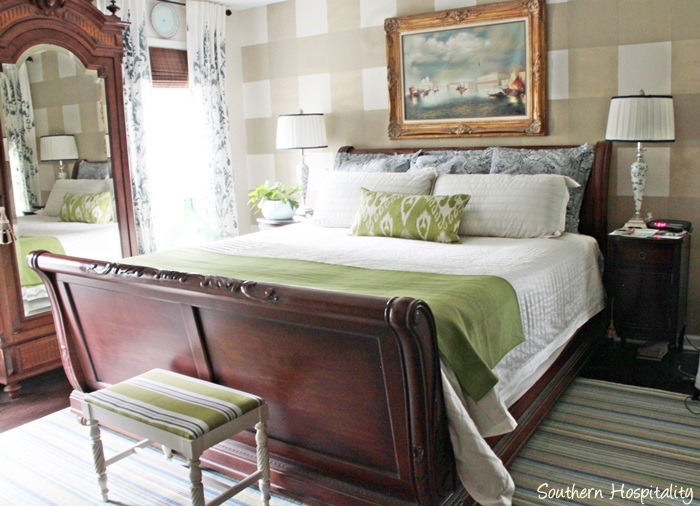 Adding the pretty sheets and bedding is another part of sleeping well.  Having nice soft and cushy sheets seem to add to the sleep experience and Sleep Number also has sheets, although I haven't tried them yet.
My bedroom and bed is truly my haven of rest and I always look forward to getting back to my own bed when I'm traveling and out of town for an extended period of time.  I love to travel and see new places, but there's truly nothing like home and my own bed!  I'm sure you know just what I mean about that.  Once we get used to sleeping on a certain mattress, it's sometimes hard to get comfortable on another one.  Some are too hard or too soft and don't offer enough support.  It can feel like Goldilocks at times, looking for that "just right" bed.
I have chronic back and hip problems now and my Sleep Number bed really does help with those issues. The memory foam seems to cushion my joints much more than a traditional mattress does and keeps the pressure off those areas that hurt.  I didn't anticipate having aches and pains like this at my age, I'm much too young for that! But, for whatever reason, I do have aches and pains and that is part of the aging process, whether I like it or not.  And getting enough sleep is one way to heal and give those achy breaky body parts comfort at night.
I used to sleep like a rock when I was growing up all the way through my 20's and 30's, but things do change over time.  I didn't know that someday I would wish I could sleep for 12 hours like a teenager again.  Wouldn't that be nice on occasion?  There's no magic formula for getting a good night's sleep, but when it happens, it makes the next day go so much better.  I hate being tired from lack of sleep.
Here are a few things I've heard that can help bring serene sleeping at night.
Go to bed at the same time (or close to it) every night.
Don't exercise too late in the day or that can keep you up at night.
No drinking caffeine after noon. That is notorious for keeping you awake.
Don't eat dinner too late in the day, that can sometimes keep you awake, if you eat too close to bedtime.
Don't watch TV or play on the computer or look at your phone right before bedtime (my #1 offending habit!).
Keep your room cool and dark for better sleep.
What are your best tips for sleeping well?
Note: This post is sponsored by Sleep Number beds.  Sleep Number Store locater.
Don't Miss a Post, join my list!