I just finished up another inspiration board for Linda in Florida, who sent me an email saying, HELP! I need your help with our familyroom! The room has great potential and she has some nice pieces of furniture, but it just needed some rearranging and some additional art and accessories. She gave me ideas on colors that she and her hubby enjoy and they really like earthtones of chocolate brown, gold, green, and orangey red. She sent me pics of her space from all angles and I got busy with some planning.
I suggested that she get a larger lamp for her foyer table and move the smaller accessories out, as well as lower the mirror that's hanging over it.
And since her TV is sitting straight ahead coming in the frontdoor, I suggested she completely flip the sofa around to opposite to where it is now and the TV/entertainment center would go on the left wall. She wanted a piece of furniture to house the TV, so I found something that would mix well with her on the contemporary side furniture.
I suggested that she move the large glass front cabinet to the wall (in first pic) where the console table is currently. That way, it would be the first thing that people see when they walk in the door. A great focal piece.
So, with some rearranging of furniture, a new rug, art, and accessories, this room will really come alive. They are keeping the current wall color. She's got a large coffee table under the pass-through window (which is going to be uncovered) which should be utilized in front of the sofa and I gave her an option of another chair and ottoman.
Once the sofa is flipped, I suggested she put the large console table where the TV is currently and add a large piece of artwork over it. Another nice focal point for guests coming in the door.
And here's the inspiration board I came up with for her to look at. She was very pleased with my suggestions for furniture rearranging, as well as items to put in her updated room. I gave her several rug suggestions and she really liked the beige floral rug the best. With the addition of some of these colorful pillows, the new rug, and artwork, I can't wait to see this room when Linda is finished with it.

Linda Living Room – by Rhoda12 on Polyvore.com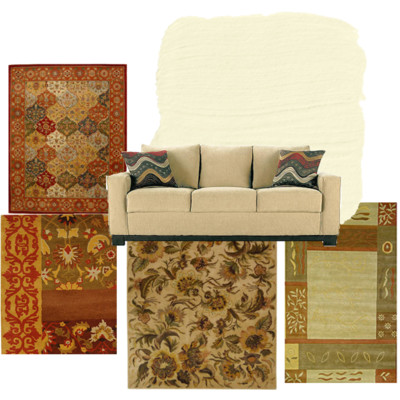 Linda Living Room Rugs – by Rhoda12 on Polyvore.com
If anyone would like an Inspiration board, please click here for details. I'd love to help you.
Also, my blog makeover will be happening on Friday night if all goes well, so if things look strange around here, that is why. The new look is going to be SO nice, so stay tuned for a better look around here and an easier to navigate blog.


Don't Miss a Post, join my list!