Since we had artificial turf installed in our backyard around the pool, I thought you all might enjoy seeing the process of getting it done and looking great. Artificial turf is not inexpensive, but it is a great solution to a pool area that you want to keep clean. Having real grass around a pool creates issues we didn't want to deal with, so we are so glad we were able to get this installed by the pros and now we have the pool of our dreams. We thought about a minute that we might try to install it ourselves to save money, but after looking at what goes into this process, we didn't dwell on that thought too long.
I mentioned cost of turf in my pool reveal post, but here it is again. We knew nothing about artificial turf when we started this pool project, but we did look at Home Depot and they had some nice options. We thought of the old artificial grass look that was so obviously fake, but the turf that's out now are so realistic looking and do fool the eye. They look perfect when installed properly.
The turf was delivered in a big roll, just like carpet. It basically goes in like outdoor carpet and that's why a pro is the best way to do it, we think. We could never have done all they did without killing our bodies.
Artificial Turf: $7,140 / Installer: Ryan Hunter, Greenscapes (678.873.9905)
Turf is from Artificial Turf Supply (80T style)
Ryan had a landscape crew come in (the same landscaper we used for our sod installation) and they added gravel and sand around the pool to level it all out and get it ready for the turf. It is basically the same installation as putting in stone or travertine, if you've ever watched a crew do that. It has to be packed down tightly so that it stays in place with water getting to it. The turf has drain holes in it so water goes right through and it's pet friendly too, so we don't worry about Daisy peeing on it. She has pooped on it too, but that's been easy to get up in poop bags we use for her.
They bring in hand tampers and this piece of equipment that goes over and compacts the gravel and sand making it a harder surface.
It's fascinating to watch this process happen.
Ryan's next crew came in to lay down the turf and they did a fantastic job cutting it and fitting it to the shape our our backyard space. They use cutters to trim it just where they want it and also those long spikes get nailed through the turf to hold it all in place.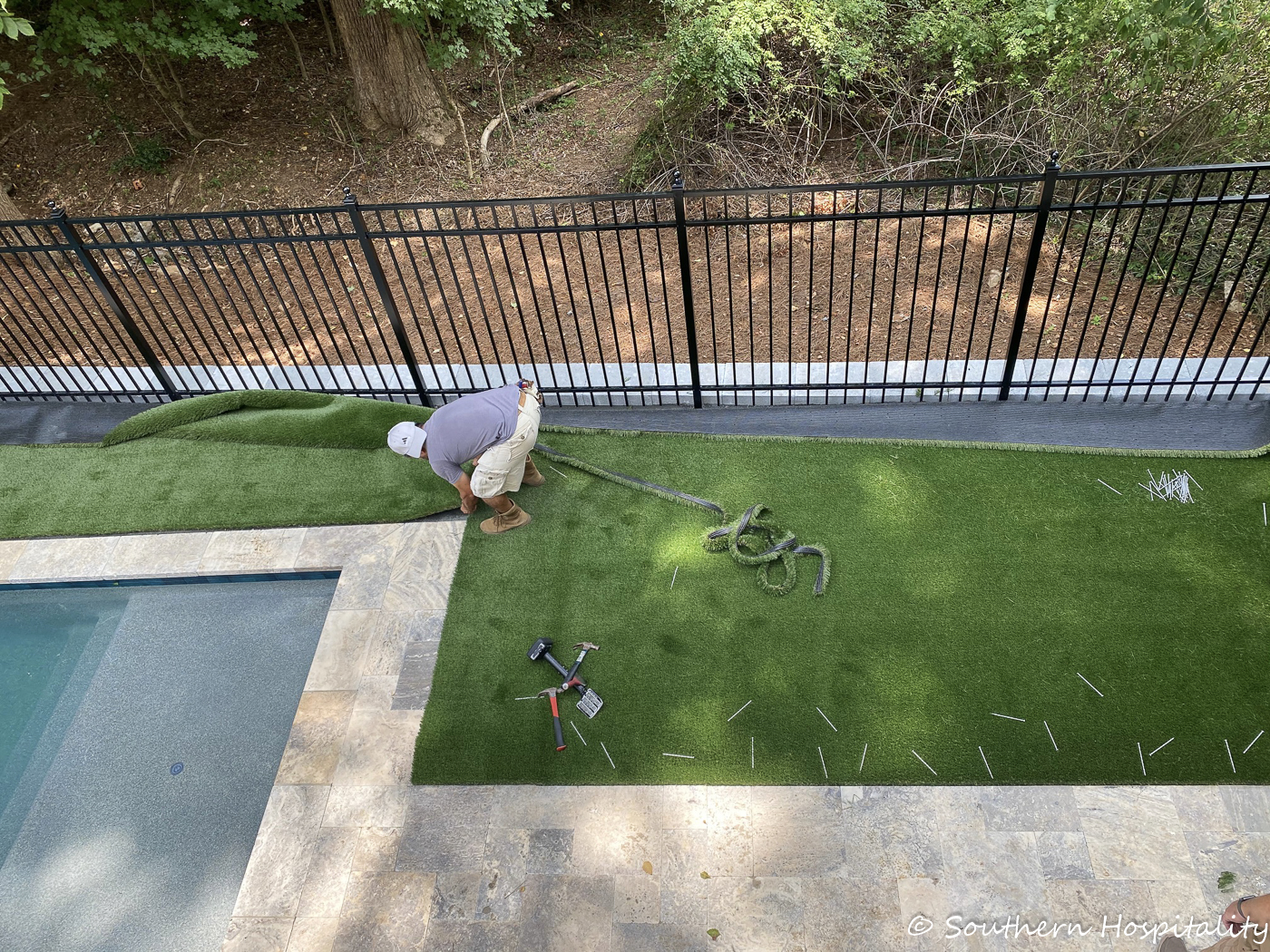 There are a few seams involved and there is seam tape they use to adhere that together. We can't even tell where the seams are now and I wouldn't really know if I had not watched them do it. It is quite an amazing process!
They worked their way around the pool to the front side, trimming and putting it all in place. I think there's a bit of stretching it properly too, sort of like carpet, pulling it smooth and even.
There is a lot of cutting and nailing that goes into this project.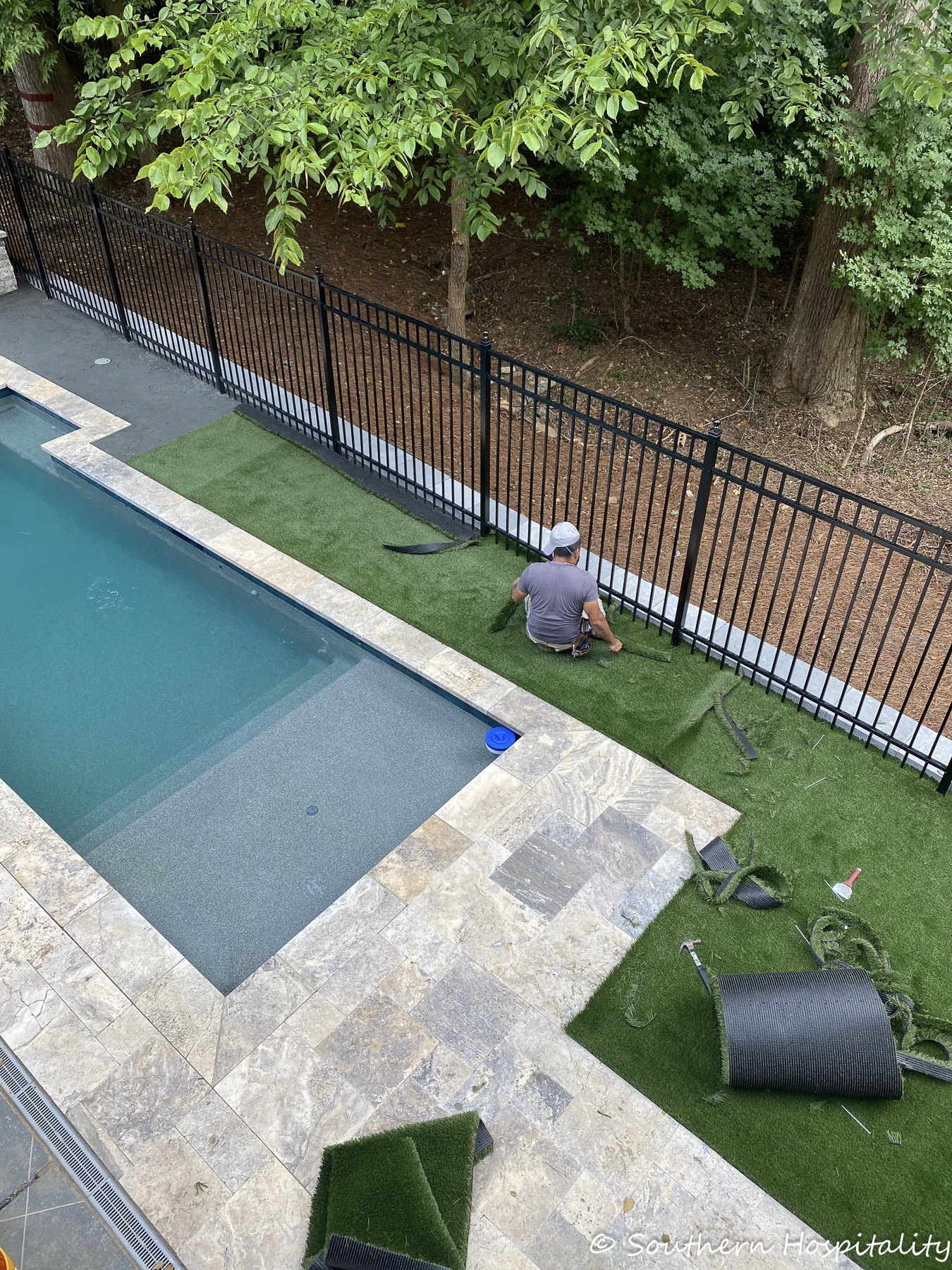 I kept going out on the deck to take pics from above as they were working on it.
They moved on up to the wall and got that all in place. That's Ryan sitting in the chair. He was waiting on them to do their part and then he did his part.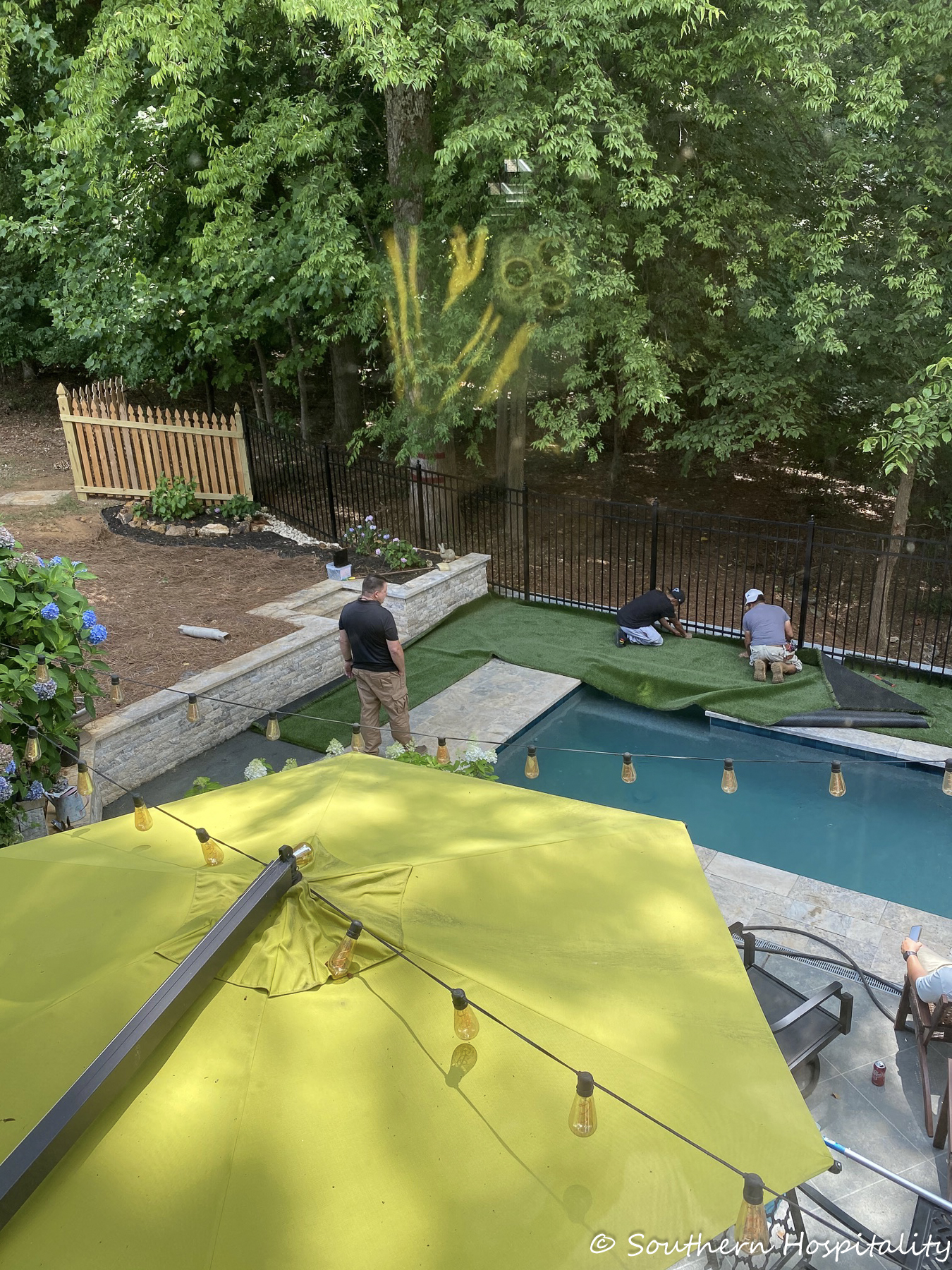 Everything is cut so precisely.
Section by section, it all came together.
They cleaned up all the scraps and bits and pieces of grass.
This part reminded me of a putting green.
Then Ryan filled a spreader with fine white sand and rolled it all over the grass. This helps to hold it all down and keep it in place and the sand drains water too.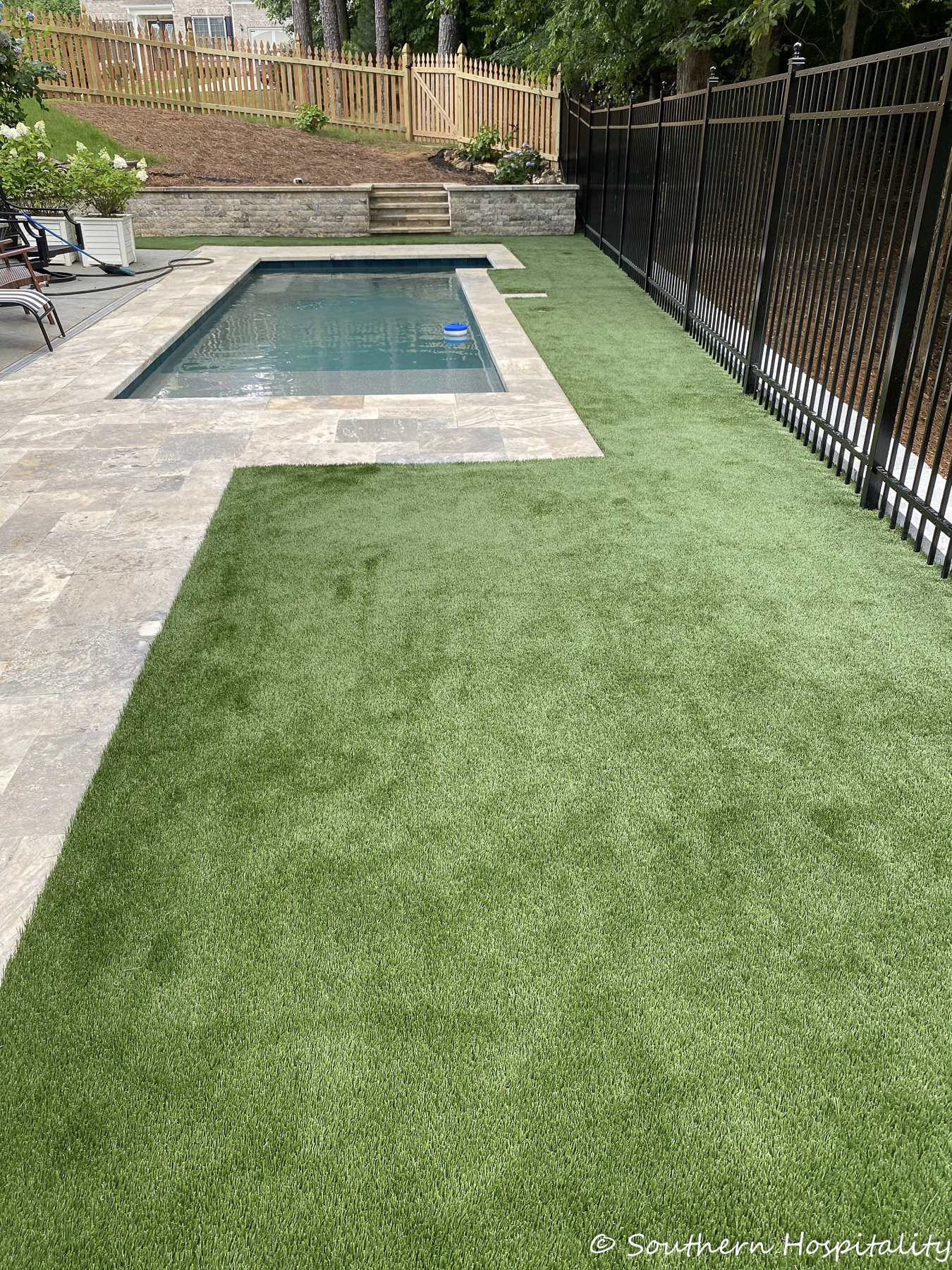 And here it is all done and ready to go. He said the grass will continue to stand up straighter as time goes on. It looks great to us already and we love the outcome.
It's so nice to not have real grass around the pool. We don't have to worry about grass getting in the pool or cutting real grass and having it fly all over the place. This is absolutely the best solution for our small backyard and we are so glad we splurged and got it done. There's an 8 year warranty on the turf we got, but it should last a lot longer, hopefully as long as we live in this house since our backyard is not a real high traffic area.
We are so thrilled with the outcome of the artificial turf and would highly recommend it if you're thinking about it. We are so glad we went with it and I wanted to share the process with all of you in case you were considering it too.
This is what it looks like under the corner. There's concrete (under the sand) around the edging of the travertine so they can't nail really close, but it sits very nicely on the edge. We shouldn't have a big problem with it coming up. He said if we use a blower that blowing would cause it to blow up, but it's not bad at all.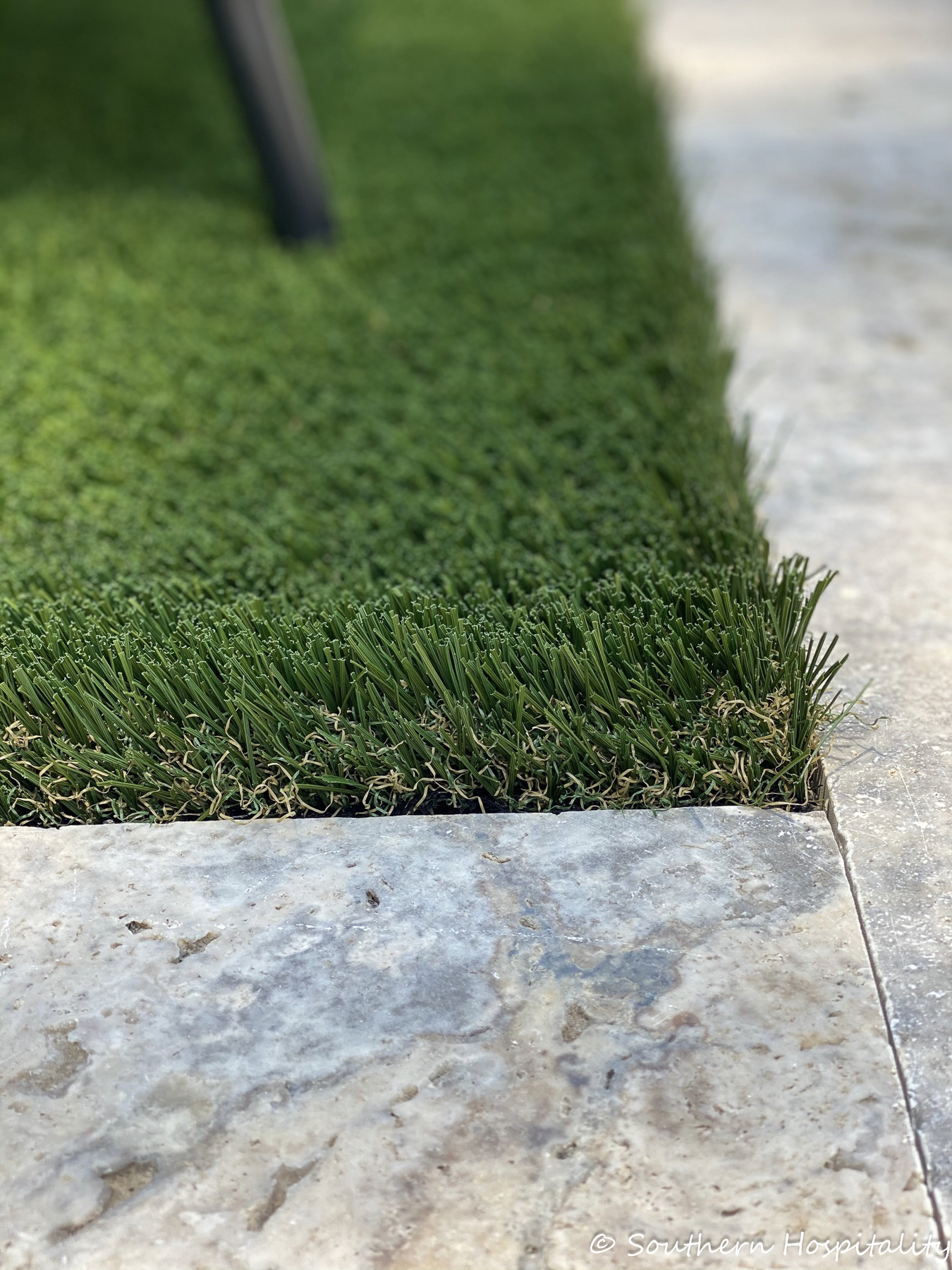 Here's the finished corner of the turf. It truly looks real! Hope you enjoyed this share and see how it all comes together.
Don't Miss a Post, join my list!