Here's a look at a backyard pool build in Georgia, with final reveal pictures and a cost breakdown on how much it costs to build a pool in 2022. Building a pool is a big decision and definitely not inexpensive, so this post will outline everything we did to make our backyard into a little slice of paradise for us to enjoy. From obtaining a survey, to the pool dig and all the additional projects we did to get to this final look, I'll share it all. 
We have a finished pool and backyard landscaping is complete! It's a banner day around our house for sure, as we come to the final chapter in our backyard pool build. Since this was our first time building a pool, neither of us had any experience with the process and it's quite a challenging project to take on. You have to have patience, determination, a somewhat open pocketbook and a real hankering for a backyard pool to make this dream a reality. Whatever you think things are going to cost, you can just about double that thought. We are so glad we are finished and we are so thrilled with the outcome! It felt like the end would never come, but from dig to finish, it took 3 months so I know that's pretty fast in pool building terms. We had a great pool builder and I would highly recommend them. I'll add all of our contact information at the bottom of the post with all the cost breakdowns.
Building a pool can be very stressful, with all the different contractors and people coming in and out of your backyard. You're watching from the windows, breathless, as they mess things up before it all gets better, so be prepared for the anxiety and stress that goes along with a pool build. I'm pretty hands on when it comes to projects, so there was more than one time I went outside and asked questions on things that were happening or how something was being done. Don't be afraid to do that! It's your pool and backyard and you want it done right and the way you want it to be.
If you want to see all the pool posts I did while the pool was being built, go to this pool page (there are 4 other pool posts) for all the posts start to finish to read more about the process of building the pool. Today is the finale pics and the complete cost breakdown for our backyard now.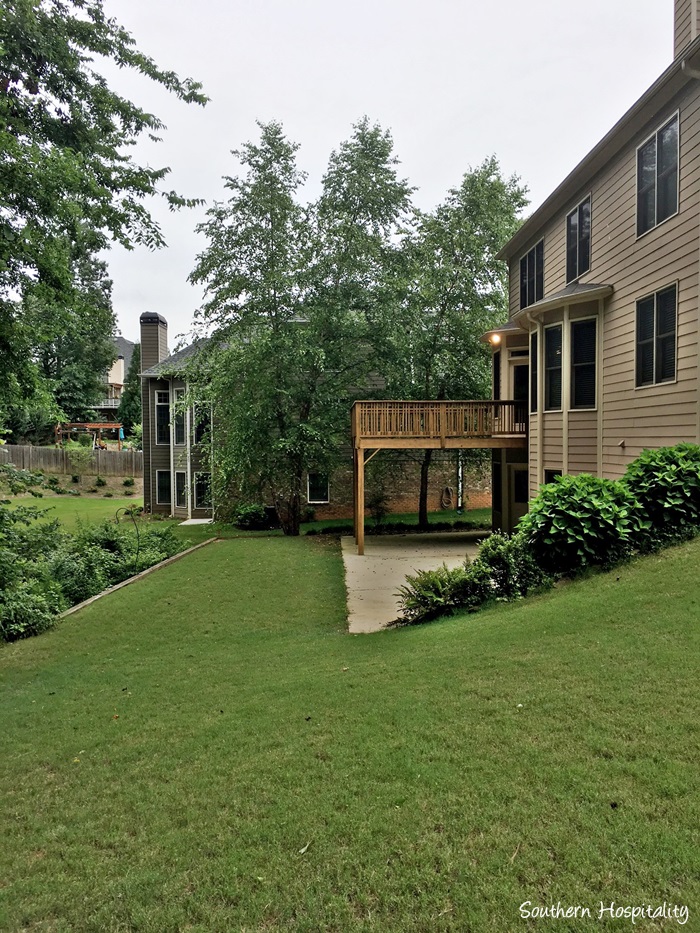 To really appreciate our backyard finale, we have to go back to when we bought our house 5 years ago. This is what we started with back there. It's a smallish backyard, but has lots of potential. Over these 5 years, we have completed many projects back here to get our backyard to where it is now, including a lot of DIY and sweat equity. We started with a big concrete patio, underdeck that was dirty and ugly and a deck that had no stairs. We first added stairs to the backyard, did an underdeck ceiling so that we could create a nice screen porch under the deck, I did that DIY diamond pattern faux tile on the patio, we did the rock wall Airstone DIY and I worked with Phantom Screens to get those fantastic motorized screens on our under deck porch.
Here it is now! Tada, the new pool and landscaping. It was all great for the last couple of years and we enjoyed all those improvements, but adding the pool made such a difference back here.
Here's a view from the deck after we added the first fence. I'll get to all the details below on what all we did back here, but enjoy the before and after.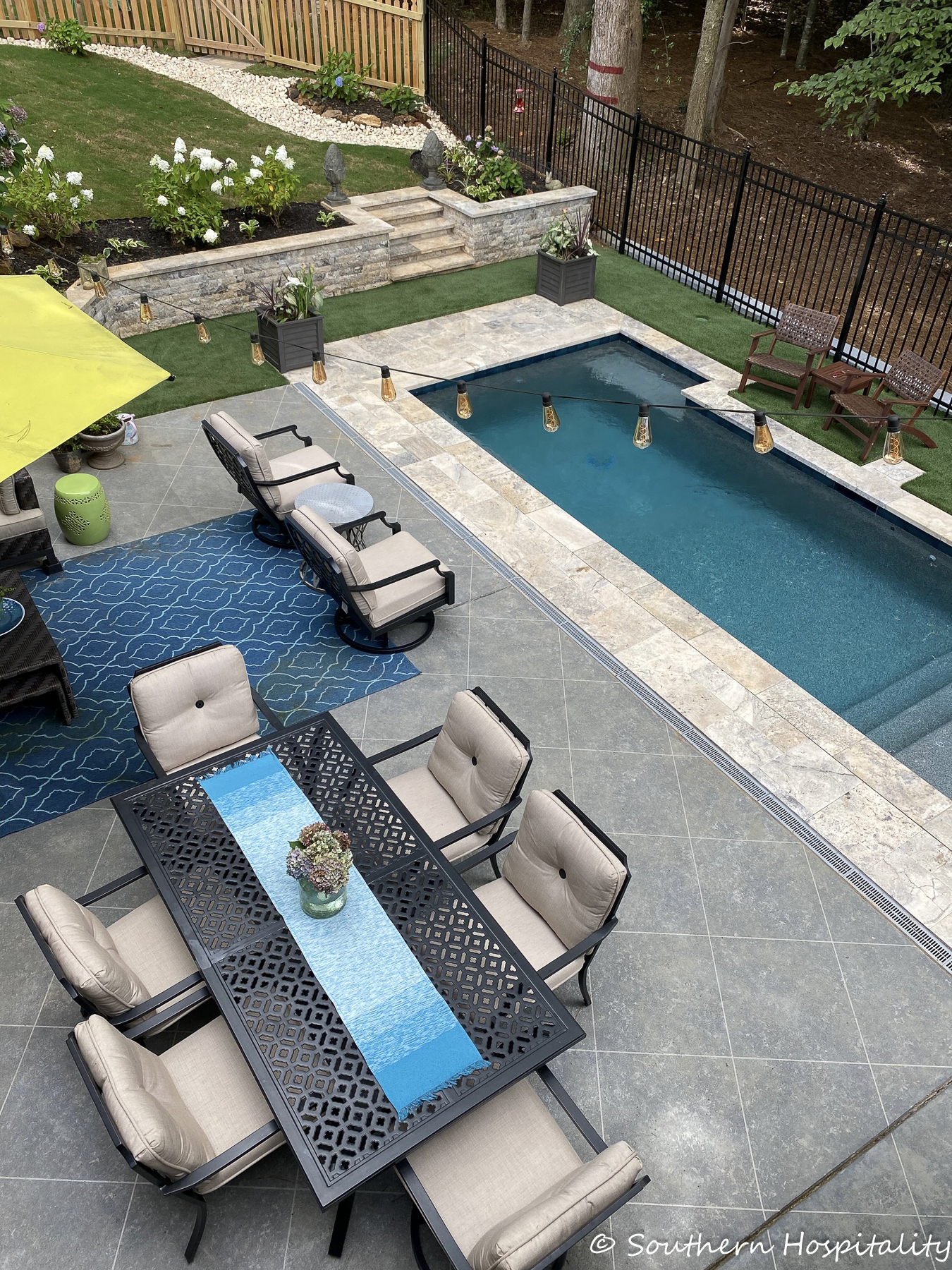 Adding the travertine wall and steps made another huge difference in the yard and I'm so glad we did that as well. Be prepared for a lot of pictures, because I couldn't stop at a few. You may be on overload with the new pool, but I have so much to share. We could not be happier with our backyard paradise now. It's truly a dream come true and I want to say up front that we are so grateful and blessed to be able to do a pool project like this. I never want to take it for granted and I want you all to know that too.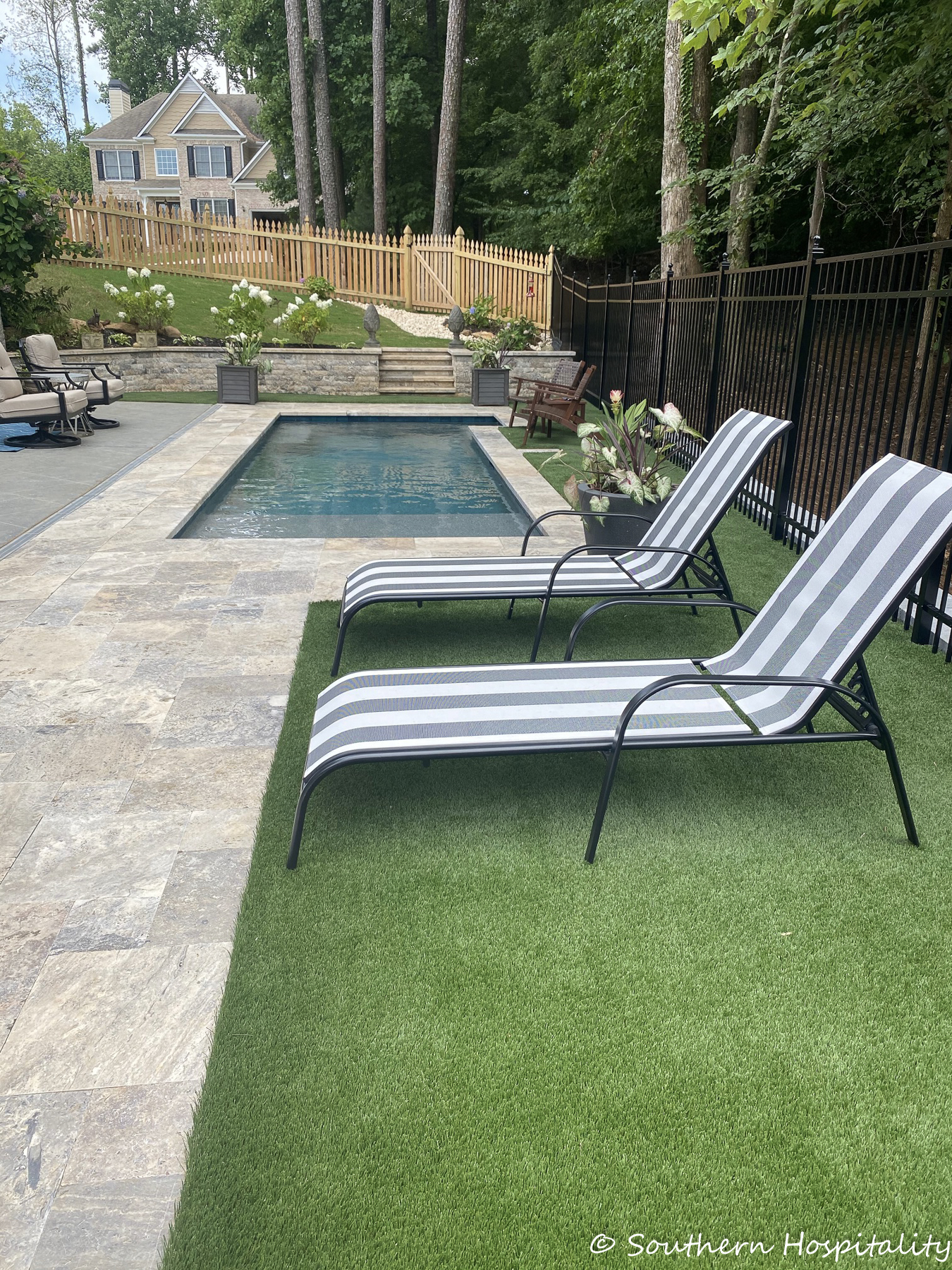 After the pool was finished, then it was another few weeks of getting the rest of the projects completed with the landscaping and taking down trees. We had artificial turf installed on the lower section around the pool and it was the best decision for us. It's not inexpensive, but it's such a great solution and keeps everything so nice and clean. Here's to fake grass!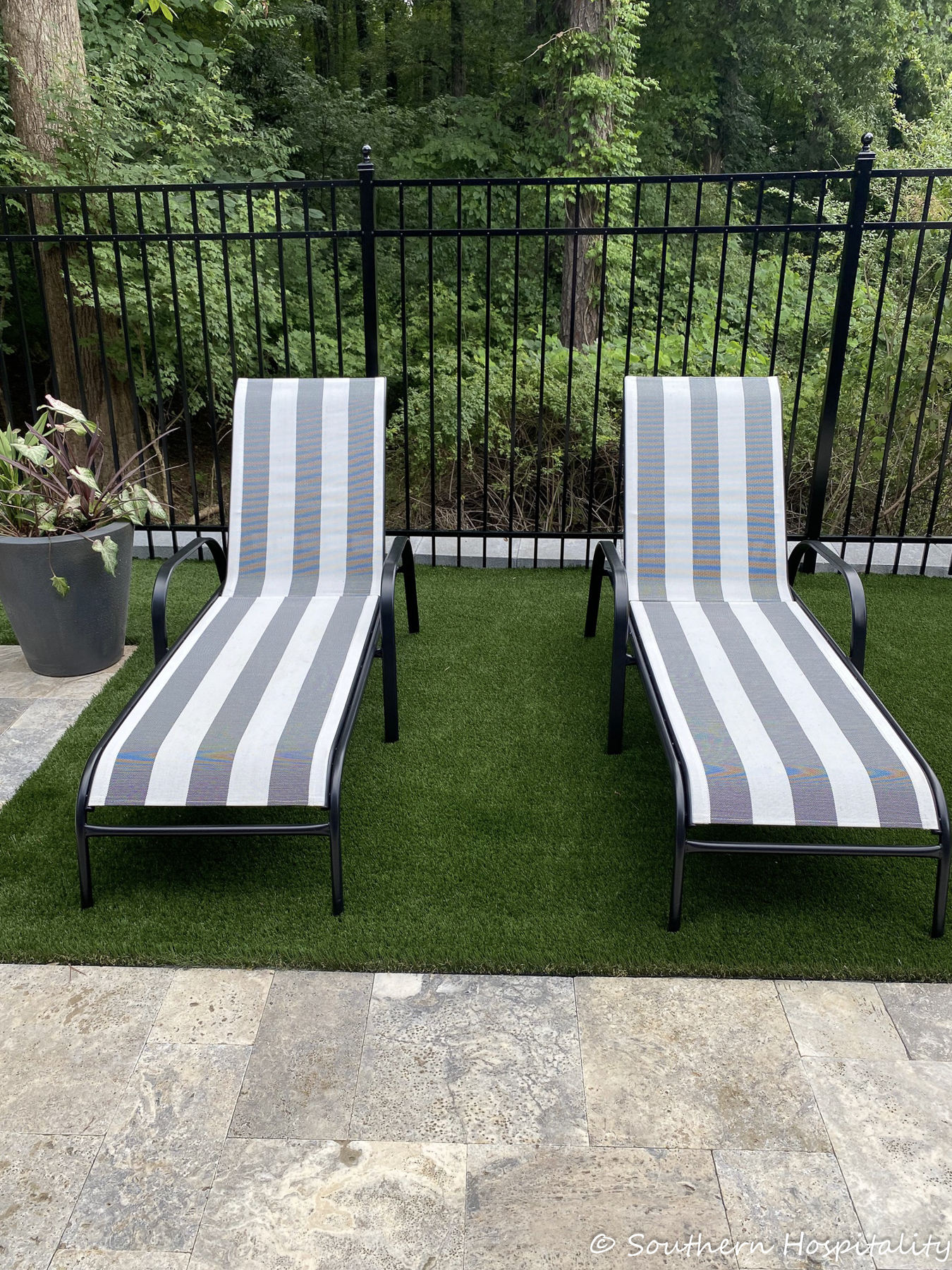 I bought these pool loungers at At Home and they are perfect for our needs. I have lots of cushions on the other furniture out here, so I didn't want any cushions on these. I can sit here in a wet bathing suit and it's no problem at all. These sell for $89 at the store.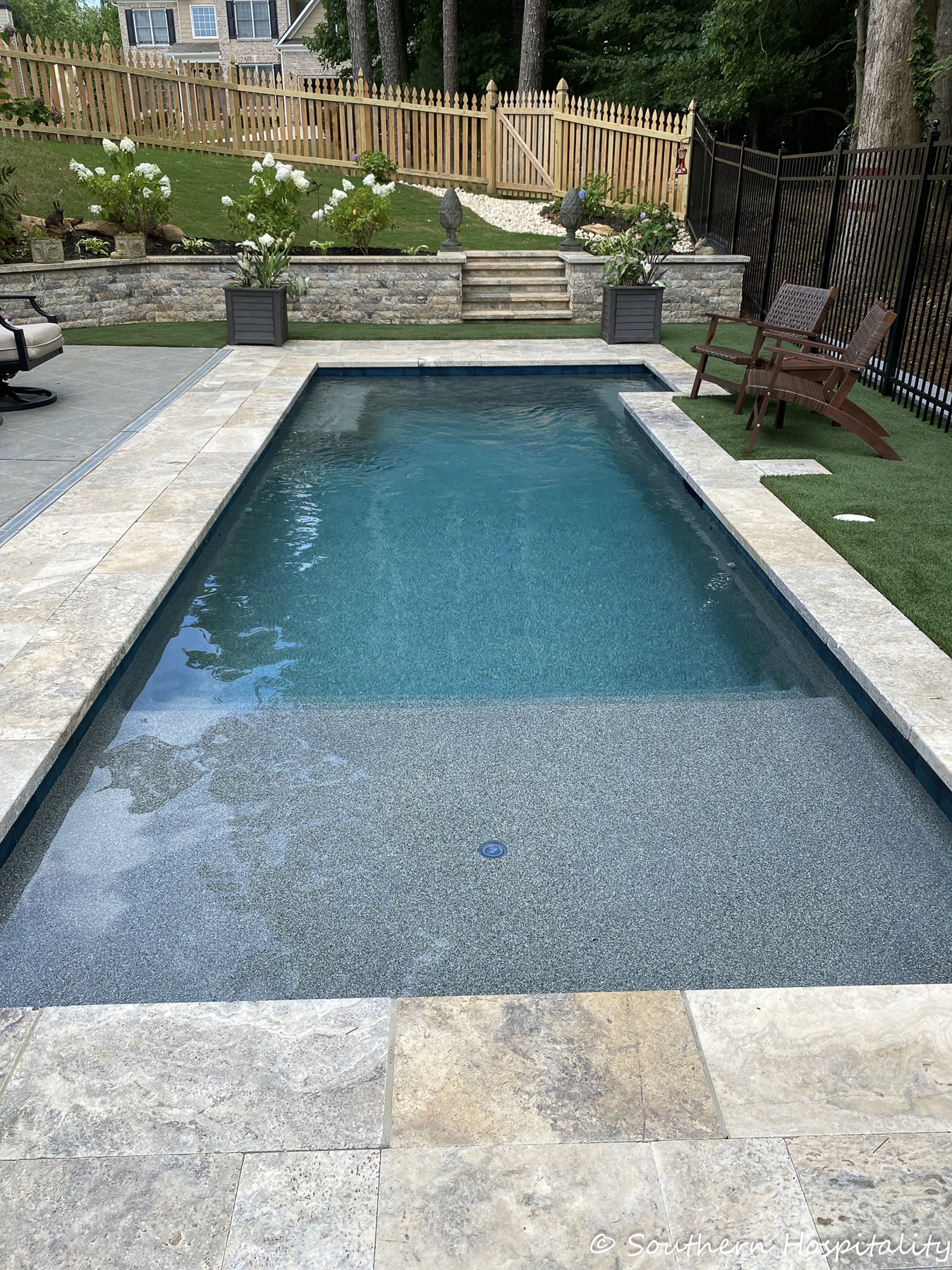 Pool material details:
Our pool is 8′ x 23′ with a 4′ depth tanning ledge. It's 5′ deep on the deep end and it has 2 bench seats on the deep end. Plastered in Pebblesheen, color is French gray. We did a turquoise/blue tile on our waterline tile.
There's an umbrella holder on the tanning ledge and I did buy a new umbrella, but we haven't needed to use it yet. Our pool only gets about 3 to 4 hours of direct sun during the day.
I'll go ahead and show the whole backyard as it looks now with our screened porch and the sitting area on the patio. What a difference having this pool makes. We have a smallish backyard, but we have certainly maximized it all with the new pool. Still very appreciative that I got to partner with Furniture of Dalton 2 years ago and got the dining group and those 2 cushioned lounge chairs as well as the sofa under the screen porch and a couple more things. Our backyard is truly complete now!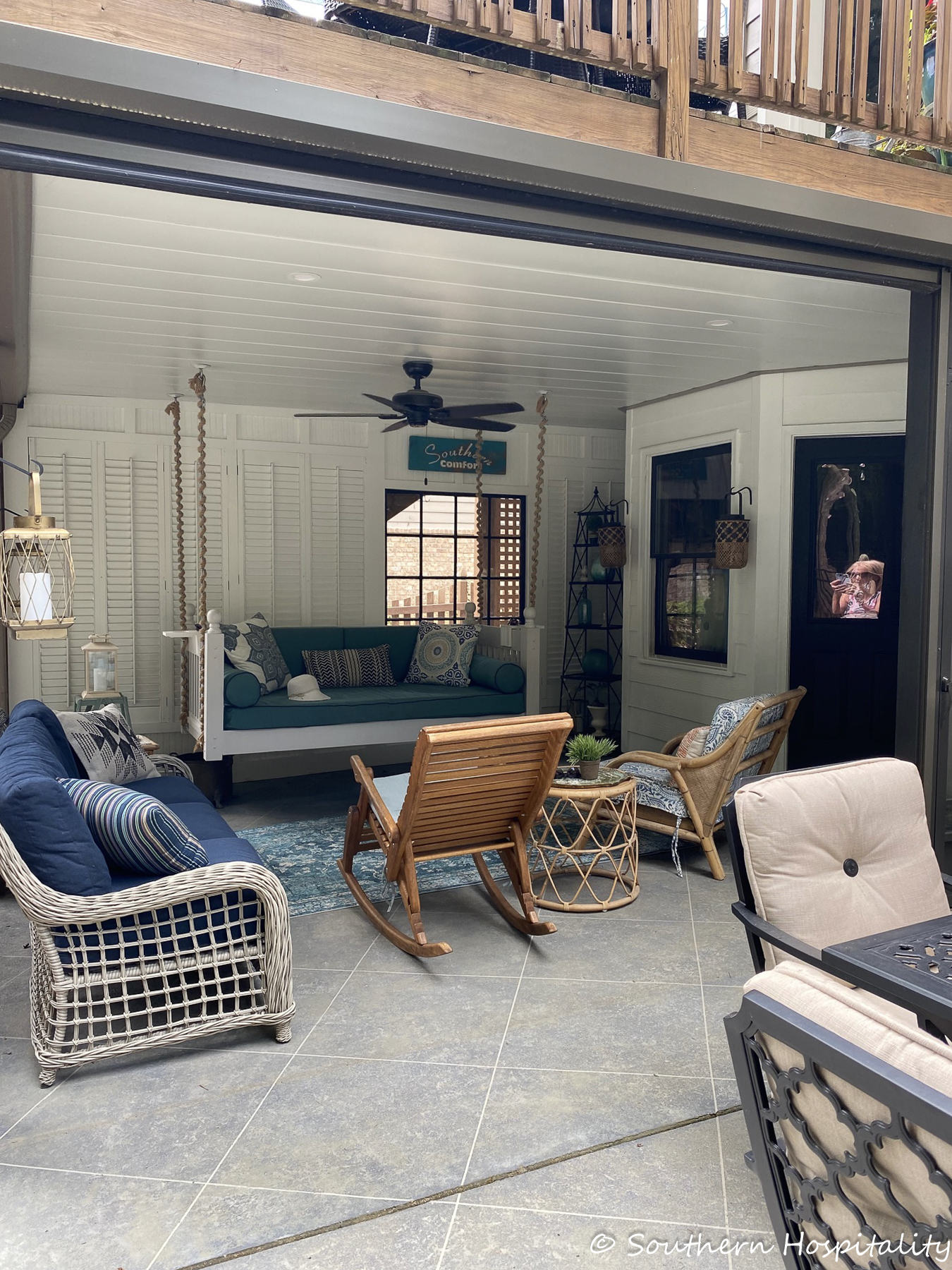 We have so enjoyed this screened porch area and use it often. I still love my swing bed!
It's a great space to gather and chill out in the heat of the day.
My swing bed is still a favorite spot to relax!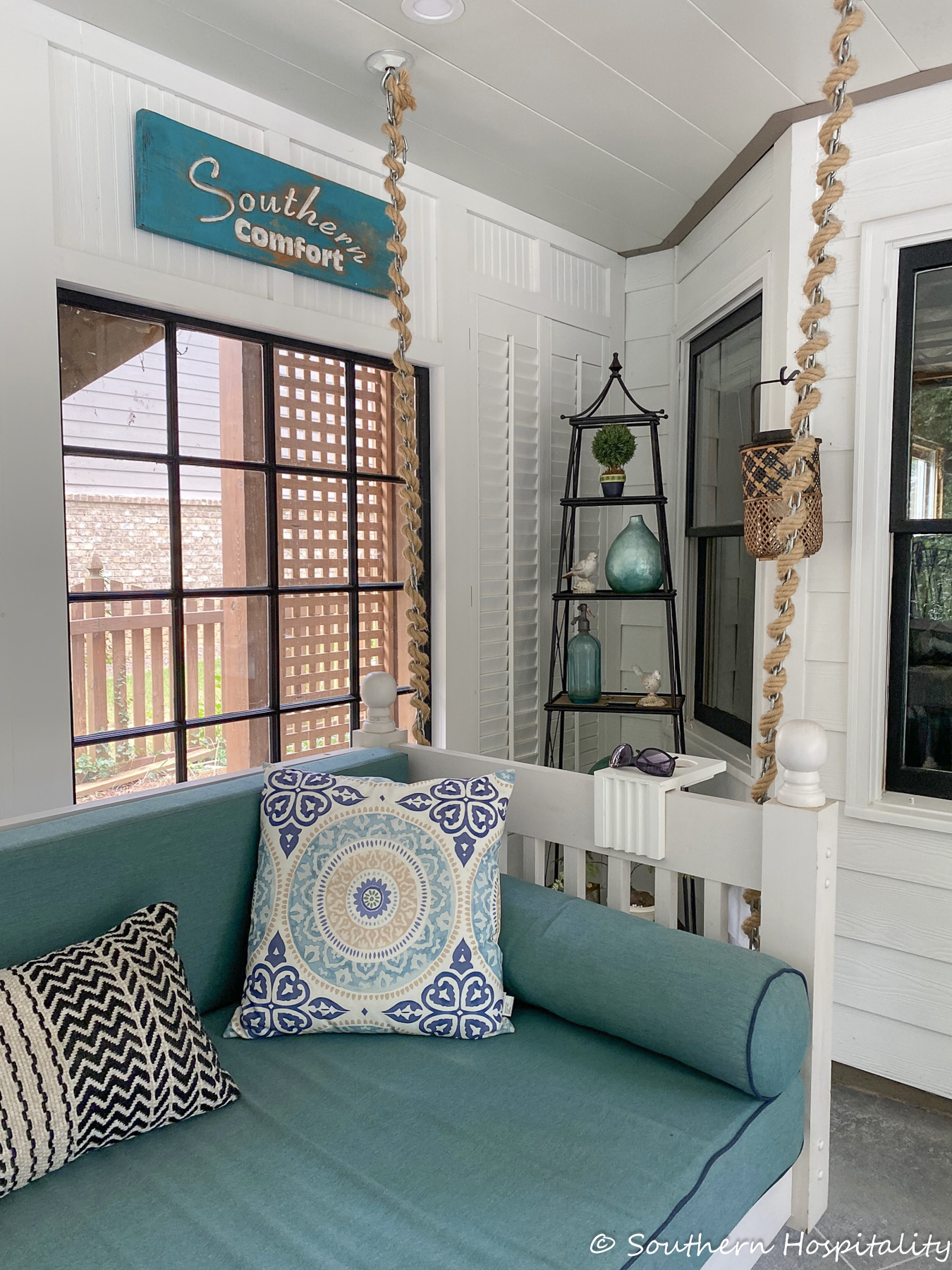 We're so happy with how this space turned out since Mark built that shutter wall. Mark hung that Southern Comfort sign for me that was in my old screen porch. I love it!
The patio and pool work so well together and it's a great spot to hang out. We've already had 2 family gatherings back here since we opened the pool and it was a big hit. The grandkids will love it, I know. We have 3 more grands coming this year! Two girls and a boy in November and December, so I fully expect babies to be playing on the ledge next summer.
It's so nice to have a seating area and a dining out area.
I still have the same outdoor seating set that I had at my old house and it's still going strong.
We love having plenty of room to host family and friends.
This is Mark's addition to the pool. Ha!
We sit in these comfy rocker swivel chairs a lot at night and there is nothing like the ambience with the sun going down and turning on the outdoor lights.
We still had a little cleanup to do on the concrete here but it's all clean now too. Everything got so incredibly dirty while construction was going on. We cleaned under the porch, the patio and everything else, but before the sod and turf went in, it was still muddy back here. I love how the silver travertine mixes so well with our existing patio. You can see there's a channel drain between the two surfaces that that works well too. The patio is naturally sloped down towards the pool for drainage. The pool deck is sloped towards the channel drain, so any excess water ends up running out the channel drain to a black pipe going out of the backyard.
A note about this retaining wall. In our original pool drawing, she drew in a 2′ retaining wall coming off our existing wall to help with water drainage and so that water coming down our hill wouldn't go straight to the pool. Before we got to the wall construction, I got in touch with our pool builder and told her we wanted to extend that wall all the way to the fence and add stairs. That was something I had always envisioned doing down the road. Not necessarily the whole retaining wall, but a small one with steps that followed the slope of our backyard coming in the gate. So adding the wall and steps was such a nice addition and we are thrilled with how it came out. We ended up not needing to do the steppers, so those went out.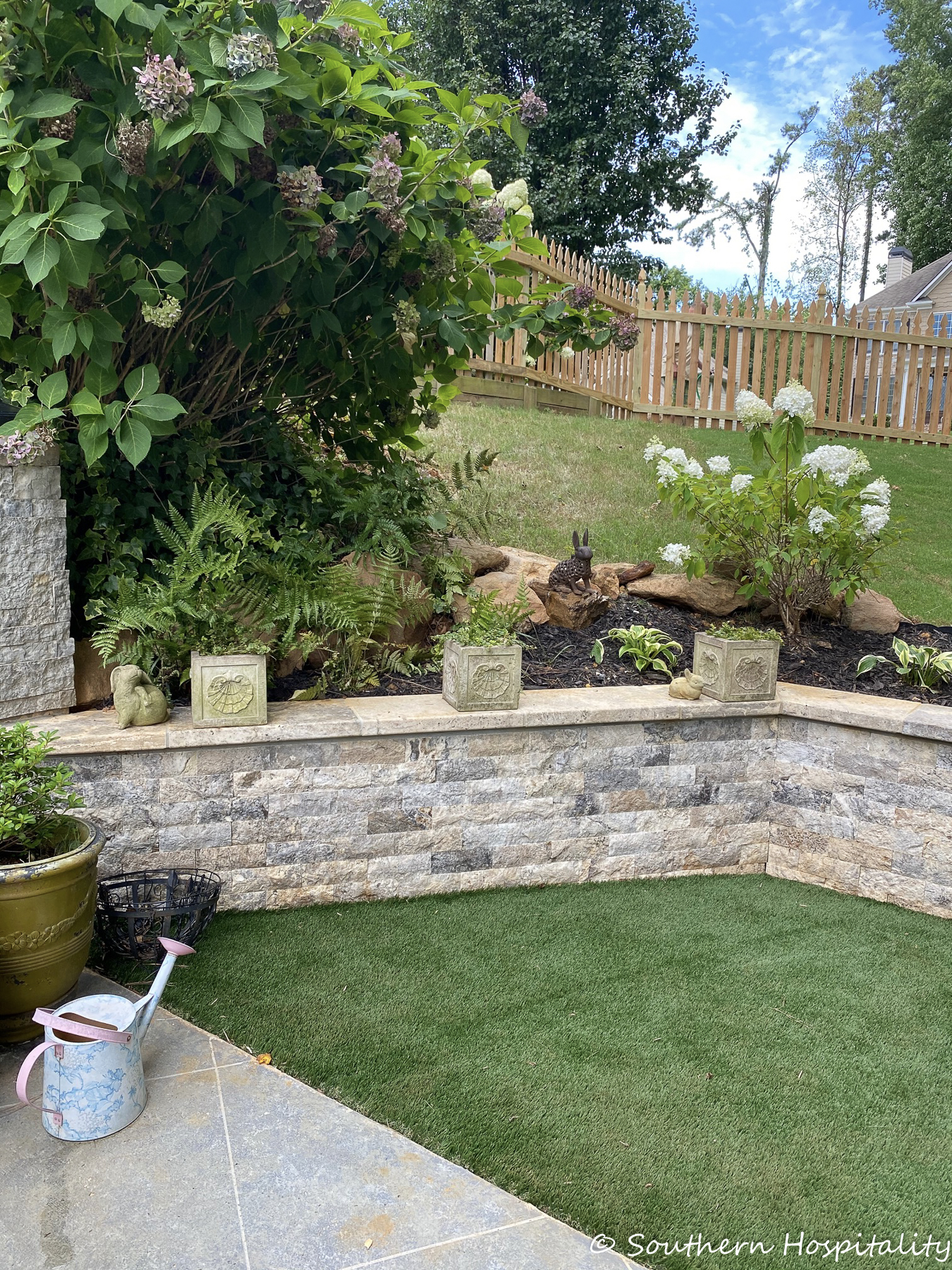 The new retaining wall adds so much interest, texture and beauty. I'm so loving the addition.
I added these shell planters that I've had for years. I have moved some of my garden things from house to house and these have been with me since my very first house I lived in. I think they look cute on this wall and add some vintage charm. I transplanted some of these ferns that were growing on the other side of the house to here and they should fill in nicely. This is where they dug back into the bank for the new wall and we have a lot of big rocks in our yard, so I'm using them in the beds too.
I had to dig up my hydrangeas in the backyard before pool construction began, so I was so happy to finally get to put them back in the ground. They did well in my big planters, but they can now spread out and grow. I love them planted on top of the wall.
I bought this seating group online at a place called Costway. I was looking for something smallish and these fit the bill, plus I wanted them to be able to sit outside in the weather and the faux wicker works well for that. I'll probably store them in the basement for winter to make them last longer.
I'll do another post on just the turf around the pool. There's so much detail on turf, so I can break that down better on separate posts and I have installation pics on that too. I will share the costs here though on both turf and sod projects.
There's also more to talk about on the fence too. You'll notice we have a completely new fence so that was also an added cost. The costs really start adding up when you put in a pool, landscaping, fence, etc. This gives a good look at the new fence. The story on that is that our existing fence was less than 5′ tall in the middle sections so most likely it wouldn't have passed inspection. Plus when we decided to put in turf, the turf guy told us he really needed to raise up the fence behind the pool so that the turf wouldn't slope badly towards the fence. With all that going on, plus there was another emergency that we had to deal with that I'll share later in the post, we ended up doing a new fence. We used the same fence company we used the first time, First Fence and they came out and installed our new fence. We did keep one old section, but added newer pickets to the side yard with the gate and then added this black metal fencing across the back of our yard. That was something Mark had wanted to do originally but we didn't do it then, so this was a good chance to switch it out to metal. It really brings the woods in closer and we love that. The new fence gives a completely different look to the backyard now.
If you notice those red stripes in the woods on that big tree, that means the woods behind us is Corps of Engineer property so we don't own it, but we get to enjoy it. We love having these dense woods behind our house. The deer come right up to the black fence and I've just added a deer lick out there for them.
We love the combo of the cedar and metal fence. We will stain the cedar fencing ourselves in the fall, but will let it cure a bit.
Back to the retaining wall and steps. We really love how those look. I found those concrete artichokes at a local place called 4 Seasons Pottery. It's at the corner of Bells Ferry and Hwy. 92 if you're local and want to look them up. They also will stain the concrete for an upcharge so I let them do that and I love how these turned out. The cost for both plus staining was $300. I had something like this on my wishlist and I'm so glad I found them.
You might notice I also spray painted my white planters that I've had for several years. I thought this color blended in better with our current backyard so spray painting freshened them up. I went to Home Depot and bought plants for them,  Curcuma, caladiums, and one other one I can't remember, the spiky maroon one.
I've had a few of these garden things for years, like this iron hummingbird that I found years ago in Birmingham. I love these kinds of pieces!
On the upper part of the backyard where it slopes down, we had to get creative and come up with a solution for water runoff. After the pool was filled with water and right after the new turf went in but before the upper part was sodded, we got a torrential rain I think the next day after turf. The water ran down that hill and pooled above the retaining wall and muddy water gushed out of the retaining wall down on the turf and muddy water ran into the pool. We had to get it shocked the next day and then we set out to find a solution for our backyard water runoff situation.
We had hired a landscaper that the turf guy recommended and so he came by and we talked about doing this dry creek bed. Mark had already added a few bags of this white rock to the right by the black fence for water runoff and the landscaper said he would make a deeper creek bed and also build up the new sod outside the fence so that would encourage water to run around the fence and out into the woods and not down into our yard, so he did that as well as add this dry creek bed inside the fence to catch any water that ran through the fence. We had been watching how the water flowed and much of it came in under the gate from the sloped terrain by our neighbor's house up on the hill.
The landscaper went and got many more bags of white river rock (affiliate link) (from Home Depot) and completed the job. We are very pleased with how this turned out and it seems to be doing the trick. All the rains we have had since this went in and sod went in have been uneventful, just what we wanted.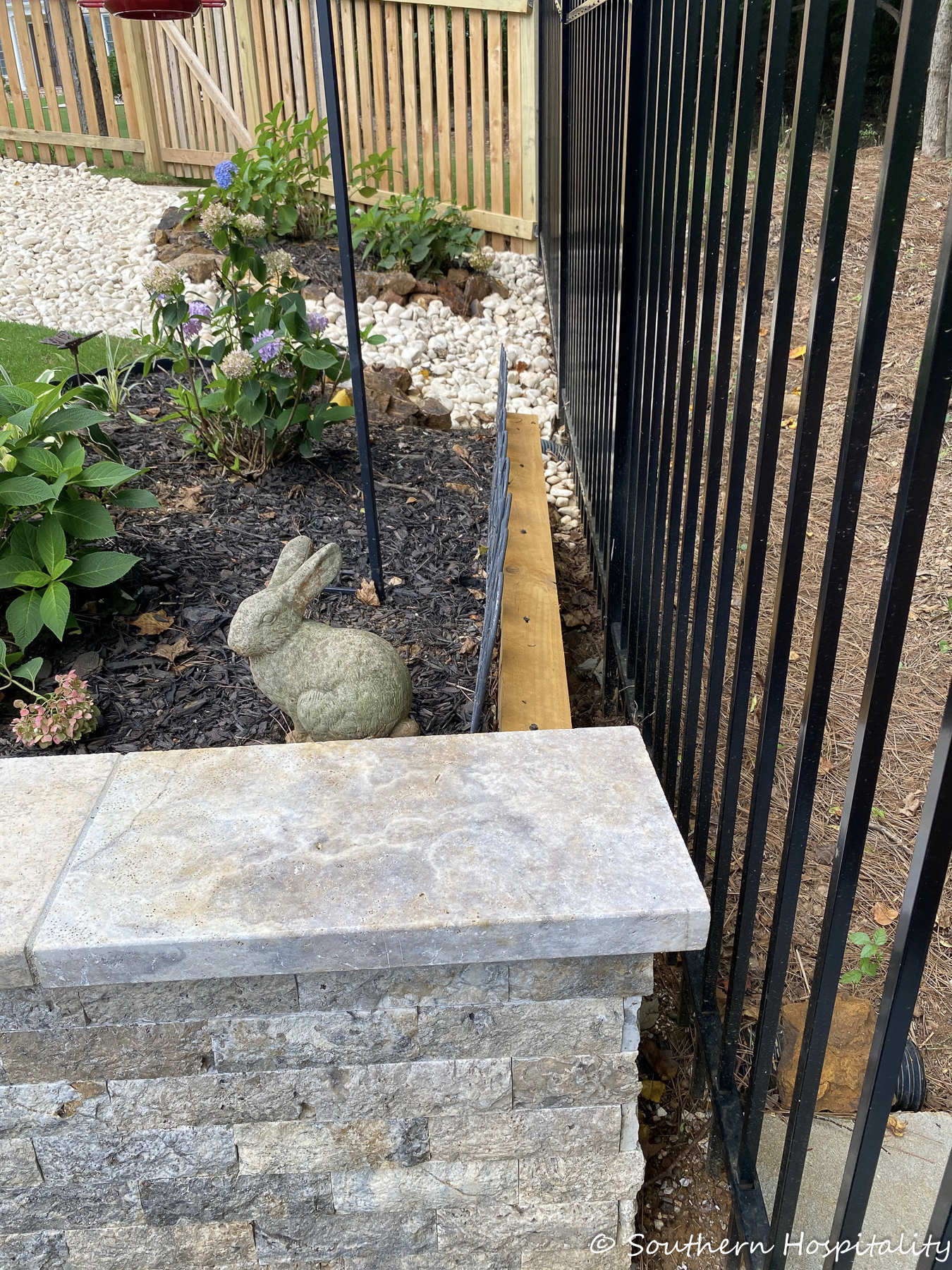 Here's a look behind the wall at what we came up with after the retaining wall was built over to the fence. It created a bit of an issue since we knew the dirt that came in would be way higher over here in this corner and we couldn't have dirt piled against the fence, so Mark built this basic retaining wall out of pressure treated wood that holds the dirt in that corner. It slopes down to the middle of the fence where the new dry creek bed drains out.The pool builder would have helped figure this out, but we knew it would cost more $$ if they did it, so we just did it ourselves.
We love how the dry creek bed looks and it also has a big function for our backyard water runoff, so it's a much needed solution.
Before we got the pool, water ran down and out the fence and we really didn't care that much but with the pool addition, it was very necessary to get that under control once and for all. The new sod also slows down water runoff as well. The new sod went in just a week ago and we've had lots of rain plus watering and it's already looking good. We also had a big section outside the fence sodded, where they made a dirt road when excavating and working on the pool. It's all growing in nicely!
Mark made this pad going through the gate out of left over travertine. Only one of them broke, but I think he did a great job. The rock flows well with our travertine. It's also not a problem to walk over the rock. I don't think that most people who visit us will have a problem with that either.
These hydrangeas were already planted and stayed in the ground while the pool was being built and they escaped damage, thank goodness. I only lost one hydrangea that I failed to dig up in time.
Looking at the new sod going down the hill.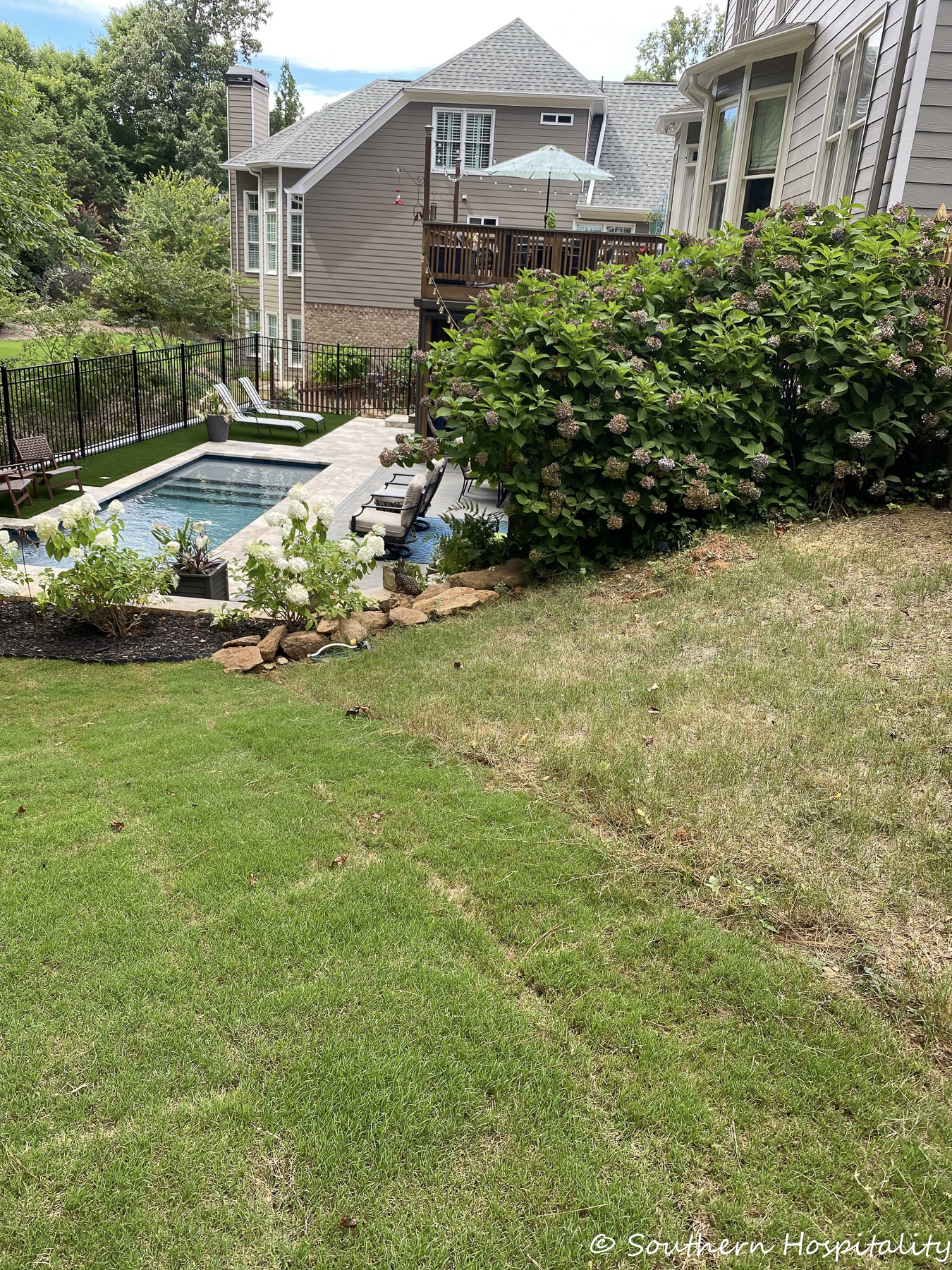 We had a bit of sod still growing back there so they should all grow together. We are so happy with how it all came together. I designed the flower beds, putting my hydrangeas back in the ground and adding some new plants to the beds.
So welcoming coming in the gate!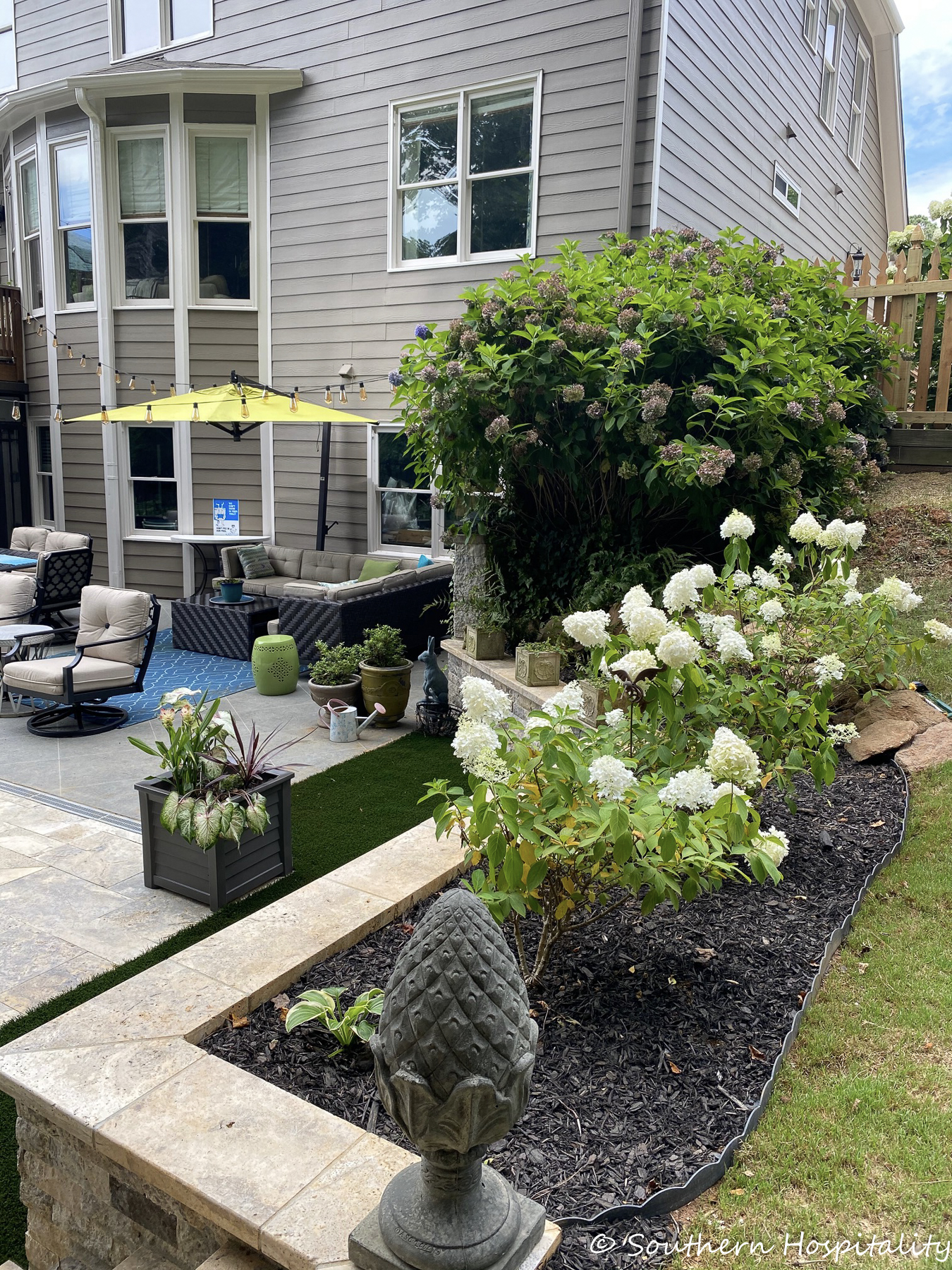 You can see our existing big blue hydrangeas and when the pool was being dug they dug out underneath those for the new wall going in. I've filled that area in with ferns and hosta and I can't wait for it all to fill in. I'm keeping it pretty simple in these beds.
Our backyard paradise has really come together nicely!
We feel like we're on vacation every day now.
And it's so nice to have the turf in and everything cleaned up.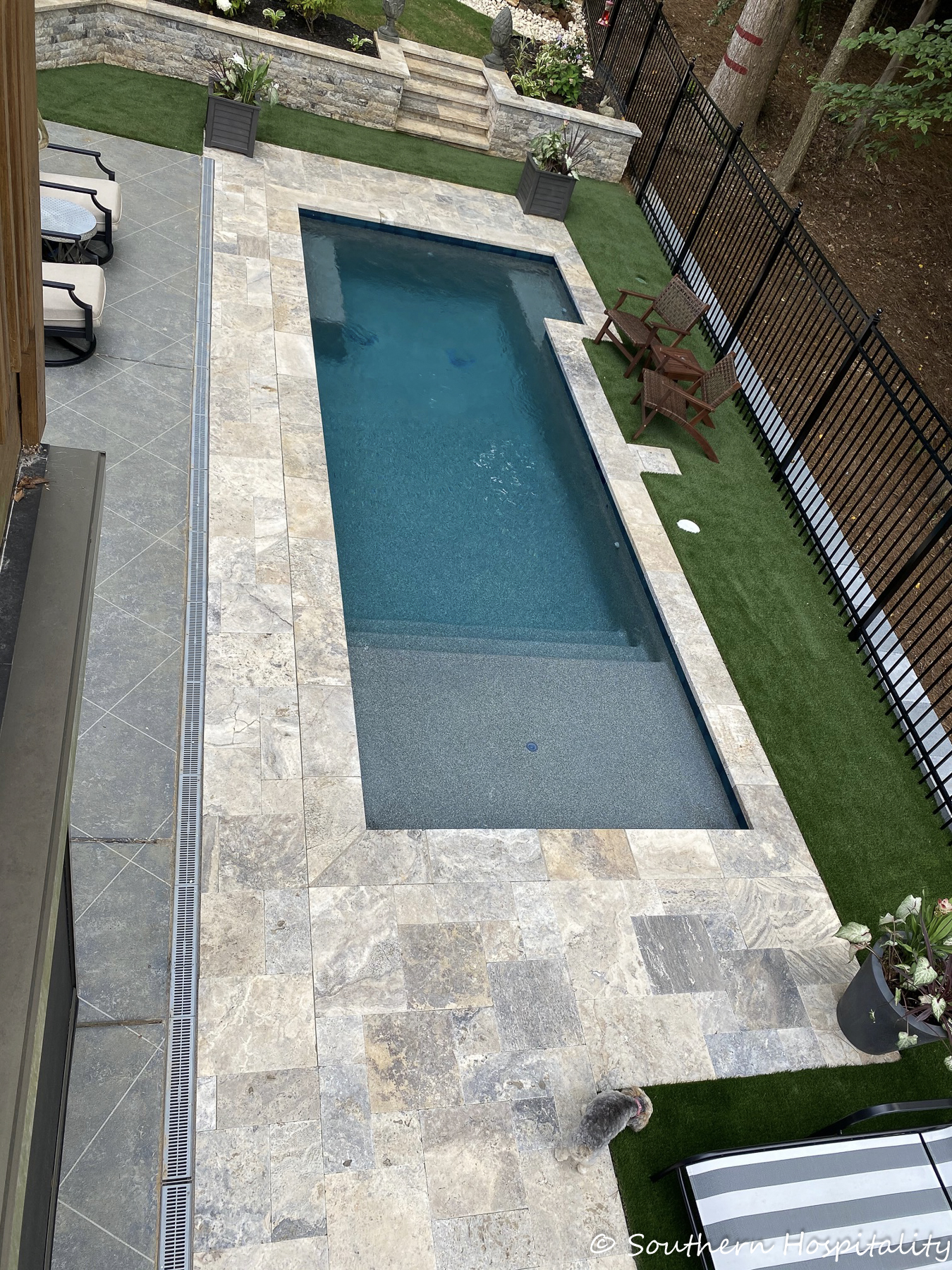 Here's a shot from the deck above.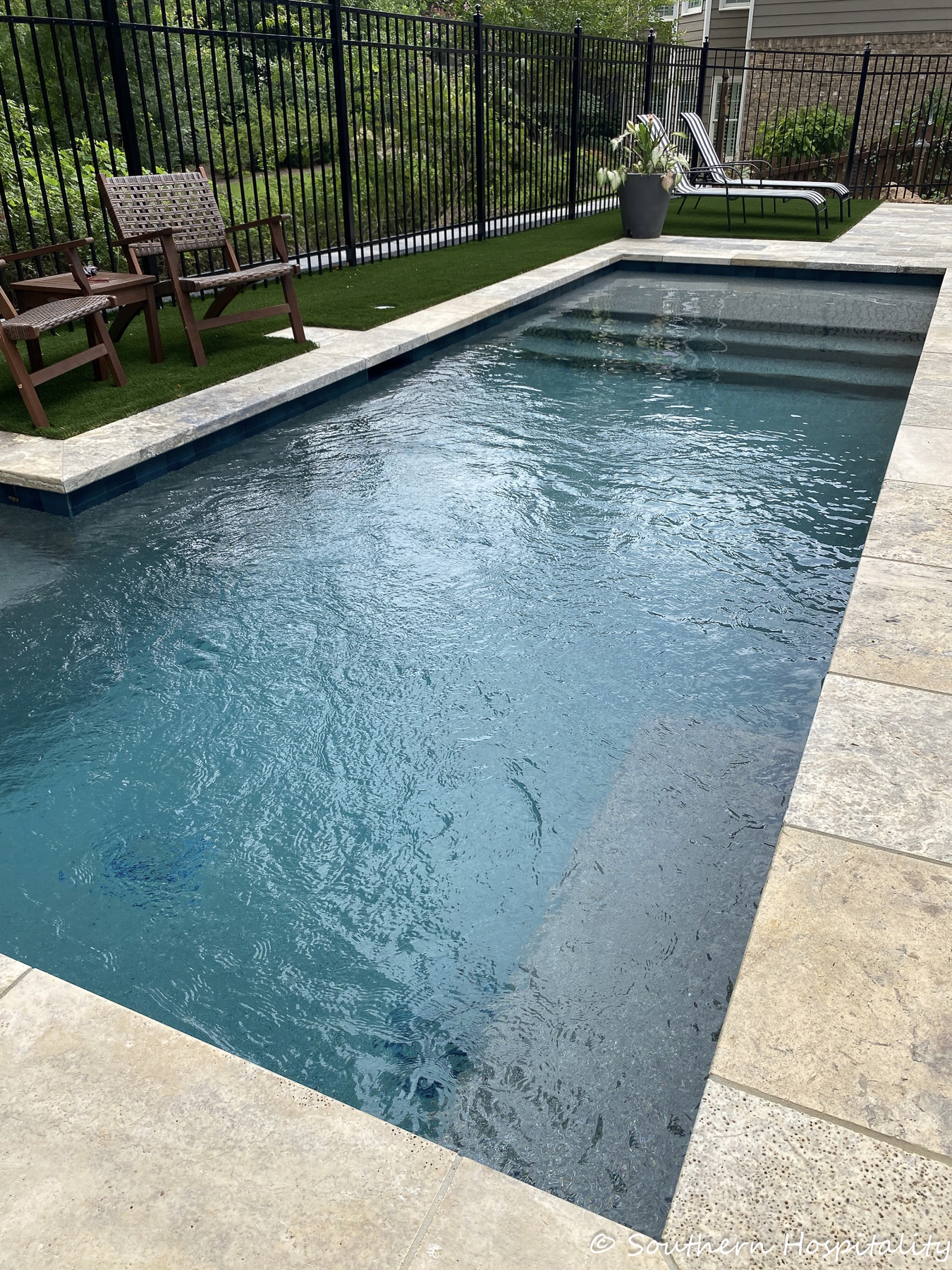 We love the pool so much and the backyard truly feels like a vacation destination right outside our backdoor.
Our backyard is long and narrow, but we have certainly utilized every square inch of it.
I'll show you behind the fence over here. You may notice one big difference in these pictures now. If you scroll up to the top you can see that we had two huge birch trees here on this end of the house. They had lots of billowy branches that hung over the upstairs deck and while they were pretty and provided some bit of privacy from the neighbors, they were also incredibly messy. After the pool went in, we knew they would have to go so that was another project added to the pool construction. I defended them for a long time, I don't like to cut down trees, but these are the messiest and they had to go. I don't miss all the leaves they dumped every day on the deck upstairs, which would then get blown down to the lower patio and have to be blown out. And I won't miss those tiny seeds that dropped all over the place in spring. No, we will not miss any of that!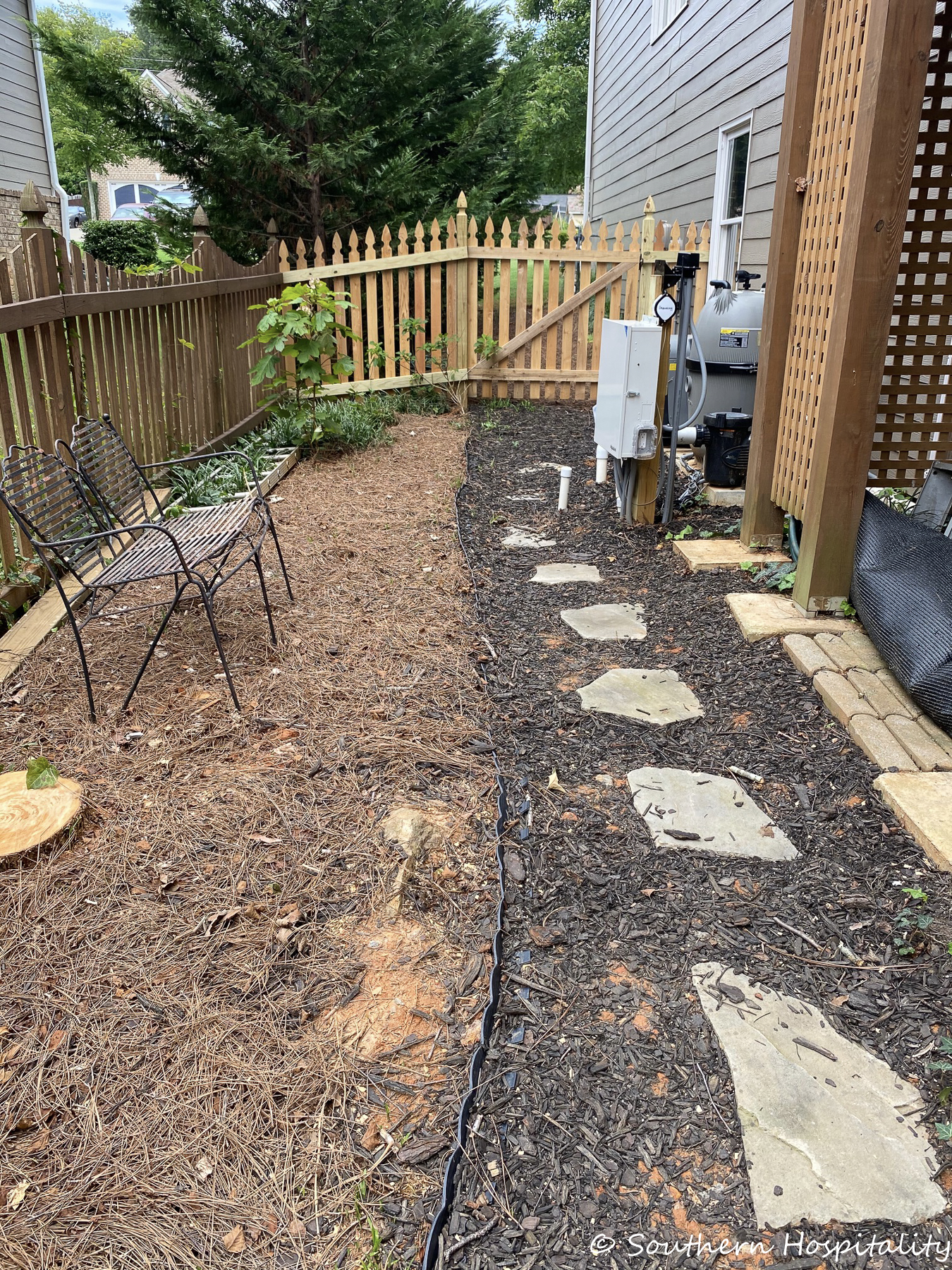 So this behind the stairs area looks a lot more bare now. It was a nice little shade garden before construction, but all the vegetation that was there where the pinestraw is got got choked out by the dirt when they trenched this area for all the plumbing and gas lines. I do have a couple of plants that survived back here, an oak leaf hydrangea and regular hydrangea, but eventually I'll work on this bed and make it prettier too. We just added stepping stones and mulch for now to make it somewhat useful. That's a bench I found years ago at Round Top.We also added a new gate on this side that we didn't have before.
Our pool equipment is tucked back behind the stairs and I'm glad it's out of the way, since it takes up a lot of space.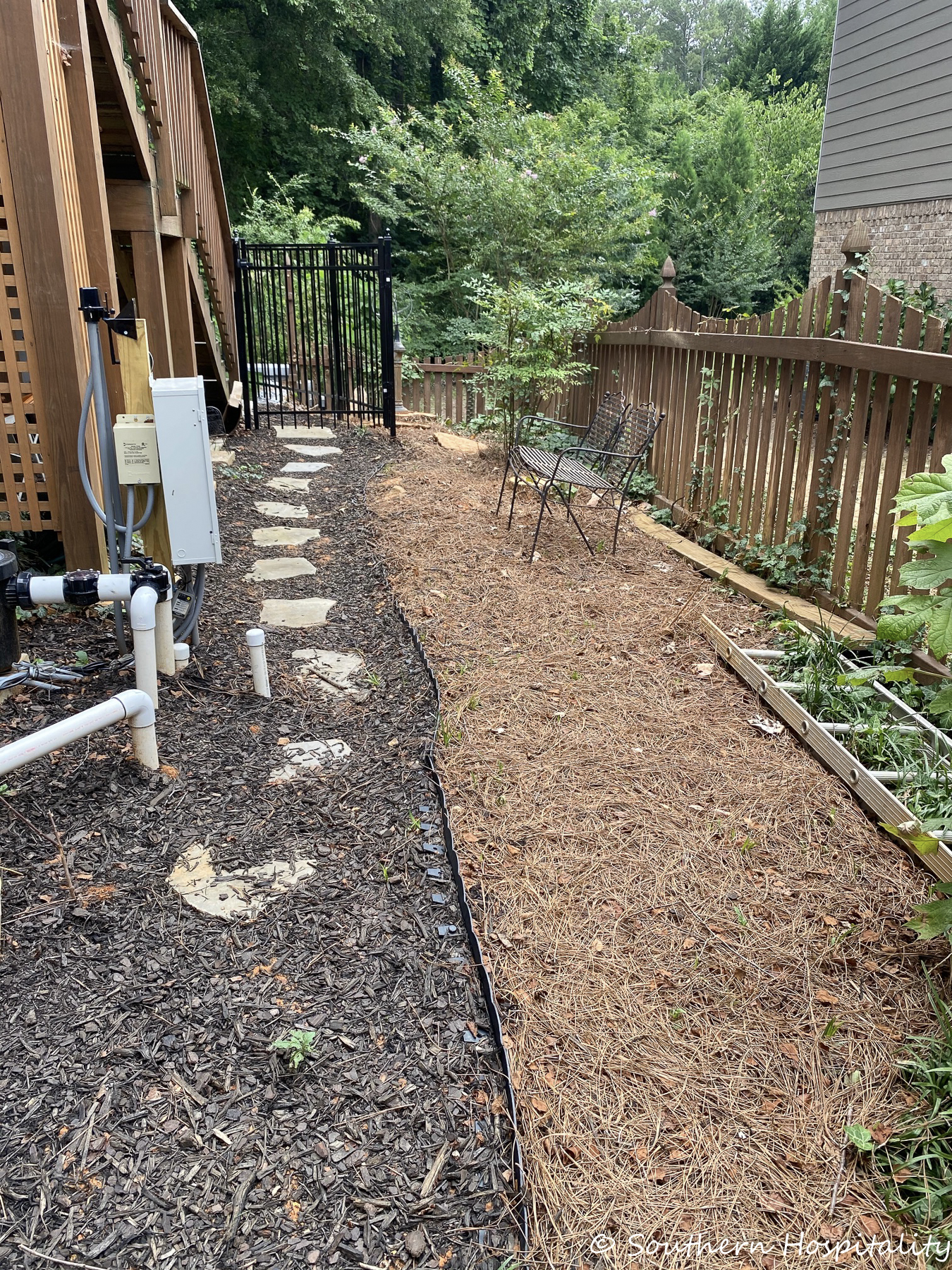 Taking out those trees lets in more sun back here now, so we will keep that in mind when we plant. I will be researching some good privacy trees to fill in here and maybe add about 3 there. We had a tree crew come in and take down those 2 trees as well as cut some of the limbs from the woods that were hanging over the pool.
This area is definitely rough looking, but you can't even see it from the pool, so I'm not too worried about fixing it up just yet, but that's something I'll work on later. We added extra gravel back here to help with the slope on this part of the yard and you can see the drainage hoses coming out of the ground that drains out water coming from our deck and the channel drain. That stump was the perfect spot to put my armillary. There's lots of ivy growing back here too so we will let it grow, I don't mind it here. We left this original section of the fence in place too.
There was another unexpected project we ended up having to do that we didn't see coming originally. The back of our property had an existing wood retaining wall that's about 4′ high on the high side and slopes to ground level on the other end. Our backyard is sloped and so they brought in fill dirt I'm sure to level the backyard when this house was built. The retaining wall was already there and we just added a fence on top of it.
The original owners of the house built that retaining wall out of pressure treated wood, so it was now 17 years old. We got the pool dug and installed and never really thought about that retaining wall, but when it came time to do the turf, the turf guy suggested we raise the fence up anyway for a proper slope on the turf.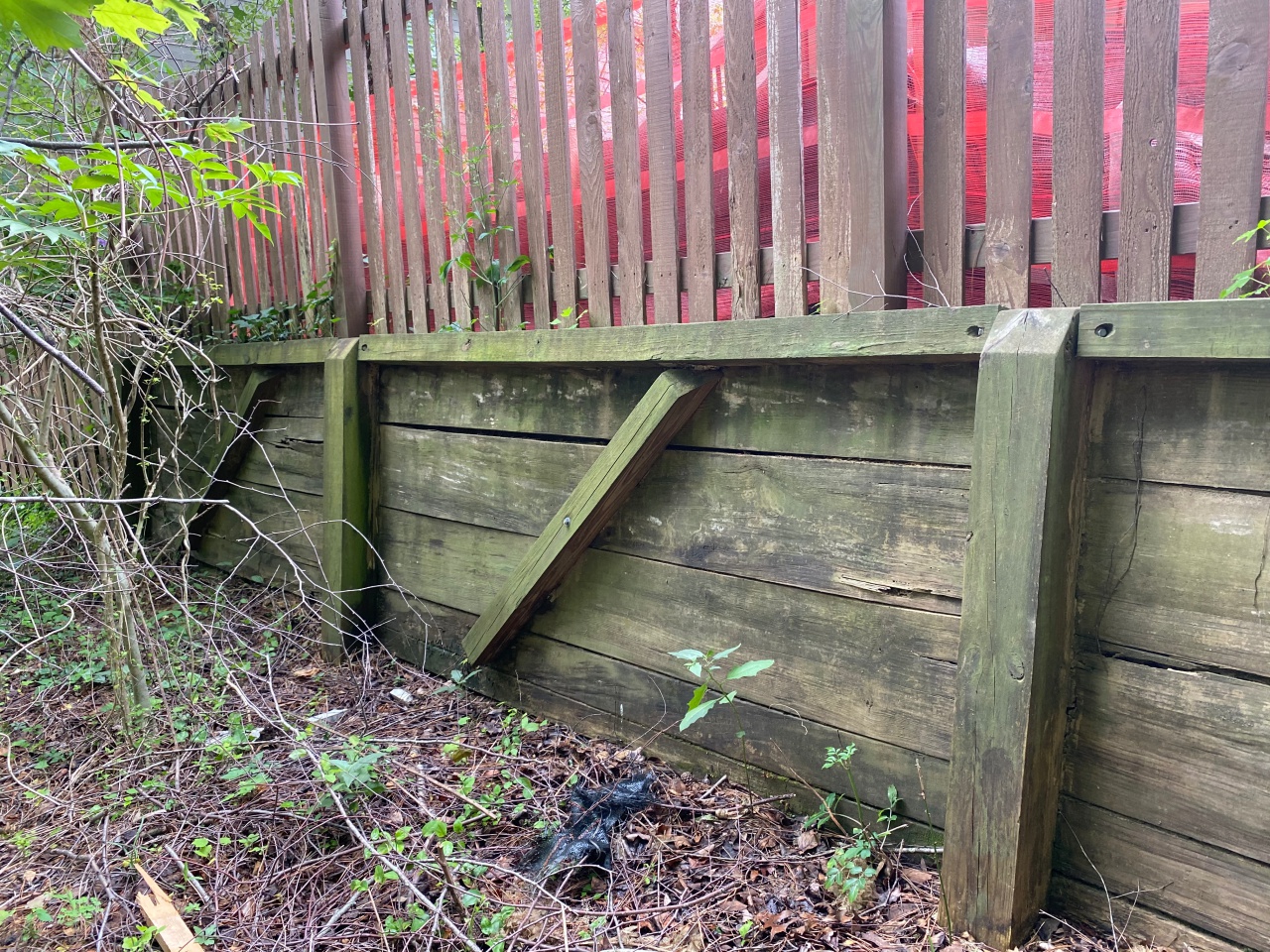 We had never given that old retaining wall much thought and I had barely seen it from the woods side, since I never go back there. Mark hadn't really paid much attention to it either until now. When he called me back there to look at it, our hearts sank. It was in horrible condition and we couldn't let it stay like this.
It was literally crumbling into pieces and we couldn't take a chance on anything harming our new pool, so we scrambled to find someone to come and build a strong and stable new retaining wall and found a good one. The same guy who did the retaining wall also did our turf installation, so I'll share all that with you too. They got the wall built in 2 days and we breathed a huge sigh of relief. I told you building a pool is stressful!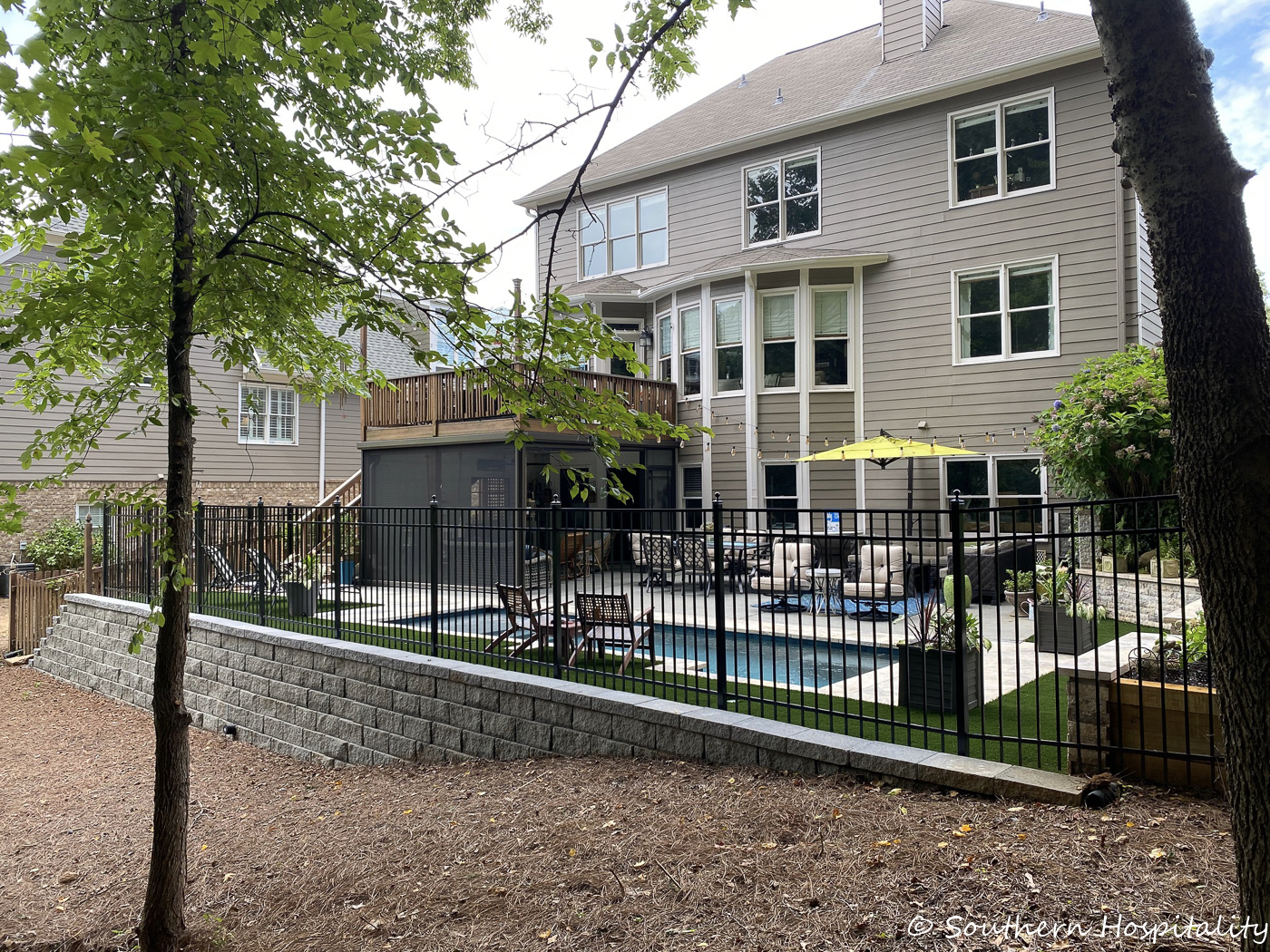 So here's another big ticket item on the pool that we didn't plan on, but had to do last minute to the tune of $9K. Not cheap, but it had to be done and I know it's strong and stable now. We are so glad to get that finished and not have to worry about this again. I'm not going to count this cost as part of the pool build, because we would have had to address this sooner or later anyway as part of our backyard. It's just an extra expense we didn't plan on when the pool was built.
Now that I've shared all of the projects that went along with the pool with you, let's look at the pool at night.That's when the magic happens!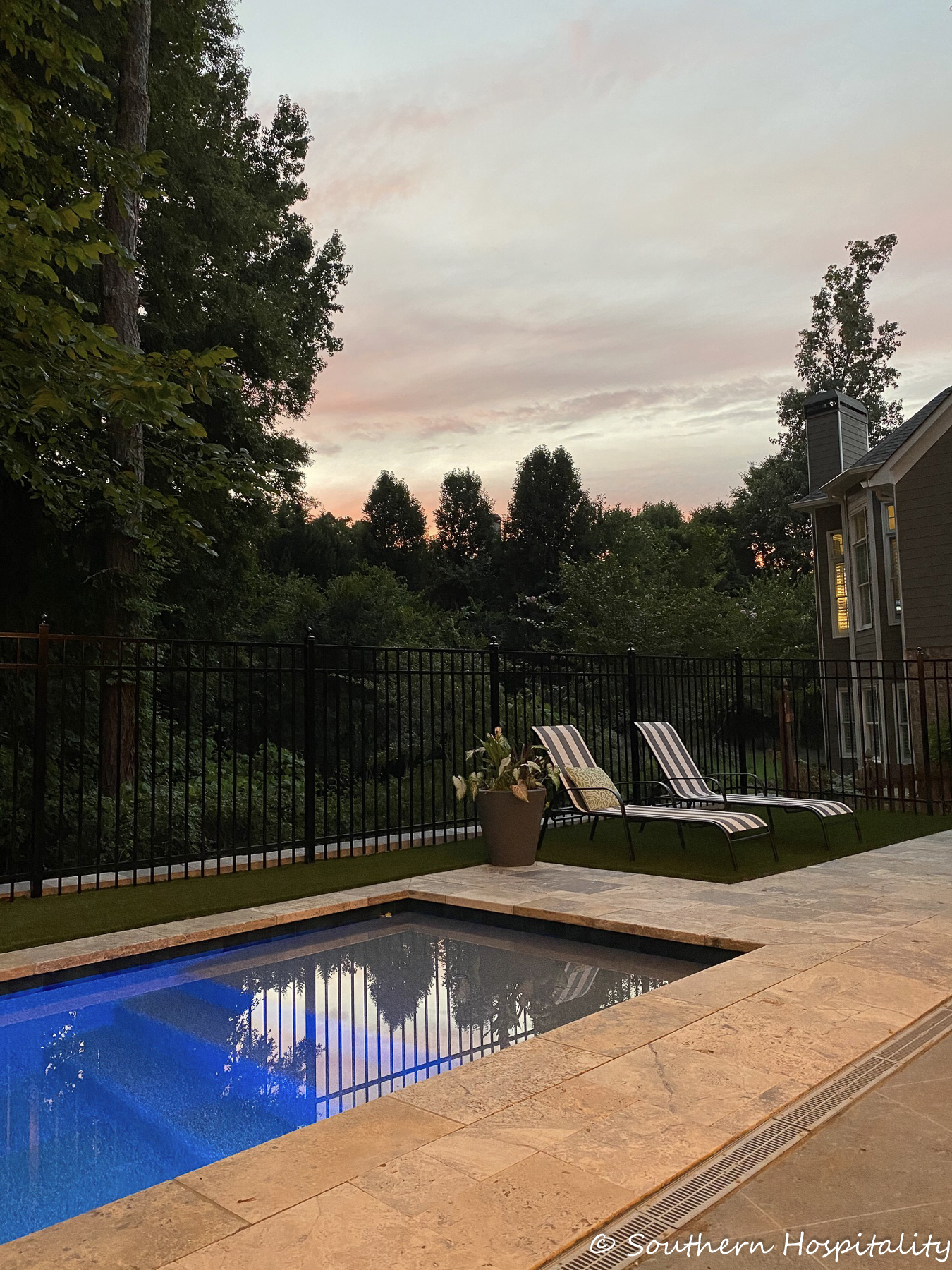 When the sun starts to go down, the LED lights in the pool come on and change colors. There are lots of colors, but we really love the blue and green tones the best so that's what I took pics of. It also has reds and pinks/purples.
We absolutely love sitting out here at night and listening to the sounds of the summer woods behind us, the chirping cicadas and the tree frogs. It's a symphony of summer sounds!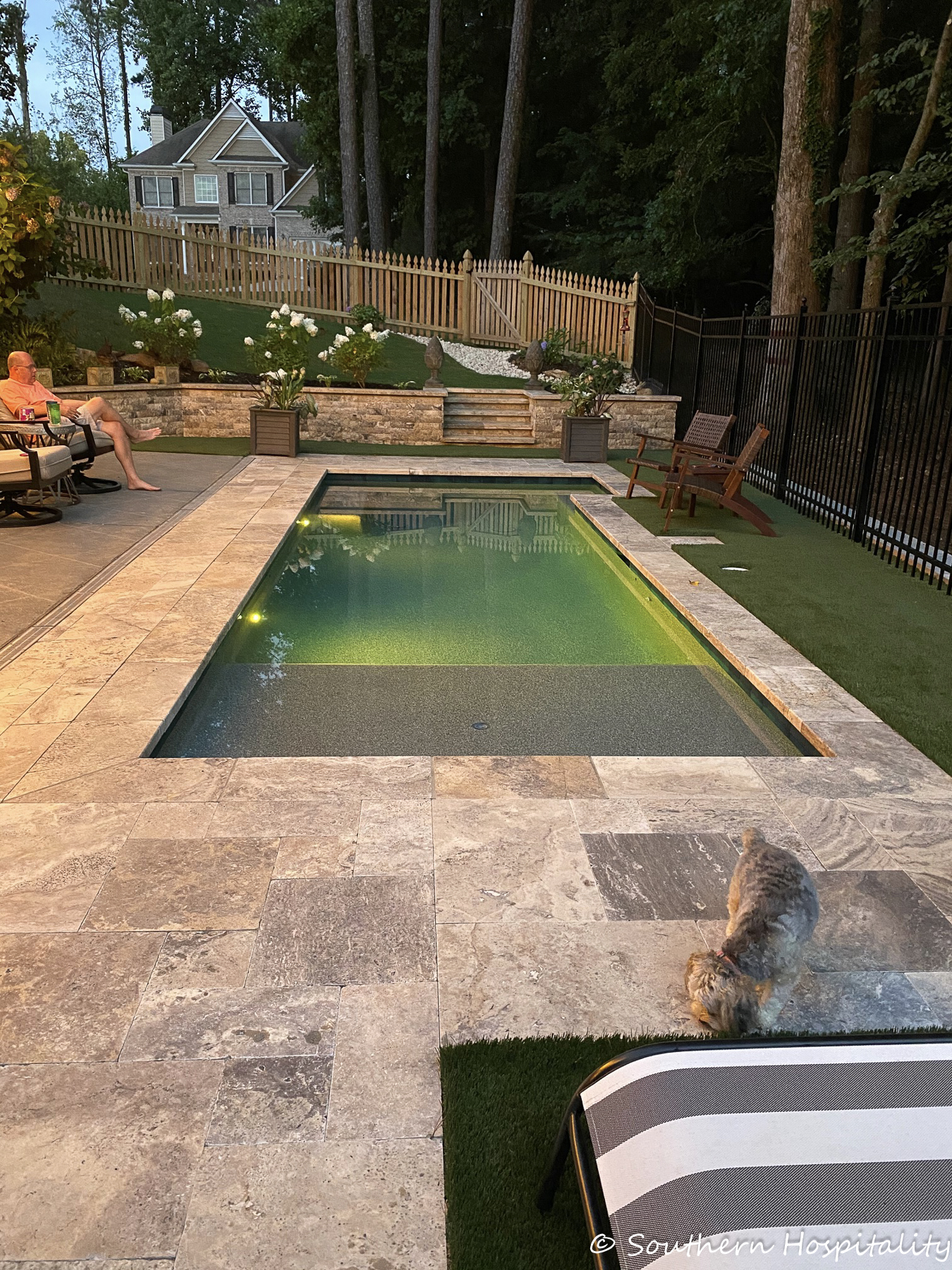 The pool turns all these pretty shades and we love to watch it all. Such a great place to hang out at the end of the day. We sometimes stay out til way past dark and go in happy and content. Daisy loves it back here too.
We feel so blessed to have this in our backyard and do not take it for granted. I honestly never dreamed we would have a pool.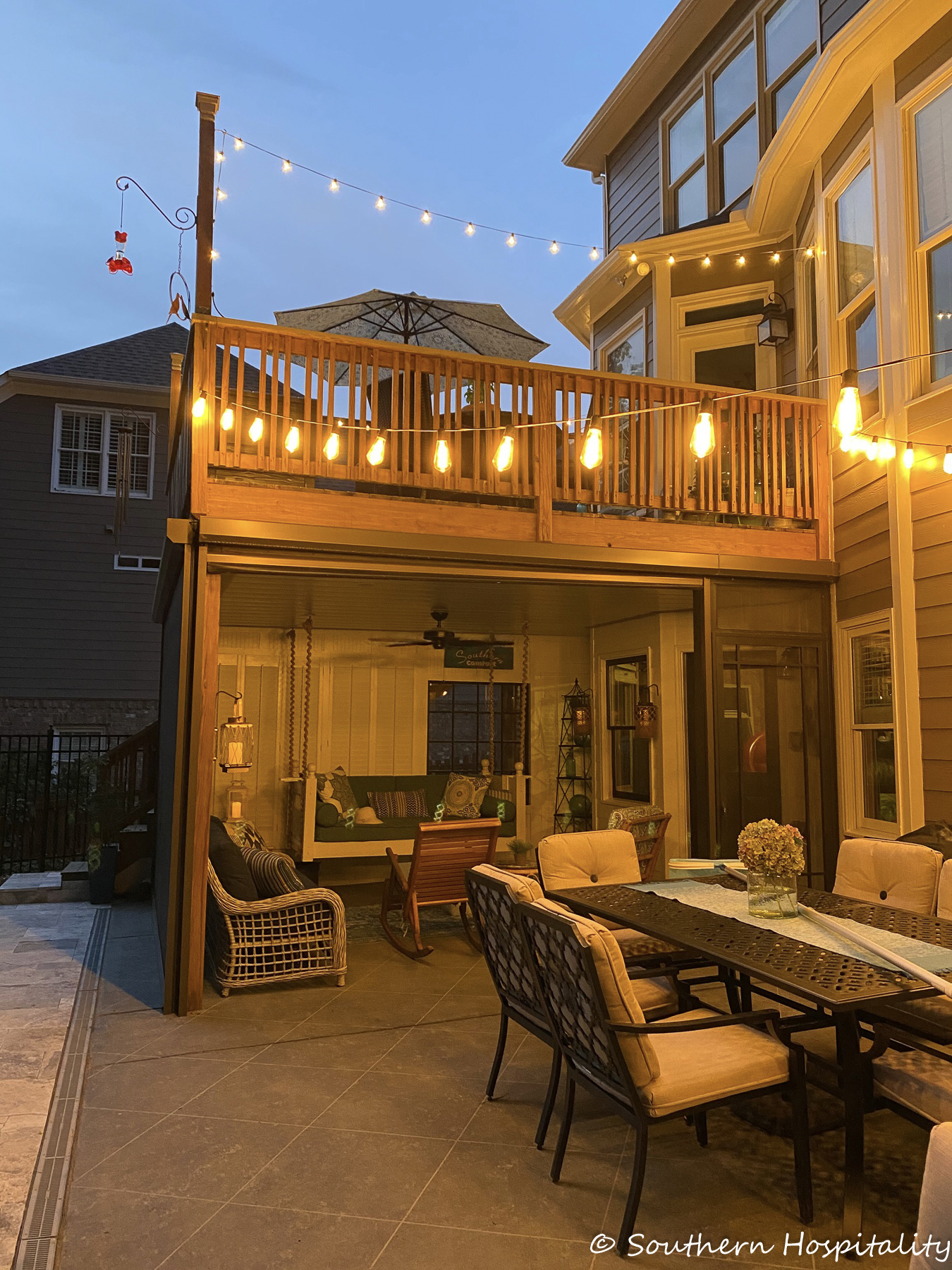 The night sky turns so blue during blue hour and I love taking pics right after sunset. We turn on the overhead string lights and those add so  much to the ambience too.
The backyard is awash with soft light.
The blue night sky is just gorgeous and matches the pool colors too.
You can see the top of my limelight hydrangeas over the top fence.
I love this shade of blue, reminds me of the Caribbean.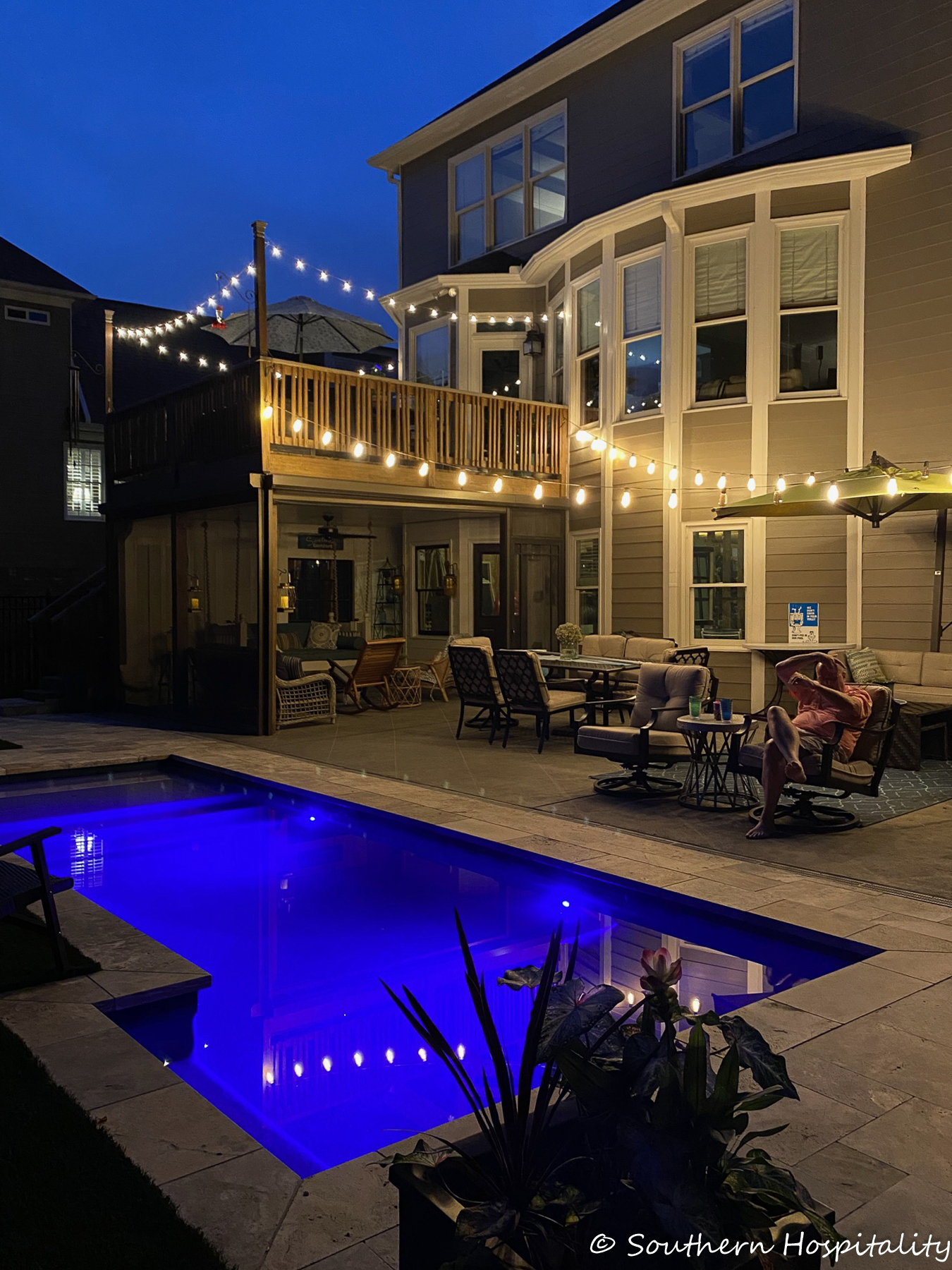 I think Mark was swatting a mosquito here. We don't have that many but sometimes they come around.
As I said, this is definitely a happy spot for Daisy. She loves being back here and I'm so glad she has a backyard to play in now. You should see her running around the pool deck. She can fly!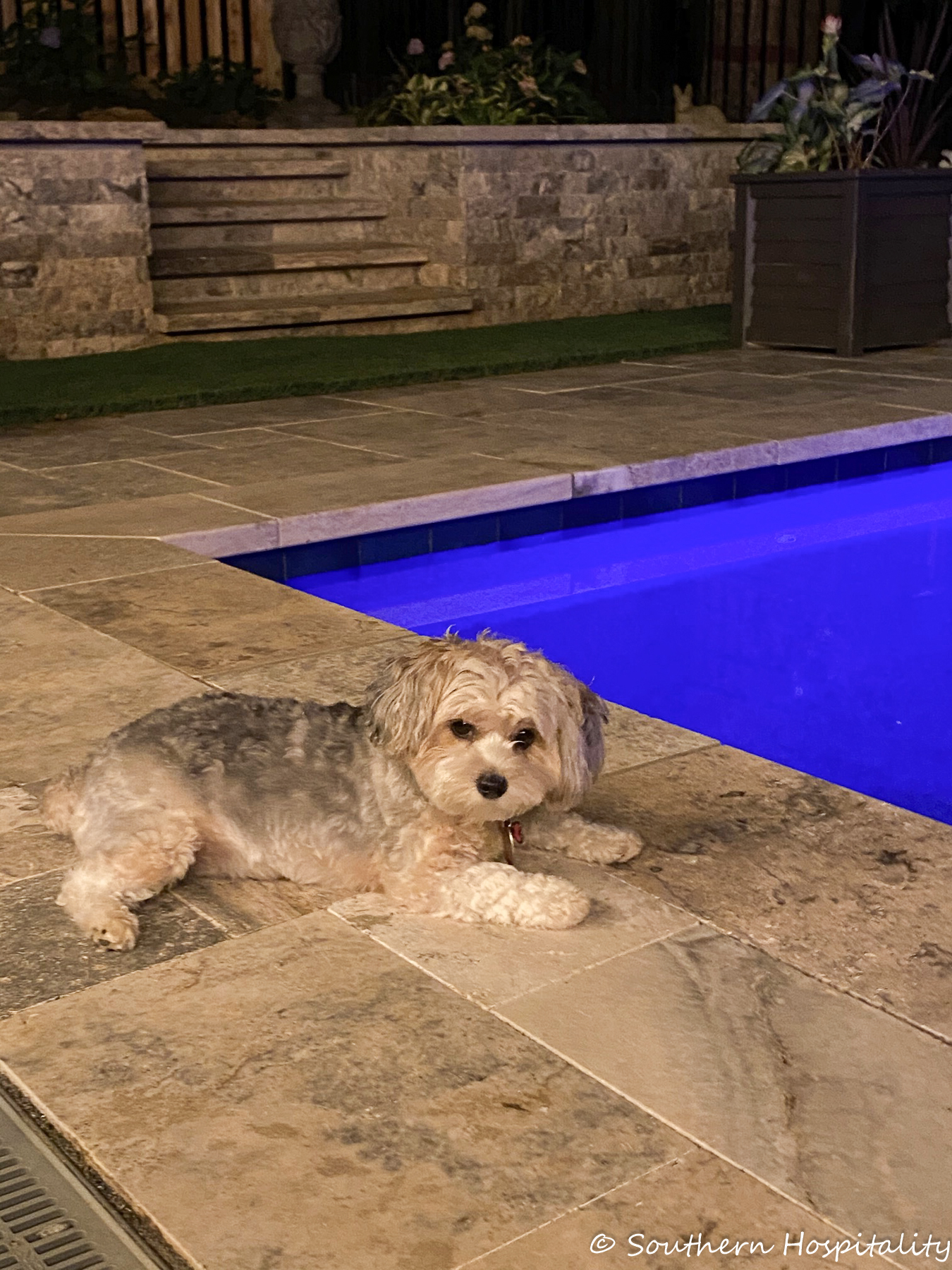 Then she plops down and takes a nap or watches the water. Several people mentioned how she matches the travertine and she does!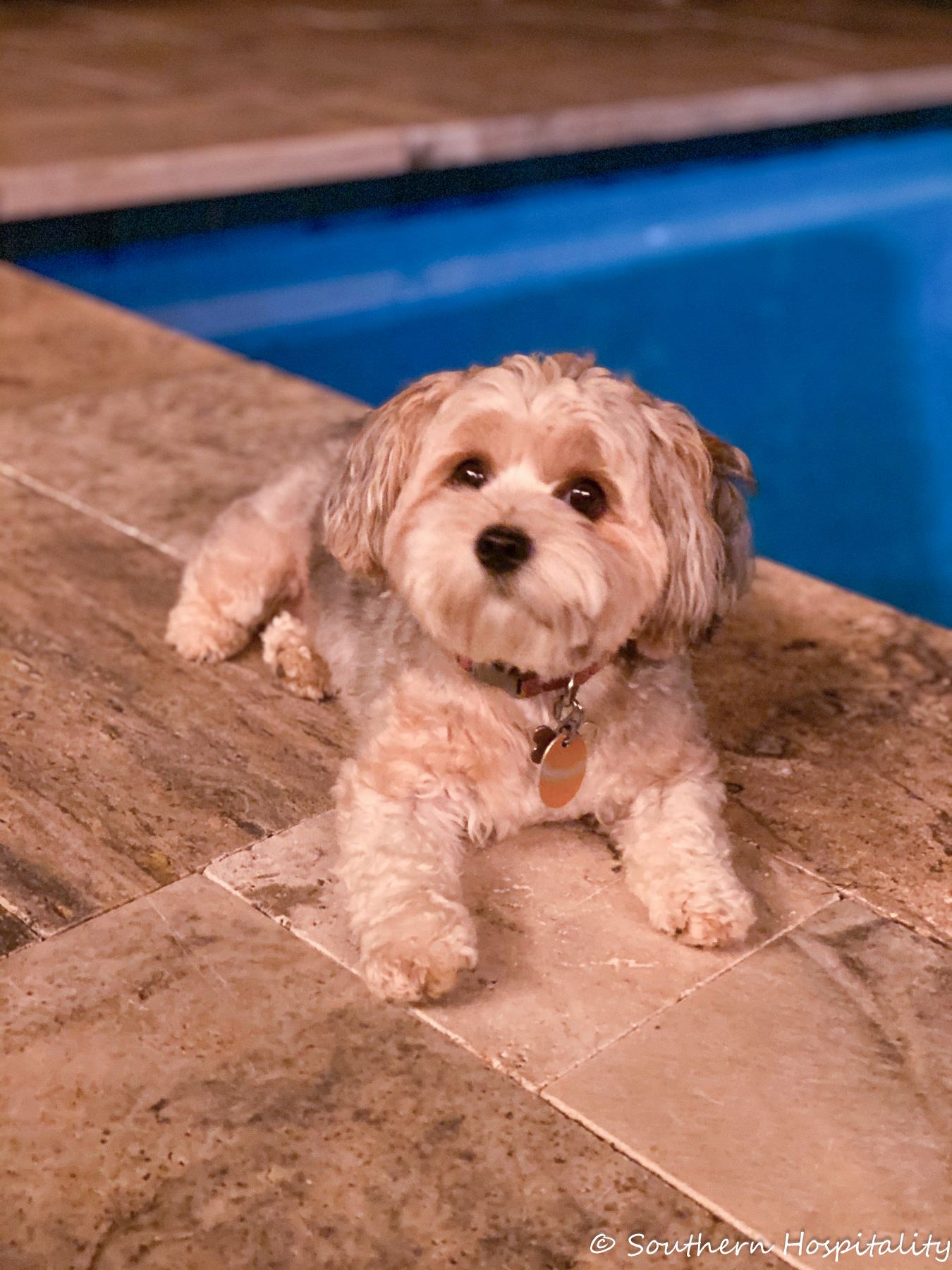 And we have the best time with her. Our backyard is complete now and we could not be happier with it all. Thanks for being happy with us and following along on this pool journey!
This is where I'll be on most days this summer! It's a thrill to have our own pool! We are still waiting for the gas company to upgrade our gas meter to a bigger one so that we can turn on the heater and I can't wait for that. I'm not into cold water!
Pool Cost Breakdown
Now, for the nitty gritty on all our pool costs. I'm going to break this down into every single project we did, starting with the pool and all the costs that go along with that. There are extras on a pool build so even though you get a quote for a pool, you can count on adding more $$ to that before the pool is finished. Each pool build has its own unique features and costs, so keep that in mind as you read along with our project. Adding on landscaping and other unforeseen things like what happened with us and the old retaining wall and you need to be prepared to spend what it takes to get your backyard the way you want it. I'm so glad we were able to afford all the projects we did! That's a huge blessing! We didn't charge anything, everything was paid for as we went along.
Building a pool is an expensive project and not for the faint of heart. I had to get over the sticker shock when we first started getting bids and then as things went along and more and more $ was added to the project, we just breathed and kept going. It's an investment for us that we, as well as our family will enjoy for years and years to come.
All of these listed items below are for material and labor.
Our Pool Builder:
Georgia Classic Pools in Milton, GA
Shanise Jordan Dover was our pool designer and Justin Kettles, our Project Manager. I could not say enough about how professional and efficient they both were in our pool build from start to finish. They held our hands, answered questions, changed plans and made things happen for us. Even though it felt so long and I grew impatient at times, they saw us through to the end. From pool dig to opening our pool was a little less than 3 months and after the horror stories I've heard about waiting a year or more for a pool to be finished, we were so pleased with Georgia Classic Pools. I would highly recommend this family owned company if you're in the market for a pool. Tell them I sent you!
Pool Contract Cost:  $77,826
Gunite pool, with Shotcrete shell + Pebblesheen Plaster finish in French Gray
Includes Pool build + all pool equipment (Jandy Pro series equipment: Jandy heater Polaris Alpha, Jandy AquaPure Electronic Salt water chlorine generator, Jandy Aqualink Smart device controls
Initial 2′ wall & silver travertine deck & coping,
LED lighting
As mentioned, our pool is 8′ x 23′ finished with a 4′ deep tanning ledge and 2 seating areas.
Additional retaining wall and steps: $3,083
Dirt Haul from pool dig: $3,750
Initial Property Survey : $2,670
Gas line install: $1,100
Total for Pool Build: $88,429
These are additional projects we did that are unique to our pool build:
Artificial Turf: $7,140 / Installer: Ryan Hunter, Greenscapes (678.873.9905)
Turf is from Artificial Turf Supply (80T style)
Landscaping/Sod/Dry Creek bed: $3,300 / Landscaper: Ruel Grant (678.830.5341)
Cut down 2 birch trees: $1,800 / J's Woodpecker Tree Service (678.559.4030)
Concrete Retaining Wall: $9,150 / Ryan Hunter, Greenscapes (678.873.9905)
Metal and Cedar Fence: $6,297 / First Fence (770.422.9996)
So, if you add all this all up you'll see the total is $116,000, definitely not an inexpensive project and the priciest project we will ever take on! When we started this project, I had no idea it would go this high, but I'm grateful we could afford to do it all. My tip is make sure you have extra $ for a project like this!
We were very happy with all the contractors that worked with us on this project and I would highly recommend any of them to you all.
I hope this breakdown helps if you're looking to build a pool. We heard pool prices since 2020 are way up, with so many people adding pools to their backyards. Our pool builder told us that their material prices went up 5 times last year alone, so that tells you where things are in regards to pool materials and flow. Our builder has exclusive partners they work with and didn't seem to have any problems getting materials for our pool, which we were so glad to hear.
Please feel free to ask any questions, I'm happy to answer anything that you don't see covered here or clear up anything you might be wondering about. We are so glad to be finished with this project and to be using our beautiful new pool and backyard! It felt like it would never be finished, but now that it's done, it really wasn't that long to wait. It just feels that way when you have a muddy mess going on.
Here's a video of the new pool space!
Don't Miss a Post, join my list!