This post is sponsored by Phantom Screens. Excitement, joy and pinch me moments are all mine! 
Hi friends! It's another exciting day around here and I'm sharing how adding motorized Phantom Screens has completely changed the way we are going to live in our backyard. I'm still pinching myself that I had the opportunity to collaborate with them on this backyard project of ours. This was definitely a project for the professionals.
We've been in our house for two years now and the first thing I thought of when we moved in was adding a screen porch up above on the deck. That's ideal because you can just walk outside the kitchen and have a covered porch. I knew from experience that adding a roof and screening is like adding a new room so it would be very costly. I had a quick ballpark estimate from a company that was out here doing something else for me and he said it would cost at least $15K to add a screen porch,which is what I figured anyway. That's a low estimate and I know many screen porches cost much more than that. That would be a bare bones porch.
For us, since we are getting closer to retirement, we just don't have that kind of money in the budget to do a project like this. We have to choose the projects that will give us the most return for our money. We've still got a master bathroom that we want to improve, which is going to be costly and there are several more projects inside and out that we will want to spend money on, so an upper deck screen porch was not going to happen in this house. I so enjoyed the porch at my other house. We began to think about what we could do here and decided that since we have that huge patio down below and the ceiling is 8′ tall, it would make a great space to screen in for shade from the sun. So that's what we began planning for. We've done several projects down on the patio since we've been here including the DIY rock wall, the aluminum under deck ceiling, and the new DIY faux tile floor. We are a couple who doesn't mind doing the work ourselves as much as possible to save money, but some things we cannot do.
The icing on the cake is the Phantom Screens we just had installed. I can't tell you what a dream come true it is to work with them and get these motorized screens installed at our house. We are a regular suburban couple in a regular suburban home and having these screens on our outdoors patio space is just the best. It's going to really change our outdoor living capabilities and I know we are going to enjoy them for years to come.
I did reach out to Phantom Screens and pitched our project to them and I'm forever grateful they said yes! I met Phantom Screens in 2015 and 2016 when I was invited to their Southern Romance house in Mobile, AL. To now be able to have the same screen system that was on that house on our house just blows my mind! I fell in love with that house and that porch and when you look at these pics, you'll see why. That project was awe inspiring and meeting Esther, the CEO of Phantom Screens was such a pleasure. Again, I'm very grateful that they wanted to partner with me on our project. It's truly a dream come true.
I told them then that the first time I saw Phantom Screens was at least 20 years ago at a Southern Living Idea house in Big Canoe, GA. I never forgot that motorized screen. It was the coolest thing I'd ever seen and the convenience at the push of a button was just wonderful!
Here's the Southern Romance house back porch in Mobile. You'll see that porch also has retractable vinyl screens as well as regular screening for a truly all season porch. I was totally in love with that porch as you can see. Here's the interior of the Southern Romance house if you missed it. What fun that project was to see!
So that's a long introduction, but let's get to our house project! Phantom Screens put me in touch with Derek from Screens of Georgia, a distributor here in the Atlanta area.They have so much knowledge on screen solutions for your home.
Derek came out and we told him what our plans were and he gave us all the right ideas to execute exactly what we wanted from this screened porch. He had all of his tools for measuring and got busy.
Mark and I were both home so we watched and asked questions along the way.
Derek measured for all the components that would be needed for our screens to fit properly. We would have one long screen on each side of our under deck space.
He brought color choices and we chose a Bronze color that blended in with our house and deck. After a few weeks, Derek's crew came to our house for the installation process. It took about 2+ months to get all the materials in and ready to install, but it was such an exciting day when it was time for install. I've read there are wood grain finishes available as well.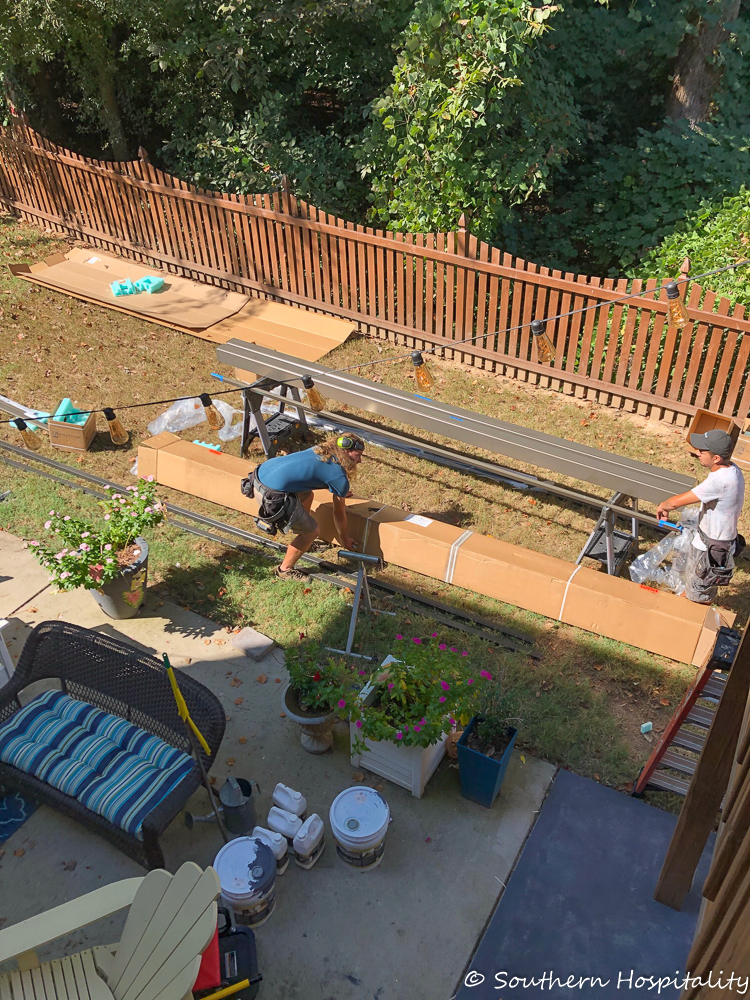 It was so exciting to see it all arrive on install day. They set up all their big equipment in the backyard and got busy.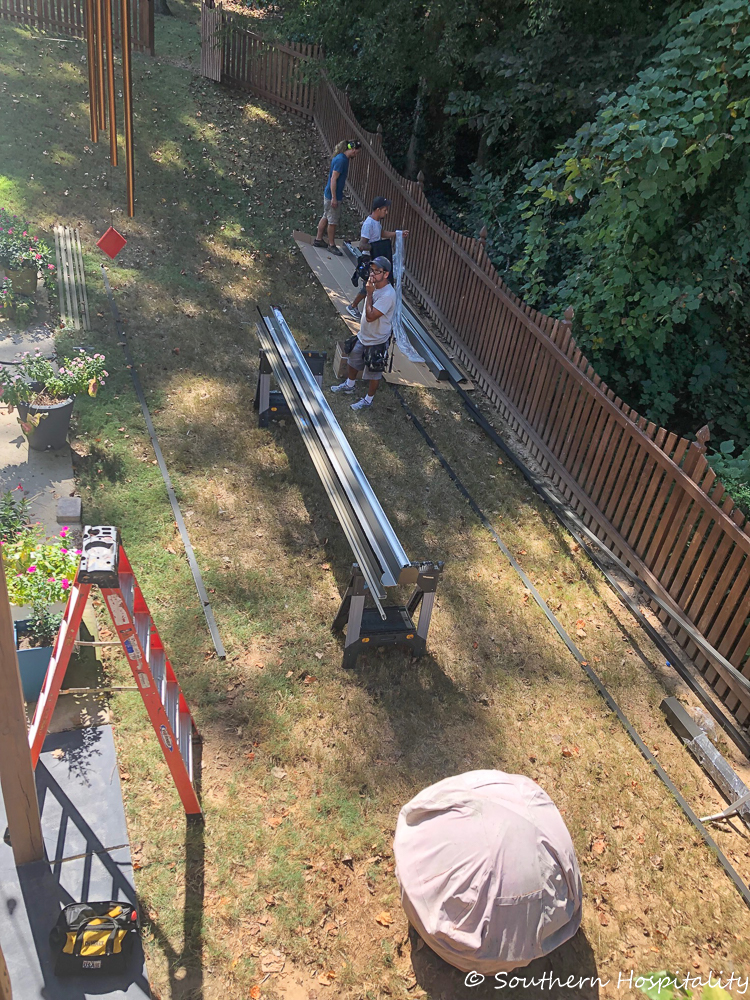 Those guys worked very hard for over 8 hours that day getting most of it done.
I admired the hard work and intricate details needed for this project, definitely not a DIY.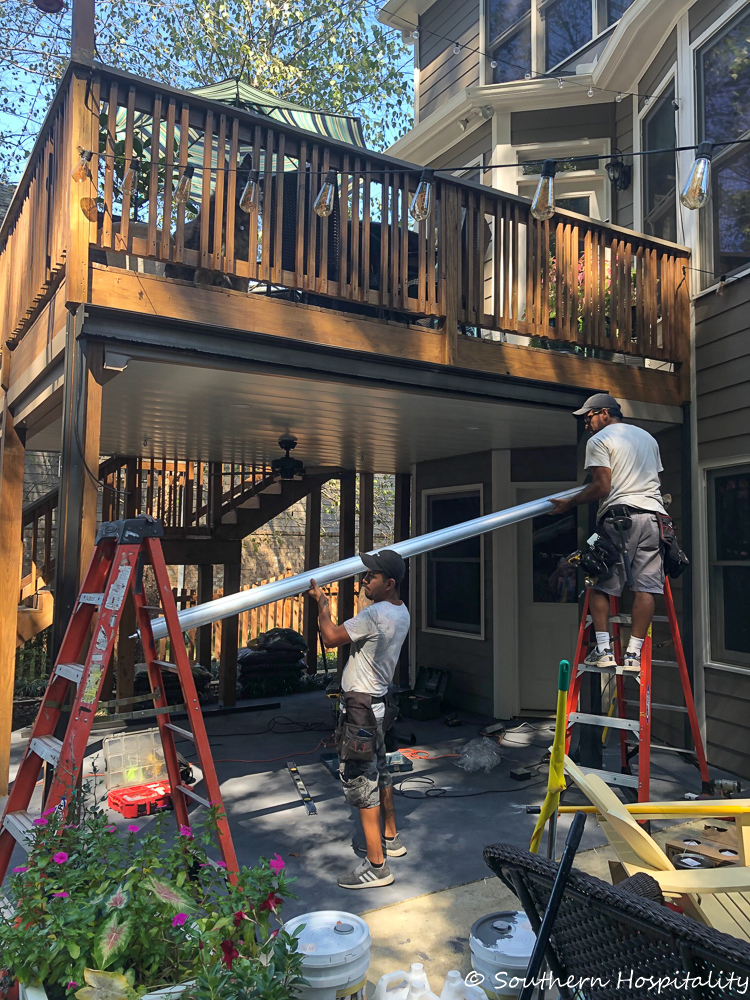 It was late afternoon when the screens finally got set in place and ready to use. There is a lot to this system and it has to go in just right.
The screens are hidden in a metal housing and the plug goes into the wall to operate electrically.
They worked and worked for hours getting things in place. The metal housing went in first before any screens were attached. I kept going outside to take pics and see what was going on.
The metal housing looks nice with the trim from our ceiling system we put in.
When Derek was here, we asked him about the best way to put in a screen door and he told us that they do all of that too with their screen installations, so we went that route and let them do everything. Mark was planning to do a wood framed door but after seeing what they had, it was a no brainer to let them do it all.
The door is right next to the house coming out of the basement door and will be out of the way when the screens are all up. We were so happy to see how efficient this screening system is and glad we chose to let them do it all. There's a screen transom above the screened door too and this whole area creates a wonderful privacy for us. The insect protection will be so helpful too as well as enhancing our beautiful views in the backyard.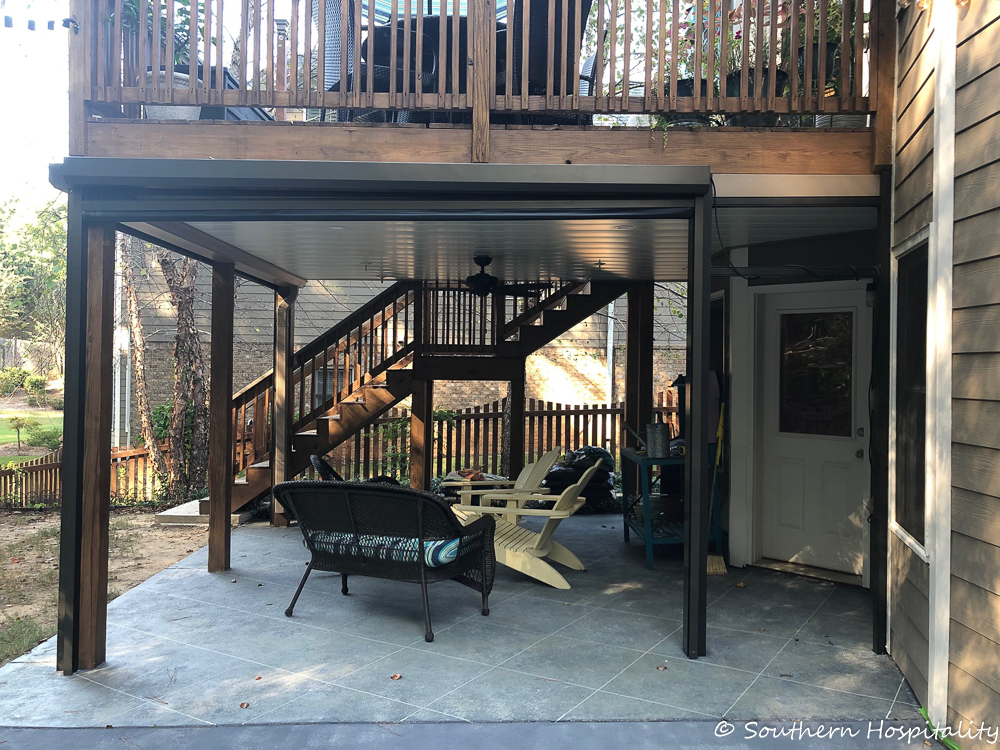 Another installer came back later with the screen door to install and also to continue on with the housing that covers the electrical cords. It all looks so neat and tidy when finished.
We really like the bronze aluminum of the post and doors, it will be easy maintenance for us and we love the screened door we chose too. He did need to add a threshold for the door and he screwed it into the concrete. You can see I was finished with the first section of my faux tile then. I was still working on that project.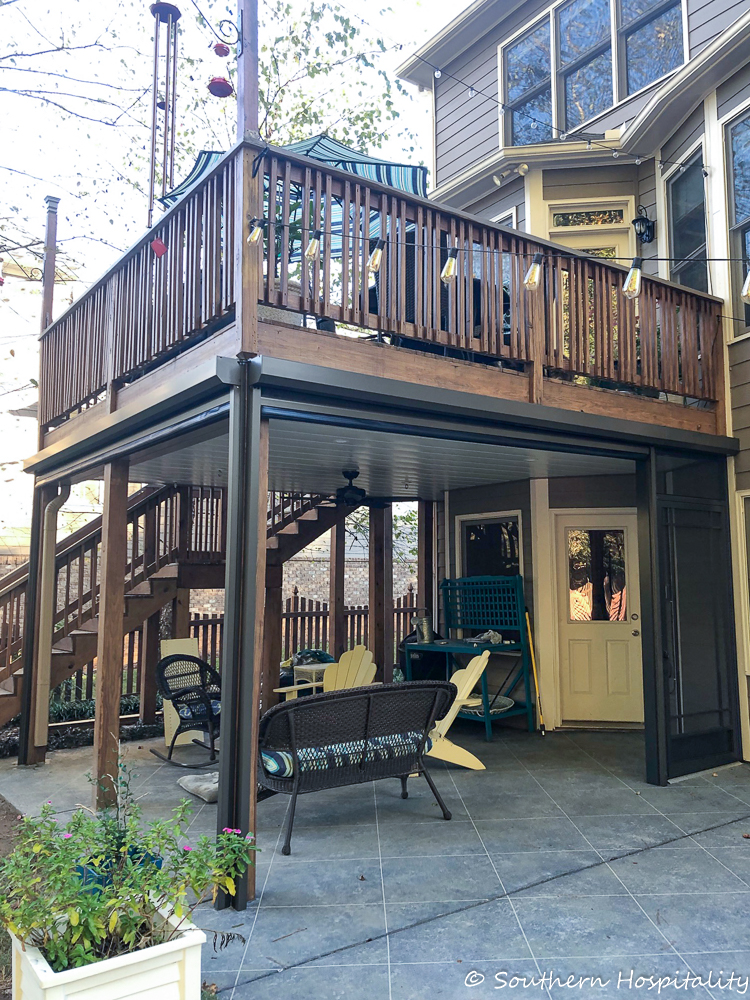 And here it is all finished, with both screens up. Everything looks so neat and tidy with them up out of the way and adds so much to our outdoor living space not to mention helping to block the sunlight.
Screens up in the housing. We love how sleek the door looks and out of the way on the right.
The following pictures were taken by Screens of Georgia and turned out great! You can see the scope of what these screens will do.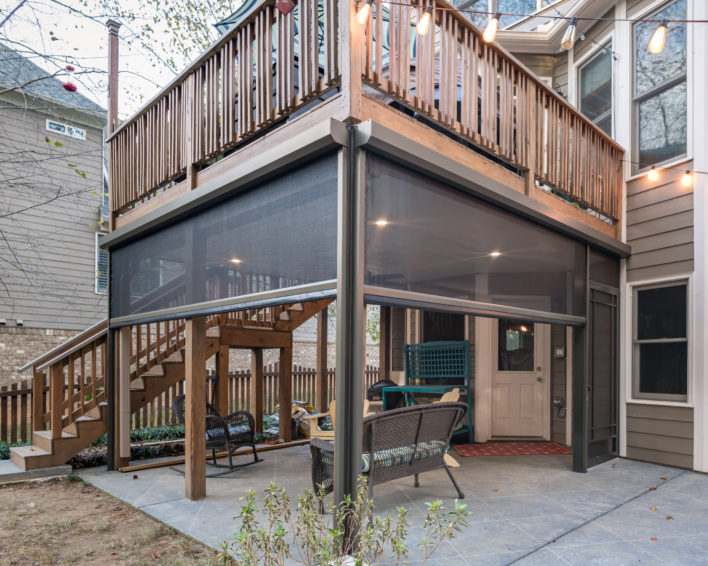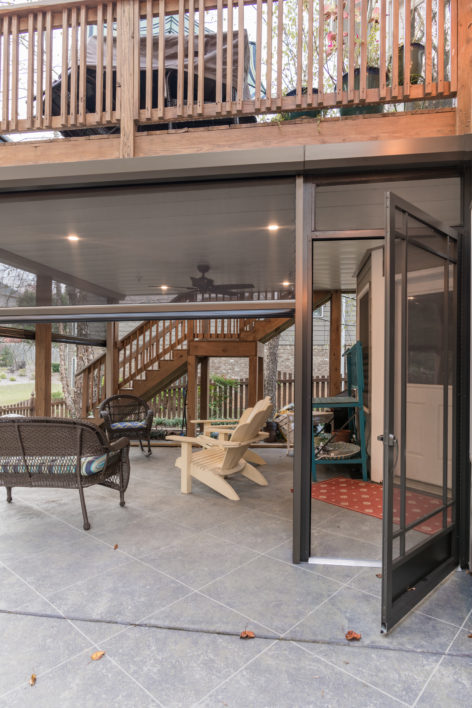 Both of them down. It's very see through from the inside looking out.
Here are the screens all in place with the screen door and transom too. The screens are both down in these pics and I'm going to show a video so you can see it in action, so wait for that below.
Inside looking out, it's a great view. Hollie is wondering why she can't get in.
Morning shot of the retractable window screens down.The screens provide a new comfort factor to our screen porch.
Take a look at this video showing the screens in action! Each panel is independent and can go up or down with the touch of a button. Or they can both raise and lower at the same time.

Screens down. You can see that there is no track at the bottom of the screens. The heavy rubber seal at the bottom sits flush with our concrete floor. Derek did have to take measurements for the slope of our floor since it's pretty sloped from the house over to the yard for drainage purposes. He had to account for that with the screens sitting on the concrete.
It looks absolutely fantastic and we are thrilled with the new screens. I can't wait to get it all styled and completely finished and I know we are going to love this space so much. It will be like a whole new room in our house, not to mention it will keep out the mosquitos and flies we get during summer months. What a perk that will be!
The housing and track system are neatly attached to the deck and it looks great from all angles. There is even flashing on the top of the track so that water doesn't go down in there.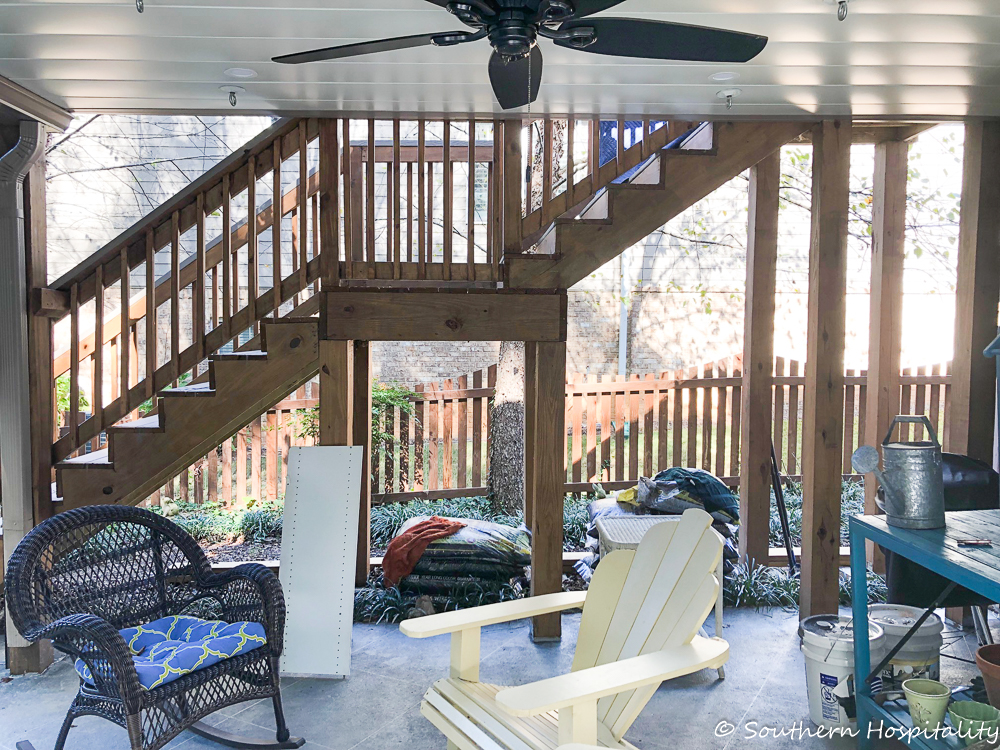 And here's a view from inside of the stair wall that we still have to finish. I shared that we have a plan for this wall and we do! We have found an old square window, transom windows and we have a whole bunch of old Plantation shutters that we are going to use on this wall, so stay tuned for that project. I wish it was all pretty and styled and ready to show off, but we've got more work to do out here. I'm hoping we start on this soon! Of course, I'll share it all with you and show you what we are doing.
We are so very grateful for the opportunity to partner with Phantom Screens on this. The way I look at it is even though we couldn't spend $15K+ on a screened porch above, I would definitely have saved up my money for this project. It's 1/2 the cost of a screened porch. We did have to do the ceiling system down here which I shared in that post above and that was not a small cost, but really this is completely doable if you look at it as a trade off for building a whole room as a screened porch on the deck would be.
The value of this project was just a bit over $6K for both the Phantom Screens motorized screens. It's not inexpensive, but when you look at the value for what you're getting, it's not so bad. I would definitely save money for a project like this! You all know i like to be transparent when we do projects, so that's the bottom line on cost.
We did pay for the aluminum door with transom and posts that attach to the house and that portion was $750. Working with Derek at Screens of Georgia was wonderful and his crew did a great job with it all.
Phantom Screens also has so many retractable screen options that are much less expensive so if you're in the market for something for French doors or other single doors, their products are top notch. I'd totally do another retractable screen door if I had a place for one. They put one of those in my old house for me and it was great!
I hope you enjoyed this post on Phantom Screens motorized screen panels. This system is going to be a game changer for our backyard and we have a lot more plans to beautify that space. This project goes a long ways towards creating our dream backyard space for entertaining. I am loving every single project we have done!
Don't Miss a Post, join my list!