This post is sponsored by Invitation Homes. I loved being part of this collaboration!
I'm back today to share the rest of the Invitation Homes show house with you all! Have I mentioned how much I love what I do? This was such a fun project and collaboration to be a part of and it was one of the most inventive ideas I've ever been a part of in my blogging career. Bringing together 6 designers to decorate a house with no parameters or consulting each other and the house came together beautifully. We were all given free reign to decorate our spaces as we wanted to.
It's move in ready and waiting for a family to come inside and live! Invitation Homes really thought outside the box on pulling this project together and showing us all how rental spaces can be so inviting to live in.
With more than 80,000 high quality and updated properties across the U.S., Invitation Homes is the premier home leasing company and can be found in 17 markets. Understanding the importance of making a leased house a home, they put together a team of design experts to create the Make It Home Design Forecast and Show House here in Atlanta.
I was so honored to be a part of this endeavor! If you missed the patio space I decorated for the house that I shared last week, go and check it out too.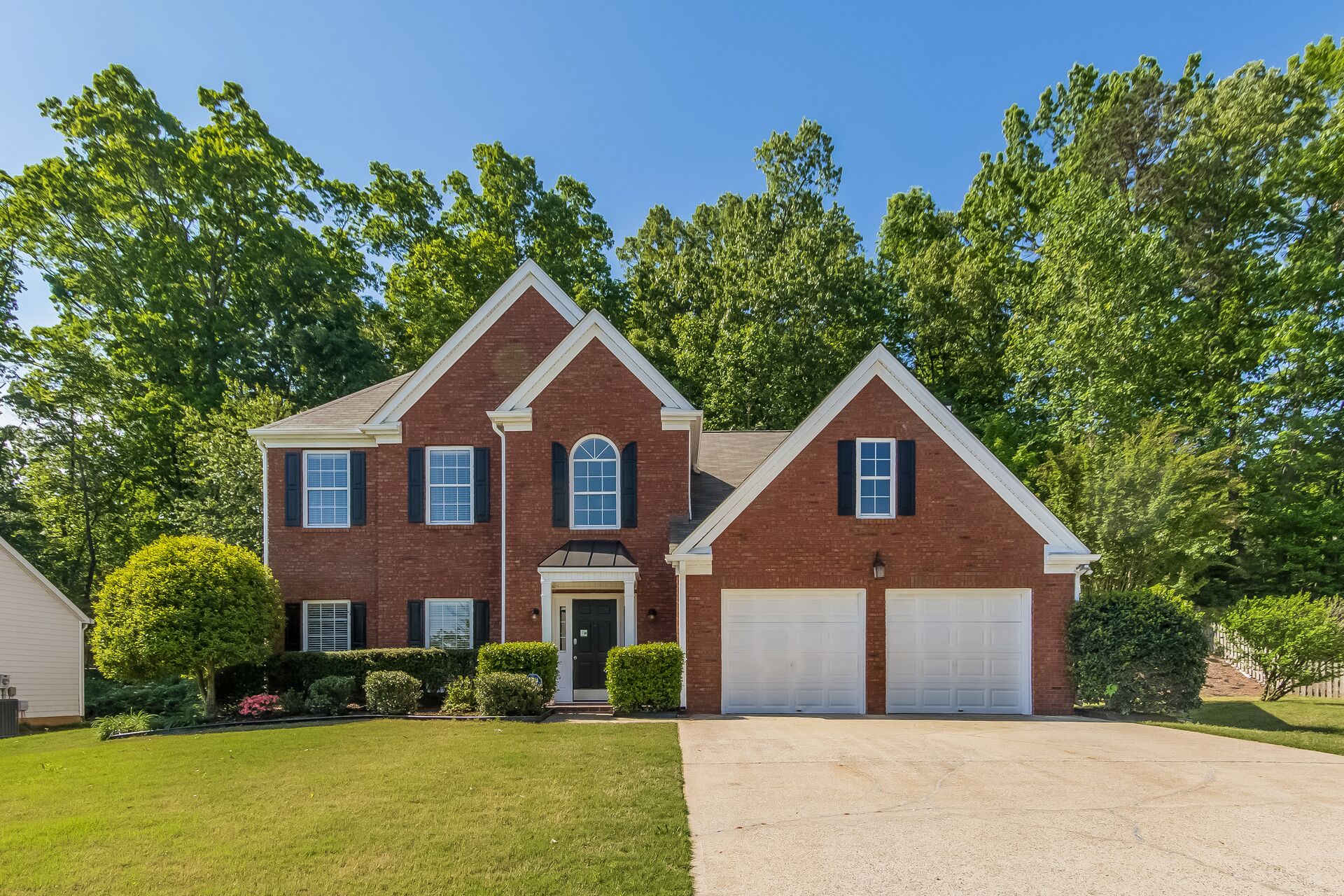 A reminder of the exterior of the house, built in the 1990's, there are so many neighborhoods just like this one all across Atlanta. The house was updated with new flooring and paint and it had already had the kitchen updated, so a fresh clean slate was ready to decorate.
Coming in the front door, Meghan Giddens with Invitation Homes added a small brass foyer table to this space, a warm welcome to guest.
Here's Meghan and her space. She also decorated the dining room. It was so fun to see everyone's spaces come to life as we came to the house and executed our spaces.
The living room was decorated by my friend and fellow blogger, Brittany with Addison's Wonderland. She did a fantastic job and her design tip was adding removable wallpaper to a space to make it your own.
Her focal wall was a pretty wallpaper with a slight ombre pattern in blush and it was so pretty as a backdrop to her space.
Here she is demonstrating the ease of peel and stick wallpaper. I'm ready to try some of this myself!
Brittany in her space which was so pretty and serene. She also added a kid's corner, so check out her post for all the pictures and details.
It's been fun to get to know Brittany in the blog world we are both in. She's a sweet gal!
Meghan added touches to the kitchen as well as the dining room. The home is equipped with Smart features as well.
Meghan's dining room space, pretty in a mid century modern design.
Emily Henderson's family room was beautiful, so definitely check out her blog post about that if you missed it. She and her team came early to shop vintage here in Atlanta and her room is 80% vintage! I love that.
It was so fun getting to be around Emily for a couple of days and she was so sweet and down to earth, even though she has a high powered design career these days.
I took the opportunity to take a selfie with her as we were posing for pics.
Kevin with Thou Swell did the master bedroom and it came out beautifully. This college student/design blogger is a real design talent and I predict he will go far in the design world one day.
I loved his removable wallpaper focal wall too, so pretty!
He does color well!
Erin with Pretty on a Penny created such a cute kid's room. She is also such a doll, so click over and get to know her! She has some great storage ideas in this room.
Brittni with Paper and Stitch created a perfect guest room/office combo space with lots of great ideas as well.

This was such a fabulous group of design creatives to be a part of and I'm so grateful that I get to do what I love! It's the best thing ever. I hope you'll stop by all the other blogs and check out their posts in more detail too.
The Invitation Homes Show House was the first of its kind and I think the concept was so fresh and innovative!
I'm adding the tips from all the designers again, so you can check that out too!
Don't Miss a Post, join my list!