This post is sponsored by Invitation Homes. The fun of participating in this adventure was all mine! 
I'm so excited and happy to be back today sharing the patio space I designed for the Invitation Homes show house. It was truly a fun project to be a part of and I'm so happy with how my space turned out. Everyone seemed to love congregating on the patio space while we were all there for the show house reveal and workshops.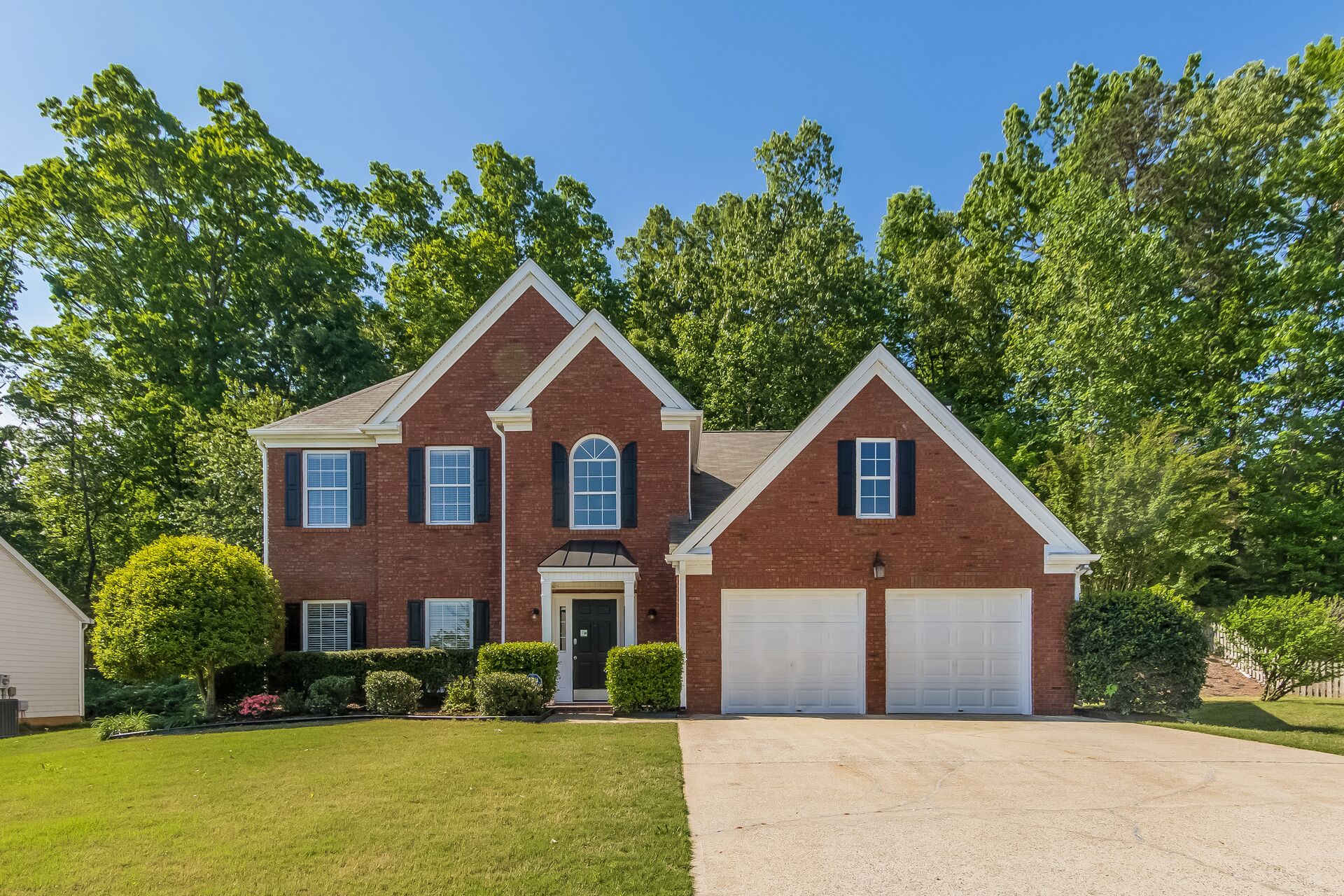 If you missed the first post I did about the house and why we did it, here's the introduction post I did about the Invitation Homes show house. It's the first ever show house that they have done and they asked 6 designers/bloggers to come in and make over the house, showing how a rental house can be beautiful and comfortable with a few ideas and tips on making it home.
I was thrilled to be asked to be a part of this endeavor and all of the spaces turned out so nice. I'll be showing you the full house reveal next week, but this week let's look at my patio space.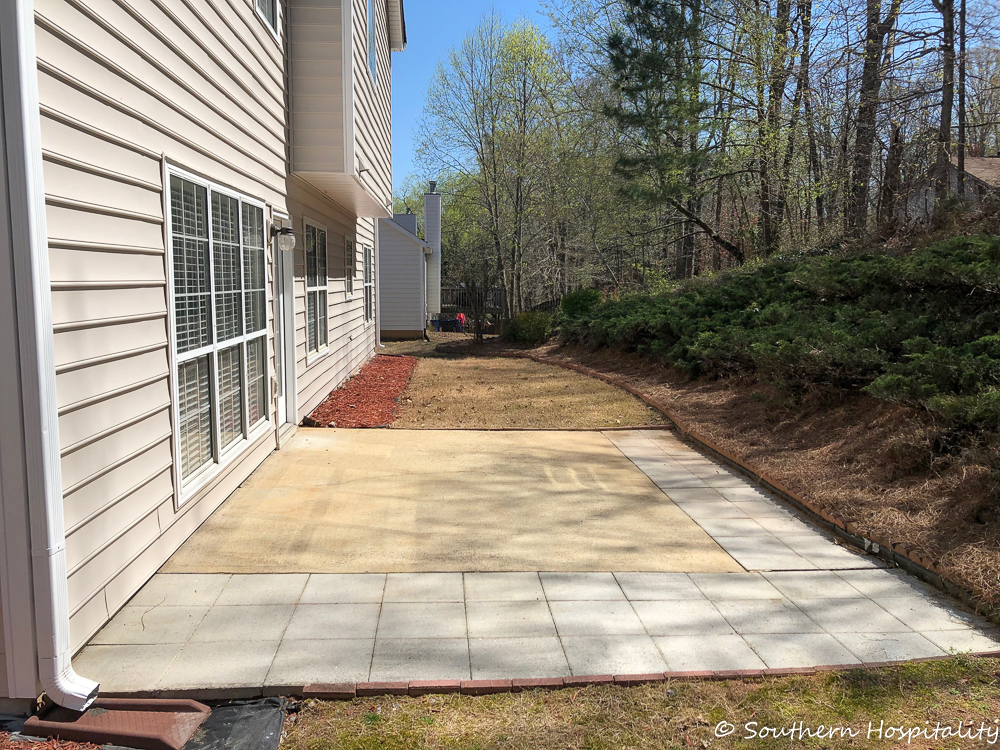 Here's the somewhat boring patio space that I had to work with. I measured my space and shopped for items to add here to make it comfortable and inviting for any home owner.
I'm very proud of how it turned out! I used my fave shades of blue on this patio space to bring it to life.
You'll notice I matched my patio space, that was a bit intentional! It turned out so nice and I'm very proud of it. Everyone commented on how gorgeous it was and inviting too. We all wanted to just hang out here when we had the reveal party.
The dining area seats 6 people and I anchored it with a rug. All the furniture and rugs came from Home Depot, they donated the merchandise for the patio space.
You'll notice I chose my favorite blue shades, but blues are so easy to live with and remind me of the beach or lake. I also added a nice cantilevered umbrella for the new homeowners to enjoy. A new family is going to be moving in this home and they'll get to enjoy all the rooms we decorated.
Safavieh Garden Stool (Home Depot).
Home Decorators Collection 4 piece All Weather Wicker seating group.
Navy and Turquoise Geometric Rug
I added a few accessories from At Home and Homegoods to finish off the space. All the above shots are from the Invitation Homes photographer and below are mine.
I took a few more pics of the space so you can see the details. Adding pillows and rugs sure makes a space cozy, doesn't it? Everyone needs an outdoor space to relax in!
Polywood Turquoise side table (affiliate link) Home Depot.
It was fun to share how decorating a patio or porch can add another room to your house, bringing the indoors to the outside.
Wood Look garden stool (by umbrella)
Of course, rugs and outdoor pillows are weather safe in case there is a thunder storm, but I try to protect mine by bringing them inside during rain or covering them all up. The faux wicker is great for outdoors though and weathers the elements very nicely.
That's a look at my space and how different this patio looks now! It's amazing how a few key pieces of furniture as well as pillows, rugs and accessories can completely change a plain outdoor area.
Nicole Miller Rug (affiliate link) from Home Depot.
Hampton Bay Patio table and chairs.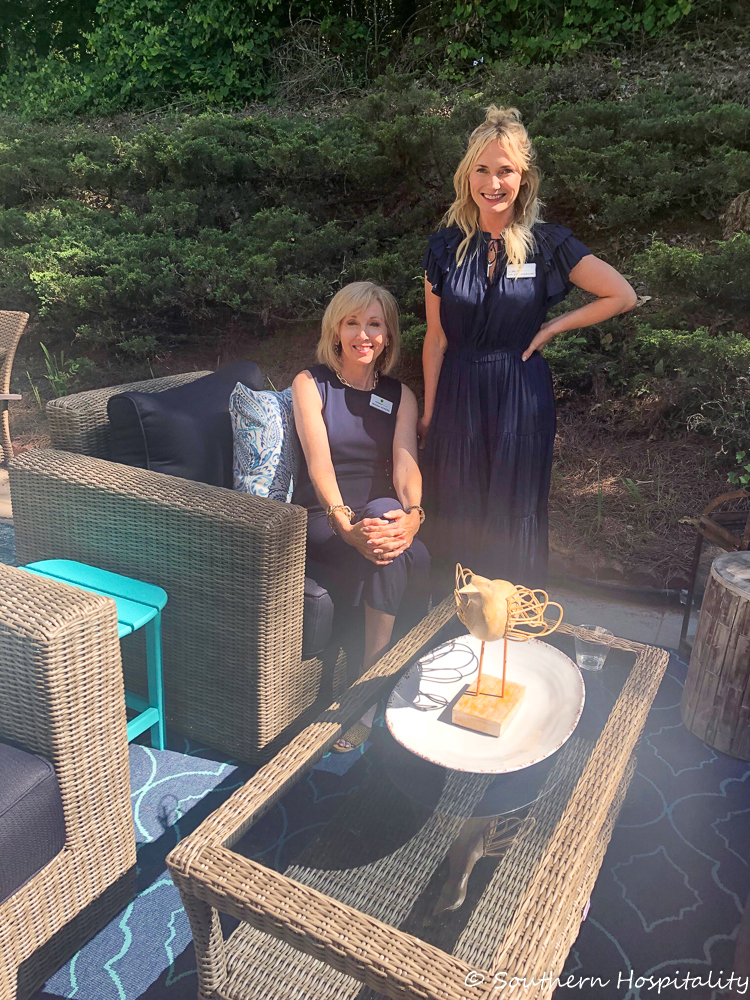 It was so fun to get to meet Emily Henderson (she has a great blog, by the way) at the show house and be a part of it with her and all the rest of the designers/bloggers. I watched Emily on her season of Design Star and knew she was super talented. She's gone on to have a wonderful career in the design industry and it's been fun to watch her soar.
Next week, I'll be sharing all of the other bloggers' spaces as well and I'm excited to show you the whole house. It turned out amazing and considering we didn't collaborate on colors and styles at all, it all flows so well together.
Since more people than ever are leasing homes nowadays (more than 100 million Americans rent!), it's important to keep in mind that a rental house can feel like home. That's the message we are all sharing with this Invitation Homes show house. With some tips and tricks, any house can feel like home, sweet home!
My planting workshop was on Thursday morning at the show house and we had a great time filling up our planters with beautiful spring flowers.
Invitation Homes has put together a really fun printable with all of our tips and tricks for you to use for yourself in creating a livable cozy home!
And if you're in the Atlanta area, Invitation Homes is having an open house tomorrow, Saturday, from 4 to 6, so you can go if you'd like! I'd definitely say go and check it out in person, but register here if you want to go! 
Scroll below to see the other designer's and a big look at their reveals today!
Most of the team is sharing their spaces today too, so check them out here:
Emily Henderson's fabulous family room!
Brittany's stylish living room!
Kevin's gorgeous master bedroom!
Erin's cute kid's space!
Brittni's multi-purpose guest room/office space!
Meghan with Invitation Homes!
Don't Miss a Post, join my list!