Merry Christmas and welcome to my second Christmas home tour. I shared our foyer, family room and kitchen earlier this week and today, it's the colorful Christmas tree and the dining room, which is all decked out in retro feels and lots of color. I hope you like pink! It's such a fun look this year and I'm loving it!
I'm joining Jennifer with Dimples & Tangles hosting It's a Colorful Life Christmas tour along with many other bloggers this week. You will love this tour if you love color, we are all color loving gals! If you're here from Melissa at  Home with a Twist, thank you for stopping by. Melissa's blog is so fun!
If you're new around here, I'm a long time blogger going on 15 years, so I've been here a long time. I can't believe I've shared my Christmas decor for so long online, but it's been a lot of fun. I'm married to Mark and we like color around here. We merged our two childhood tree collections of Shiny Brites that were passed to us by our mothers and our tree is one retro explosion of fun colors.
We also like blue and I added 3 different ribbons on the tree that bring out the blue tones. Also, this year Mark added an electric train around our tree and I just love it.
The tree has our old Shiny Brites along with some newer retro Shiny Brites and it's such a fun tree.
You have to smile when you see this tree, right?!
I always enjoy putting it up and getting the house decorated for Christmas, then I enjoy the rest of the month.
We have an 11 month old Shorkie named Daisy and she's been such a delight to us. She's not quite sure about this train thing, but she's fascinated.
Will that thing get me, mom?!
I was hoping to get a dog who would pose dutifully in front of the Christmas tree or sit on the front steps for me, but Daisy is not the girl for that. We will have to work on training her, but if I put her on a chair, she's mine!
I made her pose for about a minute and then put her down again.
She looks so cute in front of the tree!
Mark has a few Santa statues that look cute around the tree too.
They add to the nostalgic feel.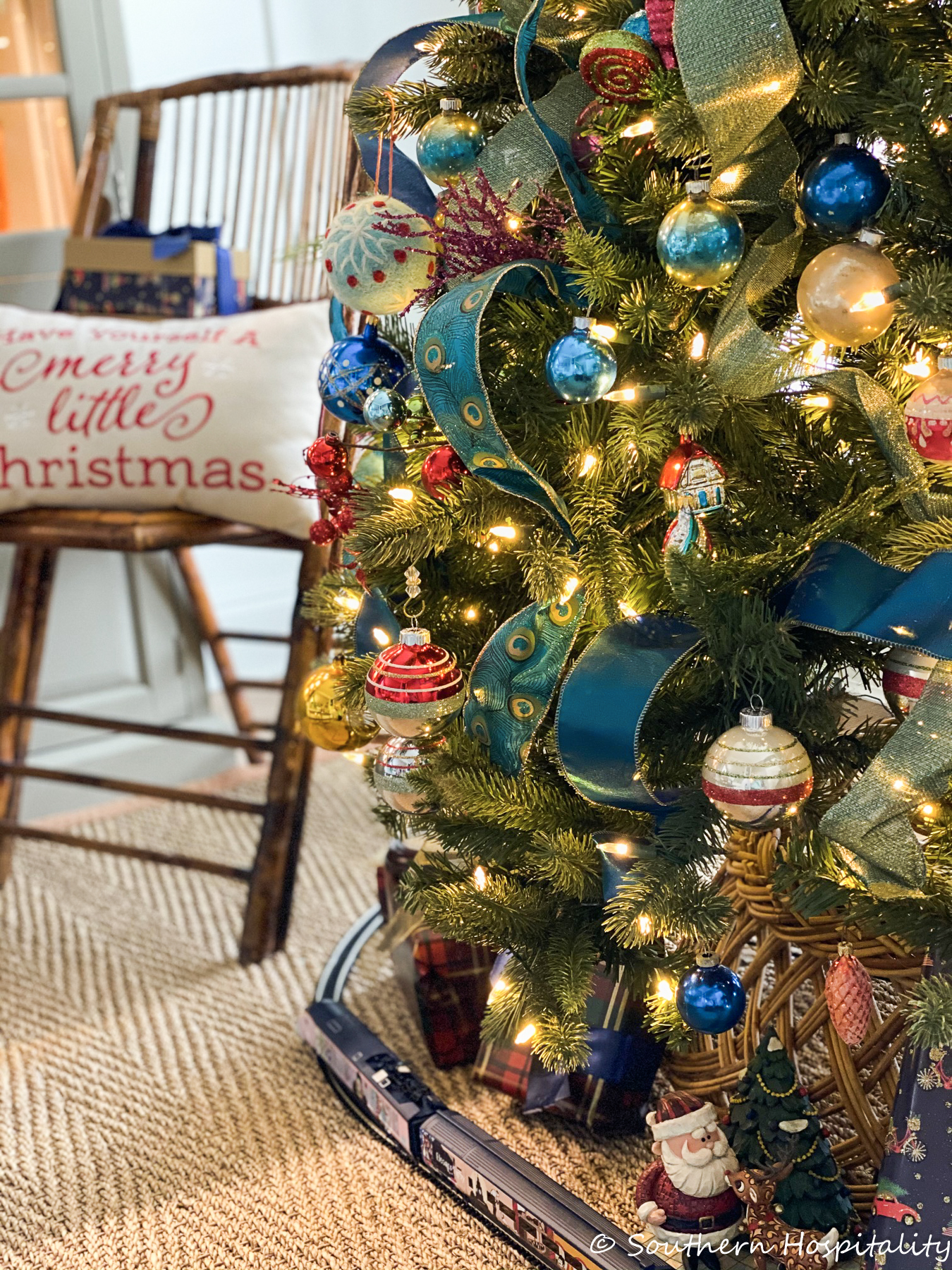 Have yourself a merry little Christmas!
I add a capiz star to the top and lots of colorful sparkly picks.
Sorry for the abundance of photos, I just can't help myself with this tree.
It's a beauty!
More color on the coffee table.
And a look at the nativity scene on the side table.
I've had this for about 30 years from Fitz and Floyd.
Now moving on to the dining room, I promised pink and I delivered pink! Not a traditional Christmas color scheme, but stick with me.
I found those glass trees at Walmart this year and they set the tone for my dining room Christmas table.
They are the perfect sparkly glass pieces and I love the colors.
After I found the trees, I walked into Homegoods and spotted this cute pink Bambi deer and had to bring her home. I knew she would be just perfect with the glass trees.  I added a few of my favorite Shiny Brites from my collection around the tray for extra color and sparkle.
Gold flatware and this pretty serving bowl that my maternal grandfather made and passed to my mom sets a pretty table. Mom gave me the bowl when they moved and I can't believe how pretty it looks on this table.
The pink runner is from Walmart too and it was the perfect backdrop to my table.
I had everything else on the table and it was so fun to put together this pink and blue table this year.
The sideboard has garland, lights and lots of sparkly brass candlesticks and mercury glass trees.
My thriftstore brass deer look great nestled in the garland.
An old iron urn I've had forever holds a pretty white bottlebrush tree.
A look at the table from above.
Reindeer votive holders are a great accent. I'll link some of these things below (affiliate links used).
The teapot is from Mark's collection, it's from Japan and came from his uncle.
The glass bowl is Art Deco glass that Mark collects. The pink color was perfect for the table, so I snuck it out to display.
This is one of the funnest tables I've ever set! Here are a few things that I've shared here, the glass trees, flatware etc.:

White icicle glass ornaments hang from the dining chandelier.
I added some pretties to my bar car too, just simple and retro feeling.
Vintage pink ornaments and some pastel glass garland is just enough.
This silver tinsel tree is so cute and fun. That turquoise tree topper is vintage from Mark's family collection. It's so fragile!
Real retro tinsel is draped with twinkle lights and some bottle brush trees on the bottom.
A view of the dining room from the stairs.
Mark added one of his blow mold Santas to the column so as you can see we have a variety of styles going on. Retro, colorful, metallic, sparkly and lots of lights. That's our style!
And we love it! It feels like Christmas to us and we love our holiday Christmas house. It's so nice to turn on the lights every night and enjoy the ambience the lights bring to our home.
Oh and here's one more sparkle opportunity, this gold tinsel tree I found a few years ago at an antique store. I collected some vintage metallic ornaments mixed with newer ones to add to this tree and it's so pretty. I took out my plant from this plant stand to put in in the corner of the dining room for a fun little surprise.
And that's a look at our holiday home! Thank you so much for stopping by, I hope you enjoyed all the pics and got inspired for yourself. We do what we love around here and don't try to be trendy or decorate in a theme or style, we use what we love and it all works to us! Don't miss Paige at
The Pink Clutch
next on the tour. Her home is always pretty with color and I know you'll enjoy.
IT'S A COLORFUL LIFE 2021 CHRISTMAS TOUR SCHEDULE
MONDAY:
TUESDAY:
WEDNESDAY:
THURSDAY:
FRIDAY:
Join in the party on Instagram by posting your colorful Christmas decor and using #ItsAColorfulLifeTour!
See you there!
Don't Miss a Post, join my list!