Kitchens are one of the most renovated spaces in houses these days and can really update and add value to a home, so in case you might be looking for some inspiration, I ran across these Southern Living Idea House kitchens with loads of good ideas and they are all pretty to look at.
Brookfield – Athens, GA
(Cedar Creek – TX)
(Dallas, TX)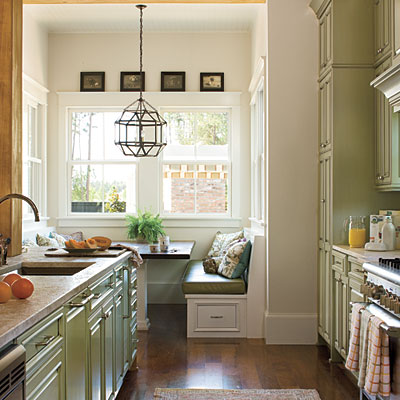 (Galley Kitchen, LA)
(Senoia, GA)
(Kousa Creek, GA)
(Sarasen- Hot Springs, AR)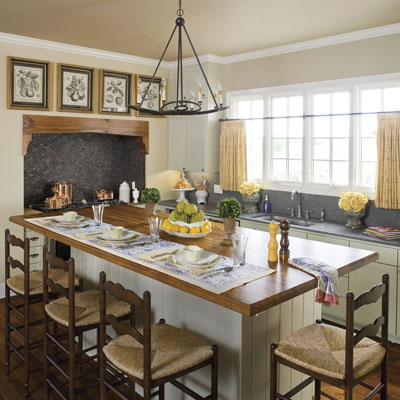 (Verona Park, TX)
Are you looking for some kitchen inspiration for yourself?
I've been through a pretty major kitchen reno myself and they are hard work, yet very rewarding.  There are so many small things you can do to update those kitchen spaces and make them more attractive.
Here are a few I came up with:
Paint those dated oak  or other old wood cabinets.  This will update quicker than anything you can do. Here's an update I facilitated this summer on a dated kitchen. See what paint can do!
Add new handles and knobs for a quick and fairly inexpensive update.  I found my hardware on Ebay for about 1/2 the cost of the local stores.
Add pops of color around the room to liven up the space if you can't paint the cabinets or walls.
If your cabinets are dark wood and you can't or don't want to paint them, consider lightening up the wall color to bring a brighter feel into the space.
If you have one of those fluorescent boxes, think about updating that fixture for a fresh look.  I got rid of mine in lieu of some pretty antique brass halogen track lights that add plenty of bright white light and look so much better.
Those are a few things you can do inexpensively, if you're not quite ready to gut your kitchen and do a complete overhaul.  Sometimes just those little things can make you feel so much better about your space.  Here's another wonderful kitchen makeover of painted cabinets and updates that are amazing at Sawdust and Paper Scraps.
Do you have some other ideas to add to the list?
What would you change about your kitchen if you could?
******************************************

I've got 2 giveaways going on at the moment, so look at the below posts for details on signing up:
Don't Miss a Post, join my list!