Updates in the kitchen are ready to share!  I can't believe this is all finally done. It feels so good. 🙂
Hopefully, you'll see from today's post how easy it is to update with fabric.  This plan has been simmering in my head for a few months, ever since I ran across a 5 yard fabric remnant earlier this Spring at Old Time Pottery, of all places.    I used part of it for pillows on my deck and had dreams of renewing my kitchen with new fabrics.   It's the large scale floral below.
Then, the hunt began for companion fabrics and I found them at Tonic Living. They have some really great modern fabrics and good prices too (and I'm not getting paid to say that!).  I loved the mix of the stripe and the yellow lattice fabric.  So, I had my 3 fabrics ready for the changes.
I did a simple window treatment stapled on a board.  I figured that was something even I, a non-sewer, could handle.  And I think it turned out pretty good for a novice seamstress like me.  I'm very happy with how it brightens up the kitchen breakfast room and the best part, it all blends so well with the existing green paint (Laura Ashley Olive 4)  which I didn't want to change.  This update cost me less than $100 and even that was almost an even trade, since one of my readers bought my old window treatment, along with the extra fabric and some of the hardware.  So, it was almost an even exchange!  You can't beat that. 
You can see in these pics that I added some charcoal trim along the top and bottom and I really love how that just gives it an extra punch and seems to bring it alive. 
I railroaded (fancy term)  the fabric instead of turning it sideways to cut.  I didn't mind it like this at all, since that scrolling vine of leaves and flowers was appealing to me.
So, it's all done!  I did take pics along the way to show you how I put this together. It's not fancy and a real seamstress would laugh at how I did it, but I managed to make it work for me and I'm pretty darn proud of it.  It turned out just as I envisioned it in my head (and that's always a good thing!).   I'll do the tutorial later on, since I took plenty of pics along the way.   You'll notice some pics down below were taken before I added the charcoal trim.  I didn't want to retake all the pics.
Close-up of the flat charcoal trim I found at Hancock's.  I spent $20 just on the trim, but it was worth it and I think it adds a lot of punch.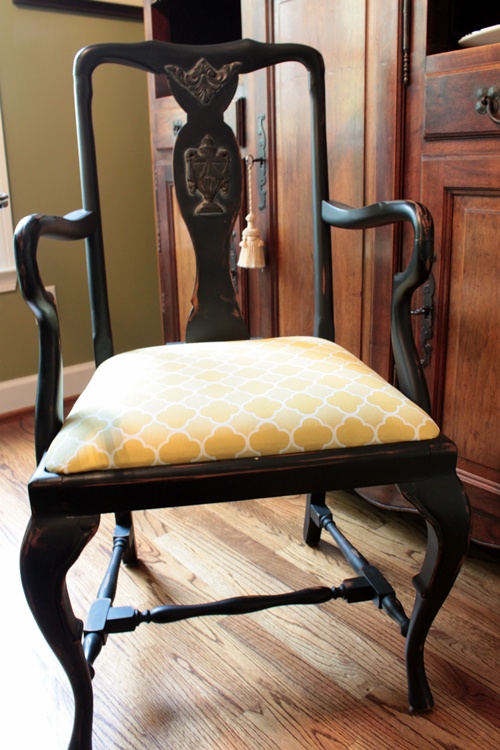 I shared recovering the chair seats here, just a couple weeks ago.
Now, for the other changes in this space.  Do you see the addition here??  Yes! Those 3 fern botanicals are all framed and were perfect for above the antique French cupboard.  I'll tell you all about those in a later post, but I couldn't wait to share them.  Aren't they gorgeous??  I added in a couple of my white urns in the cubbyholes of the cabinet.
I moved the bunny lamp up on the shelf to better show off the botanicals. 
Added a few yardsale finds along with it and that's it for here.
I kept it pretty simple with just a few pieces on top and my plate rack to the left.  It does sort of cover up one of the botanicals, but I don't mind the layered look.   I love the old white plates above them that I found at a yardsale.
Looking towards the dining room.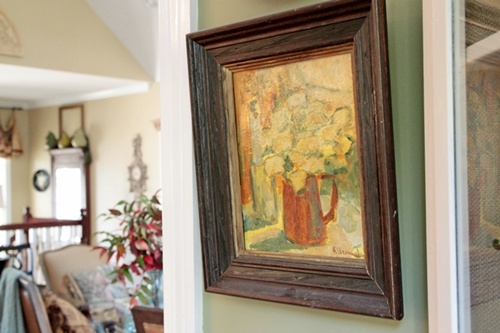 One of my fave oil paintings that I found yardsaling too.
Green Bordallo dishes that I've been collecting for years still have a place above the sink.
One side of the kitchen.
And the other side. 
Our kitchen is rather long and narrow, so there is no room for an island.  It functions very well though.
Before the trim was added.  This is the white corner cabinet that I found and painted last year.  And you can see the transformation on it here and see the changes my kitchen has undergone in the last couple of years. 
The whole view.  I decided against this rug. It was too small and moved around too much, but I like the color and pattern.  I'll keep looking for the perfect one, but I do love, love how the fabrics brighten up the space.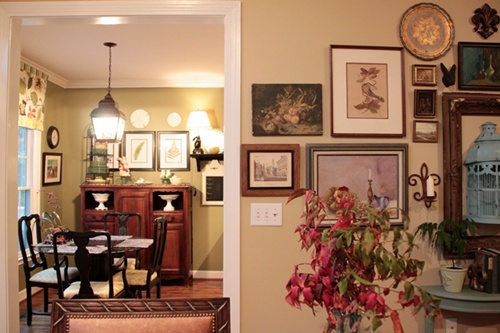 A final peek in from the living room.
So, here's my lesson on bringing in new fabrics.  It really doesn't take a whole lot of money to change out fabrics in a space like this. And as much as I love the neutrals, whites and grays that are OH so popular now, I just can't bring myself to get rid of my color and start over with that look.  It's just not me.  So, I stick to what works for us and color it is.
Find a fabric you can fall in love with.
Look for companion fabrics that might work too, think in groups of 3.
Use one for chair seats.
Mix the others around the room.
And that's a mini-lesson in mixing fabrics and changing things around without spending a ton of money.  I'm really loving the updates.  Just a few tweaks here and there, along with the fresh vibrant fabrics really add a lot of energy to the space.
I love my kitchen and breakfast room!  Fabrics can really give a quick update.
Do you have a space that could benefit from some new fabric choices?  Tell me about it!
Linking to:

Don't Miss a Post, join my list!