I just returned from a week with my sister and brother-in-law, Renee and Bruce. When I booked the ticket, we were hoping that they would be in the house by now, but as with many house builds, there are delays along the way. They are closer now than ever though and the next month will bring about the final details. They hope to be in by the end of the month. I've got a full lineup of house progress pictures, so buckle up for a long post. It's so fun to watch a house being built. Seeing all the materials and fun elements come together into a beautiful house is just so rewarding and that's what I've enjoyed in watching it all happen.
I've written 3 posts about the house, so if you want to catch up from the beginning, go here to see all 3. 
I know their neighbors are all watching the build happen too. They've met so many new people in their new community and I'm so happy for them. In fact, Bruce is already on the HOA board as Vice President. He was the President in their old neighborhood. The Lake Ramsey lake community seems like such a friendly place to live and I know they are going to enjoy it. The house is really coming along, with the exterior siding now painted and the trim and shutters are as well. The driveway was poured just a couple weeks ago.
The house looks huge, but the large 2 car garage is on the right with the mudroom in between the garage and the house, so it takes up a lot of real estate. The house is 3500 s.f. with 3 bedrooms and 3.5 baths. That front bump out on the garage is Bruce's workshop.
House siding color: Analytical Gray by Sherwin Williams
Shutter color: Enduring Bronze by Sherwin Williams
Trim white was color matched to their white windows.
I spent a week there and we got a few things done. I have a lot of outdoor furniture stored in our basement that they will get after they move in. We had hoped it would make it down there by the time I came back and we would work on getting it all painted, but it didn't happen. When you're building a house, you want to be there for every step that happens to watch it all and I don't blame them for that. The last couple months are the most crucial.
The yard had been raked out here just before I left that week and sod is coming in soon.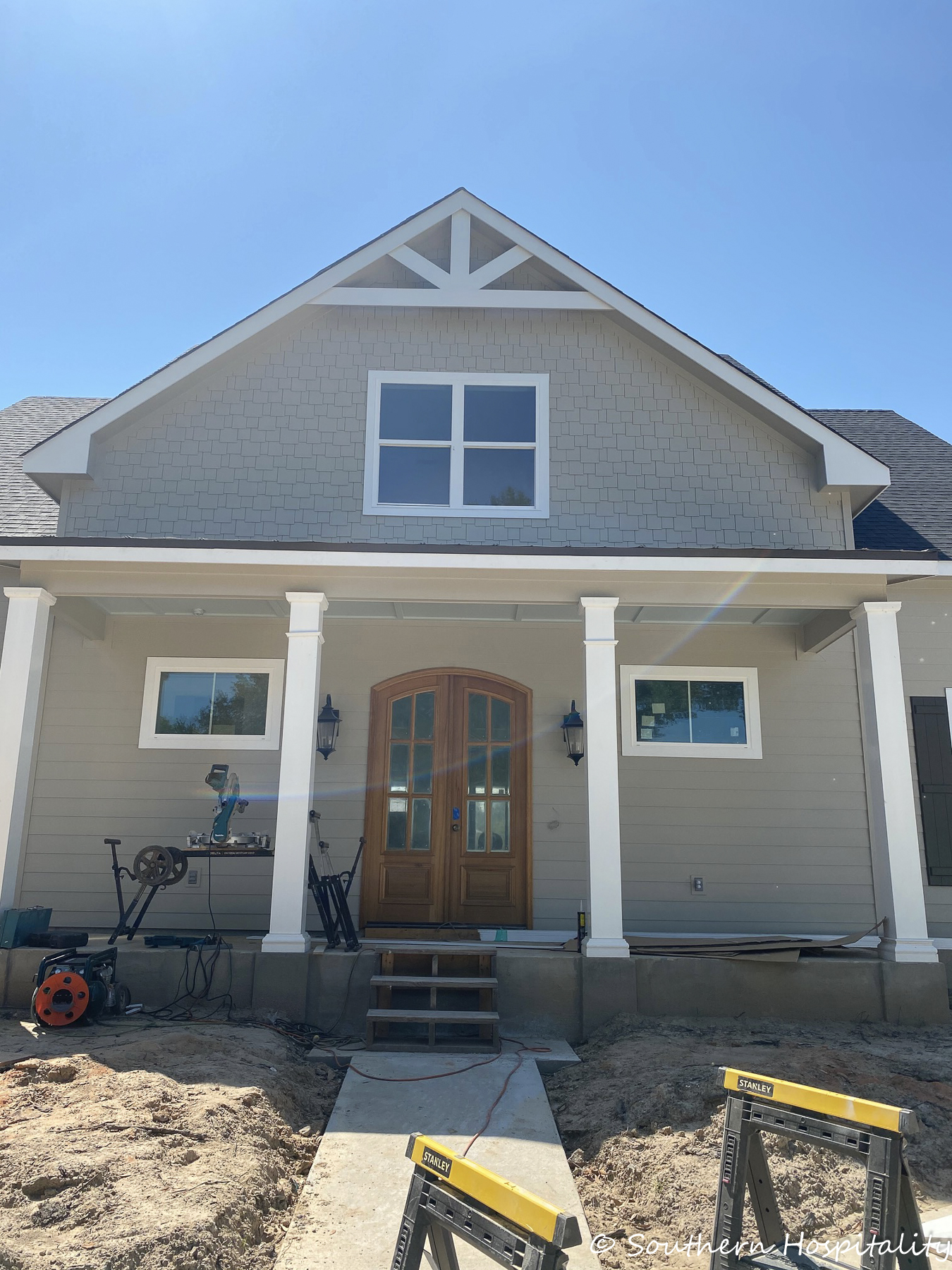 The skirt of the house will get wrapped with faux stone, so that still has to be done as well as the steps. Their beautiful wood front door was installed and they were planning to keep them natural wood, but it was sealed with an oil sealer and the color turned more orange than she wanted.
Here's the bare wood.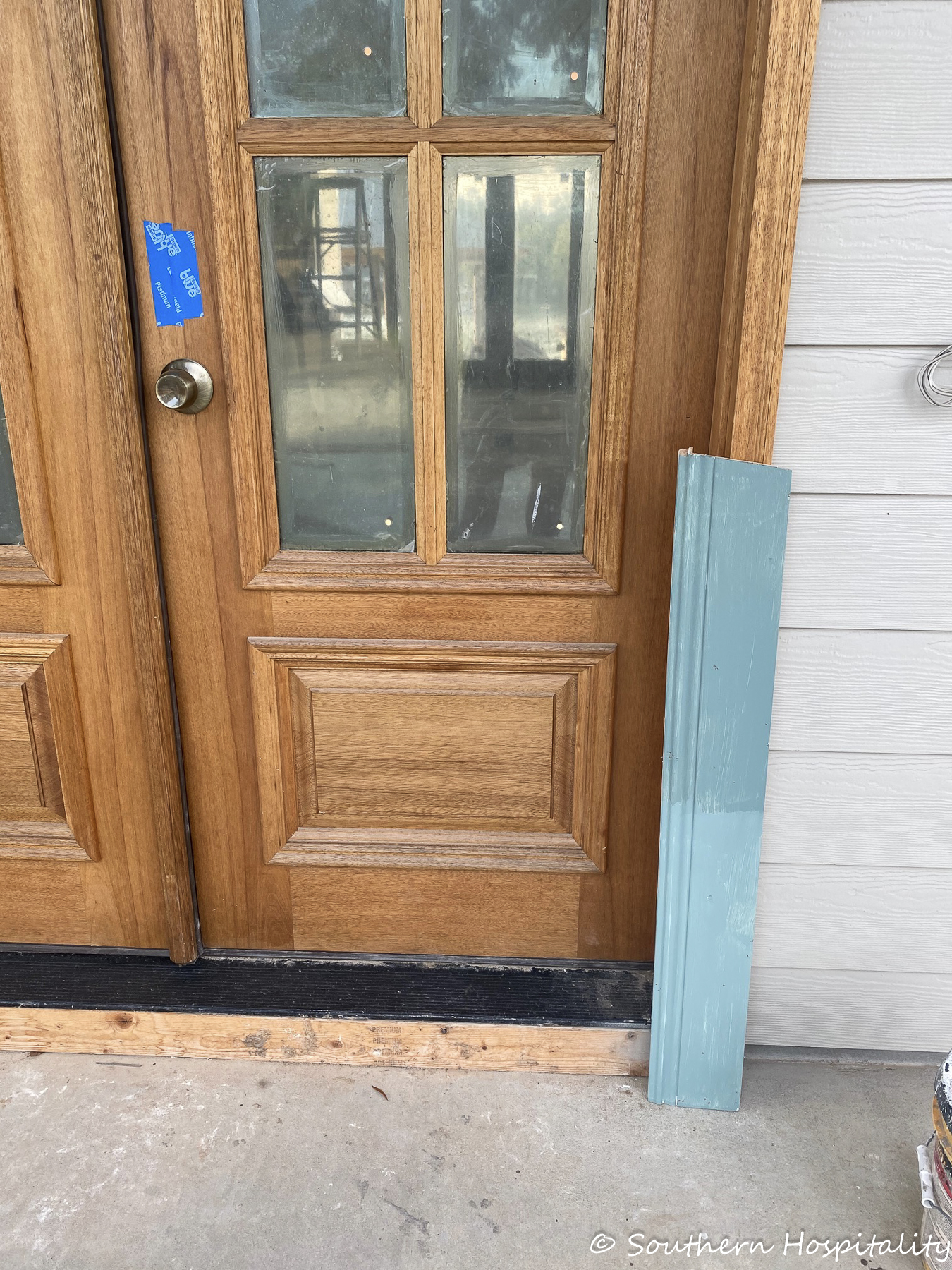 And with the sealer on them. She really doesn't like the orangey tone so they've decided to paint the doors, which will be beautiful too. In fact, that will give the house a more coastal look, so we came up with Underseas by Sherwin Williams for the front door color. It's going to be gorgeous. I love a wood front door, but I also get why she's not happy with it. They have a lot of wood tones going on inside so she doesn't want a lot of wood competition. Underseas is that top color on the board. We tested a few out and that is the winner. I'm sure that many of you will be horrified over painting this door, but it will be gorgeous either way.
The planked ceiling in the family room is sealed and left natural which I think is beautiful. Really adds texture with all the white. This is the view of the foyer coming in the front door. I'm standing in the family room.
Main paint color (Walls and Trim Molding): Alabaster by Sherwin Williams. Walls are Eggshell and trim is semi-gloss
Doors: Oyster Bay by Sherwin Williams (the same color as my doors). She liked my color and went with the same. 
Family room with fireplace. There are builtins going on either side with a raw wood mantel and rock will be added to the fireplace.
The view out the back is spectacular.
Here's a look at the ceiling with the door and crown molding. I love all of this.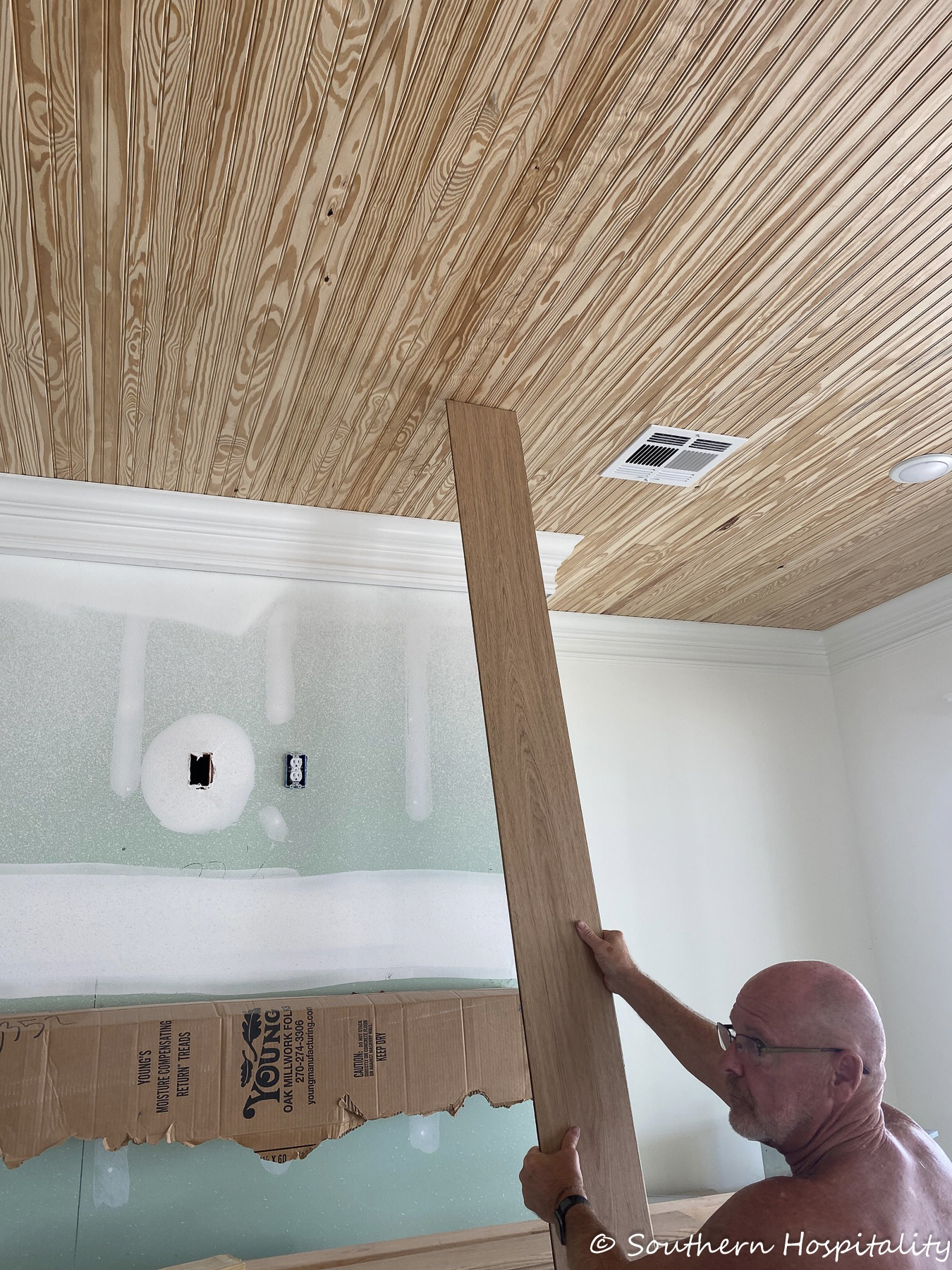 Bruce holding up a piece of the engineered wood flooring which will go in soon. Love it too!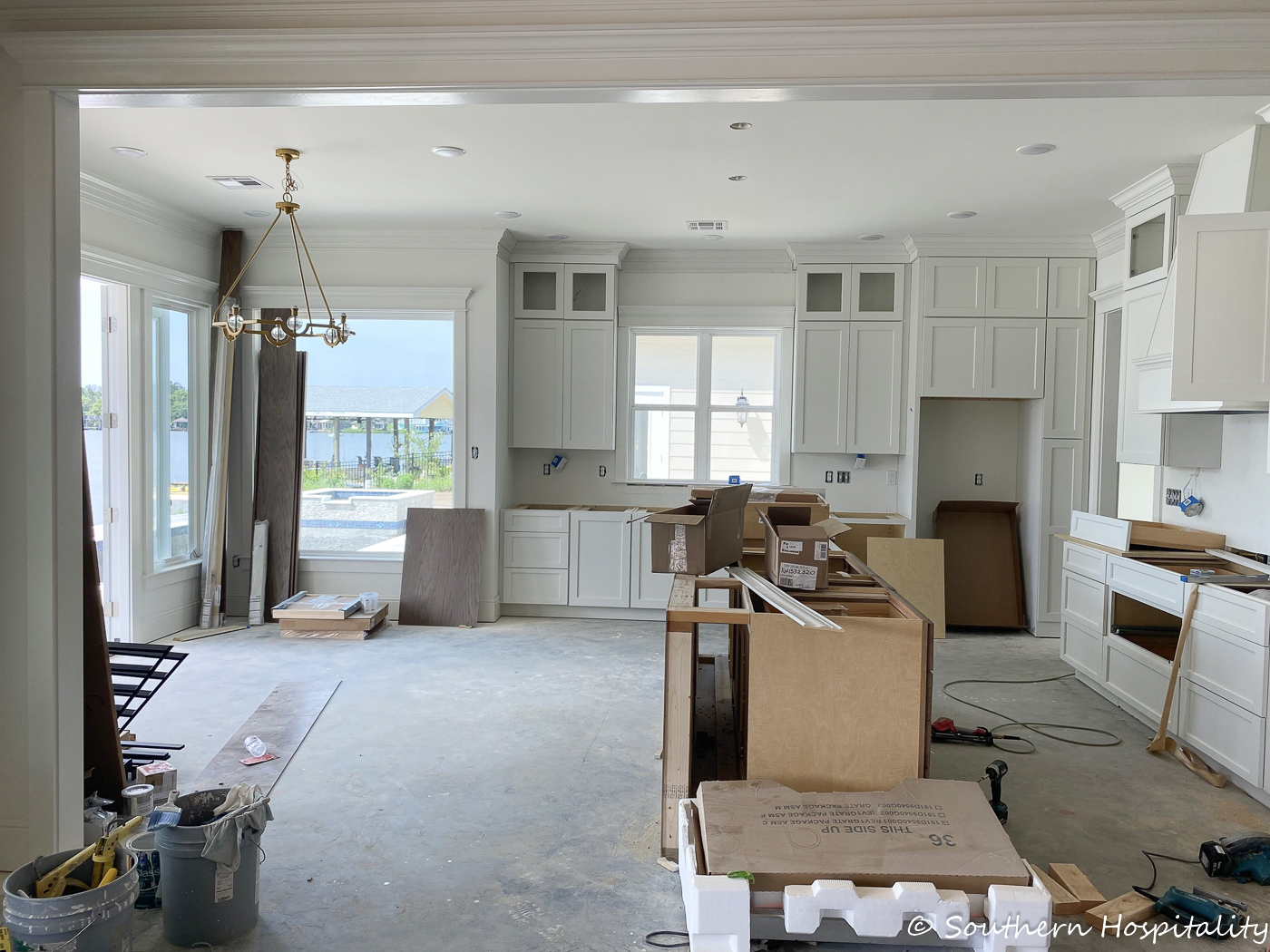 The family room, kitchen and dining room space are all open to each other.
Looking back to the family room.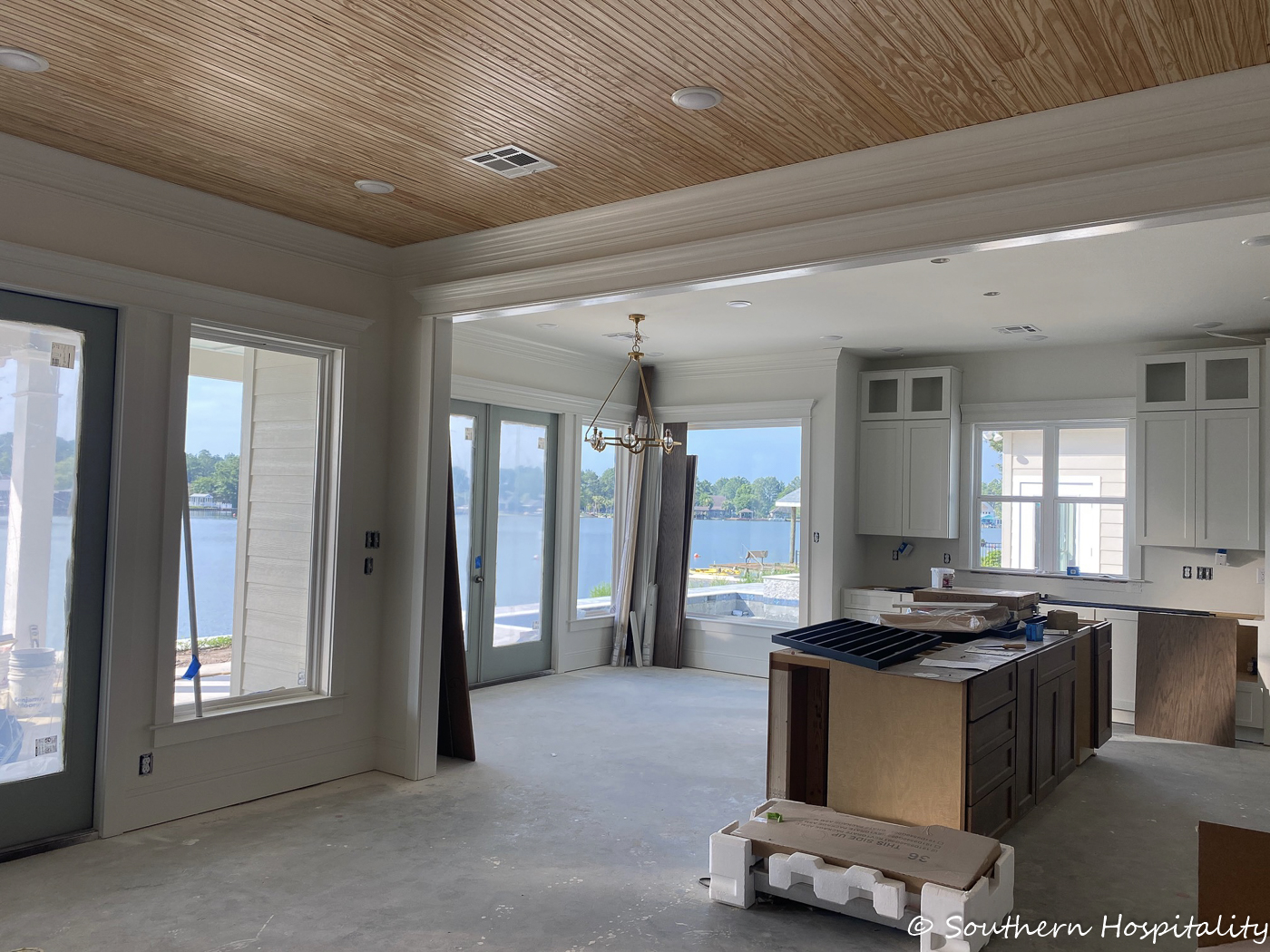 Family room to kitchen and all those windows again This house has fantastic light and views at all angles.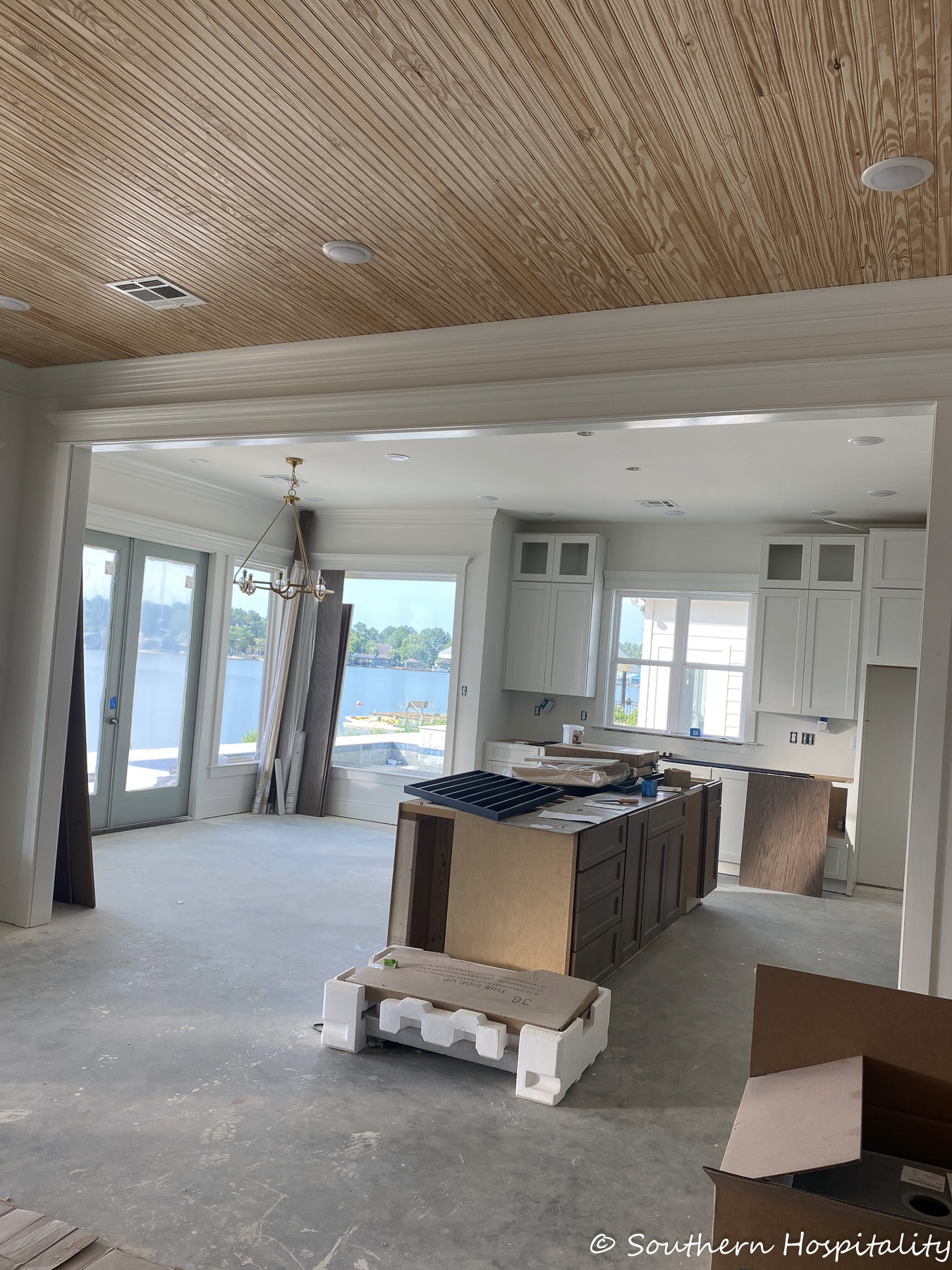 The island is 10′ long and they are still working on it. The sink will be here and there will be lots of drawers as well.
The back of the island will have extra trim added too. The hood was just installed and they added crown molding right before I left.
This kitchen is gorgeous, spacious with so much storage.
Here's a reminder of the backsplash tile that will go in the kitchen. I can't wait to see this go up!
Other side of cabinets with lots of storage and the fridge niche.
Back out in the foyer, the stairs have been added and they were about to work on the black iron railing after I left.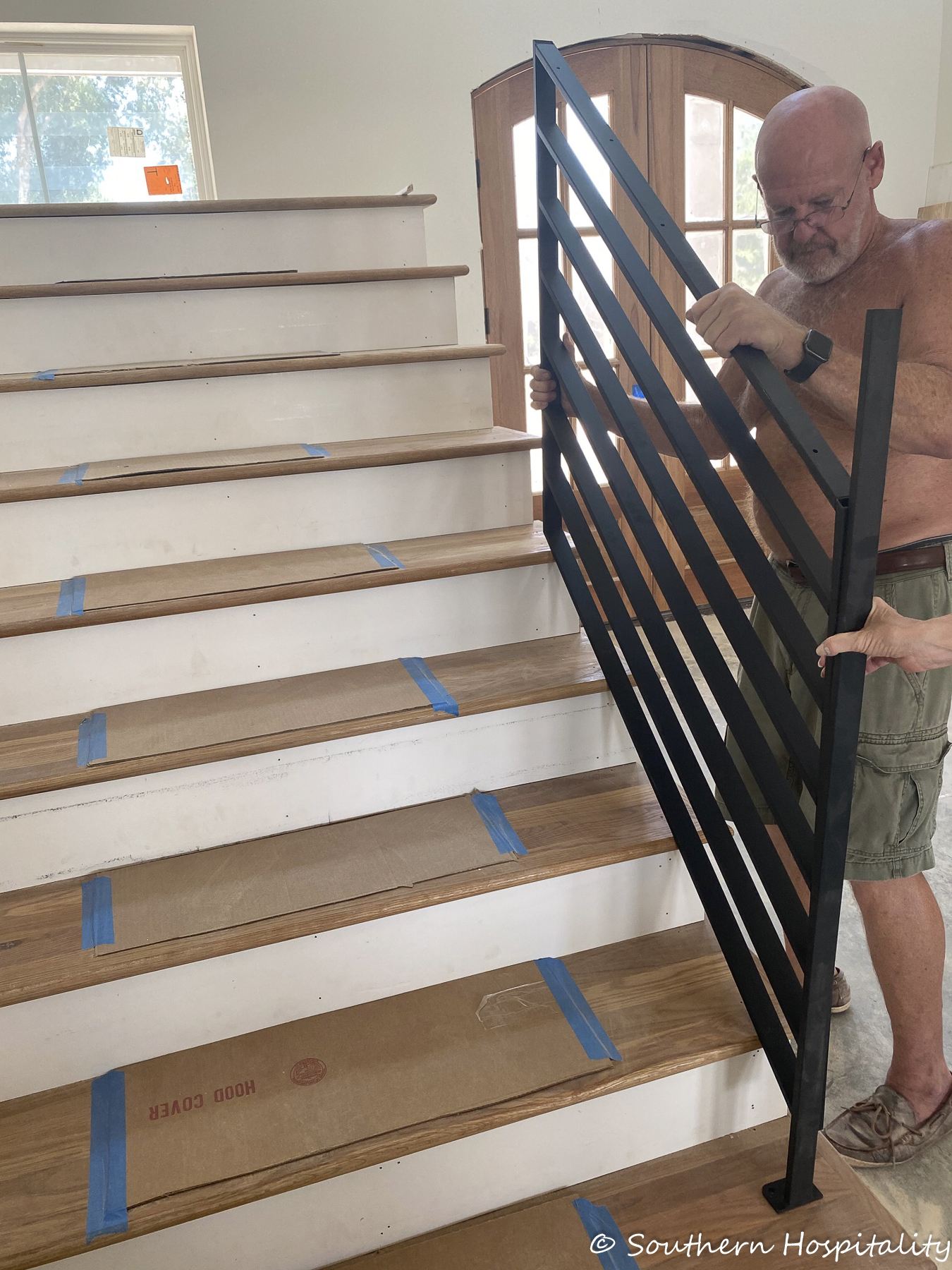 Bruce held up a piece of the railing that will go in. She chose a modern black railing with wood detail and it's so pretty.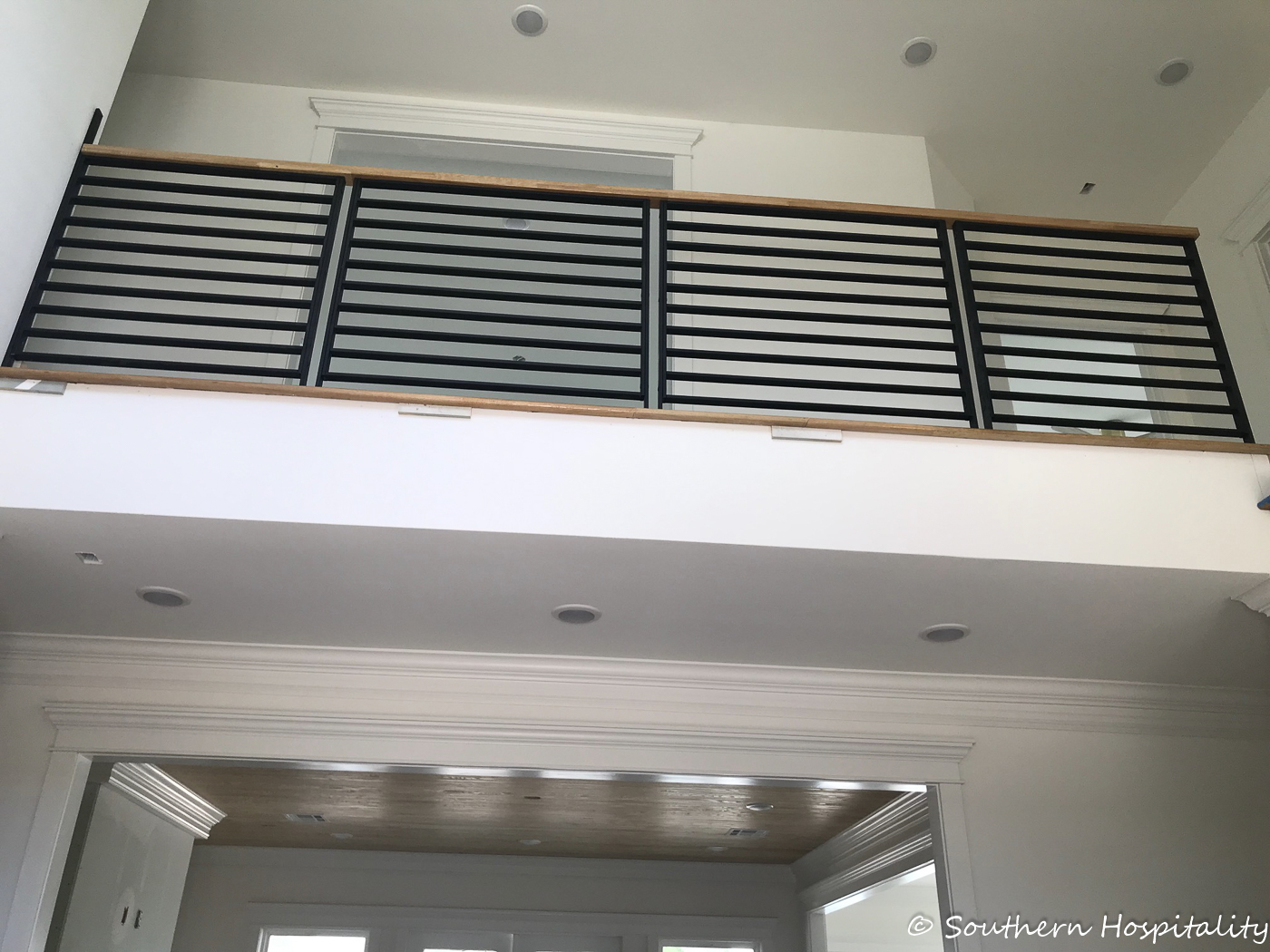 They finished the top railing upstairs after I left and Renee sent me this pic.
At the bottom of the stairs looking to the right is a hallway with powder room and pantry and this hall leads to the mudroom in between the house and the garage. They had extra beadboard so added it here in the hallway.
Doorway off the hall goes to the kitchen.
And the opposite side is the spacious pantry with a pocket door. It will have a sink too.
Other side of pantry and how nice to have a window in here.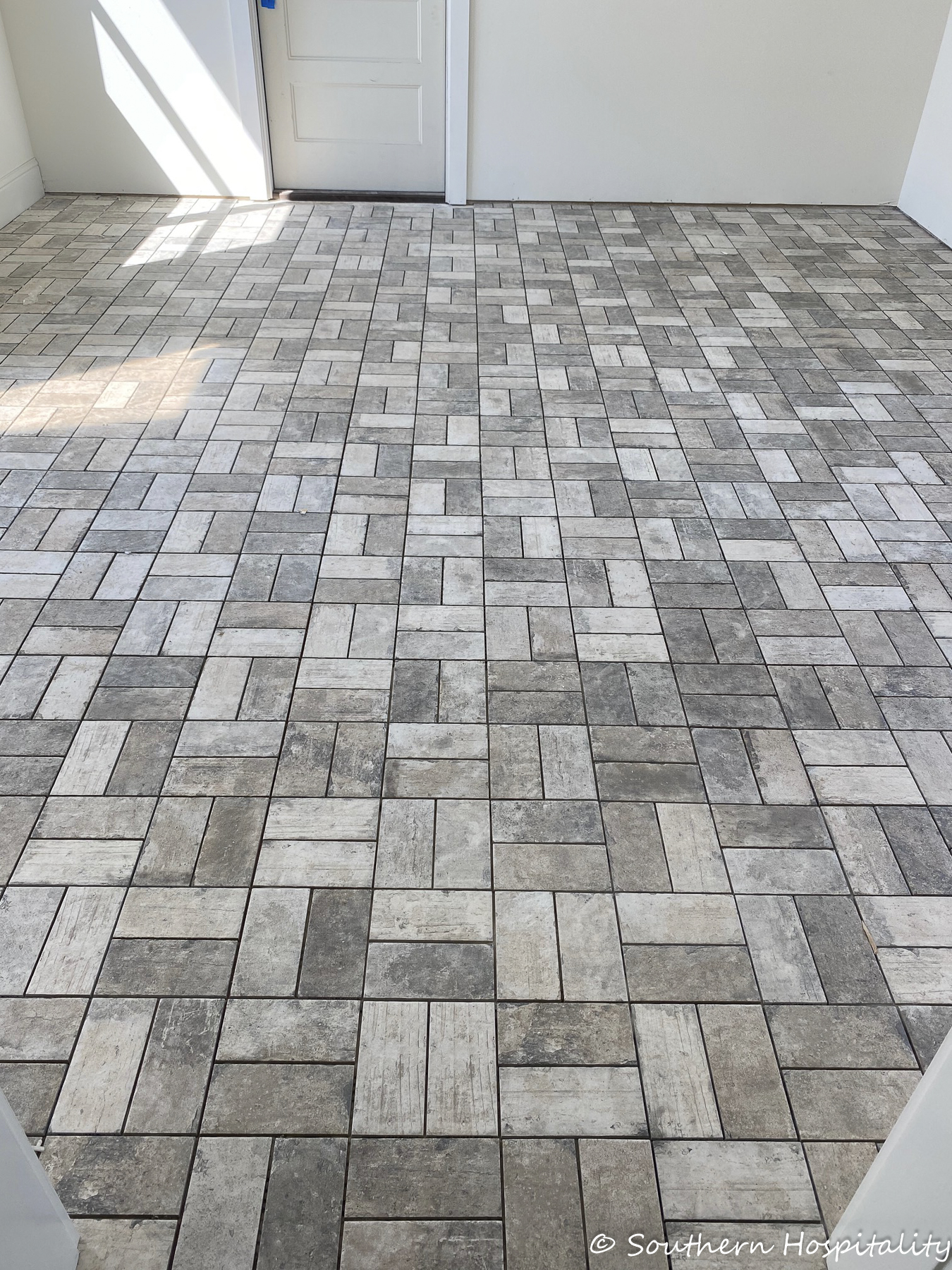 Mudroom floor, this tile is from Floor and Decor. I love it a lot!
Light fixture in the mudroom/laundry room and a small island will eventually go under it. They will finish this room off later with cabinetry. There will be an extra fridge in here too.
Moving back down the hallway is the master bedroom suite on the other side of the main floor. The master bath has 2 vanities with a beautiful large marble look floor tile. I helped her pick out the vanities and they are so pretty.
They already had this antique gold light fixture and brought it with them.
The shower wall tile was late getting in and should be done soon. Floor tile is marble look and gorgeous.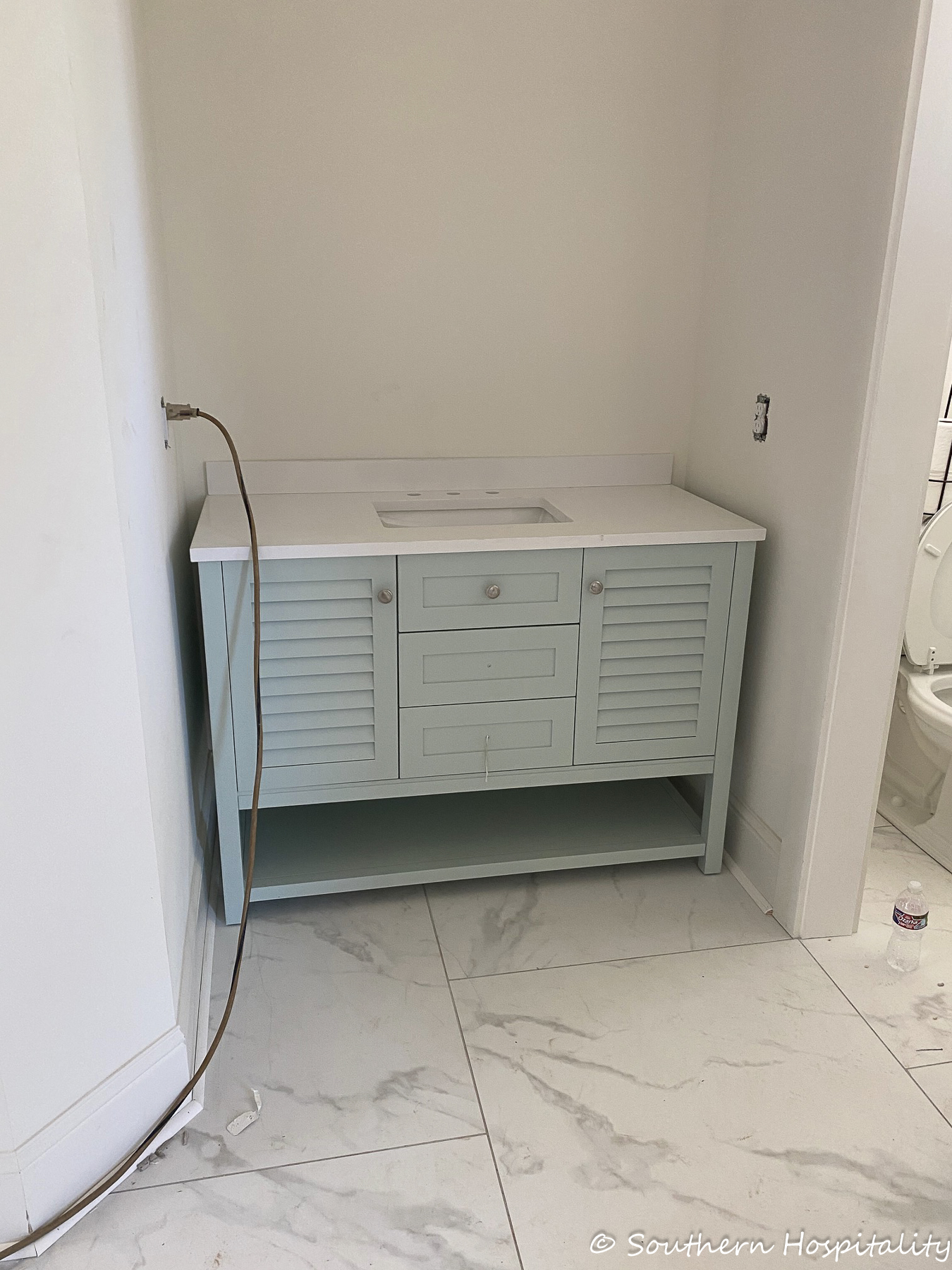 Bruce's vanity.
Toilet closet with small window. There are 2 small windows on the porch and this is one of them. The other one is on the stair landing going up the stairs.
Gold wall mirror was hung the day I left.
Master closet is in the middle and the bedroom faces the lake with French doors open to the large porch that goes across the whole back of the house. There's a fireplace right outside their bedroom.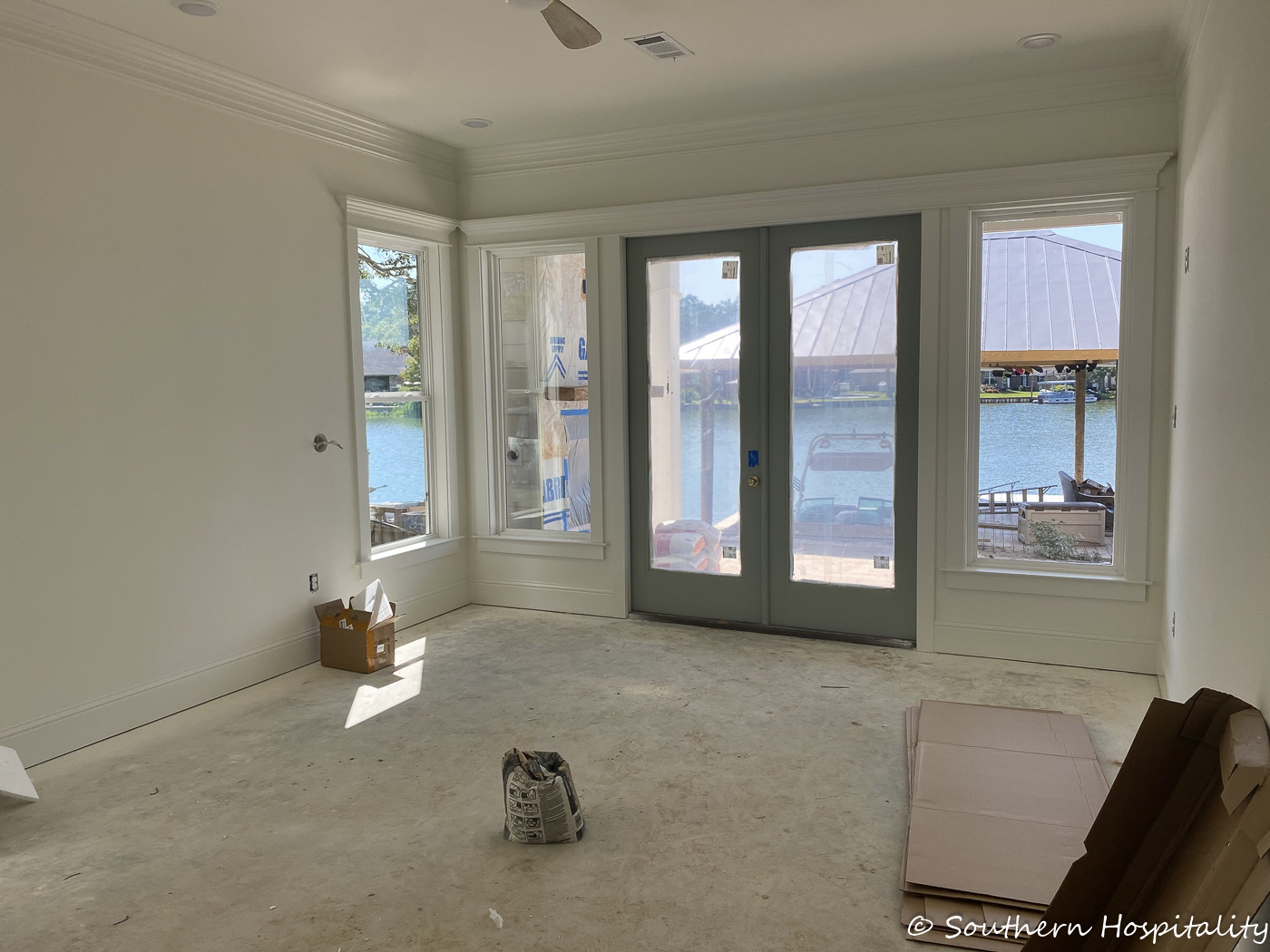 It's going to get so much light too.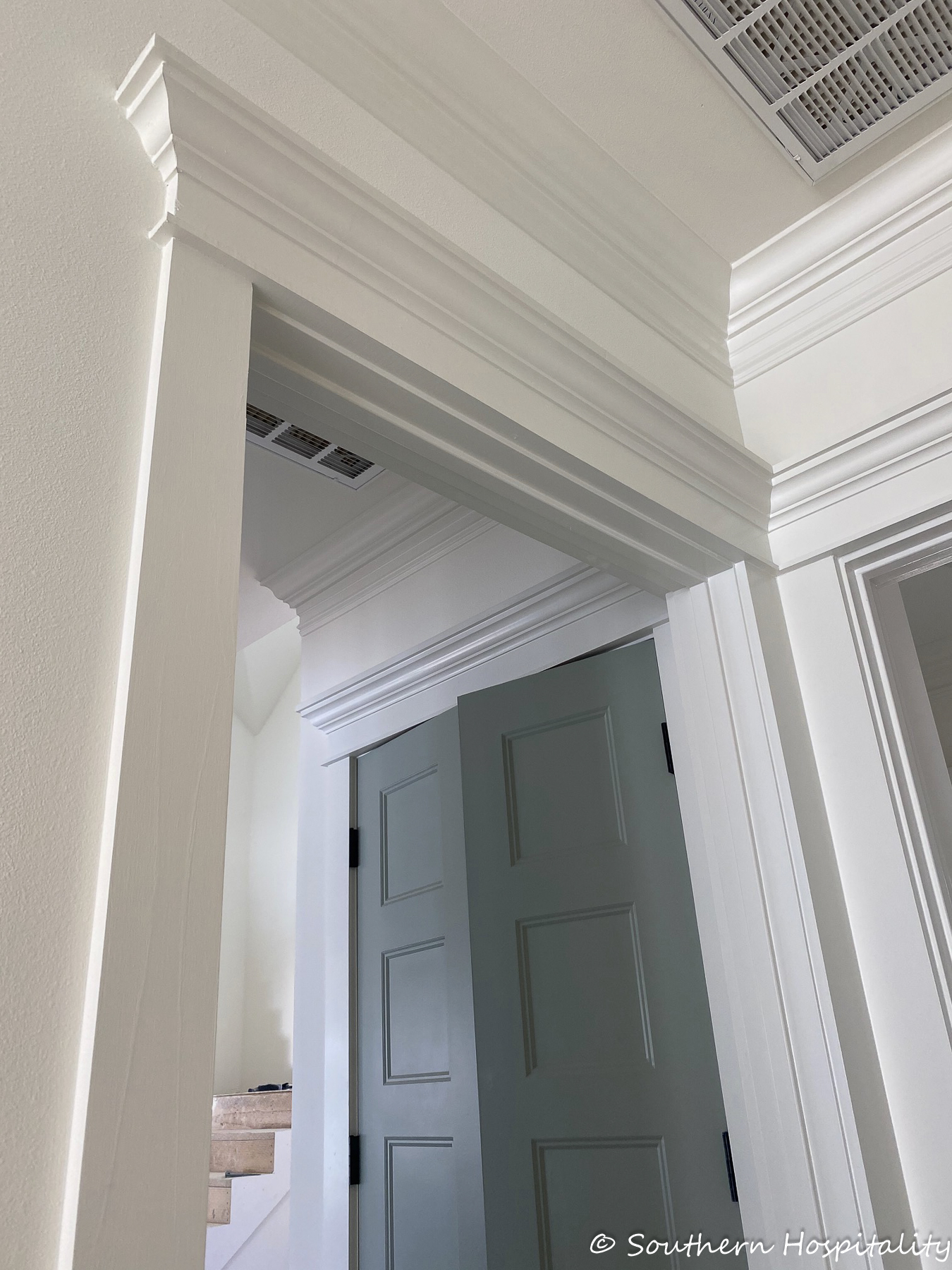 Another look at the crown molding and doors. The color of the doors look so dark here but they aren't that dark.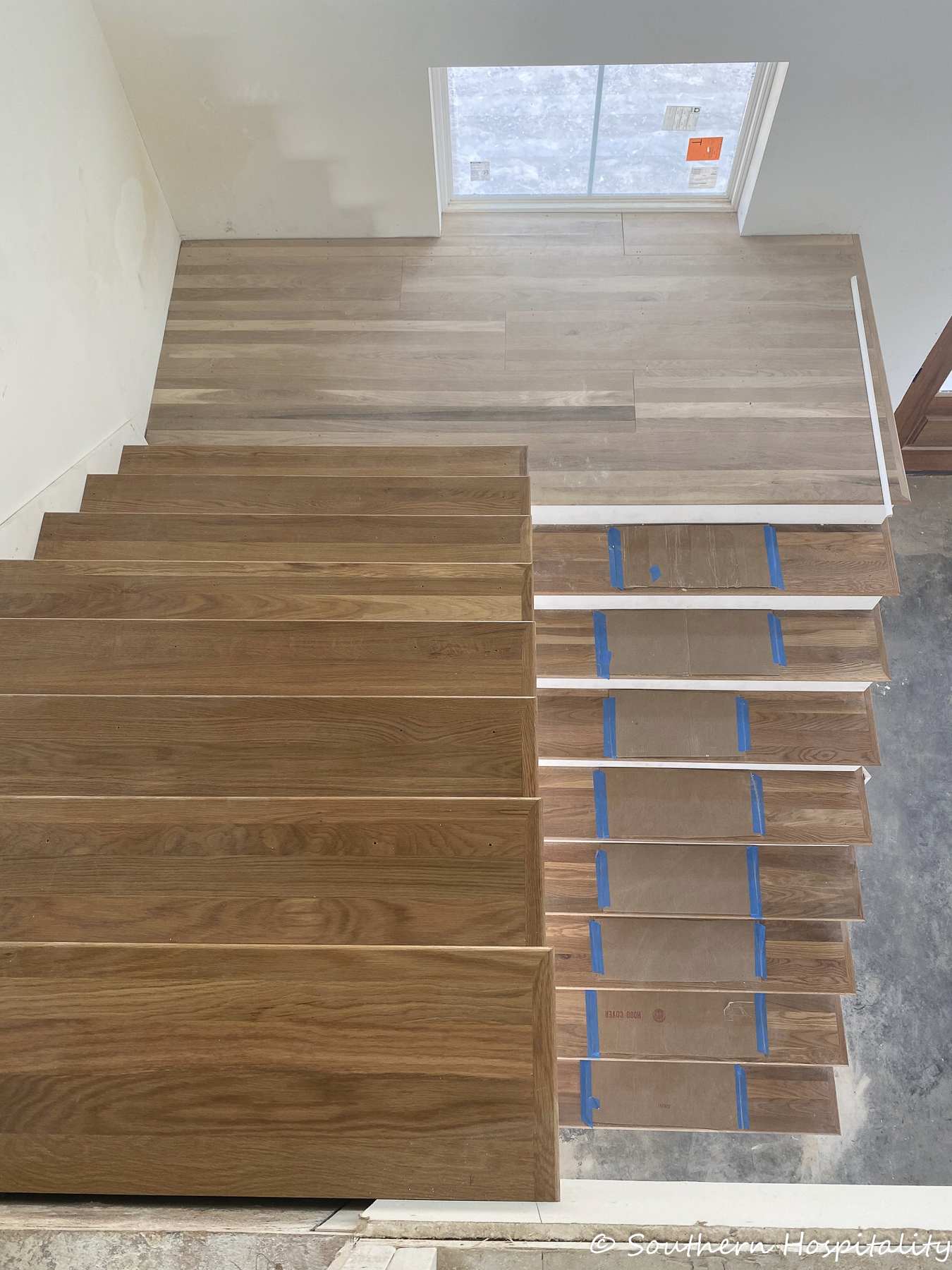 Stairs and landing. Landing still needs sanding and sealing.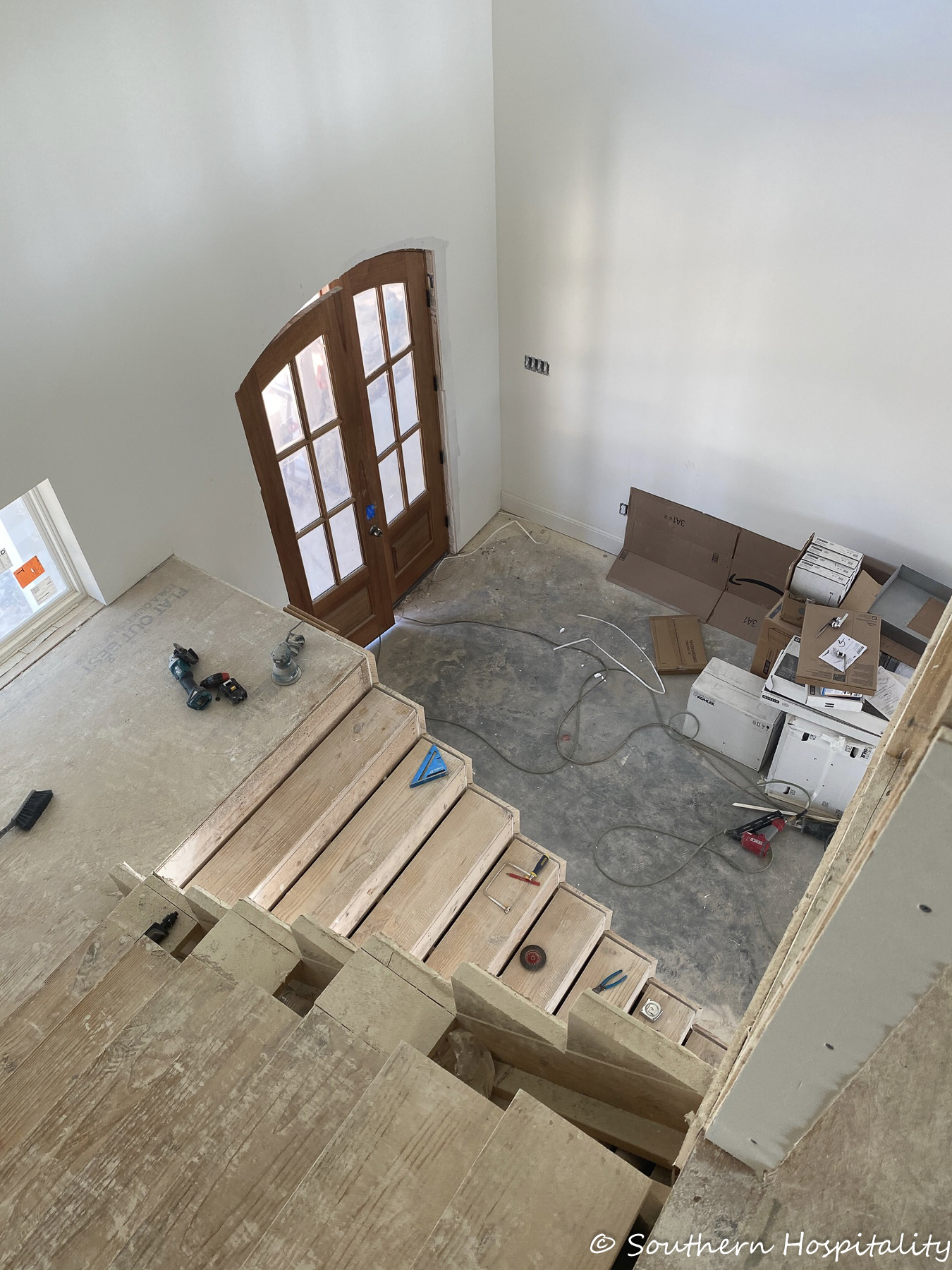 Before stairs went in looking down.
Upstairs are two bedrooms and two bathrooms. This will be the girls room when they come over and stay.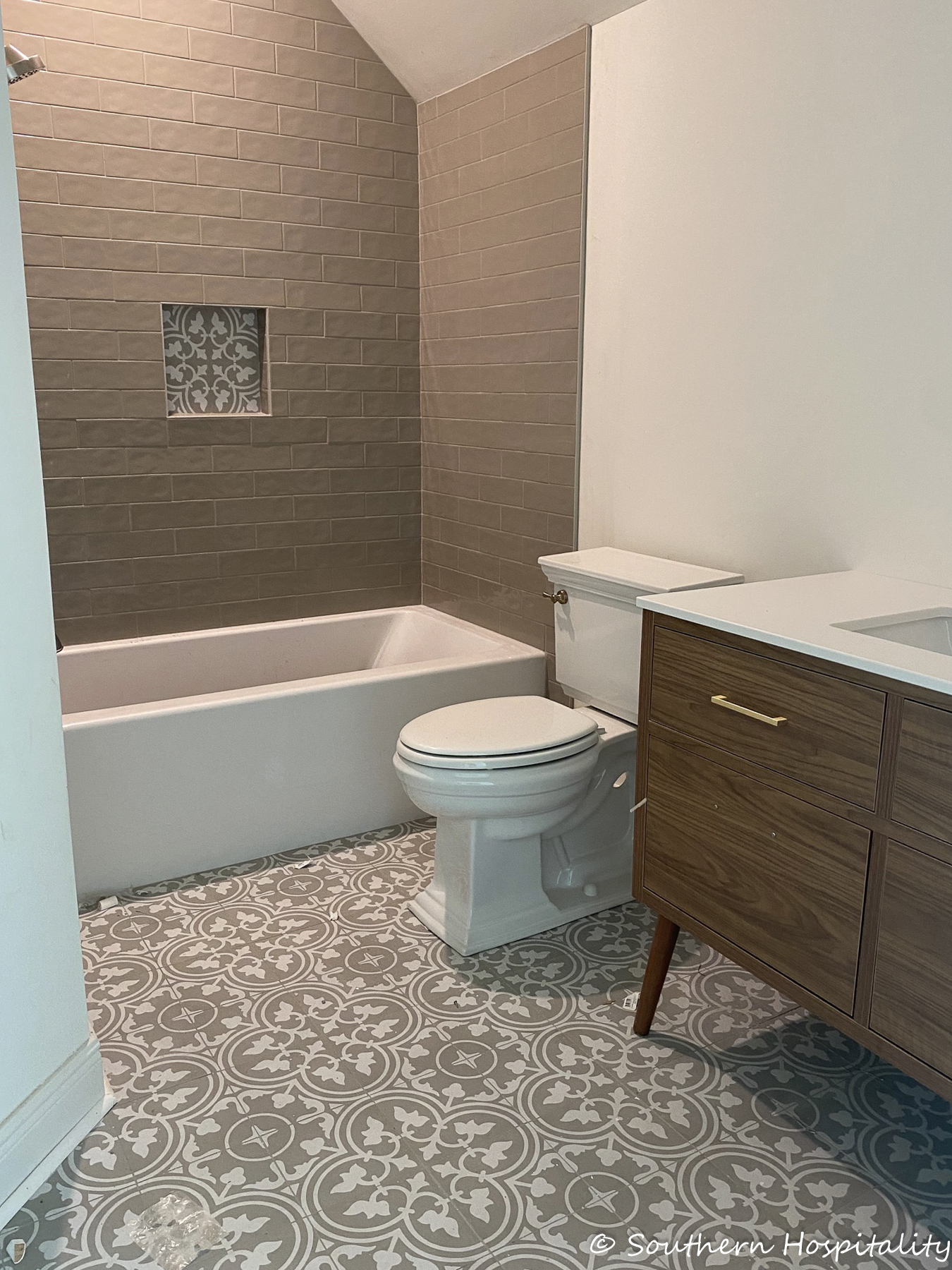 It has a bathroom in the hallway outside. Nice and compact. It's fun to see the tile and vanities we picked out installed.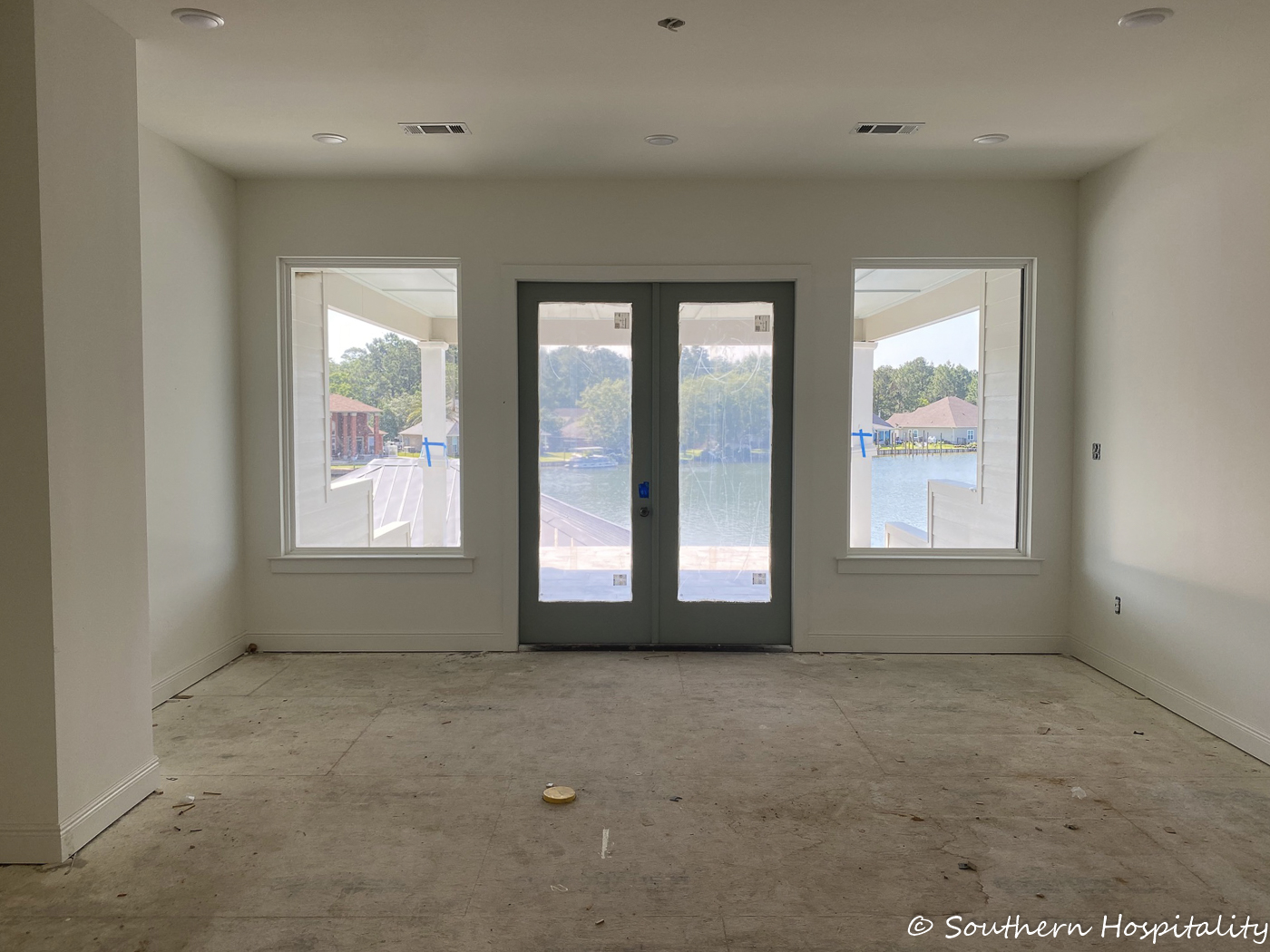 In the middle of the bedrooms is this huge bonus room with a covered porch overlooking the lake.
They added tile out here and it's beautiful.
The view from the porch upstairs. Isn't it gorgeous?!
The other guest room on the left side of the upstairs which is where I'll stay when I go back.
It has its own bathroom too.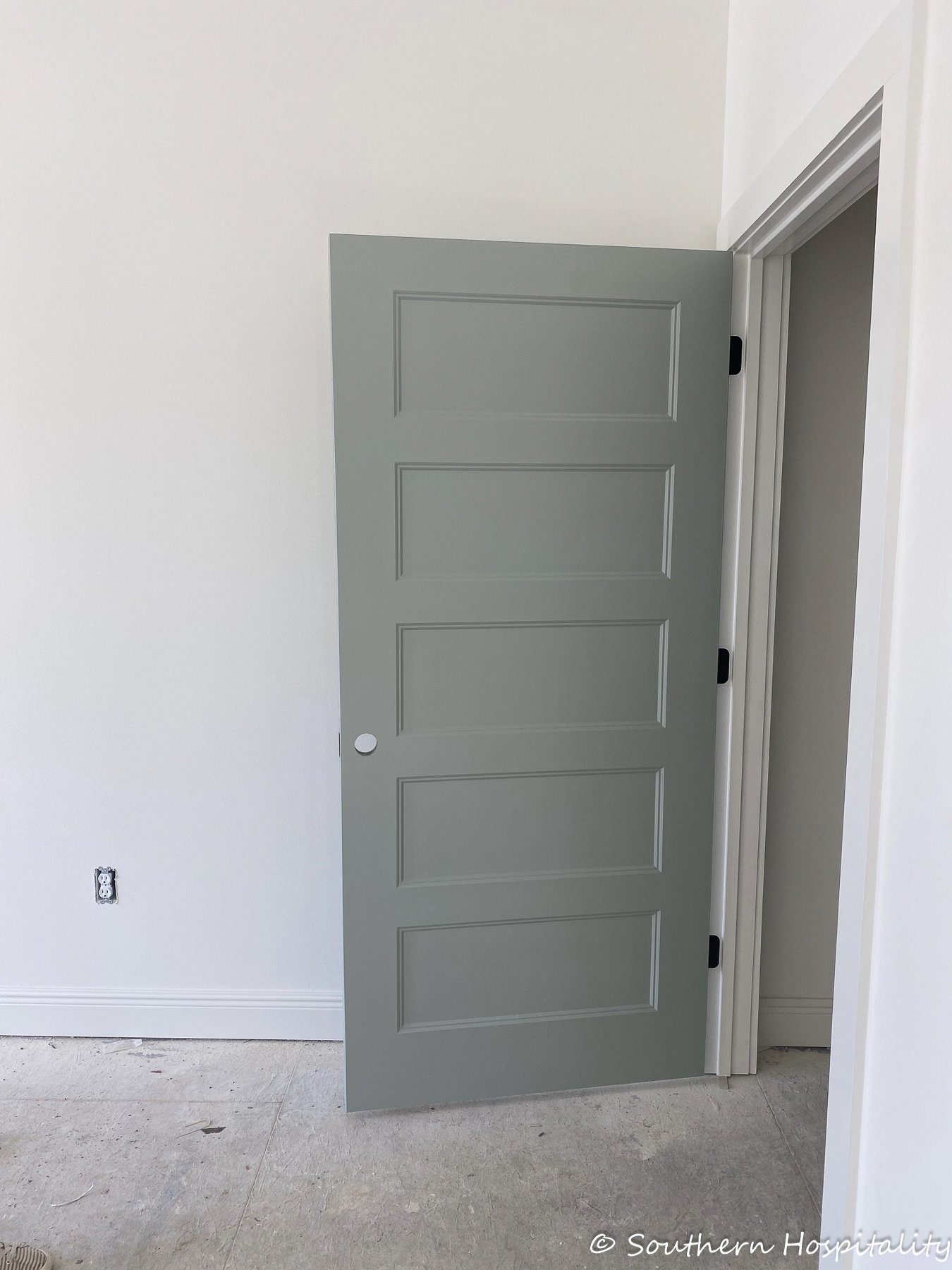 Love the doors she chose, 5 panels and so classic.
Now we'll go outside to the garage end of the house.
Around back, the pool is coming along too.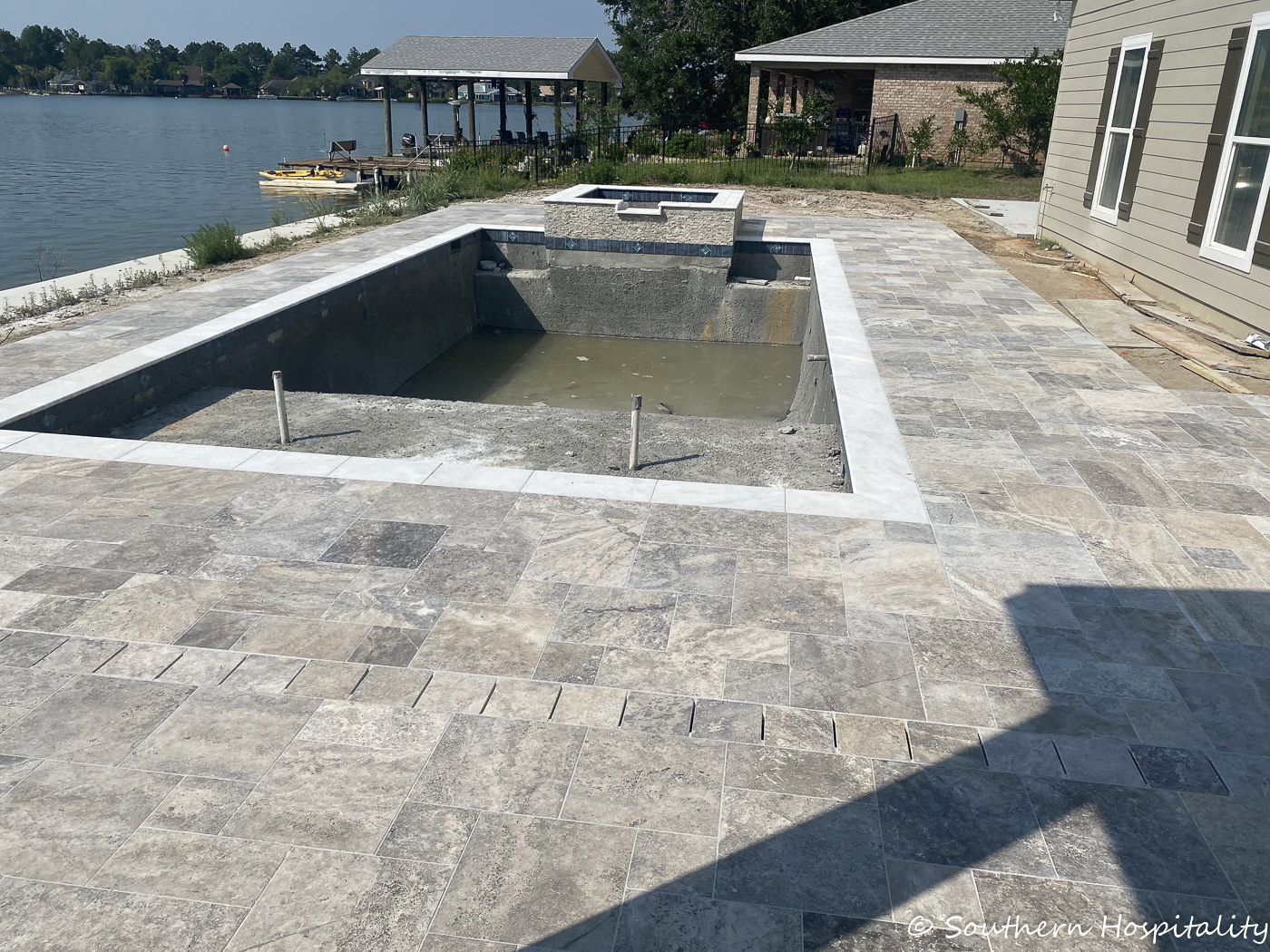 They chose the same silver travertine we used on our pool deck and it's beautiful. They used white marble on the coping.
Their crew did a great job on it all.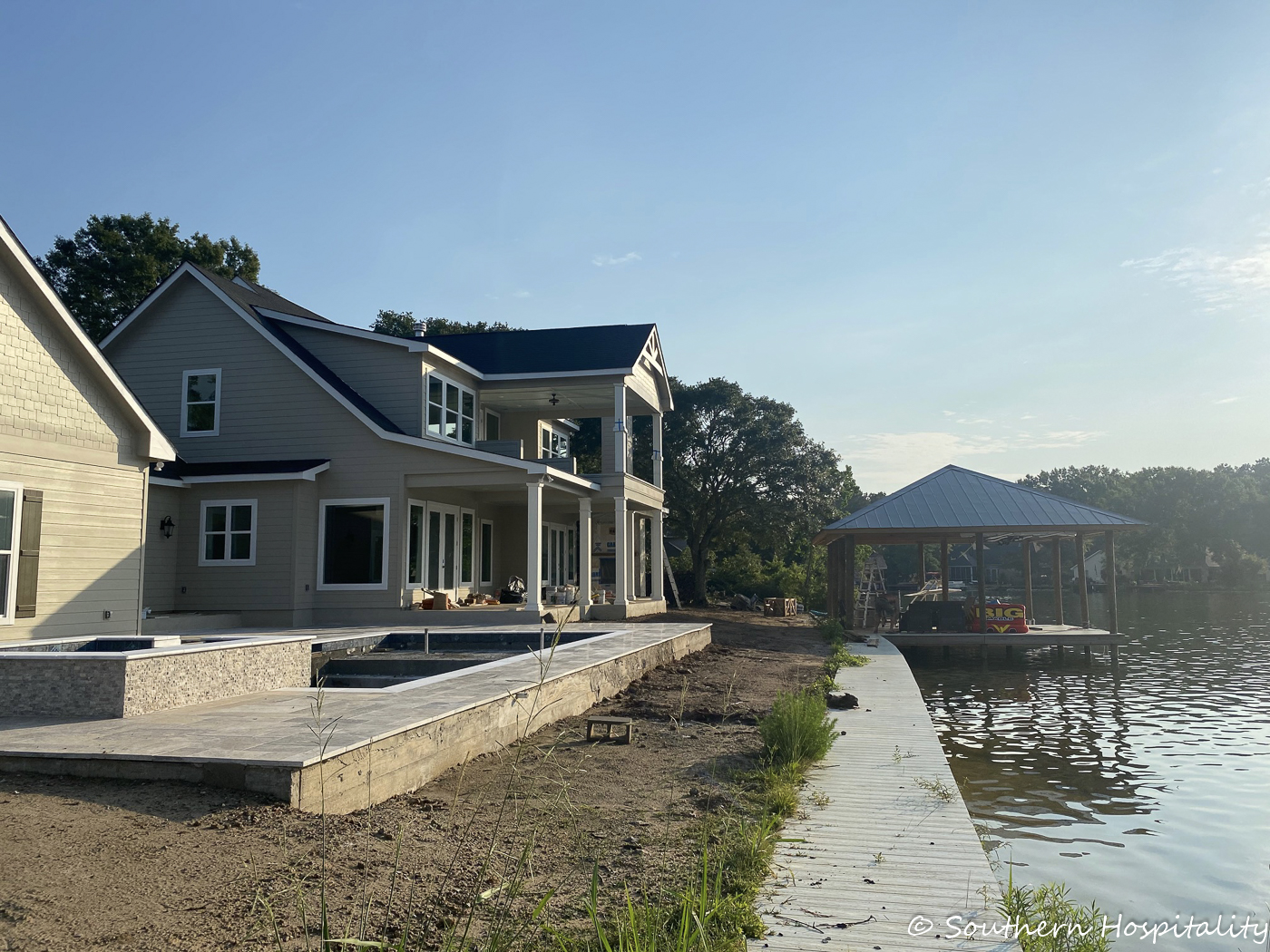 The pool is slightly raised from the boardwalk by the lake and they will add some stone on that side.
It's going to be so beautiful when finished.
You can see the porches here on the back side of the house. They aren't doing screens, but leaving it open. That door right in the middle niche goes into the mudroom and there's another door that comes out of the garage right outside too.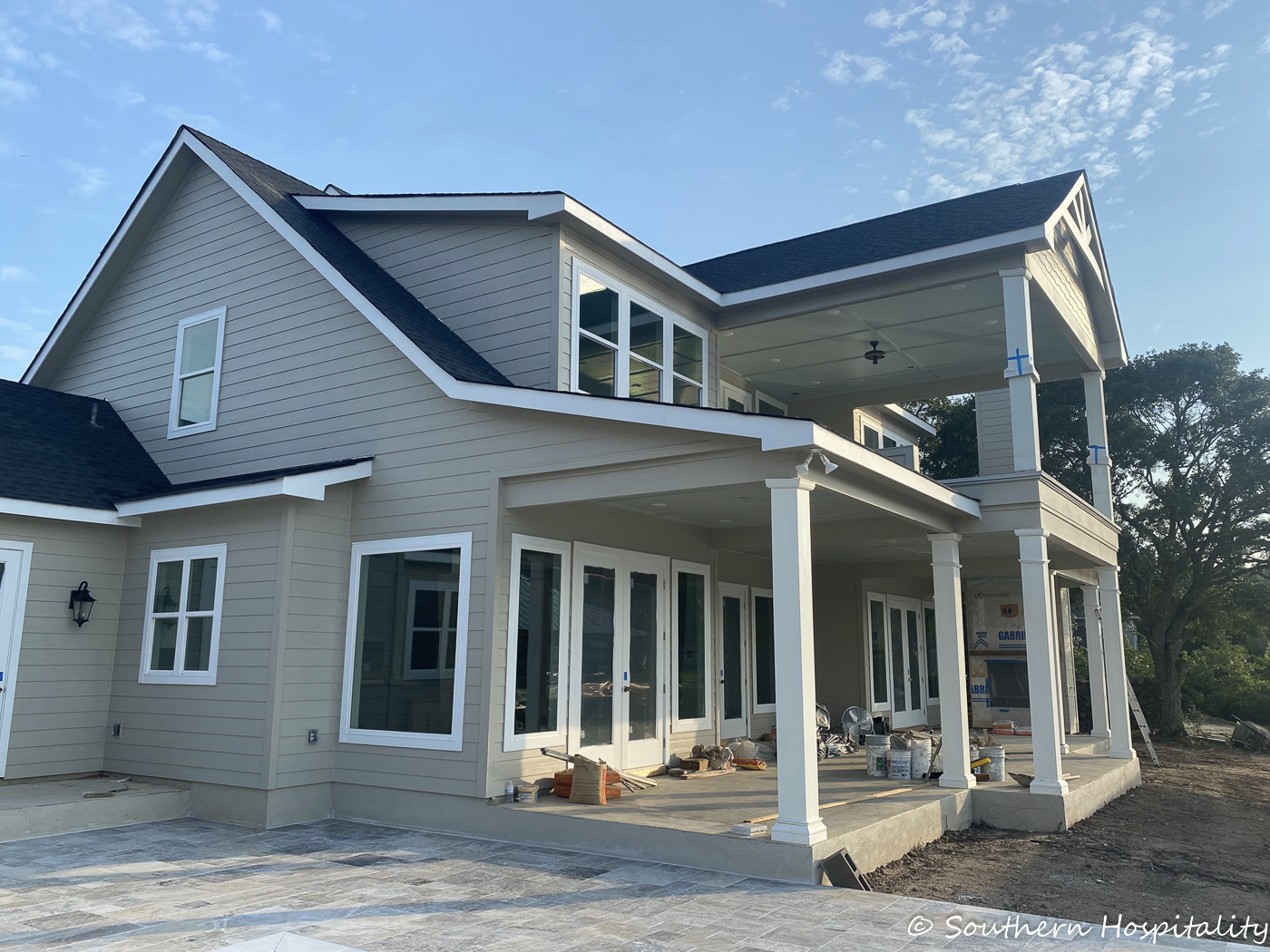 Everything is so handy and accessible.
She's collected a lot of outdoor furniture that we're going to paint and get new cushions for it all. She and I have both shopped on Facebook marketplace and found some great pieces to redo. She's having to do all the repurposing she can to get some of the things she wants since this house is quite expensive to build. They will be so happy to get in here and then add things as time and money allow. This long porch will have 3 separate seating areas. One will be for dining outside.
Looking down to the boathouse. This was the first thing they built along with the boardwalk/seawall.
They were very fortunate to have a neighbor selling his boat, so they tried it out and bought it. It's a ski boat and we all went out in it while I was there a couple of times. It was such fun tooling around the lake in the boat. Bruce is an accomplished water skier from years ago and got up and slalom skied (one ski) right off the bat. He still has it!
A look at the porch and upper porch. Ceiling color on all the porches is Rainwashed by Sherwin Williams.
Porch outside their bedroom with the fireplace. There will be stone around the concrete skirt of the house and eventually they want to do a diamond pattern on the concrete floor.
It's such a pretty house and floor plan.
We did work on one project while I was there. She found these Pottery Barn rattan barstools for $25 each on Facebook Marketplace. They were a little beat up and she wanted to paint them so we bought Rustoleum spray paint in white satin and spray painted them. It was SO hot while we were doing all this, but we managed to get them done.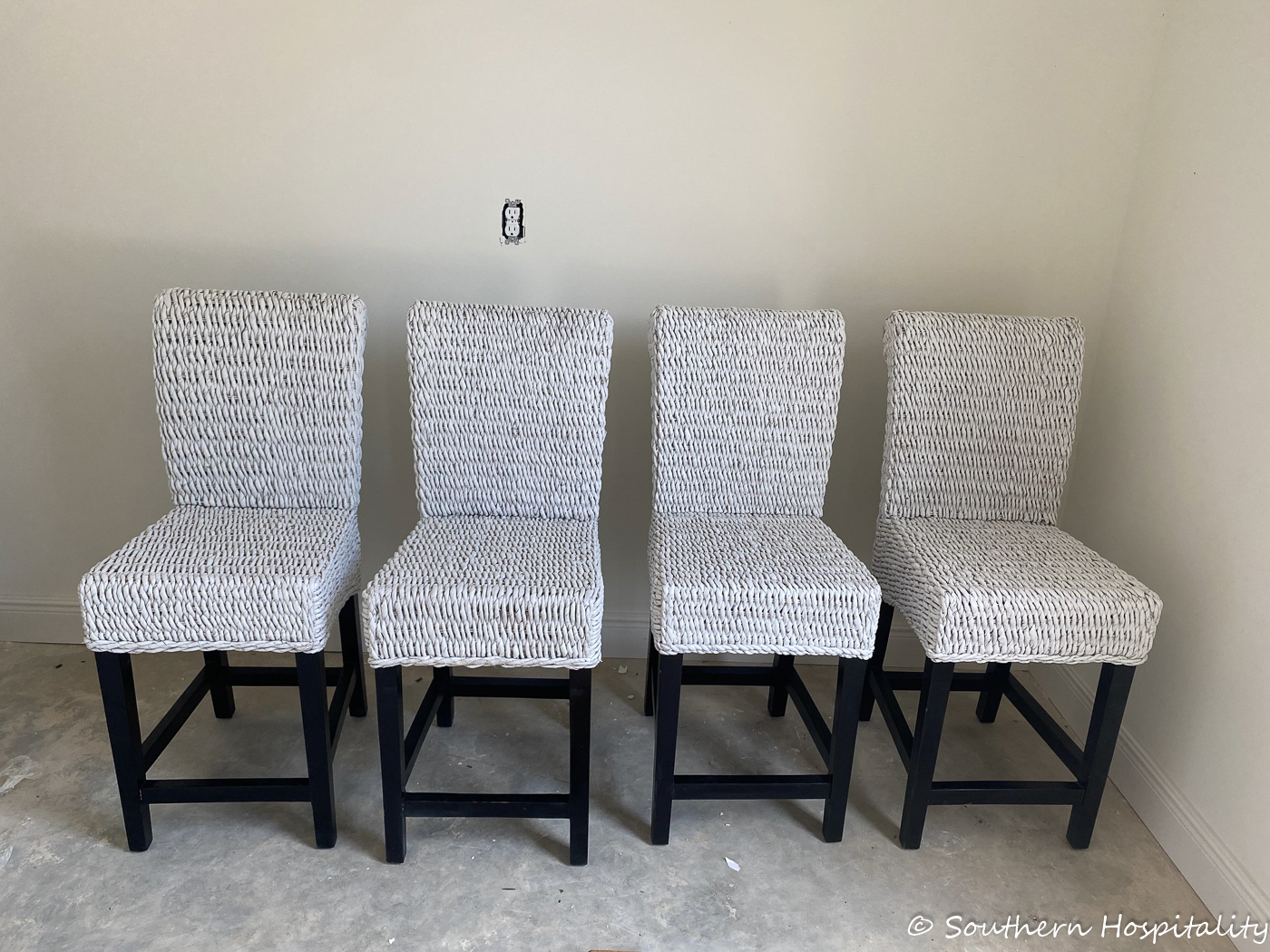 Here's how they turned out, so they are stored in the garage until the house is ready.
They turned out really pretty!
That's the update and we hope they will be in the house by the end of July. I know they are so ready to get moved in. They've been working hard to get things done. Bruce is very handy and will be doing a lot of work himself after they move in too. There's a lot he can do and will do. Building a house like this is no joke and there is a lot of ups and downs with any project like this. There are glitches along the way, but it's all working out nicely and I know they will be so proud of the house after they get in and get settled. You really have to watch every single detail at this stage of house building to be sure it looks they way you want it, so they go over every day to check progress.
I can't wait to go back after they move in. They have a lot of things to get here in Georgia still that haven't made the move yet, so they will get all that done eventually too. I'm so happy for them, they have worked hard for this opportunity and it's truly a dream come true. I know they will enjoy this beautiful home for years to come and those grandgirls are going to have the best memories here. They already love coming over to swim in the lake and go out on the boat. The memories are just beginning!
Don't Miss a Post, join my list!