I'm back from a busy week in Covington, LA with my sister and BIL. We got to see Lauren and family one night, they cooked burgers for all of us and it was fun to be with them and their extended family too. I was with Renee and Bruce in Covington which is about 45 minutes from where Lauren lives and we did a lot of online shopping for lots of home goods for their new house. We also visited several showrooms in the area and I helped her choose hardwood flooring and tile for all the bathrooms in one stop. Their builder has pro accounts around town, so he sent them to all of those to choose their materials.
Of course, there is supposed to be a budget to stick to, but this house is turning out to be more than anticipated to build. It doesn't help that our supply chains and materials in general have soared the last couple of years (thanks to the pandemic), creating havoc for anyone building right now. It's probably the worst time to build a new house, but it is what it is and they are forging ahead doing what they can to keep the budget down as much as possible.
They were both happy I came down to help. It's overwhelming to choose all the materials on a new build and to envision what it's all going to look like. My sister has great taste, but she likes to have me there to bounce ideas off of and of course, I love that too. I'm a good online shopper and I'm budget minded, which Bruce really likes. It's definitely needed on a build like this.
It was so fun to stop by the house that first day to see the progress that I've only seen in pictures so far. To be there in person really made me get all the feels in this beautiful new build on the lake. It's going to be a spectacular dream home in every sense of the words. It looks huge from the street and I guess it really is, with the garage on the left with side entry, the mudroom in the middle and then the main house to the left.
Their builder is Jerry Glover with Glover Construction in case you're in the area and interested. He has many years experience in house building. We met him the first afternoon I arrived and went to tour one of his newly built homes that just sold and it was beautiful. It was so nice to see all the finishes up close.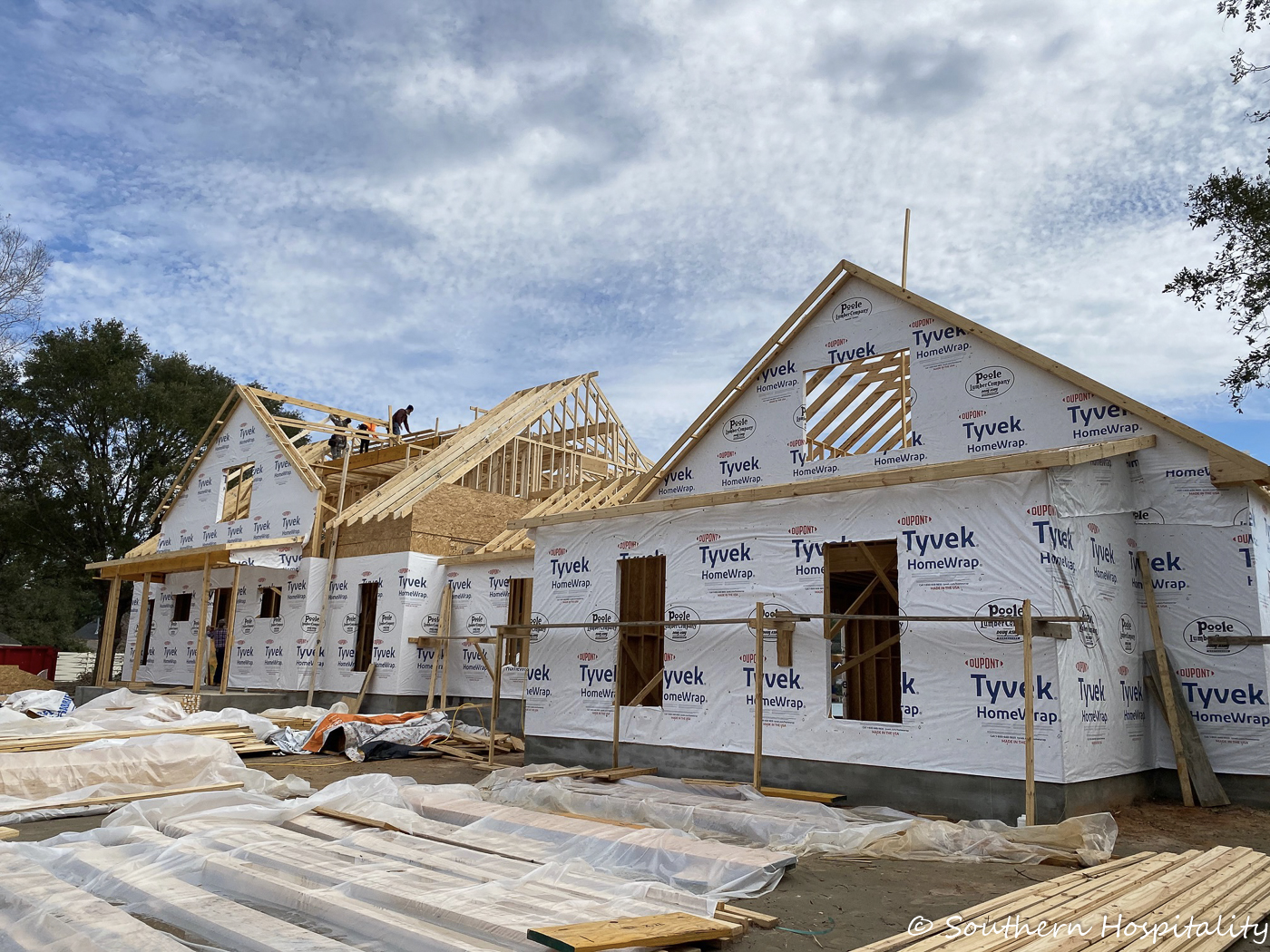 They bought 2 lots for their lake house and it's a good thing they did, the house would never have fit on one. I love how it's laid out with a smallish front yard and all the living area in the back facing the lake.
The side entry garage is huge and big enough for Bruce's diesel truck to fit in. He will also have a large workshop to the left, that bump out you see from the front shot of the garage. Bruce is quite talented with projects himself and can definitely do more finish work if they want to add more after they move in. He's done all sorts of projects around their previous house, including renovating a whole master bath himself.
Above the garage is a huge storage room that they aren't going to finish, but it could be finished later.
Look at that view! Even if they don't ever finish it, it will be a wonderful walkup storage room.
Looking over to the main house from atop the garage. It's really coming along now and they are flying on the framing. I think the roof will be ready to go on in another week or so.
This is where the pool will go. They have a wonderful pool planned out here and it's going to be quite the resort house when finished.
A shot from the boardwalk on the lake side. This is a good time to share their pool rendering. As soon as they can get started, the pool dig will happen.
They decided to move the pool out a bit from the garage and add a planting bed there so that plants can be added against the side of the garage. That will be beautiful!
They are going to add artificial turf back there as well, which will really make for a cleaner pool. They are doing the same surround we are, which is silver travertine. We both were choosing pool materials around the same time and ended up with a very similar look.
Another view, what a stunning pool it will be. I know they will enjoy it with those hot LA summers. The door coming out on the little landing is from the mudroom.
This is the view from the back porch.
And the waterline tiles they chose with very similar colors to what we chose.
I can see it now!
Back to the build, this looks toward the boat house. They want to get a boat eventually too.
They had the boat house floor and boardwalk done out of Trex like material which should never wear out.
Back inside the house, this is the view from the greatroom. It's an open floor plan with the dining room and kitchen to the right of this view.
There will be 3 sets of French doors going out the back from the dining room, great room and the master bedroom on the left of this view. The master is on the main which is great with 2 bedrooms and 2 bathrooms upstairs. It seems like a giant house, but it's not that gigantic. I think finished inside is 3500 s.f. but the porches add so much more additional living space.
It's a great floor plan and I loved it so much when I walked through the HGTV 2020 Dream home that inspired their build They made some tweaks on their plan to fit their lot and wishes.
This is looking from the entry to the kitchen and dining room space. With all these windows it's going to be a well lit house with so much natural light coming in.
This is the master bedroom suite on the left side of the first floor, with bedroom, closet in the middle and bathroom on the front of the house.
We climbed a ladder to get up to the 2nd story, since the stairs haven't been built yet. I think this is the bathroom in what will be the grand girls room. She will have a room set up for the girls and one for guests.
The bonus space upstairs has a gorgeous porch off it which has a magnificent view of the lake.
What a view!
I think this view is the guest room side.
Looking out to the garage and mudroom below.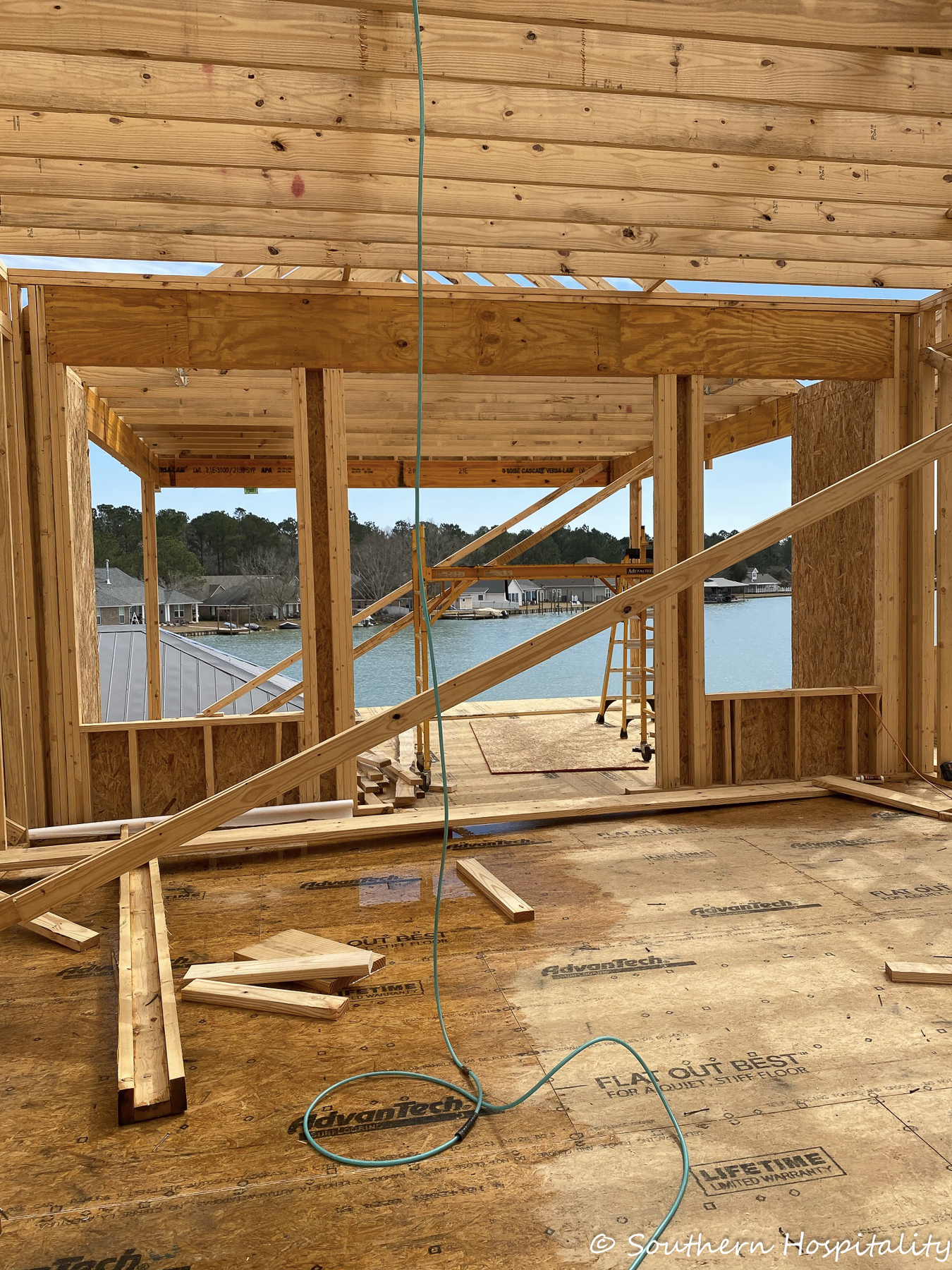 Here's the bonus space upstairs with the porch right outside.
Those views again!
View from the boat house.
The covered back porch will go all the way across the back. They aren't planning to screen this in, but leave it open. Their previous house had a covered porch and it wasn't screened either, but they like the openness. They don't think mosquitoes will be that bad here.
Dock and boat house.
Back side of house showing the outdoor fireplace going in on the porch. That space will be right outside the master bedroom.
It's so fun to picture all this now and see it coming togther. I'm so excited for them and can't wait to visit when they move in.
Boat house ready to go.
The day after I left, the stairs were added in the foyer so Bruce sent me a couple of new pics showing those and the progress on the roof. The stairs go up to a landing and then turn to go upstairs.
Final shot of the exterior with roof materials going up. Lots more to go, but the progress is looking so good.
We drove around the neighborhood and took this shot from the other side of the lake. Lake Ramsey has over 400 homes in this gated community and it's a really nice neighborhood.
So, let's move on to some of the choices they have made.
This stone is going around the foundation of the house and also the outdoor fireplace. Love it! It's Horizon Stone Hermitage color.
These are the 3 cabinet and island choices. White on the main kitchen cabinets, with that natural oak with a glaze on the island. This color isn't glazed so not completely accurate. The navy will go in the mudroom with perimeter cabinets and a small island in the middle. She's doing butcher blook on the mudroom island and granite on the perimeter cabinets. Her washer and dryer will be in the mudroom too.
This is the same flooring that was in the spec house we toured that their builder installed, so she's going with the same one. It's really pretty wide plank oak.
We had so much fun looking at all the tiles and narrowing down choices for all the bathrooms and the kitchen backsplash. This is going in the master bathroom. A matte finish marble tile on the floors and the same glossy marble look on the shower walls, with an accent border of the marble and stone thin one. The chunky squares will go on the shower floor. It's a beautiful mix of warm and cool tones, but very neutral for the long haul.
This patterned neutral tile will go in the guest room bathroom with the darker subway tile in the shower and a lighter gray penny tile on the shower floor.  We've already ordered all the vanities for the bathrooms.
This wood vanity from Perigold will go in both bathrooms upstairs.
She chose this taupey gray patterned tile for the girls bath with the darker subway tile for the tiled tub. It's not as dark as it look here and blends well with the tile.
I think these will all be fun choices and even though they are patterned, they are neutral so should be long lasting and not something they will tire of.
She had been thinking about a marble basketweave tile for the white cabinets kitchen backsplash all this time and I figured her mind was made up, but as we were leaving the tile showroom I picked this one up and we both fell in love with it. I think she's now going to do this one for the kitchen backsplash, the colors and shadings of blue/greens are so pretty and I think she will love it in their lake house. She will go with the subway version. With that blue water shining outside, this will be a beautiful addition to the kitchen. Marble is gorgeous, but a little more formal and this house is going to be casually elegant.
We stopped by a countertop showroom and she's choosing a softly veined marble quartz for the perimeter cabinets and the smaller sample will go on the island. It has bigger veins and more movement and will be gorgeous on the island, but she didn't want that all over.
These beautiful wood front doors are what they chose and I love the arch.
This pretty mint green vanity from Home Decorators at Home Depot (affiliate link) is going in the master bathroom, there will be two of them and I had some fun playing around with wallpaper. Isn't this fun? She won't be doing all the wallpaper right away, but this will be fun to plan for down the road. 
Both of these wallpapers are at Wallpapers & Fabrics to Go.
The one above is Garden Party.
This vanity is also from Perigold, but I can't find it to link again, but I'll link it when I can.
That's it for this update. Of course, my sister and I are excited about the decorating part, but she's got awhile to go before they are finished with the house and move in. Estimated move in is most likely June, maybe end of May. It's going to be so exciting to see them finish the house and get moved in. I will probably go down again when they move to help her with everything. I won't mind that a bit and I'll be sleeping in that guest room then!
Hope you all enjoyed this update, I will continue to share updates along the way. We also shopped for lighting and I think she has that narrowed down too. I basically did all the online shopping of vanities and lighting while I was there and she liked almost all of it and made choices from what I found. I shopped with style and budget in mind and it was fun to help them. I'll share all the lighting in another post with all of the light fixtures I found and the ones she's choosing.
Don't Miss a Post, join my list!