When my sister and BIL, Renee and Bruce, sold their home in Marietta and moved to Louisiana last April, I shared that they were building their dream home on a lake in Covington, LA. At last, the house has started! It took a few months for their plans and architect drawings to be completed and to get all the necessary permitting done to get started, but they poured the foundation over a month ago and now the framing is going up. It's so exciting to see this finally happening. I know they are doing a happy dance! They hope to be in their new house by the end of May (per their builder), but we know how building delays sometimes happen.
HGTV Dream Home
In 2020, Mark and I had the pleasure to visit the HGTV Dream Home in Hilton Head, SC. Renee saw my post and also the house on TV and their website and they fell in love with the floor plan. So much so that they decided to get the plans and build their own very similar home. They made a few changes to the floor plan, but it's basically just like the dream home and I can't wait to see it come alive on their lake lot in LA. It's a dream home for sure and I'm so happy for them.
Dream House back exterior
There will be a pool and the whole back of the house will be porches. They have a dock and boat house as well and plan to get a boat.
Dream House pool
Their neighborhood is Lake Ramsey in Covington and it's a well established lake neighborhood. They found 2 lots a few years ago and went ahead and bought those in preparation for building their retirement home here. They are about 45 minutes from Lauren and family in Metairie (New Orleans), which was their goal in moving to LA. The attached garage is on this side and the other side is the house. So nice to see it finally going up!
They found a builder to build the house and it's really starting to take off now. There will definitely be lots of decisions along the way.
I loved seeing all the pictures of the walls going up. I'm not sure exactly what their exterior will look like, but I know they are doing a lighter white/cream color on the exterior siding. I know it's going to be beautiful!
The garage is huge too and they will have storage on the top, I think.
It's a 2 story, so there will be another level going up. This is the porch side facing the lake.
It all looks gigantic from this angle.
And what views it's going to have! I can't wait til they get moved in and we can go and visit.
Lake living is a wonderful dream come true and this is a beautiful small lake, but it's large enough to ski on. I know they will have so much enjoyment here.
Those 3 granddaughters are going to love coming to see Nae-Nae and Papa.
Be sure to look at the HGTV home I linked above for the layout of the house. It's a beautiful floor plan.
The boathouse is nice too and they've been working on the edging around their lot too. I don't know all the appropriate terms for that, but it's a nice clean finished edge instead of just dirt.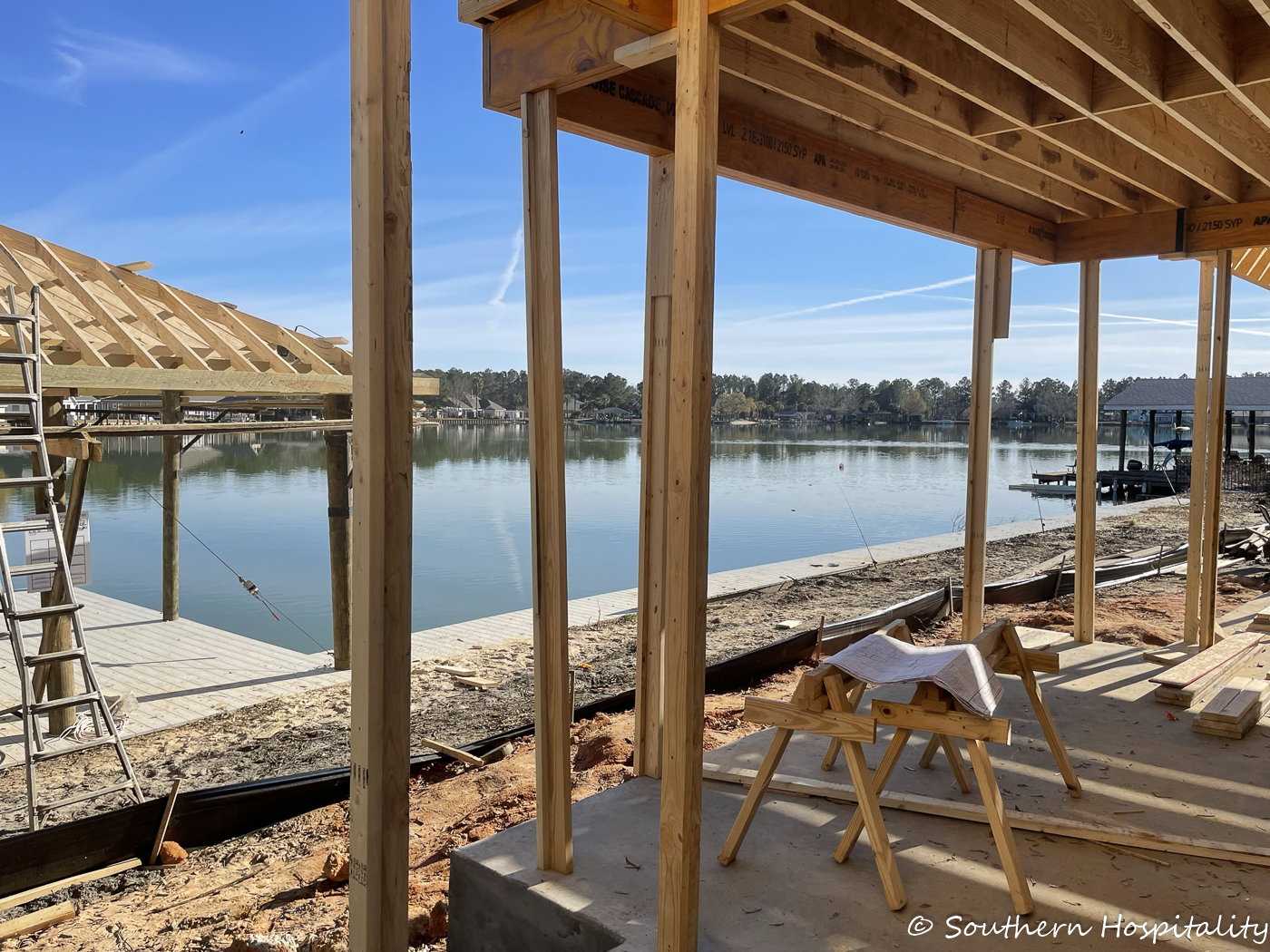 What fun they are going to have!
I can imagine the beautiful sunsets out here in their backyard.
They've just started to choose some things to go in the house, like cabinets and hardware. They've chosen those, plus appliances.
This gold faucet will go in the kitchen. She's using a mix of brushed nickel, brass, and black, which I love.
They are getting the Kohler Memoirs toilets in white, which are the same ones Mark and I put in. We love those toilets! It's the one in the middle and I love the crown molding look it has.
So that's an update on my sister and BIL's new lake house build in Covington, LA. I'm going to blog the entire house, from start to finish and share it with all of you. I know you'll love watching it go up too and you can celebrate with us when they move in. I can't wait to go down and help her make some choices as things move further along. There will be a lot of choices to make for sure in a new build. I'm so happy for them and wish them the best in this building process and I can't wait to share it all with you too! As soon as there is more to share, I'll do another post.
Don't Miss a Post, join my list!