I recently spent a week in Louisiana with my sister and brother-in-law, Renee and Bruce, at their new lake house. It was one year ago that they moved in their new dream home on the lake and it's always fun to go back for a visit. I got there just in time to see a project come to fruition, as they had tile installed on their front and back porches. It turned out so pretty, so of course I wanted to share this project with you all. Adding black and white tile to a concrete porch really makes an impact as you will see below.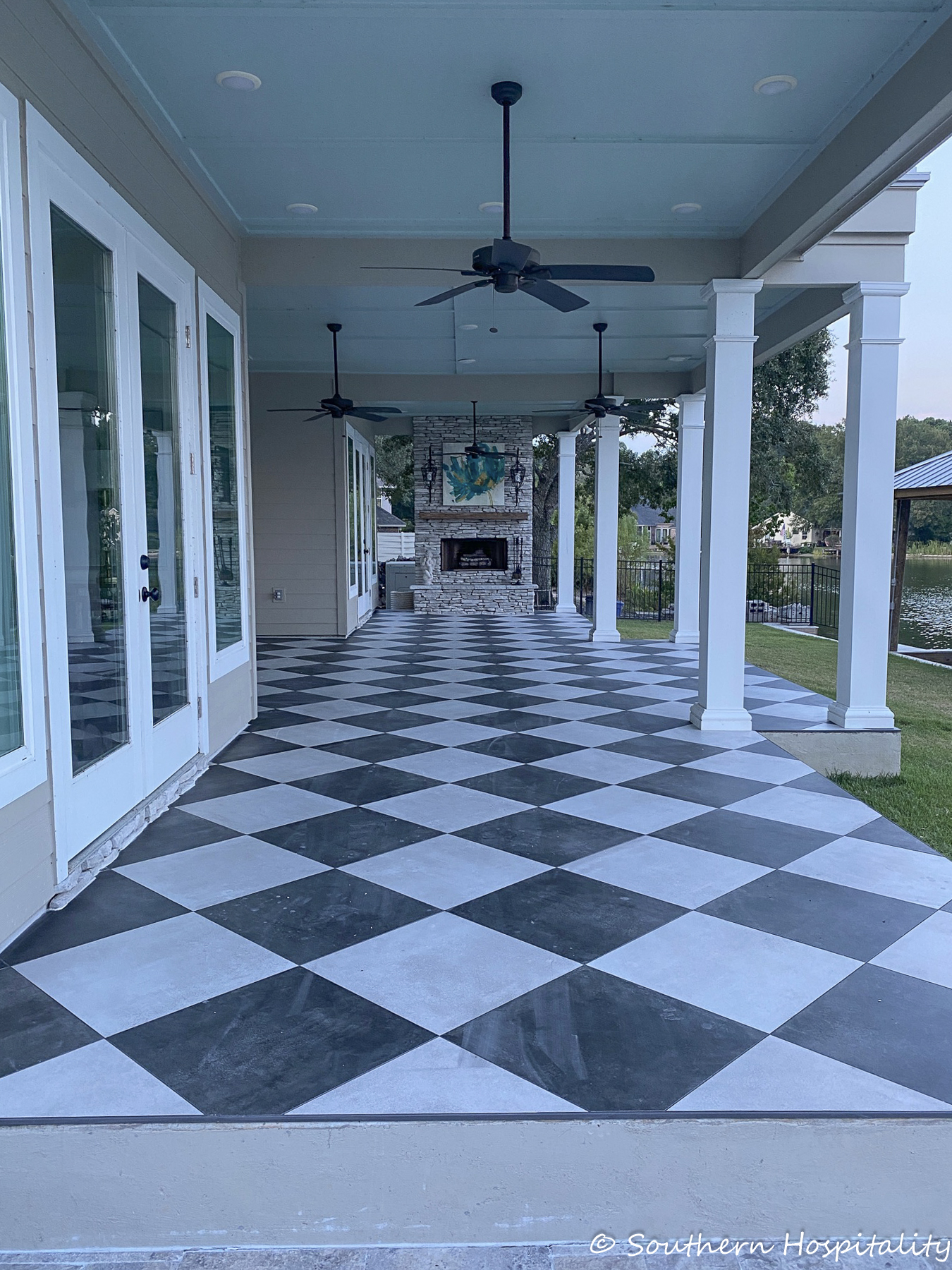 I had mentioned last year that they were planning to do this and it finally happened. They have a tile guy they work with, Billy with and he and his crew did the installation in about 3 days. It was grouted and finished and we waited a few days (as instructed) before we cleaned it off with water and then put the furniture back in place. What a difference this tile makes in the look of their porch! I did a full porch and pool tour last year with all the furniture in place, but this totally kicks it up a notch.
They added a nice metal band to the tile to cover the edges. I don't have the name of this tile, but they are 24×24″ square porcelain tiles that are rated for outdoor use. They purchased them from a local shop in Covington, called Noel Maestri's Flooring.
The tiles have a matte finish with a bit of texture to them and feel great underfoot. They should be easy to keep clean and can be pressure washed and hosed off. I just love this look so much!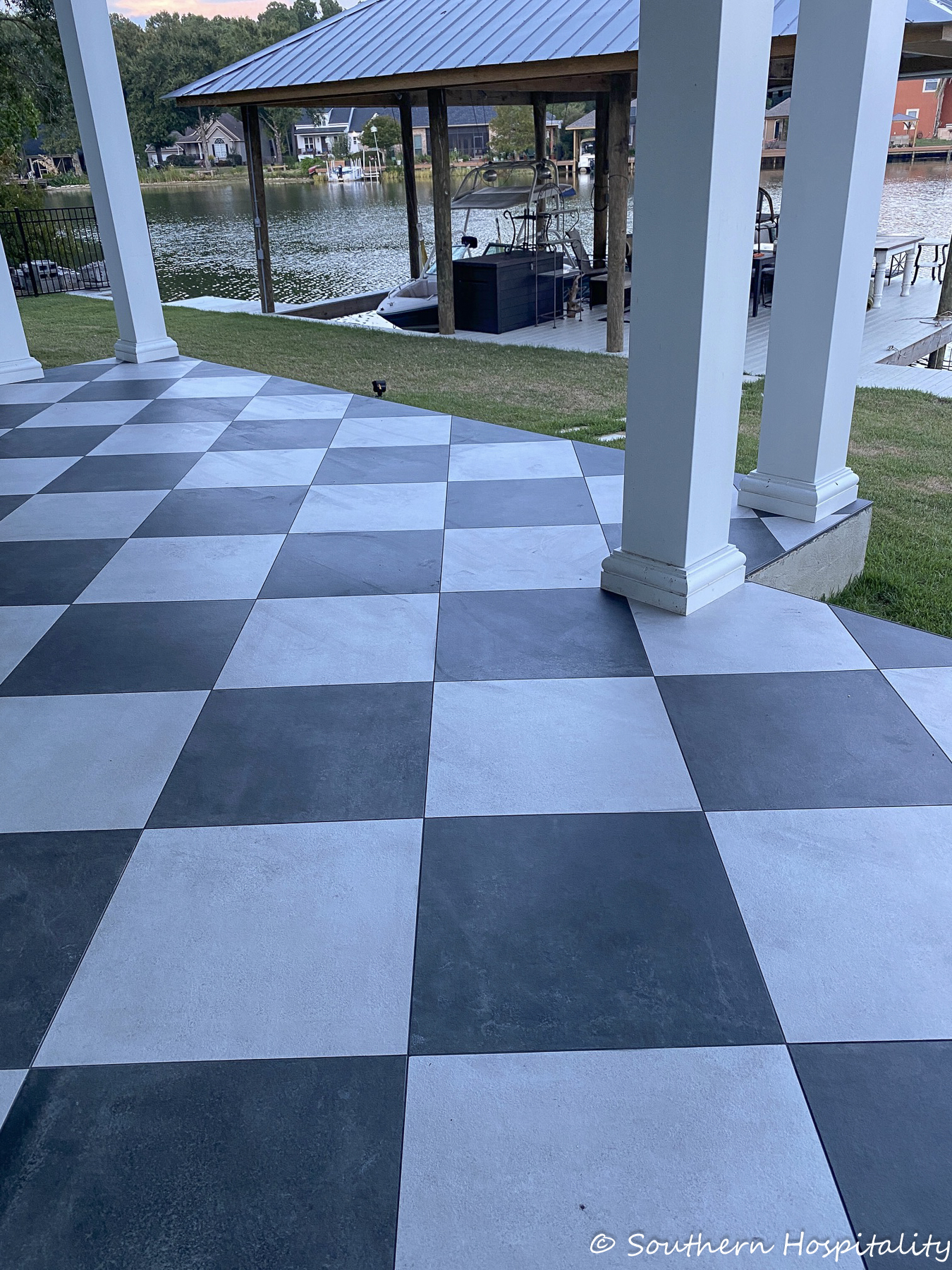 I wanted to show you the finished floor and then after we brought the furniture back.
The views from this porch are outstanding. It was very hot when I first got there, over 100 degrees and it felt like an oven outside. They did get some much needed rain while I was there but it didn't cool things off that much.
A couple days before I left, we cleaned the porch and brought all the furniture back, adding a few accessories to complete the look. That baker's rack you see was stored on the dock while the tile was being done. They had a vicious storm blow through one day and it blew 2 pieces of glass out of the rack, so she will have to get more cut for it. They can have some bad storms down in Louisiana.
They are still happy to have all this furniture that we spray painted and repurposed last year and it's all still going strong. Most of this came from Facebook Marketplace. Check out this post for all the details on spray painting wicker.
They have quite the paradise here on the lake and it's so peaceful and serene.
I would definitely be out there every morning having my coffee. It's great that they have 3 seating areas. This one is off their master bedroom, which my sister is currently updating. I'll share that when she's done. While I was there, we wall papered the headboard wall in their bedroom and it turned out so pretty!
They have 3 sets of French doors off the back of the house and this middle section is the family room door.
She had this rug in the master bedroom, but with the updates in there, she brought it out here where it looks right at home.
This table was a thrift store find when I was there last year.
The eating area on the porch is off the dining room of the house and it works great for family meals.
A few accessories on the table. Their porches do get wet when storms blow through so she doesn't have anything too precious out here.
Looking at the back porch from the grass. Paint color on the porch ceilings is Rainwashed by Sherwin Williams. House siding is Analytical Gray.
And another look at the double porch above.
It's quite the house and they love it. Truly a dream home!
She loves plants too and has them all over.
A dough bowl decorates the glass coffee table.
This is a great spot for reading and having coffee. I know this for a fact!
And I love this rug out here too.
What a dreamy space.
Sunsets glow off the lake back here.
The front porch also got tiled and it really looks great too. She just added those new faux boxwoods  (affiliate links) to her planters, which are the same that I have.
Metal trim around the edges. The tile guys did a great job with laying it all out evenly. It was a huge job, especially in that heat.
They added a swing out here. This was taken before we did the planters. We did that project while I was there too.
And to finish off this tour, I'm sharing another look at their dining room space looking out to the lake. She added that huge real tree since the last tour.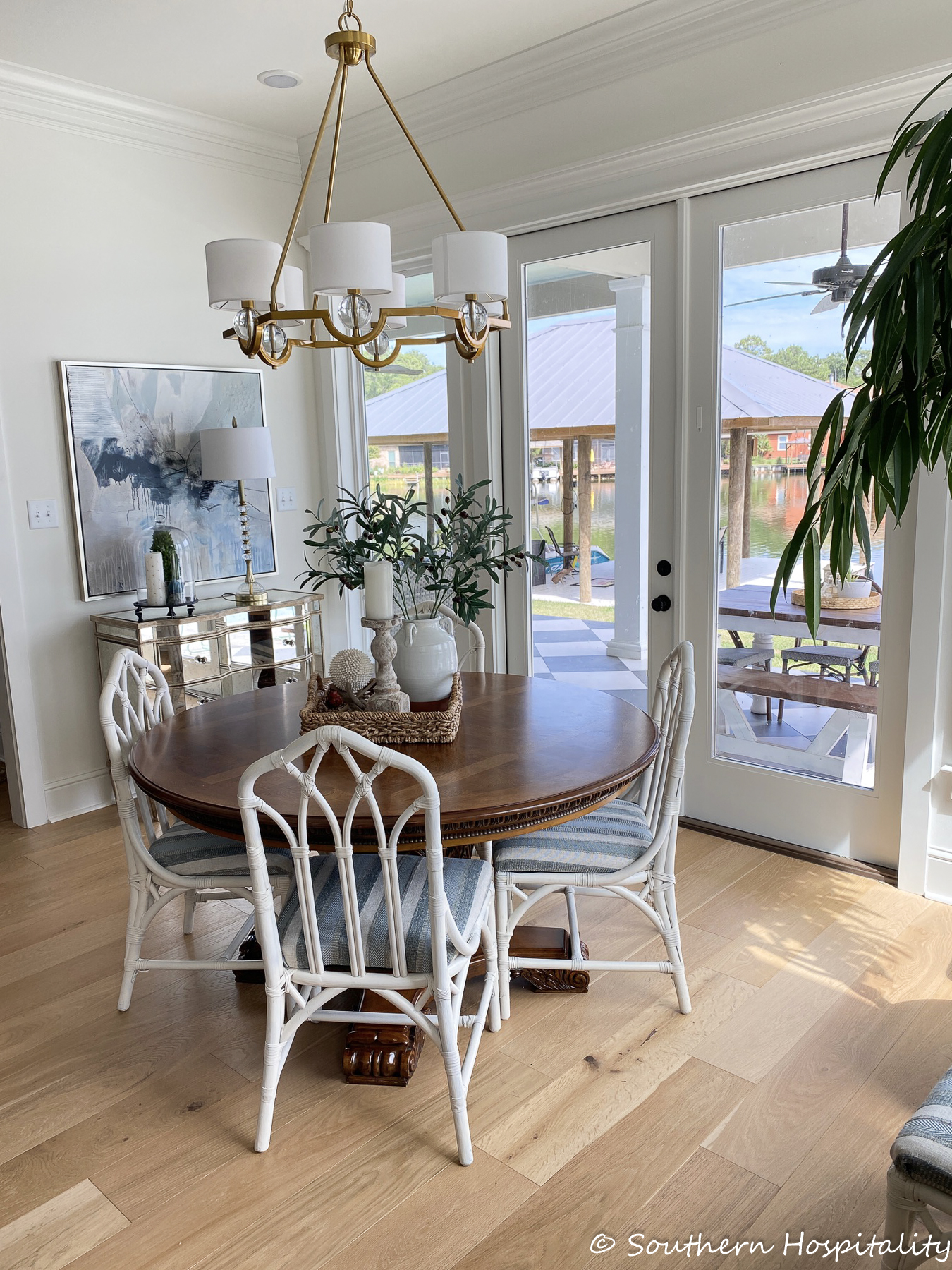 This is such a pretty spot!
I love their house and I'm sure you all enjoy touring it too. It's a great place to visit and I can't wait to go back!
If you missed their home tour that I did last year, be sure to catch it all here: Louisiana Lake House Reveal
Don't Miss a Post, join my list!