Laundry is one of those chores that we all deal with and having a dedicated space set up for that task that is efficient and organized is the ideal scenario.  Buying washers and dryers ranks up there with buying a car.  How do you know you're getting the best deal and the best products for the money?  There are so many options and opinions out there to look at. About 2 years ago, I had the opportunity to shop for a new washer and dryer.  I had won a gift card from Lowes so that was where I shopped for my new washer and dryer. I agonized over my decision and making a good one that I would be happy with wasn't an easy thing to figure out.  I asked questions on my Facebook page of my readers and asked them what they had and liked. I got a myriad of answers to that question and everyone has an opinion on what they think is a good washer and dryer set and also a very strong opinion when they didn't like something.  Front loaders didn't get very good reviews from the people I asked.  I had heard that before too and knew that I didn't want a front loader washer.
(via BHG)
I decided to go with as simple a washer and dryer as I could and I ended up with an old school set that I got from Lowes (a GE set).  I've been very happy with it so far.  I agonized over the choice of an agitator or no agitator (I decided on yes to the agitator), whether or not to get the fancy digital bells and whistles with the risk of those going out at some point.  Over the years, I've heard more and more that washers and dryers are not built with the same quality as they were years ago.  Growing up with all of my early washer and dryers I had, they did last for years and I hardly ever had problems with the standard washers and dryers back then.
With all the fancy bells and whistles that have been introduced in the last 20 years come the problems that go with them.  Those plastic parts can break, leaving you without a washer and dryer and a staggering repair bill on top of that. So, today I'm partnering with Speed Queen to share them with you, my readers.  When they reached out to me it was easy to say yes.  I have always heard great things about Speed Queen and how they are such good quality, long lasting machines and commercially used, but yet they have home appliances that we can use at home.  I didn't get the chance to look at Speed Queen appliances when I was shopping a couple of years ago, but I certainly would given the chance again. When I got the email from Speed Queen, I immediately thought of my friend, Barbara, and how much she loved her set.
When I photographed my friend, Barbara's beautiful modern farmhouse earlier this year, she mentioned that she had a Speed Queen washer and dryer and how much she loved them. When I got the chance to share this brand with you, I knew that I wanted to interview her about her undying love of her Speed Queens, so welcome Barbara back today.  You all loved her house so much and it's been the most viewed Feature Friday of any house I've ever featured so if you missed it, go back and take a peek.
She also has her washer and dryer sitting right out in full sight in her master bathroom, which is unconventional but very practical.  I love this about Barbara! She doesn't care what people think, she does what works for her.
I asked Barbara some questions and she answered with her usual wit and wisdom.  For those who don't know, Barbara and I went to high school together and even though we haven't been in touch this entire time, she is a dear lady that I'm happy to call friend.  She and her hubby built their dream home on acreage in North Atlanta and I photographed it all to share here on the blog. Barbara is a true Speed Queen fan and this is her unbiased opinion.
Here are a few things to note about Speed Queen that you may not know already.
They are built to do 25 years of laundry or 10,400 cycles. That's a lot of laundry!  They have the best warranty in the industry, which covers in-home parts and labor.  Since these machines have been tested at the laundromat, you know they are good for home use.  Speed Queen washers and dryers are made in Ripon, WI and have over 100 years of commercial quality behind them.  So, this means that a Speed Queen will last you 2 to 3 times longer than another competitive brand. That sounds pretty great to me!
When did you purchase your Speed Queen washer and dryer? 
I purchased my Speed Queen washer and dryer in September 2016.
Why did you decide on the Speed Queen brand and did you do a lot of research before buying?
I purchased a VERY expensive, fancy front loader washer dryer set in late 2013. They were beautiful, computerized and were supposed to do everything but wash your car (lol)!  They even sang to me at the end of the cycles!  All was well until 3 years after purchasing (juuuust after the warranty expired) the washer's computer fried.  My repairman told me the cost to repair was $500.  But, kindly, he told me 'off the record' not to repair it.  He said the part would continue to go out approximately every two years.  Now, I paid $1700 for this washer.  I was not a happy camper.  I immediately started researching washers and dryers. Over and over I was led to the Speed Queen brand.  The inner workings of their machines are much more substantial than all other brands.  Speed Queen supplies most of the public laundromats so you know their washers are tough and will last and last.  Their warranty alone is worth the purchase of these machines.  I found that I never used all the fancy options on my last washer.  I just wanted a washer to do the job of washing my clothes, and last a reasonable time.  I got just what I wanted with my Speed Queen washer and dryer. 

Why did you decided on the models you bought?
Since I had such a bad experience with my last washer's many options, which ultimately meant more things to break, I wanted a simple top loader washer.  I did choose Speed Queen's nicest top loader washer.  I'm still a little spoiled, after all!  I also chose their nicest front loader dryer because of it's size and I think clothes dried in a front loader dryer come out less wrinkled.  Since we have our set out in the open in our master bath, the fact that they don't "match" drives the hubs crazy.  Doesn't matter a hoot to me.  We have an area upstairs for a second w/d – just in case one of my four kiddos needs to move back in for a while (#inevitable).  I'll probably move the front loader upstairs if/when that happens and get the matching washer for downstairs.  Just to please the hubs.  I'm nice like that.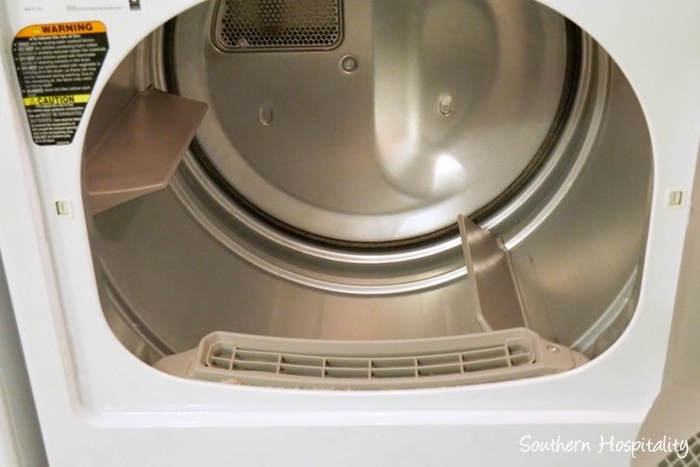 What do you like most about the Speed Queen washer and dryer?
There are two things actually.  First of all my clothes come out CLEAN.  Cleaner than they have been in years.  It's just amazing the difference from all other washers I've owned.  And secondly, the cycles are FAST.  A typical washing cycle lasts 30 to 35 minutes and dried in under an hour.  I can do 3 complete loads after dinner and before bedtime.  Amazing.
Would you recommend this brand to your friends? 
I would definitely recommend this brand of washer/dryer to my friends, heck I would recommend this brand to my enemies, if I had any!  Purchasing this set has been one of the smartest things I've done in years.  If you need a washer and dryer, you should seriously consider researching and purchasing the Speed Queen brand.
So, there you have it!  Right from the owner's mouth.  I love how passionate Barbara is about her Speed Queen washer and dryer and knew that she would be the perfect person to share with all of you on her experience with Speed Queen. I'm happy to share and introduce good brands here on my blog that have a great reputation and product line, so that's why I'm sharing today and hopefully this will help others who are shopping for a new washer and dryer.
This is a sponsored conversation written by me on behalf of Speed QueenSpeed Queen. The opinions and text are all mine.
Don't Miss a Post, join my list!