Lauren asked me if I'd like to share her bedskirt tutorial that she recently did in her guestroom and of course, I wanted to share with all of you.  Lauren has an embroidery machine and does some incredible monograms and stitching on lots of fabric items and she is getting really good at all of that.  Domestic goddess, she is!  So, I wasn't surprised that she came up with a plan to make a bedskirt using velcro to attach it to the two twin beds in her guestroom.
Welcome my brilliant and beautiful niece, Lauren.  We adore this girl.  She passed the Louisiana bar exam last year and has been looking for a law job to use her smarts.  She just landed a job within walking distance of their New Orleans loft apartment and we are all so happy for and proud of  her.
This isn't her first job as an attorney.  She graduated from Georgia Law School, passed the bar here and then landed her first job here in Marietta, working for a few years before she moved to Louisiana and got engaged and married last year.  Then she had to pass the bar in LA, in order to work as a lawyer down there, so she has been a busy girl the last couple of years.
Take it away, Lauren!
This is what it looked like before – pretty ugly.  But organized at least.
I started by cutting my fabric for the long sides of the bed.  My clearance was 9″, so I cut an 11″ strip to allow for hems.  The long sides of the bed required two strips per side.
Then I sewed the two strips together.  I did not worry about matching up the pattern because I was putting a box pleat here and I didn't think it would matter (which it didn't).  If you are a stickler for that type of thing, make sure to cut your fabric in the right spot so that your two strips will match up.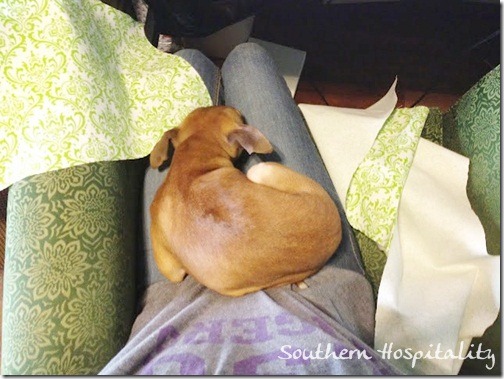 Fortunately, I had an assistant.
Take the fabric to the ironing board and iron down the hems.  It is a very long piece of fabric since you have sewed two lengths together.  You could pre-cut your fabric at this time to fit the length of your bed, and then you won't have to iron and sew so much of it.  I am not that confident in my abilities, and I wanted to ensure that my box pleat was in the center (more on that soon), so I waited and cut my fabric to fit later.
I folded it down 1/2″, ironed it, and then folded it down again another 1/2″ and ironed it again.  Do this for the top and bottom.
My assistant helped me with the ironing as well.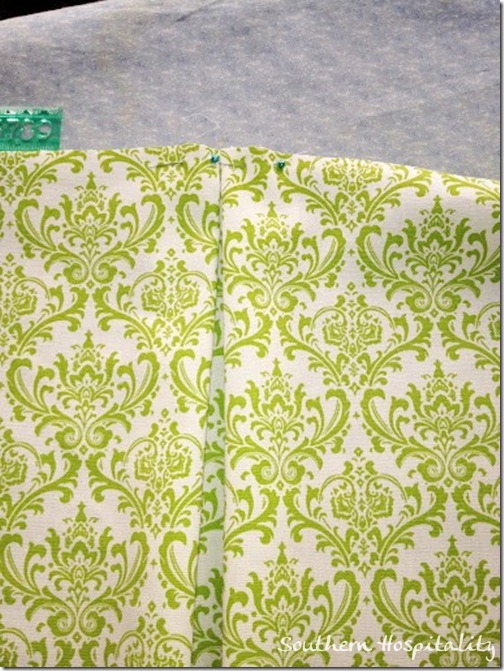 After you have ironed in your hems on the top and bottom, pin in a box pleat in the middle of your length of fabric (if you want to include a pleat).  This makes it slightly fancier, and it also hides the seam from sewing the two strips of fabric together.
This is what a box pleat looks like.  I did an inch on each side.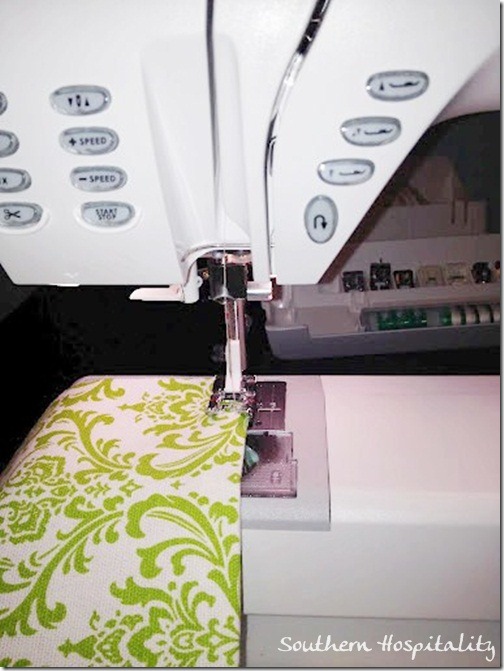 Then sew in the top and bottom hems that you have already ironed.  Sew right over the box pleat (on the top ONLY) and that will keep it place.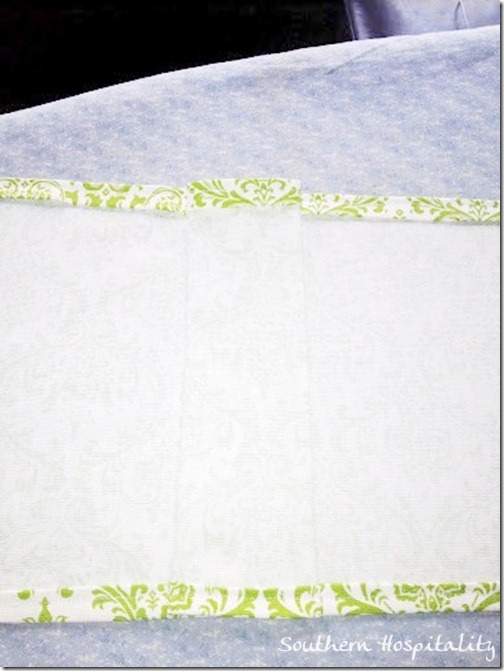 This is what the back of the box pleat will look like after you have sewn your hems down.  It's hard to tell from the picture, but the top is sewed and the bottom is loose.  Iron over the whole pleat, and that will keep it sharp and in place.
Then, measure your fabric to the correct length of your bed, making sure to measure with the box pleat in the middle.  (I just held it up to the bed and put a mark at each end so I would know where to cut).  Cut off however much fabric you need to from each end, leaving an extra inch for hems on each side.  Then, sew in a hem on each side.
The back looks like this when you're done.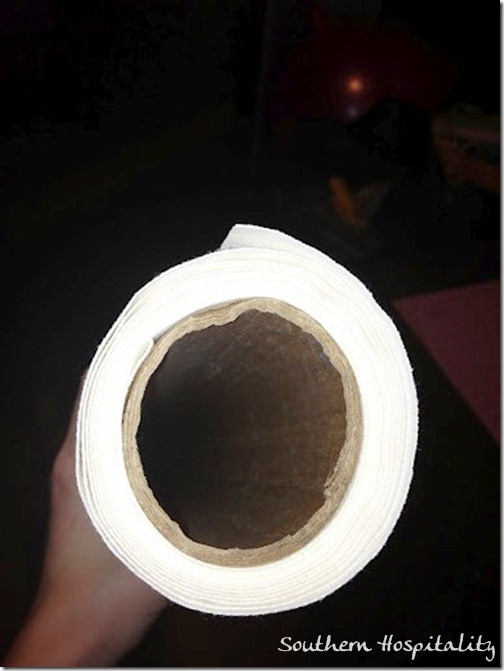 Hopefully, you originally measured better than I did when purchasing your fabric, otherwise you have this much left when you are finished.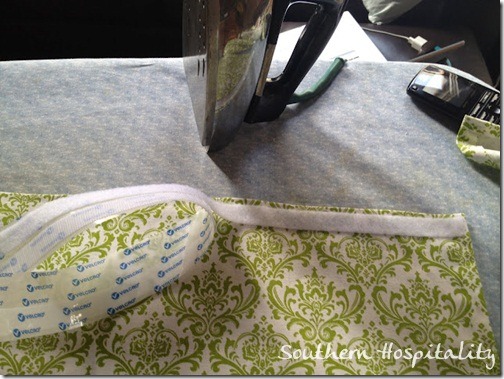 Put sticky velcro on the top of the dust ruffle on the pretty side of the fabric (not the back of it).
Stick the other side of the velcro to the inside of your bed frame, and then attach the dust ruffle to it.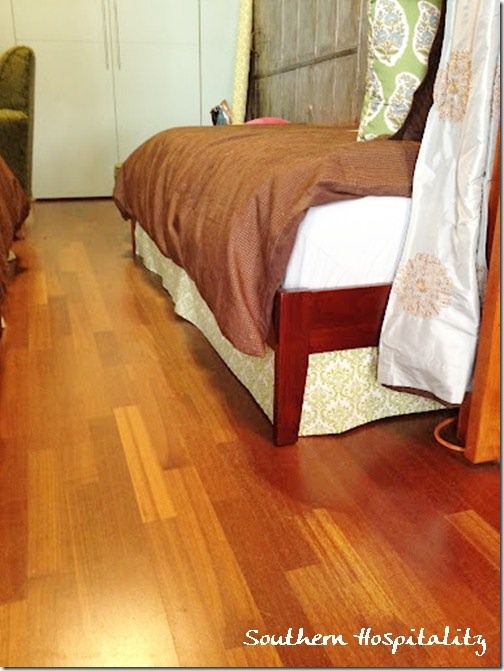 Here is the finished project!  I did not put a pleat in on the short sides of the bed.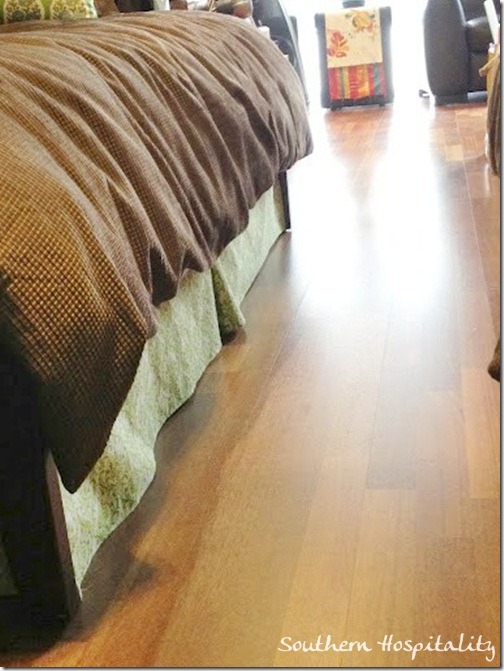 The finished bedskirt!
Thanks, Lauren, for taking pics and sharing your fun DIY project with everyone.  I know they will love it. 
The giveaway winners for the UPrinting canvas prints giveaway are posted here!  Winners have been emailed.
Don't Miss a Post, join my list!