When we were driving down to New Orleans, I was looking through the new Southern Living magazine and lo and behold it was full of pound cake recipes.  What Southern girl worth her salt doesn't LOVE pound cake?!
I do, I do!
We grew up on rich, buttery pound cake.  I was just over in Atlanta again with my family and look what I spied as soon as I came in the door to my parent's house.
Anything under a silver dome this pretty and vintage has to be delectable, huh?
Yep, it is!  As good as it looks.  The glaze is very lemony and it's a delish cake.  Right out of  Southern Living. 
She says she is going to try some of the others too.  I told her when I move back in with them that I just can't be eating cake ALL the time.  She promised some low-fat desserts too.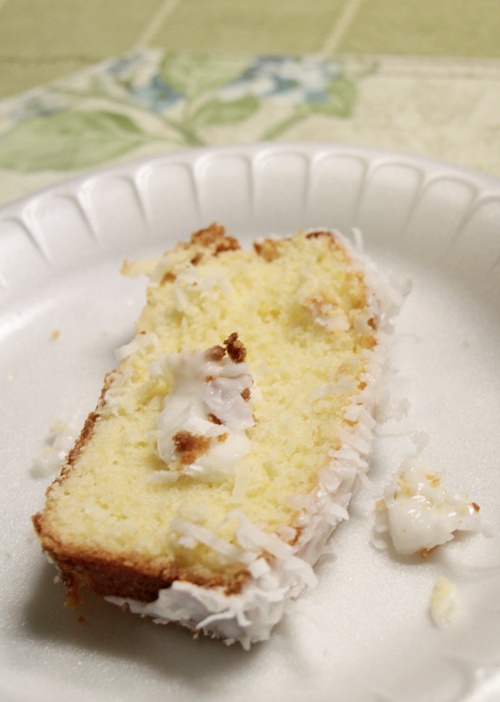 OK, I can live with that. 🙂
Just in case you'd like to try this one, here's the recipe right out of Southern Living:
Lemon-Coconut Pound Cake Loaf
1/2 cup butter, softened
1 1/3 cups granulated sugar
3 large eggs
1 1/2 cups all-purpose flour
1/2 tsp. salt
1/8 tsp. baking soda
1/2 cup sour cream
2 tsp. lemon zest
1 cup sweetened flake coconut, divided
Lemon Glaze
Whisk together 2 cups powdered sugar, 2 Tbsp. milk, and 2 tsp. fresh lemon juice, adding an additional 1 Tbsp. milk, 1 tsp. at a time for desired consistency.
Preheat oven to 325*.  Beat butter at medium speed with a heavy-duty electric stand mixer until creamy.   Gradually add sugar, beating until light & fluffy.  Add eggs, one at a time, beating until just blended after each addition.
Stir together flour, salt, and baking soda.  Add to butter mixture alternately with sour cream, beginning & ending with flour mixture.  Beat at low speed just until blended after each addition.  Stir in lemon zest & 1/2 cup coconut.  Pour batter into a greased & floured 9×5 inch loaf pan.
Bake at 325* for 1 hour and 5 minutes to 1 hour and 10 minutes or until a long wooden pick inserted in center comes out clean.  Cool in pan on a wire rack 10 to 15 minutes; remove from pan to wire rack & cool completely (about 1 hour).
Spoon Lemon Glaze over cake & sprinkle with remaining 1/2 cup coconut.
It's a good one, so I hope you'll try it too.  Loved that lemon glaze!
Don't Miss a Post, join my list!