Going to the fabric stores have always been a great way to be inspired.  In fact, it's downright dangerous.  Whenever I stroll through the aisles of a wonderful fabric store like Lewis and Sheron fabrics here in Atlanta, I want to chuck all my fabrics and start over.  Oh, those lovely and colorful prints and solids draw me in and beg me to take them home.  I'm not ready to do anything right now, but these beautiful bolts grab me every single time.
My mother used to drag us in the fabric stores when we were young and then, I didn't think it was all that much fun, but I later came to love seeing those bolts of fabrics and all the possibilities that came from them:  a new dress, skirt, drapery panels, or pillows, oh the endless inspiration that fabric on the bolt held for me.
If you are looking for a jumpstart for a decorating project, hit your local fabric store and see if something speaks to you.  These sure were speaking to me. Lewis and Sheron has been a staple for Atlanta's fabric choices and I wanted to show you firsthand where I've been shopping for years.  This is one of two fabric stores off Howell Mill Road.  Forsyth Fabrics is the other one and they both have a ton of choices.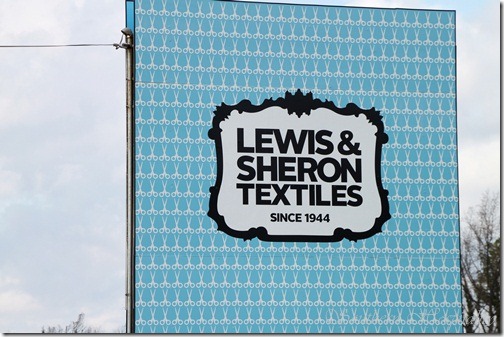 We'll stop in Lewis and Sheron first and maybe another time, I'll show off the other one.
Just inside the front door, this wall of beautiful fabrics was waiting.
Bolts and bolts of beautiful fabrics.  Their prices are not outrageous either.  Many affordable fabrics.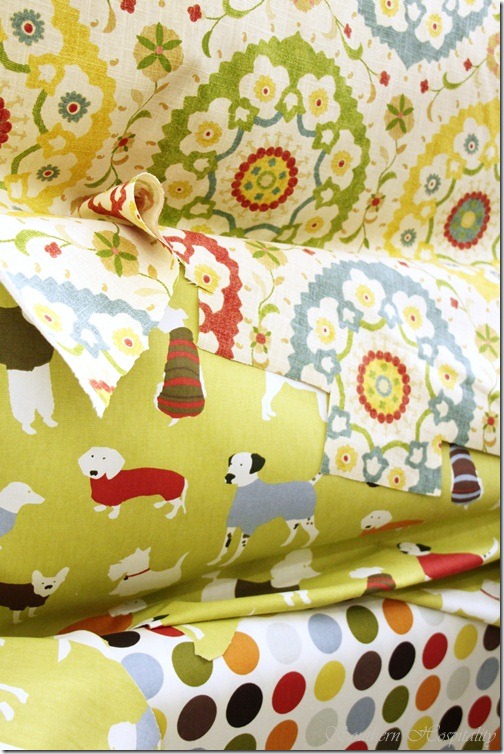 I love how they group coordinating fabrics like this happy combo.  Dog lovers will enjoy that one!
Row after row, aisle after aisle of gorgeousness.
Soft and serene neutral beauties.
Here's that row of sea-inspired fabrics I talked about.  Gorgeous, aren't they!?
Lovely and trendy grays are so popular right now.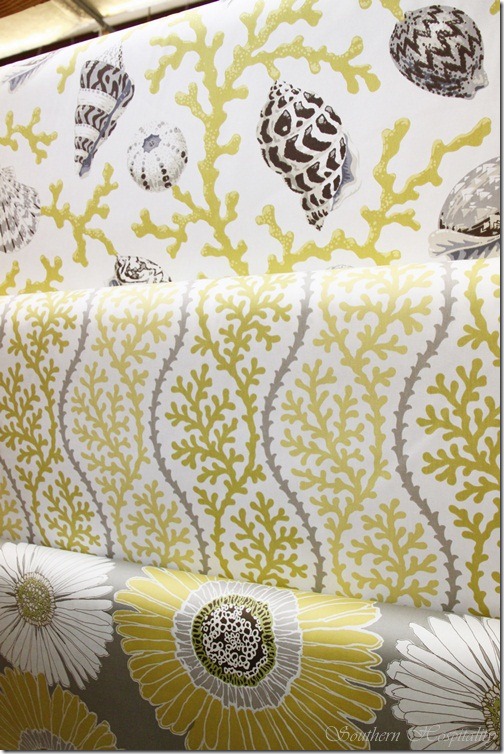 Gray and yellow, a wonderful combo.
More grays to choose from.
Florals and stripes and so many to look at.  You can imagine how overwhelming it might be to choose fabrics in here?  You have to stay focused in a place like this.
Love all of these.
They offer ready made drapery panels too.
Red, white and blue have never looked so yummy.
Amazing selections await.
Greens always draw me in, I love greens.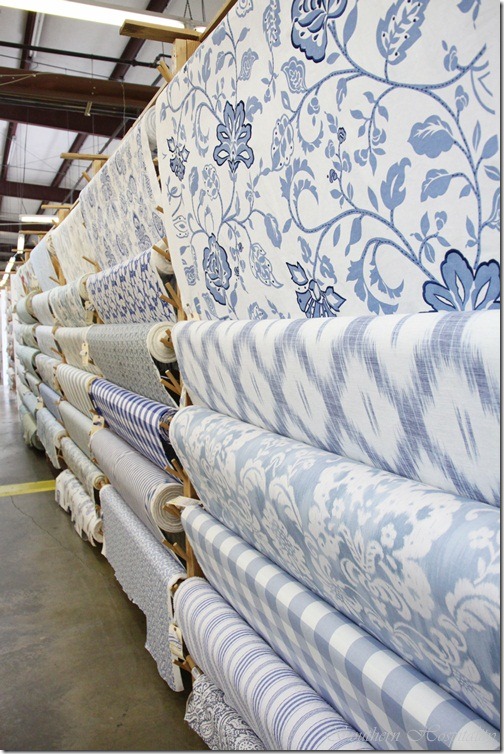 Oh wait, how about blues?  These are so pretty too.
Blues and greens, here you go!
They even have furniture choices and you can have them upholstered in the fabric of your dreams.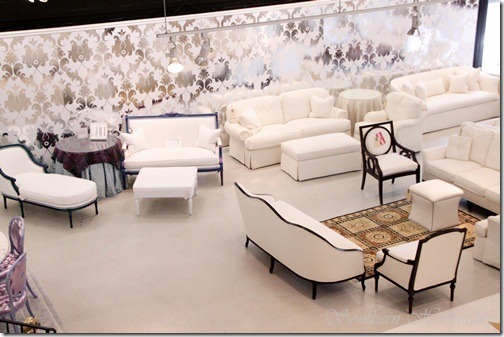 Nice, huh?
Ready made pillows too.
As well as a huge room of nothing but trims.
Any trim and tassles you can imagine is here.
Look through that doorway there.  It is called Staceage and I'm not sure of it's origin, but it looks like a retro place with color power that will knock you out with eye candy.
See!!  Look at the chairs and fabric combos.  It's an explosion of color and pattern.  Just like the 60's and 70's.
It makes you smile just to walk around in here.  A glam bed.
This vintage style chair was covered in snazzy green fabrics.   It's tons of fun!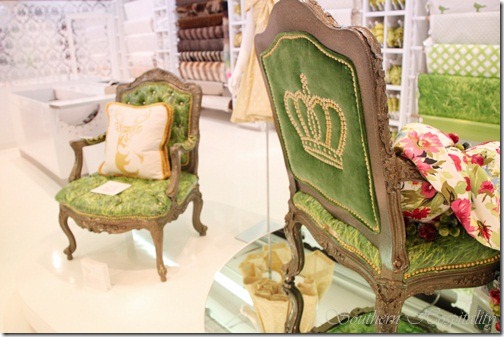 Look at the back with that yummy crown.  What a statement piece this chair is.  It was so fun to walk around in this room. I was just amazed at all the bright fabrics and the way the furniture was painted and displayed.
Yum, I love these colors.
Look at this stool, the gold is glittered.
And this sofa, so fun and funky.
This pearlized blue chair was funky too, love the look.  This is a fun way to update old and vintage pieces.  They take painted furniture to another level.
Like this settee.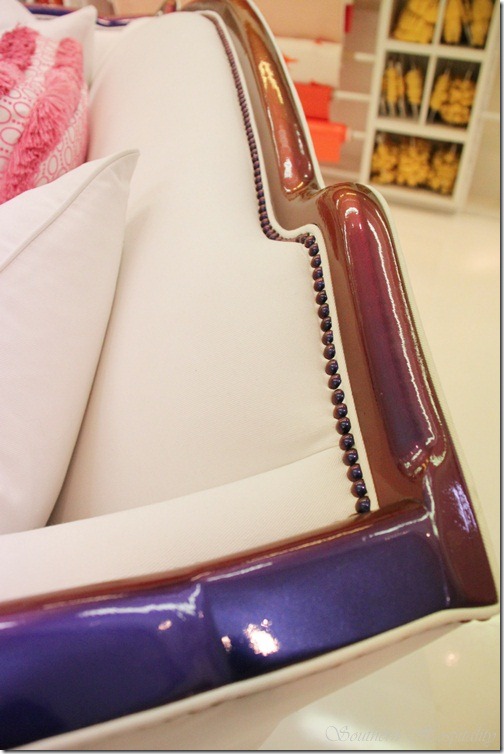 It was painted in a glossy two toned paint finish, not blue or purple, but both.  Notice the nailheads.
How about this bright and vibrantly painted chaise lounge.
Here's something I have never seen before. Nailheads in all sorts of colors.  $100 for 250 of them.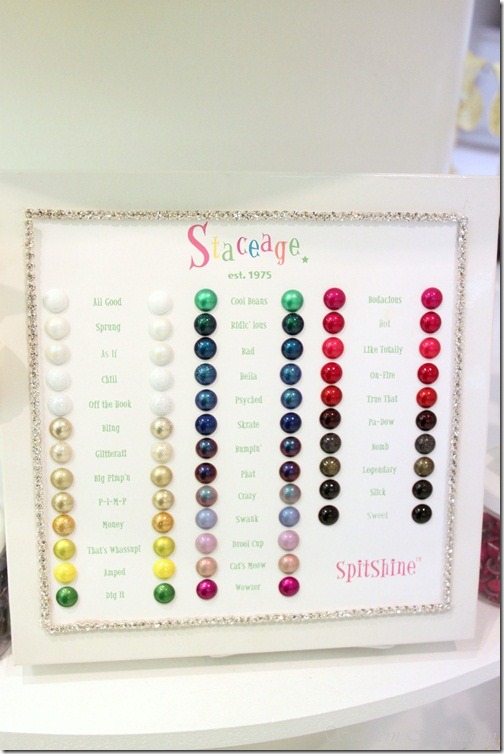 Could you have some fun with all of these colors?
Check out this drapey chair.
So many possibilities.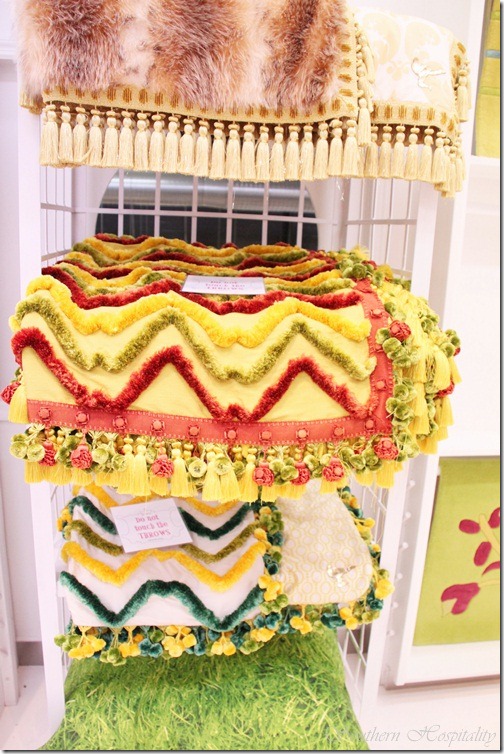 Throws embellished with trim.
This pink chair was so happy, with the throw draped across.
I knew you would love seeing Lewis and Sheron.  They are a wonderful fabric store and we are so lucky to have them here in Atlanta.  I have been visiting here for years and I'm sure I'll be back there again once I get another house. Oh, won't that be fun?!
Do you love fabric browsing too and how are the fabric stores in your area?  We are SO fortunate to have some wonderful fabric shopping in Atlanta.
I'd love for you all to join me on my Facebook page!  I'm getting more active over there on a daily basis and you never know what will show up, from project updates, to talking about day to day topics, and even sharing my new glasses I just got.  Go on, you know you want to see those!  So this is a great way to share inspiration, ask questions, and get feedback from lots of others too.  So, come on over and join me, won't you?  I'd love for all of you to get involved too and show pics of rooms or decorating projects you might have questions with.  There are plenty of girls who would love to chime in on that too and you'll get lots of ideas.   You can always click over from that Southern Hospitality Facebook badge as well and it will take you over there.
Don't Miss a Post, join my list!