Those folks at Pantone have declared their new color of the year to be Tangerine Tango.  The last post I did about this was back in 2010, when turquoise was given the spotlight by Pantone and became the "it" color. And boy, did we go for turquoise in a big way.
From Pantone:  Tangerine Tango, a spirited reddish orange, continues to provide the energy boost we need to recharge and move forward.
OK, then….I'm all for that. Anything that can help recharge and move forward, I'm all for.
So, who of you can get behind Tangerine? OK, I'll say it.  I'm not a big fan of orange or tangerine.  That has never been a fave color for me to decorate with, so I think I'll pass.  I do think it's an interesting color and certainly, in small doses it is not so bad.  I rounded up a few pics to show off tangerine and to see what you all think about it!
Here's Tangerine Tango in full glory, all vivid and bright.  It's really a happy color and even though orangey tones are not my fave, I can definitely see using this as a pop of color.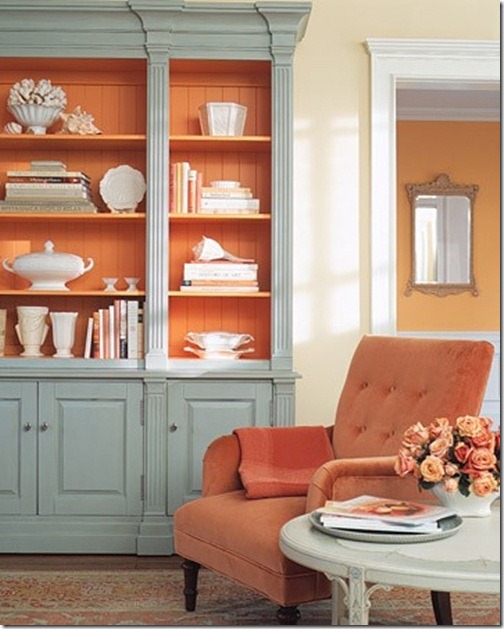 Now, I will admit that this pic of a muted corally orange mixed with the soft aqua blue is very pretty.  I sourced this pic on Pinterest and I think it came from Better Homes and Gardens, but not all pics over there are pinned properly.  I have not done a post yet on Pinterest, but I will soon!
Tangerine on fingernails, now that's a big yes for me.  In a minute!  Essie's Tangerine
Now this pic really is yummy and shows just how well that pretty aqua and orange play together.  Isn't this a beautiful way to show how colors work together?  I found this site on Pinterest and it has some great visuals.
In the kitchen, an orange mixer could be just the pop of color you need on the countertop.
This room from Coco and Kelley shows a bold move of orange and blue mixed together.  Those 2 are made for each other.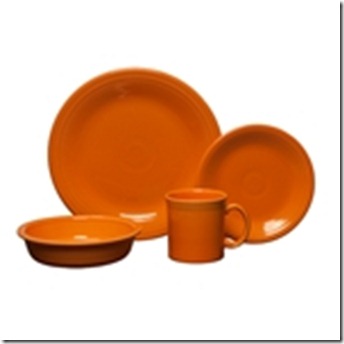 Fiestaware has a new color out called Tangerine too.   Those could also make a big statement in the kitchen.
(ebay)
A sweater in this coral orange color could be a fun pick-me-up for Winter months.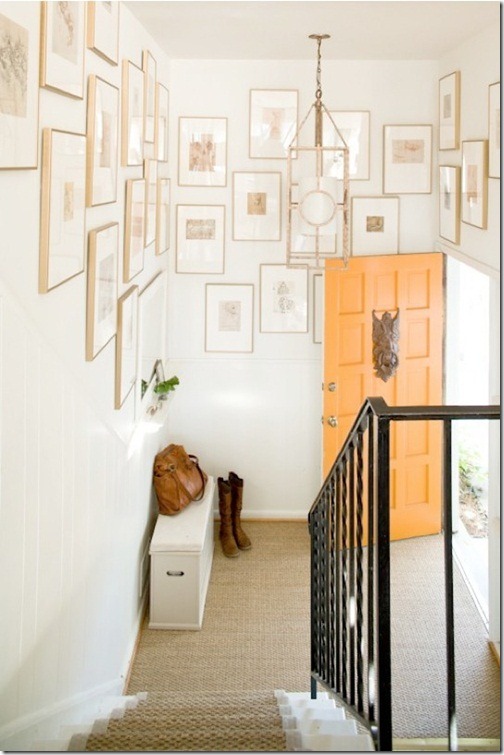 Lauren from Pure Style Home chose a pretty orange/tangerine hue for her front door and it's positively beautiful.
This chair is stately, masculine and so pretty with the turned feet and nailhead trim and yes even in orange.
My friend, Roeshel, at DIY Showoff, did a guestroom makeover on a budget using these orangey wingback chairs and I do love how her room turned out.  See how well they pair with the blue in the room?  It's a very soothing room.
(Target)
Now this chair, I could go for!  Beautiful bird print in bold tangerine would really wake up a room.
Bedding in orange is also a bold move.  Mixed with gray or blue, orange is a really good choice.  But, if just depends on if you like the color or not.
So, do you or don't you?? 
Me, not so much.  I can pick a lot of colors I like a LOT more than Tangerine Tango. It's not likely that this hue will be in my top picks for decorating a room around.
How about you?
Could you do a pop of this color or not?  Can you see adding Tangerine to your decor at all this year?
For more paint color inspiration, I have been meaning to tell you about Kristen, from Favorite Paint colors. Her blog is all about the best paint colors from around the blogosphere, so if you want to find a great shade, take a look at her categories, all divided by color.  You'll enjoy browsing!
Don't Miss a Post, join my list!