How do you enjoy your outdoor living spaces and what can you add to make it even cozier?  It's been so nice to have a new patio in the backyard and that ugly space that I had was really transformed with the addition of this paver patio, that connects my back door to the screened porch.  Now it's one nice big space with a beautiful sofa and chairs.  I haven't had major parties out here yet, but we have enjoyed sitting out there in the late afternoon when the sun goes behind the house after 4 pm.  The weather is still majorly hot here in Atlanta, so it's not a space I sit in during the day, but in the evening hours as the sun is going down, it's ideal.  I haven't added an umbrella yet, but that's on my list and I think that may happen soon.
Balsam Hill reached out to me about collaborating with them on their Light up the Night blogger event.  They sell Christmas trees, but also some other home decor items, including fire pits, and they sent me a beautiful black and copper fire pit for my backyard patio.  They also carry some pretty battery lit faux boxwood topiaries in urns that are perfect for adding ambience in your outdoor spaces. They are not completely weatherproof, so you'd want to bring them in when not in use, but they sure do look pretty out there.
Let's take a look at my patio now!
You can see how pretty this Balsam Hill fire pit is with its black metal base and spark guard dome to keep the sparks from flying.  The copper basin is really a nice patina to mix with the other patio pieces.  The top has a big handle that opens up for easily adding firewood.  You can get the spark guard and a nice cover for it as well, to protect it from weather.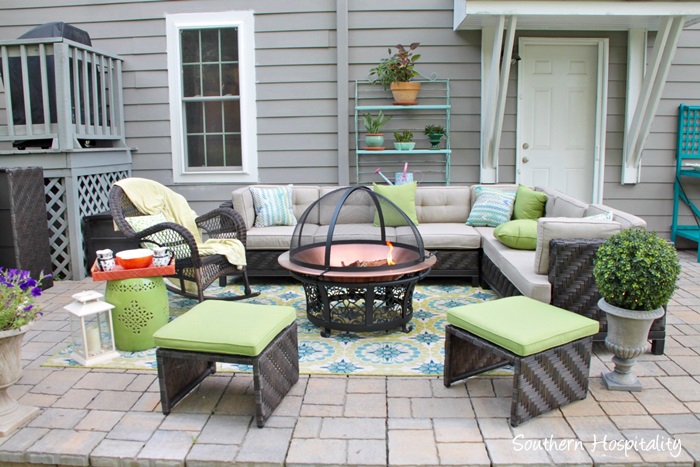 It's not quite the right time of year yet to enjoy a roaring fire, but I got a little one started to look ahead to Fall and all that it brings.
I can imagine how cozy it's going to be sitting out here in late September and into the Fall/Winter months with a roaring fire throwing off some heat.
Enjoying this space is at the top of my list and I really think Spring and Fall will be my most favorite times on the patio.
You can see the boxwood topiary in a pretty gray urn adds a nice element to the patio as well, and it lights up at night.  You can barely see the lights in these pics, but they are on.
This sofa (from AE Outdoors) is a great place to take a nap and I plan on doing that more often. This is my first full  year of having the patio all finished and I keep adding things to make it even more enjoyable and useful.
Adding a paver patio last year was one of the best things I did for my house and I am still so happy I did it.
Having a fire pit to enjoy will just be icing on the cake out here.
Imagine a roaring fire, with hot chocolate and some marshmallows to roast?
Takes me back to childhood.
This is a nice big patio, so houses my planters and a potting bench and extra chairs.
I decorated the bakers rack with a few of my inside plants to add to the ambience.
I love my little vintage planters.
It's always hard to keep these planters alive, but we are getting quite a few afternoon showers these days. I hope it continues through August, which is always our hottest month.
Looking ahead to Fall and some cooler temps that will really make me appreciate the fire pit even more.
I can see some lazy afternoons and evenings spent out here, with a fire and beverage, enjoying the outdoors and relaxing.
Thanks so much for stopping by and seeing how I'm Lighting up the Night!  I'm joining several other bloggers this week and would love for you to stop by and see how they got creative with their outdoor pieces too.  This time of year is made for outdoor living!
Balsam Hill is offering a discount right now, so use BHSUMMERSHB30 for $30 off any purchase over $299 that you make with Balsam Hill July 21st through Aug 28th, 2016. *One-time use per customer, cannot be used with another coupon.
Note:  This post sponsored by Balsam Hill as part of their Light up the Night campaign.  
Don't Miss a Post, join my list!