I've talked about the Lovelady Center before, but just to recap, this center was started about 5 years ago by a woman here in Birmingham who felt a call to help women, some who are coming out of prison (many drug addicts, homeless women and even domestic abuse cases)  get their lives back together.  It all started in her home and then moved to this old hospital in the East Lake section of Birmingham, where it is today.  It's been a tremendous success, as many of the women who have graduated have stayed on at the center as part of the staff who help run the place now.
So, over the past couple of years since I heard about the Lovelady Center, I have volunteered a small part to do what I could do down there to help these ladies.  My church has really gotten involved at the center too, with many small groups doing Bible studies, leading services on Sunday nights, and working with the children that are there with their moms.  It's a big place with over 300 women and around 100 children, so you can imagine the needs.  I've helped out in a few areas, along with some of my friends, like teaching some life skill classes, serving at the Christmas party and Mother's Day dinners and then heard about their need for redoing some of the rooms in this old hospital that houses the women.  I figured I could definitely help out by doing a room.
These are 3 of my small group girls who helped out on Day 2:  me, Melissa, Elaine, Janice.  Thank you girls SO much, I could not have done it without you!
And Day 1:  Lindsey Ann and Elaine painting
My small group of girls from church spent 2 entire days redoing the Lovelady room.  Doing a project like this is never easy. There's so much to do to get it finished and looking the way you envision it to look and I have to say, it totally met my expectations of what I had in my head as I was putting this together.  There were several of us working on it and without them, I couldn't have gotten it all done.  They all helped out, painting and prepping and putting the time they could into getting it done.  And we did it! I'll show you the BEFORE pics first, so you can appreciate the AFTERs even more:
Bed and furniture all crammed up in this corner, not a good way to utilize the space.  Got to get rid of those pink mini-blinds.
This gives a good idea of how small the rooms are.  This is an old hospital which now houses women and children at the Lovelady Center, so these were old patient rooms, which are about the same size as the old dorm rooms you remember from college.  Remember those beautiful rooms?  Yeah, me too.  🙂  Dark, not inspiring, donated furniture, nothing special at all.  In need of some help.
I took these Before pics at two different times.  Caught one of the girls still in bed.  You can see that this bunkbead was pretty pathetic and I do believe it was actually built in the room, since the girls said they had tried to move it out the door at one time and it wouldn't fit.  It's just raw lumber nailed together and is 2 different shades of blah.  UGLY, to the hilt!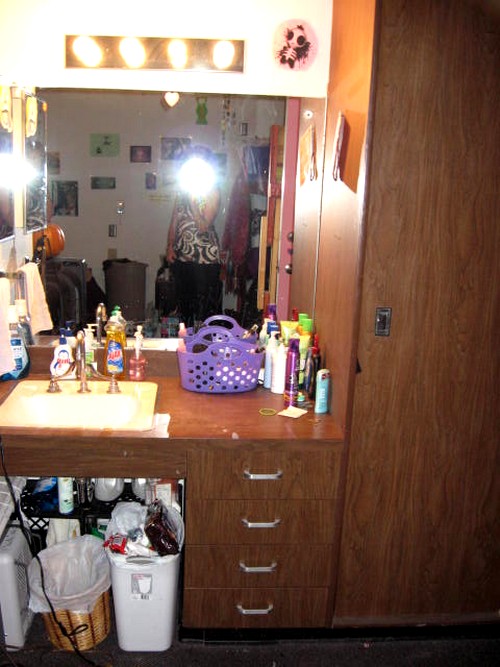 Small sink and vanity area that they share. You can see this is a small room and they put stuff in every nook and cranny. Sliding closet doors to the right.
Another look at the lovely bunkbed.
So, you get the picture of how bad this room needs a makeover, right?
We worked 2 whole days getting it whipped into shape. The first day we painted walls and furniture.  We decided that most of this furniture could be improved with a coat of paint, the bunkbed included and it was true.  A coat of paint makes anything look better.
Are you ready to see the finale!  Let me tell you a bit about the cost on this too.  The girls all chipped in and we ended up with about $165 to spend, so I went yardsaling for about 6 weeks to collect everything.  And how fun it was to see it all come together and we got most everything we needed for the amount of money we had to spend. 
Looking in from the doorway.  There's a completely different feel to the room already, just by moving the furniture around.  Instead of sitting under the window, the head of the full bed is on the left wall, really opening up the space so much more.  That's a small fridge sitting on a nightstand that we painted white to the right in this pic.
On top of the fridge, we added a lamp and 2 shell prints.
Here's the vanity area, all cleaned up, which I'm sure won't stay this straight after they get back in there.
On the left coming in the door are the bunkbeds.  You can see how much better they look with a coat of paint.  The paint didn't cost us anything either, since I used all left over paint that was in my garage. This bedding is one of the only things I bought brand new. 
Found these twin comforter sets (with shams) for $26 each on deep clearance from Bed Bath & Beyond.  That really helped out the budget too and the pretty patchwork fabric set the tone for the rest of the room, colorwise.
Between the two beds, we moved this large dresser which had been shoved in the far corner and was dark brown.  Just painting this piece so much improved it too.  We felt like we were on one of those decorating shows and getting everything done in 2 days is not easy.  This yardsale print of boats and water above the dresser also set the tone, so I decided to make it just a little bit of a beachy feel in here and I loved all the colors in this $5 print.   The lamp to the left was a yardsale find for $5 and came from Pier One originally.
Closeup of the dresser accessories.  All of this was found at yardsales.  We did go to Walmart on our 2nd day to pick up a couple more things to finish the room and spent about $10 more, like these pretty coral placemats that we used as a runner on the dresser and nightstands.   At $1.00 each, they made a big punch of color to further spread the coral red around the room that I had planned. That little box in the middle is a jewelry box and had been hand painted by someone.  $1 yardsale find!  I was originally going to hang this shelf, but there really wasn't a good spot for it and it would have been hard to find hangers to make it work, so we sat it on the dresser and loved how it looks.
In the bathroom, we added this shower curtain that I found for $4.50 and we did buy the rug new for $5 from Walmart.  Just this little bit added so much to the tiled bathroom too.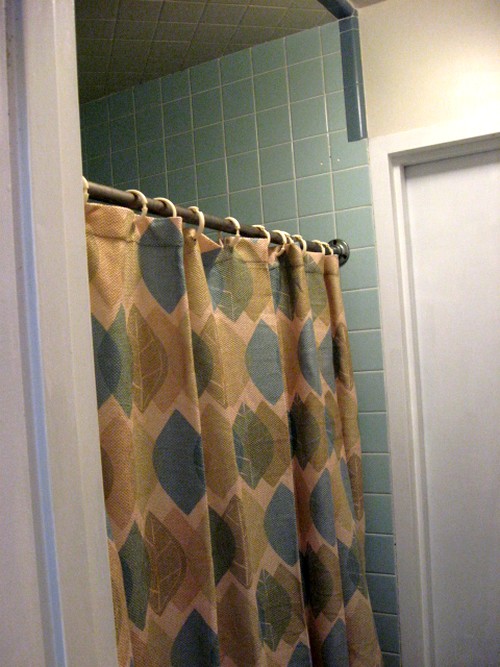 And how amazing that it went so great with the existing tile.
I painted that clock red and added the panels to the sides of the windows.  If you look back at the Before pics, you can see that I did manage to take down the ugly PINK mini-blinds and at least switched them out to some nice new white ones. SO much better!
These checked yellow and white tab-topped panels added a lot to the windows.  We really had to rethink how to hang everything in this room when we found out the walls are concrete. I bought a masonry bit, but still could not drill into those walls.  So, we went to Plan B and bought Command hooks and hope that they stay up.  I had a curtain rod for these panels, but couldn't get it up, so these are up with clear Command hooks too.
The right corner right outside the bathroom is where I put the $5 yardsale bookcase I painted.  This will give them some much needed extra storage.  I donated the black wicker chair.
Along with a $5 cute, cute corkboard that is perfect for the room too.  This originally came from Homegoods, sticker still on the back and will be a good spot for them to personalize and hang up their own photos. The red box was 25 cents at a yardsale and I painted it red and hot glued on the shell.  The other shells were yardsale finds.
A few new towels and accessories add to the bookcase.
Full sized bed with pillows, all from yardsales. The pretty cream chenille spread and shams were $8 from the yardsale.
I did almost have a meltdown on the 2nd morning, when I realized that the wall painting we had done the day before was not looking good.  The problem was, I mixed 2 colors of paint in our paint trays, 1/2 green and 1/2 creamy white to make a lighter green for the walls and I mixed up at least a gallon which I thought would be plenty for this room.  It was looking so good and then we ran out of paint (those walls sucked up the paint, a gallon should have been plenty). So, I had to remix more of the paint and of course you can't get it exact when you are mixing like this and when I went back over the walls to touch up and go over those last spots, it didn't all blend in and there were roller laps everywhere a shade lighter.  I was so bummed about that, but we jumped in and took some of the cream paint with a wet rag and sort of did a little faux finish on the spots that were really bad.  It helped some, but you can see some of the roller marks if you look closely.  So, I'm confessing my faux pas and calling it a faux finish now! Never mix paint yourself unless you mix up PLENTY to do the project.  Lesson learned!  But really, after everything was put into place, the walls are just a backdrop and you don't even notice the paint. 
I loved how cute these pillows all looked together and what a perfect sentiment for them. All these are yardsale pillows, all 3 for less than $3.
Nightstand to the right of the bed, again we painted this white from the dark brown it was originally.  There's that cute lamp I painted!  
Bunny and lamp from yardsales and the real plant was already here.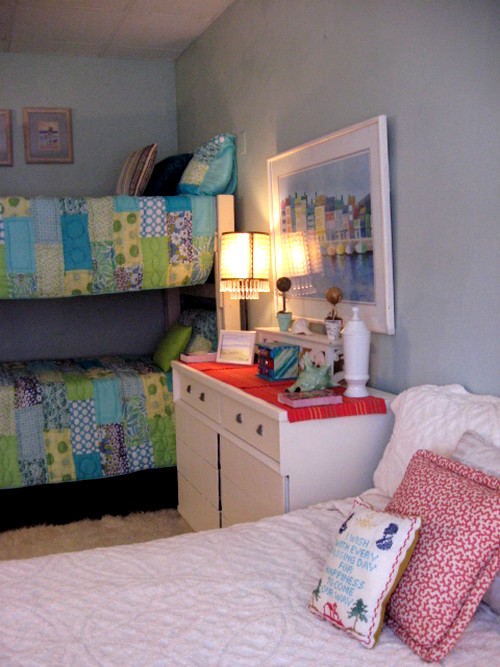 Looking back to the bunkbed. I didn't take closeups of everything on the dresser, but if you look close, you can see a book on either side of the dresser. Those are 2 devotional books I found yardsaling for 25 cents each, so they can each have their own.  That aqua shell was a yardsale find too, as was everything on that dresser.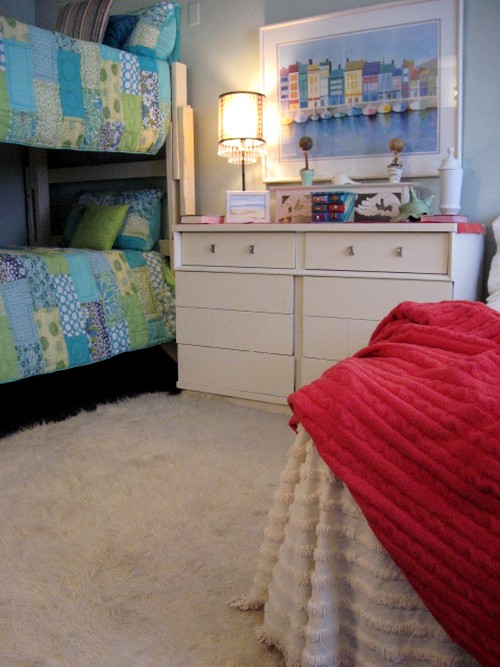 This white shaggy $10 yardsale rug really adds a lot of warmth to the room too. That coral throw on the end of the bed was $4 (brand new!) at a yardsale and that's what gave me the idea to add this color in here and we loved how it looked.
And that's the entire room makeover. I sure hope you enjoyed seeing it all after I built it up so much! 🙂  I really am proud of the outcome.
We really had a great time doing this, but I'm glad it's behind us. It was a LOT of work, but really rewarding too.  The 2 girls who live in this room were at work when we finished up, so we didn't get to surprise them and see their reaction.  I hope to stop back by there next time I'm at the Lovelady Center to see what they thought.
It was a blessing for all of us to be a part of this too and we just wanted to make this room nice for those girls.  I think we did it!
******************************************
The 52 Loaves book winners are:

Michelle and Lee Ann L.
I've already emailed them to tell them they are winners! Thanks to all of you for signing up for the book.

Don't Miss a Post, join my list!