If you've never been to St. George Island, you're in for a treat with this post. It truly is more like Old Florida used to be on the Gulf.  Sitting on the Gulf of Mexico and surrounded by Apalachicola Bay, there are unspoiled beaches, with large and small beach cottages, but no high rises to be seen.  Now I do have to say that the sand is not quite as white and sugary as the sands of Destin and Panama City, but the crowds are lesser too, which is very appealing.  There's a lot to love about St. George Island, especially if you want to get away from the hustle and bustle of the city. That's something that is very appealing to us here in Atlanta with the mess of construction that is constantly happening around here.
For a fun getaway and truly leaving the city life behind, St. George Island is a treasure.  To get to the island, you have to cross over a causeway from Apalachicola and over a long bridge that connects the island to the mainland.  It's about 15 minutes from Apalachicola.  It's a long and skinny barrier island at 28 miles long by 1 mile wide.  You can read lots more about St. George Island on their visitor's site for more information.   There are lots of wild life to see on the island, from sea gulls, to sea turtles and pelicans and lots of little crabs scurrying about.  We saw pelicans every day diving into the ocean for fish and there were many sea turtle nests that were roped off on the beach for protection.
This was my 2nd time on the island, the first one being 5 years ago when I was visiting Port St. Joe with my friend, Vicki, whose family has a house there. We drove over to Apalachicola and St. George Island just to take a peek at these lovely Florida coastal towns and I blogged about that trip here.  It was fun to go back and look at that post to see what I saw then compared to this visit.  I saw lots of new things this time!
This shot is leaving Appalachicola in the morning heading over to St. George.  Those clouds! Aren't they pretty?
The long bridge across to St. George Island.  It really makes you feel like you are away from everything.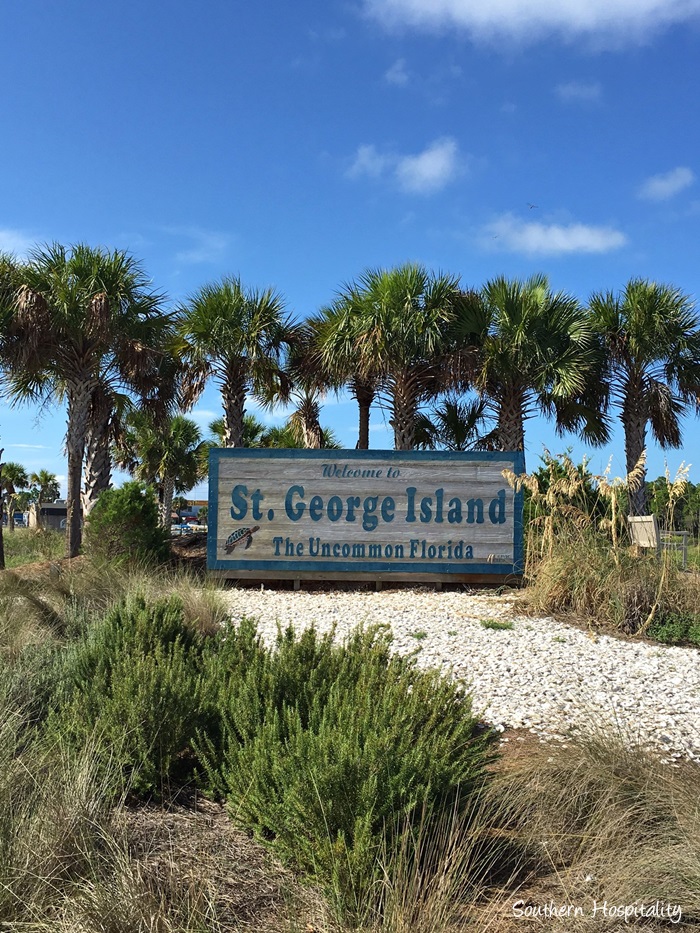 Coming into St. George, this sign awaits.  Truly does feel like the Uncommon Florida.
When I arrived there were many storm clouds blowing through and it had been raining for the past couple of days.  I'm happy to say the sun came out after I got there and the rest of the trip had lots of sunshine with more showers coming through late afternoon.
The cloud formations were really interesting and we sat on the beach during the days and listened to the waves and watched the clouds.
Mark's entire extended family were there, including his parents, 2 sisters and most of their families, plus 3 of his 4 daughters.   He has 2 grandsons and they had a blast playing in the sand and waves.  It was really fun to spend time with them all at the beach.  I think when he counted them all up, there were about 25 in all.  I didn't invade their privacy by showing pics of the tents all set up, but you can imagine it was quite a crowd.  They know I'm a blogger, but I'm not sure they get what that all means, but his younger sister (I think she and I are about the same age) asked me if they were going to be on the blog.  I laughed and told her maybe sometime they would be on the blog.  When I said, do you want to be on the blog, she said they were fine with it.
They go out early in the morning and set up beach tents so that everyone can have shade to sit under.  I like the sun, but can't take it all day long, so having that shade to sit under was wonderful.  There was a steady ocean breeze the whole time and it was never very hot on the beach.
This is the beach house that Mark's family stayed in and there were 3 other houses that the rest of the group stayed in.  One was next door, one across the street, and one down the street.  It was a big group and they all love being together. As I mentioned, they've been coming here for about 10 years, renting houses for a week. I always thought that would be fun to do with a big family.
We did a lot of this during the 3 days I was there.  Not a very flattering pic, but I think it's cute and indicative of our time there.  This was the first day when it was still cloudy, so we took chairs out and just sat and relaxed.  As long as I have a book to read, I am happy as a clam sitting on the beach and napping comes easy when there is a breeze blowing.  Mark hates to have his picture taken, so I have to sneak them in when I can.
Here's a shot of some of those stormy clouds blowing through.  Luckily, after that first afternoon of clouds and rain, the sun came out late afternoon and the rest of the time was great with lots of sunshine.  There were a few more storms that came through at night, but every morning the sun was out.
There were seagulls everywhere.  The sound of seagulls takes me right back to the beach every time and I love to hear their noise.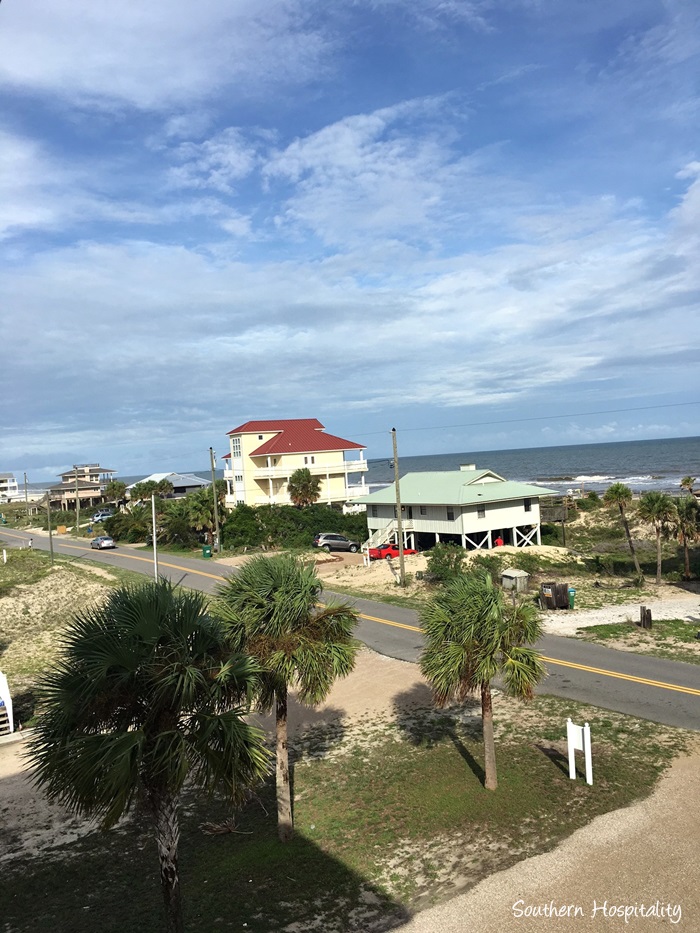 The view from the top of their beach house.  Great views of the water over the other houses.
One of the places they eat on the island is the Blue Parrot.  Of course, there are not many restaurants to choose from, so the Blue Parrot it is.
We went there that first night for fried shrimp and it was really good.  My hair had already gotten wind blown and the rest of the trip I wore it curly, which is really easy in Florida humidity.
The Gulf has the best fresh seafood around.
More beach pictures, when the sun was out and blue skies abound.  I love the sea oats and the natural feel to the beach.  No high rises around here!
The other direction with all the cute beach houses with boardwalks out to the beach.
More views from the top of their beach house.
Directly across the street.
One of our favorite beach houses we saw just down the street.  Looks at that staircase going up to the roof. I can imagine the view from up there!
Unspoiled and beautiful beaches on St. George.
There's a lighthouse on St. George and it makes a nice spot for photos.  It's actually right by the Blue Parrot and one of the first things you see when you enter the island.
The public beach access is right here with a nice wooden boardwalk out to the beach.
Very pretty to look at with the white lighthouse against a beautiful blue sky.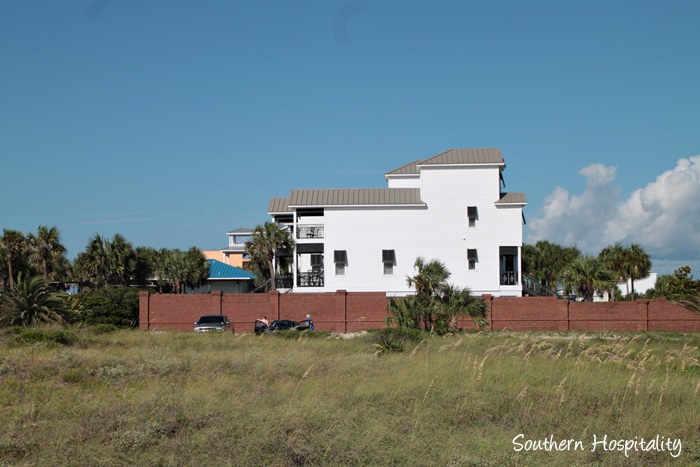 These pretty white beach houses are right next door and I admired them the last time I was here.
This is the same houses looking from the beach side.  They are right next door to the Blue Parrot.  They remind me of New Orleans or Charleston.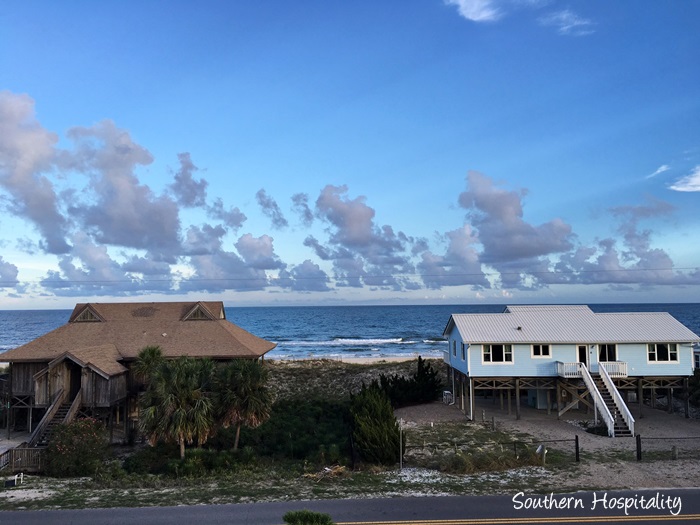 More beautiful clouds as the storms came and went.
It was fascinating watching them change from day to day. Nothing more relaxing than being in a beach town like this.
Have you seen clouds like this before? They were so billowy and puffy with lots of colors.
Another shot of a pretty beach house across the way from their beach house.
If you're in a relaxing mood, St. George is the place.
On the last night here, we walked down to the beach as sunset was closing in. I love this time of night when it's dusky outside and the sky is turning a beautiful shade of blue.
The true sunset is on the bay side of the island, so there's only pretty colors in the light on the beach side.
I captured this shot from their house looking over toward the bay.  Those pink skies were beautiful. Sunset is one of my favorite things to see at night.  God certainly knows how to paint a beautiful canvas!
So, that is a look at the Uncommon Florida of St. George Island.  If you've never heard of this pretty and serene barrier island, maybe take a look at it.  it really is a great place for families to escape for a week to get away from the city and enjoy lots of rest and relaxation.  It doesn't take me long to escape into the beach life. I've always been a beach girl!
I've got one more post to share of Apalachicola and that cute coastal town and I'll be sharing that next!
Don't Miss a Post, join my list!