I'm finished with all the Christmas decorating I'm going to do this year and putting up my tabletop tree in the living room was part of the process.  This poor little tree has seen better days and even though it's a prelit, it's not cooperating anymore, so I think it's going to have to go bye-bye after this season.  I'm not sure any of the prelit strands survived and I had to add more lights and oh, how irritating that is.  To string lights on a prelit tree!
But, it's beautiful now and shining in the living room, so I'm ready to celebrate the season.  My girlfriends party is Friday night and I can't wait for them all to come over and celebrate with me in the new house.  Fun! I will definitely take some pics and share it with y'all.
Check it out!  Coming in my foyer, you can see I've been a little bit busy with a few new things there.  My happy and tropical door is painted Annie Sloan's Florence and I'm really digging it with the turquoise houndstooth rug I found on Joss and Main (I think this is my rug, it's a flat weave wool & was on 1/2 price from Joss and Main that day). 
Sometimes we just need a little color going on.
Big view of the living room from upstairs, I am not doing a big tree, but opted for 3 table top trees and I really like the simplicity.  I may  never do another big tree again!
Coming in the foyer from the front door, the tree is right at the top of the stairs in the window.  Notice my Merry Christmas blocks up top on the mirror.
I love decorating my foyer table for the seasons and this one got it all gussied up as well.  Love the shimmer and glimmer of mercury glass and my growing collection takes up the whole tabletop.  All I did was add a few fresh greens in there for color and texture and a little pine scent.
Nothing prettier than shiny silver reflecting in a mirror with a lit tree in the background.  Ahhh, Christmas, I love it!
Piling pretty ornaments on a silver tray is about as easy as it gets.
One more close up night shot.
The little tree is tucked here by the windows and I used gold, bronze and white this year.  I found that white ceramic planter at a thriftstore this year and put it to use as a tree holder.
I have plenty of ornaments to fill it up with sparkle.
Love how the ornaments play off my Ikat fabric on the windows and I love poking those cascading picks in the top of my tree for some extra pizazz, like the feathers and glittery fronds.
Flying Santa I've had for a few years.
Since I don't have a mantel at the moment to decorate with Christmas cheer, I added some fun to my boxwood wreath by stringing some aqua garland and hanging ornaments from it.  Cute!
My lantern got an electric candle, greenery, white balls and pinecones.
JOY fits nicely on top of one column.
One more night shot of the glowing tree and I'll wish you all a very Merry Christmas!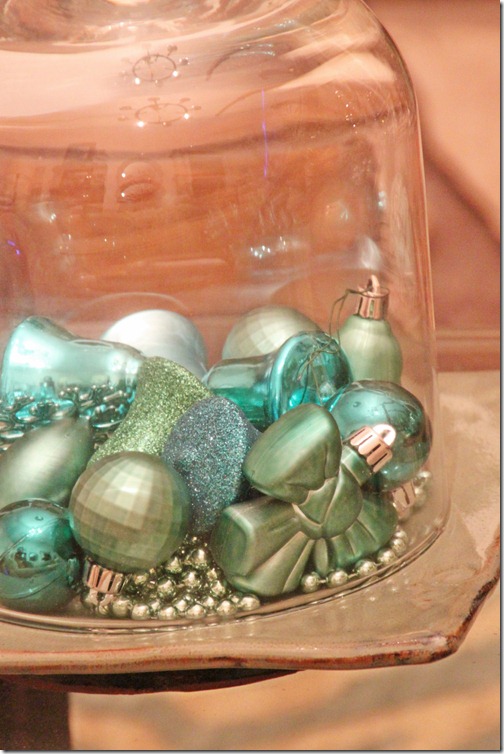 I hope it is Merry and Bright and filled with all sorts of magical memories for you too.   One more shot of the mercury glass at night.  I got the Merry Christmas glitter sign to sit on the candlestick and it looks so pretty.
Thank you all so much for taking the time to stop by my blog and read along this year.  It has been quite a thrilling year for me and I'm so, so happy to be in my new house, decorating for Christmas and counting my blessings!
 Today is the Christmas Tree link party at Sarah's and our last party of the year.  Hope you'll join in and link up your Christmas tree too. It's so much fun to see all the inspiration and creativity in blogland and it's positively exploding this year.
Don't Miss a Post, join my list!