My longtime blog friend, Melissa from The Inspired Room, is launching her 3rd book.  It's been so fun to watch all my blog friends grow and evolve with blogging over the years and Melissa shares such great inspiration on her blog.  I wish I could think about writing a book (or cookbook with my mom, maybe one day!), but I'm not quite there yet, so I'll share my friend's book launches instead.
Make Room for What You Love is all about organizing and simplifying your life. Don't we all need help with that?  I have a slight problem with getting rid of things and not taking the time to clean out drawers or closets all that often.  Moving will certainly help you to get rid of things and I did that when I moved 5 years ago, but it's amazing how many things still accumulate in a house, taking over space and making you feel cluttered and non-productive.
My garage comes to mind.  I have got to get down there and really clean it out since I've been living here over 3 years now. That area was the one space that things were dumped and forgotten and I still have some old moving boxes down there with odds and ends of things that I'm sure I'll no longer need. You have those spaces too, right?
Getting rid of the extras will be beneficial in so many ways, creating a more organized garage and organized spaces are just good for the soul, aren't they?  I feel so much better when  I have calm and serenity around me, rather than clutter and chaos.  I try not to ever let things get too cluttered, but it can happen in those spaces that we don't live in every single day. The pass through areas are the worst for ignoring.
I love a pretty house and living in clean, uncluttered surroundings.  Melissa's book will be so helpful in getting to that in our own houses.  Starting new habits is a good way to combat the clutter and make some progress in creating the kind of home you want to live in.   One that will wrap up your family with love.
So, if you need some help in this area and…..ahem….who doesn't?  Check out Melissa's new book!  She starts by asking some questions to ponder and get an idea of how you want your house to feel.  Questions like these:
What do you really love but feel you never have enough time for?
Describe your ideal home.  What would it feel like?
What inspires you to be happy at home?
Does your home reflect your style?
If you could start over with a clean slate, which room or closet would be the first you would want to see completely decluttered and beautified?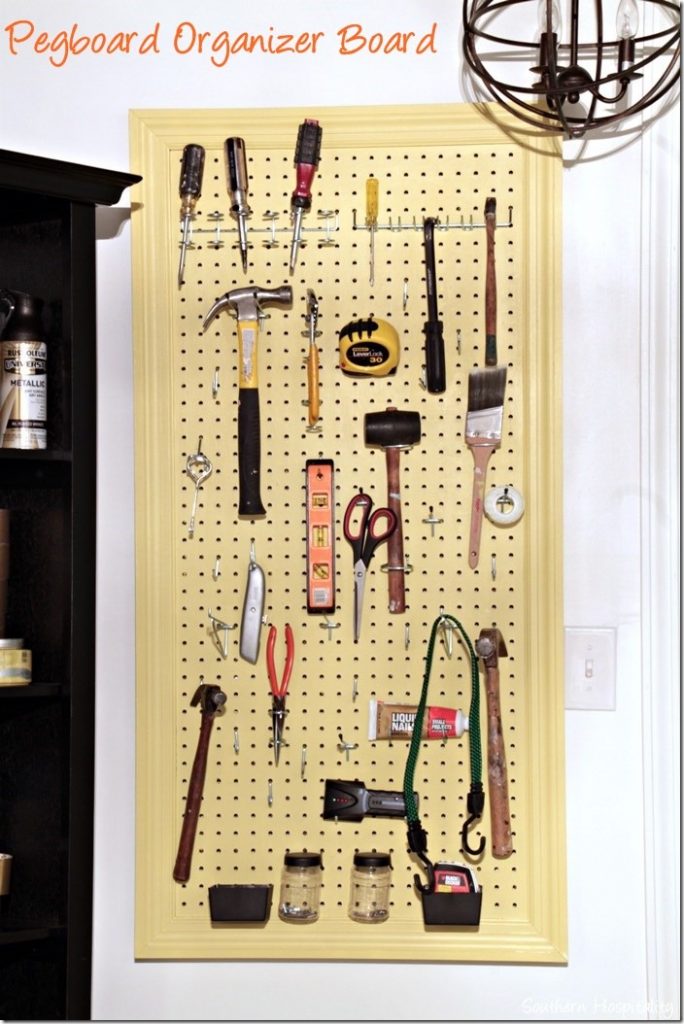 Here's a pegboard organizer project I did a couple of years ago to keep tools handy and organized in my laundry room/mudroom.  This inspires me to get the garage tackled and looking better too.  Pegboard is a great way to get things up off the floor and at eye level for storing!
I'm raising my hand on my cluttered garage.  Time to tackle it this summer!  I wish I could say this project was already done, but alas it is not.  I have good intentions though.  I'll keep you posted on my progress this year.  Now that I've confessed my clutter, I will let y'all keep me accountable to do something about it.
What is an area in your home that you need to declutter and get organized?
You can get a copy of your own on this link from Amazon (affiliate link). I enjoy supporting my blog friends! 
Many other blog friends are sharing their inspiration from the book too, so stop by and visit these ladies! 
Eleven Gables / Craftberry Bush / At the Picket Fence / Julie Blanner / Beneath My Heart / Thrifty Decor Chick / Emily A. Clark / Reluctant Entertainer / My Sweet Savannah / Domestic Fashionista / At Home In Love / 320 Sycamore / Sunny Side Up / Happy Happy Nester / The White Buffalo Styling Co / Sweet and Simple Home / Finding Home Farms / In My Own Style / Fox Hollow Cottage / The House of Silver Lining / Infarrantly Creative / Fieldstone Hill Design / Shabby Nest / Today's Creative Life / Sarah M. Dorsey Designs / Just A Girl
Don't Miss a Post, join my list!