Sometimes I lag behind when it comes to getting inspired for Fall, especially when our Southern weather wants to hang on to that Summer heat all the way through September. This happens most every year for me.  It's not until the air gets a little bit cooler that I think about what I want to do for Fall.  This year, what got me in gear was seeing my friend, Kate's beautiful magnolia wreath that she whipped up from nothing.
My mind quickly went to my stash of magnolia branches that I had collected  2 years ago for Christmas decor.  They are nicely dried and preserved with a pretty sage green color and that luscious velvety brown on the backsides.  I dug them out of the attic to see what I could come up with.
Here's what I had.  About 10 or so of these magnolia branches, plenty of leaves to fill up my wreath.  
Specifically, a grapevine wreath I've had for years.  So, I snapped off the leaves til I had a pile like this.
Got out my hot glue gun and started layering them on the wreath, weaving them in and out, on top of each other.  I turned some of them backwards, so that the pretty brown backsides would show too.   And I ended up with this:
A lovely magnolia leaf wreath.  I had a large piece of burlap that I picked up at a yardsale for pennies and cut strips of it for a floppy bow.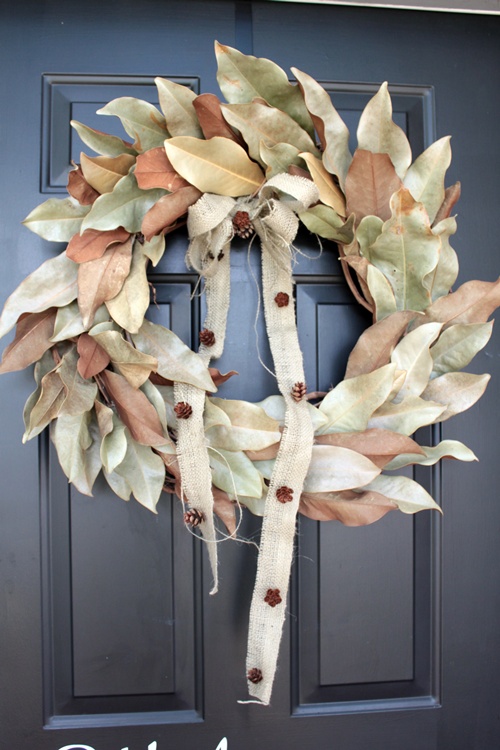 Just looped it over a couple of times.  Simple and easy.
Those little pinecones I brought back from the Northwest came in handy too.  They were perfect little accents glued on the burlap.
Love the natural feel of this wreath.  Just what I had in mind.
So, there you have it.  An easy wreath, using materials from nature.
I found this cute little quail bird at a yardsale too a couple years ago and added him in at the end.
And he makes a perfect companion to the wreath.  Just like he flew in and perched there to be our personal greeter.
I'm going to try and save this wreath by wrapping it up and storing it away before Christmas comes.  These magnolia leaves are pretty hardy and since these were picked 2 years ago, I'm hoping they will keep holding up on the wreath too.
Have you made any wreaths this year??  I'd love to see them if you have, so tell me about YOUR wreath!
Come back on Wednesday and I'll show you the rest of my Fall decor (what there is of it!) and you can link up too if you have some Fall to share!
*********************************
Are you on Facebook?  I'd love to have you join my Southern Hospitality page if you are.  You'll see me leaving updates over there periodically and you can read along.  For instance, since the yardsale party is over for the year, I couldn't resist hitting a couple of sales near my house.

What did I find?  Click over to my Facebook page to find out!  And feel free to add a pic of your own.
I think I'll have to give up on a BlogFrog community.  It's just too hard to do it all, so Facebook will be where you'll find me more.  If you have questions or comments, you can feel free to leave them there too.  Either way, I'll see them.   That's a good place for others to join in on conversations too.
Don't forget, the Nate Berkus blogger show is Monday, so check it out if you get a chance!  Sarah and I are sitting behind the brown chair on the far right of the stage, but you might not see us at all. We were on the back row of that section.

************************************
Lastly, the lucky winner of the CSN $150 giveaway is #48, Courtney with MommieBlogs.  Congrats, Courtney!  I'll put you in touch with CSN, so that you can claim your prize.
I'm linking up to The Nester's Wreath party!

Don't Miss a Post, join my list!