I'm back with Part 2 of Marc's Christmas home tour.  He's my sister's neighbor and loves to deck the halls for the Holidays.  In case you missed Part 1, you can check it out first.
Heading upstairs to the master suite, this is one gorgeous space.
With a separate area for the bedroom and sitting room, this is another spacious master bedroom.  Plenty of room for that large and blingy aqua blue and brown tree.
So pretty, love how Marc has put it all together.
The fireplace and sitting area is so serene and calming.
And the tree, oh the gorgeous tree is so stunning.
The bedroom area.
The sitting room is perfection.
Close-up of the tree.

Blingy baubles and balls on the ottoman.
The mantel is extra pretty. Love the silver reindeer candleholders and the gold mirror.
Looking into the master suite, they did a remodel on this space in recent months and it is just stunning too.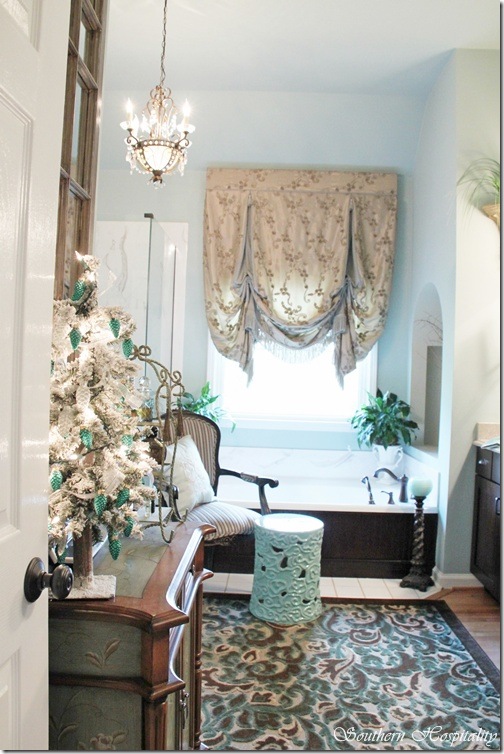 Pretty rug, side table, chair and porcelain stool by the tub. Per Marc, this rug came from Walmart, the Better Homes and Garden's collection.  I have a feeling there will be a run to Walmart for this one!  It's beautiful.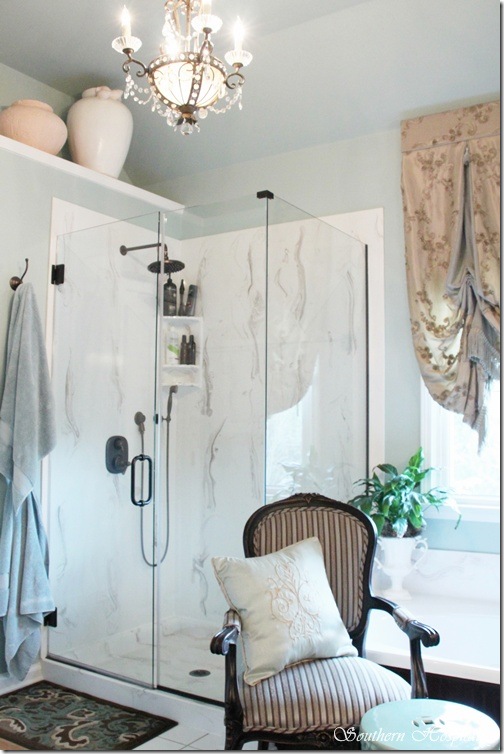 Seamless shower and a blingy chandelier.  Yes, it is all gorgeous!
How about a bathroom big enough for a side chair and table.
Another flocked white and aqua tree on the side table in here is eye-catching too.
Lovely, such eye candy everywhere.
The double vanity.
Now, we move to a guestroom all done in blue and white, with red added for the Holidays.
Cute Christmas pillow adds to the ambience.
Pretty stripes and fabrics.
He added plaid red and Christmas pillows to the mix.
Blue and white fans will love this room.
Very nice.
A couple of cute Santas on a side table.
Another guestroom holds a little festive cheer.
No room is untouched with Christmas cheer.
And another guestroom in blue, white and yellow.
Very pretty and traditional space.
Love the iron bed.
These pretty blue and white benches he found at TJ Maxx, I think. Love them!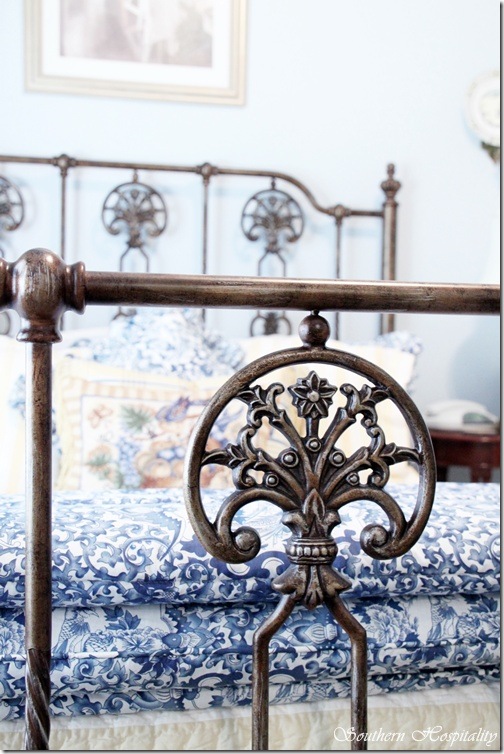 Such a pretty iron bed.
A little Christmas added in here too.
A great mix of colors.
Marc had this chest hand painted and it is so lovely.
It's a great look and really appears old.
One more little stop in the Butler's pantry with vintage balls in glass and then next, we'll head down to the basement, where Christmas has exploded.
Hope you are enjoying the tour of Marc's house.  I know he is happy to have you stop by and see him.
Linking to I Heart Faces Holiday bokeh challenge.

Don't Miss a Post, join my list!