Last weekend, I was invited to a preview party of the newly decorated Mitchell Gold+Bob Williams cottage in Serenbe.  And when they say cottage, they aren't kidding.  At around 900 s.f. this is one cozy little house and it is touted as "Beautiful Life in a Small and Smart Space".  Entirely cute and inviting too, so it was very fun to see.  The guys from Mitchell Gold are so nice and it's always fun to see them. They  have hosted several parties for the Room Service Atlanta crew and I always enjoy seeing their showroom right in the heart of Buckhead.
So, I took my roommate, Rhonda, along and we headed down there to check out the cottage and enjoy the street party.  I ran into several of my designer blog friends, so that was fun too.
It was a street party, with food, drinks, ponies, ice cream, and more.
This cottage was designed by the Lew Oliver Inc. design firm in Atlanta. They did the first 40 homes at Serenbe and this is part of the "Eco Cottage" collection.
Lots of folks were milling around looking at everything and enjoying a nice summer day.
The porch was really cute and I loved this side door.
The living room is small, but with soaring ceilings, feels more spacious.
The staircase to the 2nd floor is really a neat concept.
Loved the kitchen with all open shelves in front of the windows.  I'm not sure if I could live with all open shelves, cause you'd have to keep them really neat and tidy.
But, this kitchen is really pretty.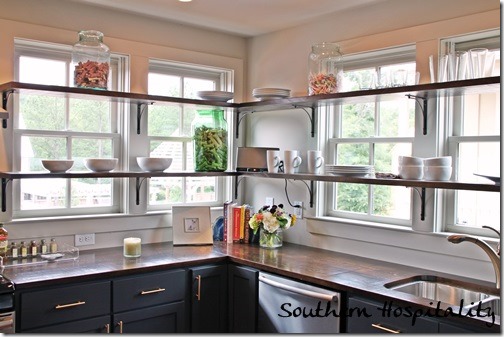 Dark lower cabinets and open shelving.
The bathroom is simple too, but nicely done.
Master bedroom in shades of brown.
Pretty room and I love the drapes.
Chest at the end of the bed.
A tray on the chest that was fun.
UPstairs is a loft area set up like a small office or reading area.
Pretty yellow roses.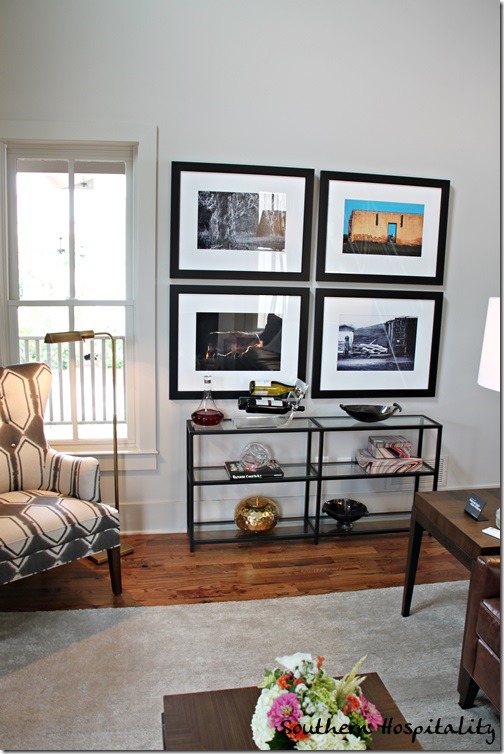 Downstairs in the living room.
Outside, Mitchell Gold had a large white sectional set up for display.  Imagine the folks you could host on this big piece.
There were a couple more houses open for the day that are for sale, so of course, we had to check those out too.
Small cottage homes in Serenbe are pretty to see, but living here would be out of my price range.
We loved this one with it's rustic, but feminine décor.
Fireplace mantel
This kitchen was really pretty too, with gray cabinets and a rustic kitchen table.
The farmhouse sink with gray and white marble was beautiful.
And check out the purple chairs on the large deck in the back.  So fun!  That you could do easily with some extra chairs sitting around.
Upstairs looking down to the kitchen.  You can see these cottages have lots of planked walls too, which is a huge trend right now.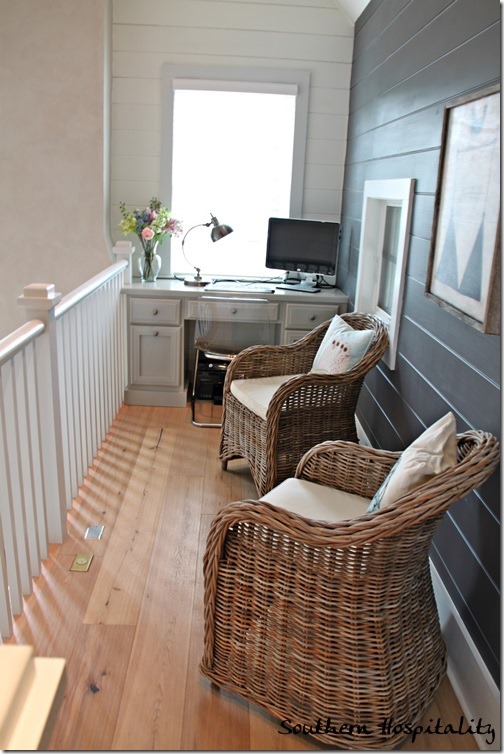 A small loft area at the top of the stairs. There was another bedroom up here too.
Just down the street was one more pretty home to tour.
This one was nice and bright with all those windows across the front. I love the café curtains I'm seeing in lots of homes now.  So charming!
This one is done in lots of white planked walls and a white fireplace with dark wood floors.  So very appealing!
Pops of red in the kitchen and living room are a fun addition.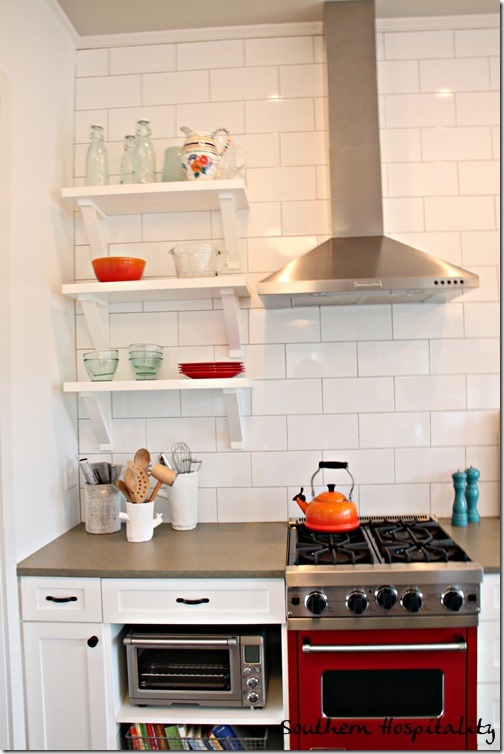 This white Shaker style kitchen with white subway tile is familiar to me.  I think I chose wisely on my white kitchen.
Yes, this is the life!
Upstairs, a bedroom is set up. Check out that row of dark wood that was added in the white planked wall.  That's an interesting look.
Loved this rustic shelf with cute things on it.
Another bedroom upstairs as well. You can see that the sign trend is going strong too.  Everywhere you look, it's typography on the walls.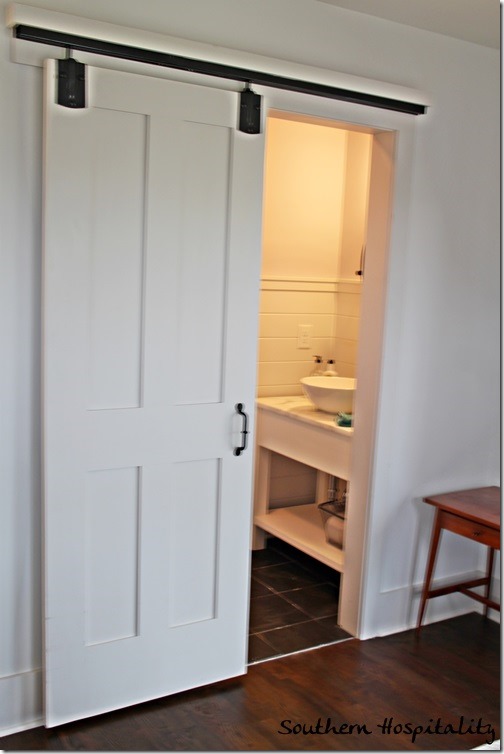 A sliding barn door to the bathroom.
Anther rustic cabinet in a powder room.
And off the living room is a tiny office space.
Loved this old rustic galvanized tub repurposed as a planter right out front of the house.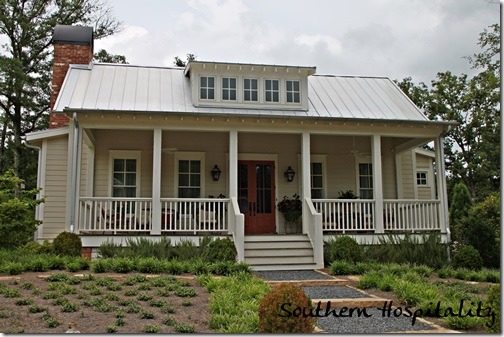 Along the street were more beautiful homes in Serenbe that I knew you'd love to see.
This place is so peaceful and pretty.
Love these cottage style homes.
With some beautiful landscaping too.  Next year will be my year to start landscaping and working outside of my house. I can't wait to get going on that! I really do love flowers and plants, stone walls and all those things that make a pretty yard.  Can't wait!
Don't Miss a Post, join my list!