Time for a parent update and it's definitely good news and bad news. They moved into Dogwood Forest 4 weeks ago, October 1st and they're still getting settled in. The good news is that mom absolutely loves it, is thriving and doing so well. The bad news is that dad is struggling still after moving to memory care after that first weekend. You can catch up with all 3 posts about their move if you've missed it so far.
I shared the why's for moving in this post, Honor Thy Parents and the actual move, and then after one week there when we had to move dad to memory care after the first weekend. It's been 3 weeks of ups and downs since then.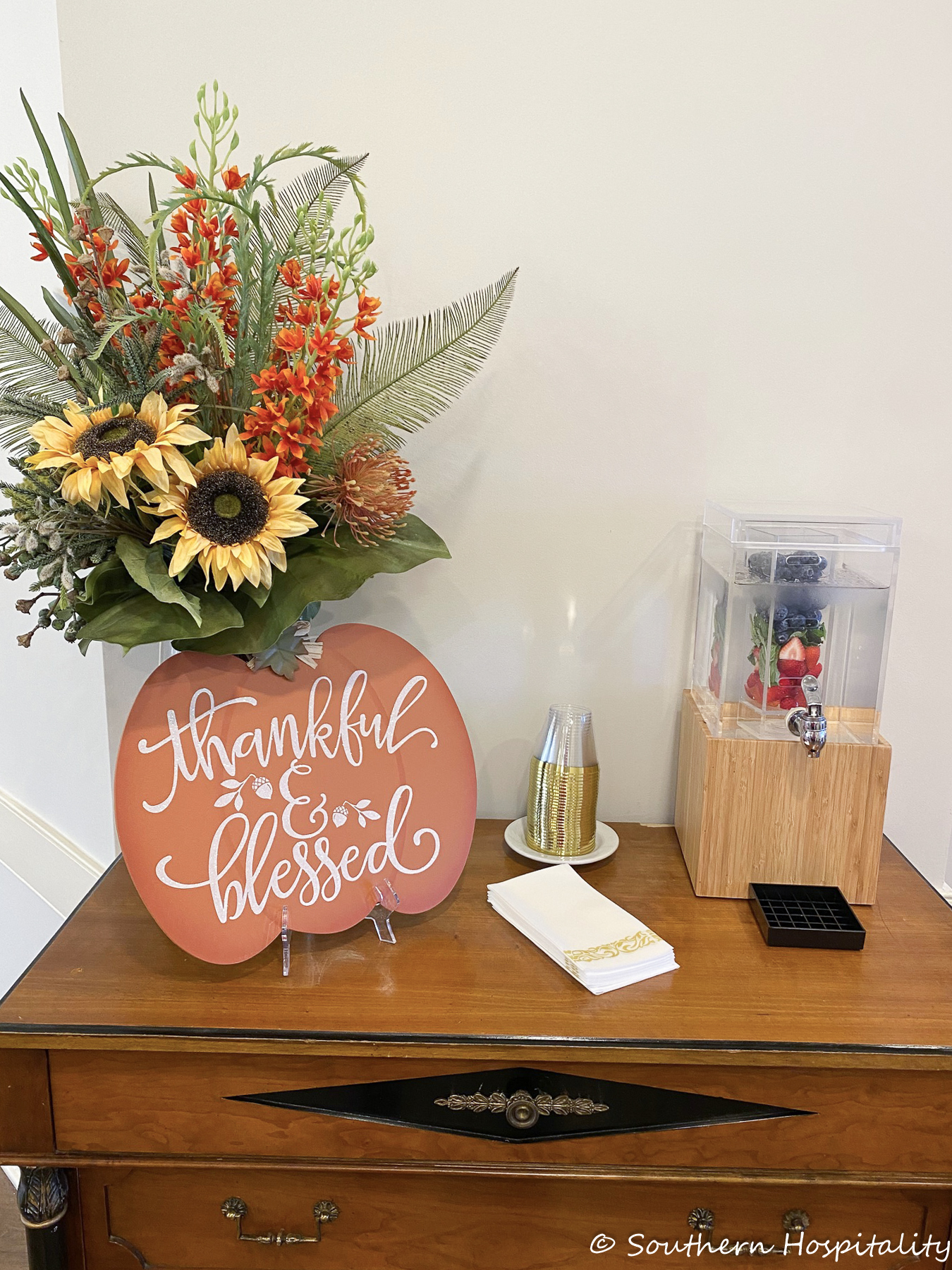 Dogwood Forest is such a nice place and mom has settled in so nicely. She loves her room and spaces as well as the facility itself. She's doing lots of activities like bingo, sittercize, and participating in a Bible study with some folks. She's met some of the nicest ladies and one of them that she likes a lot is just two doors down from here, so that's nice. There are more women than men in assisted living and that's good for her as she is now enjoying social time that she didn't have living at home with dad. Living with someone who has dementia is difficult as the real conversations go away and it turns into questions and answers all day long. She was starved for social activities with other people and I'm so glad she's getting that here.
This is part of the lobby area, like a big living room with 2 fireplaces and a huge aquarium. It's often filled with residents enjoying the fire and chatting here together. I've seen them gather here with a guitar playing girl who was singing to and with them. It's a beautiful facility with lots of amenities and outdoor spaces. I love that it sits right in downtown Acworth and has a small town feel when you go outside. Mom has settled in so well. I shared her apartment last time and it really is a haven for her, a place she can rest and find comfort. No more work for her! That's the best part, we are so happy she gets to rest and relax after working so hard taking care of daddy all these years. She has someone cleaning her apartment, doing laundry, and enjoys 3 delicious meals a day. She loves the food and has nothing but good things to say about that. I know she's feeling pampered being there and that makes me so happy for her.
Her one bedroom apartment is just perfect and it's so nice that it has a private balcony and she can enjoy the outdoors. We've had some beautiful fall days and she's enjoyed sitting on the balcony too. She has full days now with no work and that's the best part. She can do as much or as little as she feels like.
We sat out on the balcony one day last week when I stopped by to visit. It gets a lot of sun and shade and is a great place to read and relax.
So back to dad. We didn't see him for about a week when he was initially moved to memory care. We got updates every couple of days and they told us that he was doing fine. We told them to ask him to pray and so they did and now everyone calls him Pastor and I think he's praying for all the meals. They said he was leading the morning group when they all come together and talk and share, so that was good to hear. We are hoping his Pastor heart will come out even more the longer he is there. Right now he can't see much except what he's missing and that's home.
We did finally go in one day to see him after a week and 1/2 of not seeing him and it was good to see him and mom together again. He face lit up and he told her how much he missed her. I sat with them and took it all in. He was sweet and told her how happy he was to see her and it was a good first visit.
We looked around a bit and let him show us around his area. There are about 27 people in memory care I think. About 1/2 of them seem to be in worse shape than he is mentally and physically, but some are better than others. It's heart breaking to see them at this stage, but I know that so many families deal with dementia and Alzheimer's. It's not easy at all to see our loved ones lose their memories and their mental faculties.
We took him outside where they have a nice courtyard with rocking chairs and visited for a bit before we left. That visit didn't go downhill too badly and we spent about an hour with him and then made an excuse that mom had to go to the doctor and had to leave, but we would be back. He let us walk out the door without any fuss.
A couple of days later I went and got him again and we went outside to the front porch rocking chairs, where a sweet couple friends of theirs came to visit, a couple from their church who they've known for about 40 years. I'm not sure Dad knew exactly who they were but he sat and chatted with the husband for a long while, as they've always done. I was listening to him talk about wanting to go home and that he couldn't wait to leave this place and get back home as soon as he could.
One of the directors captured this picture of dad one day and it was a sweet pic to see. I loved seeing his big smile. We are so hoping that the new meds he is on will help with his dementia and help him with calmness eventually. It will take time to see how they will work and to get them adjusted better. After seeing him the first couple of visits in the last couple of weeks, the next visits didn't go as well.
We also had incidents of him losing/misplacing his wallet and claiming it was stolen and gone. I went in his room twice that first week and found his wallet and returned it to him. He was so happy to see it and after the second episode we talked him into giving the wallet to mom to hold. I even wrote a note for him so he could read the note and know that mom had his wallet. That lasted a few days and then they came to get mom and told her he wanted to see her. She went over there and he insisted on getting his wallet back, adamant about it so she gave it back to him. We knew this was going to be a continual problem and it has been.
Once he got it back, he "lost" it again and insisted it was stolen and gone. It was found once again and given back to him and he agreed once again to give it to mom, so she has it now. I'm sure he will demand it back any day now. We think we might get another wallet and give it to him without anything in it. This is the loop of dementia apparently. They can't process these things and insist on one set of facts when in fact it's not true. He had carried that note that I wrote that said "Iris has your wallet" around in his pocket and when he lost it for the 3rd time, when I told him that mom had given it back to him, he insisted she did not give it back to him. He had a note that said she had it. We are learning how this stuff works. We knew his dementia was getting worse and his reasoning is non-existent. It's just a hard place to be, but we hope it will get somewhat better with time.  We hope he can come to a place of acceptance and a level of contentment eventually, we've heard most people do.
We've gone the last 2 Sundays to have lunch with mom and after lunch we all went over (me, Mark, and mom) to visit him. The memory care facility is a wing off the back of the assisted living with a keypad we can use to go in and out at any time. The weather has been so nice so we sat outside with him which is his happy place. We hope that he will go outside more and more, but he may not remember how to get out there by himself. I've told some of the staff over there that he loves to go outside so I hope they will take him periodically on good days.
Both Sundays, the conversations spiralled quickly and all he could talk about was going home. Where was his car and keys, he wanted to drive himself home and if he couldn't do that, he would walk. Here we go again. It's so sad that he can't comprehend where they are in life now, that they can't take care of themselves and need to have help and daily care, but it's just not possible for his brain to process that. He would say over and over again how miserable he is, he doesn't want to be there, he just wants to go home. We would tell him they needed to be there for mom to get help and just a couple minutes later it would start all over again. When can we go home? He would say they could go home and hire someone to help them. He's even lucid enough to come up with that idea and plead to go home, please don't leave him there. It breaks our heart and really makes mom so sad that she cries when she leaves him. She hates that he has to be there, apart from her, but we have to make sure he is safe and protected and taken care of. We can't have him ranting everyday to go home and blaming mom for their circumstances and where they are now.
We know that his entire world has been turned upside down and it's our doing that made this decision, but all of the family decided on this together, with mom driving the decision. He can't possibly understand it all. We know it's for the best, we can't second guess our decision. We've talked multiple times about the fact that even if they had stayed home and hired help every single day that wouldn't satisfy him either. He gave my mom a hard time almost weekly even having someone coming in 2 or 3 days a week for 3 hours at a time. He would never be happy with having someone in his house for extended periods of times which is what they would need as they age even more. I just can't take care of them like they need to be taken care of. Mom was completely exhausted with having all the burden of the house, meals, bills, laundry, home maintenance, even the yard work. Dad did mow the grass with his riding lawn mower, but that was the extent of his help with the yard. The rest of the yard needed much more help which had to be hired out too. He wasn't happy when we hired some yard work either for a short time.
So it was an ongoing battle with anything mom tried to hire out. Not to mention his driving. That was another battle that would not have stopped with them being at home. It was horrible going through that with him when we took his keys in July and I had to give his car keys back before they moved because he was so irate about it all. Thank goodness, he didn't try to drive, but if he was left at home I am sure he would have tried. He's threatened again since they moved to call the police on me and mom for keeping his car from him and keeping him from going home. It's so sad to deal with, but that is dementia. It's not him it's the dementia. We are learning more about it as we go along. I've got some books to read to help me deal with his issues and mom as well. We are meeting other families there who have the same issues. Husbands who are in assisted living that have wives over in memory care where dad is. We are definitely not alone in this situation. So we wait it out and hope and pray that he can settle down eventually and find some sort of contentment. I can see why he's not happy, memory care is definitely more isolating than the assisted living side. If there's anyway he can settle in and get some sense of contentment eventually, we will see if there's a possibility that he can go back with mom in assisted living, but we have no idea if it can happen or not. Time will tell. It all depends on what happens and if he can be trusted to go back and settle in with her. I know he would be happier with being with her there, but it might not be possible. We don't want her to continue to have the burden of caring for dad as he gets worse. It's so nice that he's taken care of and we know he's safe and sound and we can see him as often as we want. He might not be happy yet, but we hope that more and more we can interact with him often and things will get better for him.
I'm just sharing the absolute truth of what we've experienced and I hope this helps others who are experiencing similar situations. Dealing with dementia is not easy, we are still learning as we go. We are not experts on this subject and have so much more to learn, but it's nice to be in a community of other people who have their own issues and problems with aging loved ones. We are all in this together and it's nice to not be alone. The families and people we have met there have been such a blessing. Aging is not easy, but I'm happy to be there for my parents as we walk through this journey of getting older and needing even more care. We know they are both taken care of on a daily basis and that gives us such comfort. Having them both separated in two different spaces is definitely more expensive than it would have been if they could stay together, but we are so grateful that they saved their money and prepared for such a time as this (even if Dad never wanted to spend their money). We know we are fortunate that they have the means to do this. Walking this road with loved ones isn't an easy journey, but I know that God will see us through. Mom has a lot of faith as well and that gets her through every single day. Thank you all for following along on our journey with us. I hope our story helps someone else as you prepare for this with your loved ones. There's no easy answer at all, but we all have to do the best we can as these days unfold. I'll be sure and keep you updated at least once a month or so as time goes on. It's a little ironic that both of my mom's living siblings, her younger brothers and their wives (one in FL and one in SC) are both going to assisted living facilities as well. One couple has already moved in and one is moving in December. They have come to the same conclusion that we did.
This is where we are as of now and we are hopeful for better days ahead for daddy. I've been sharing these sweet parents of mine here on this blog for going on 15 years, so it only makes sense to keep on sharing as we move forward in this aging process.
Don't Miss a Post, join my list!