Hey, there friends!
I hope you all had a wonderful Mother's Day with your families.  Mother's Day is special and a time to cherish our moms if we still have them. We are so grateful that our dear mama just turned 90 years old on May 4th, so Mother's Day is extra special to us.  We always celebrate both but do extra on Mother's Day and celebrate at my sister's house with food and family.
This year for mom's special 90th birthday, Lauren was home for the weekend with the girls and we planned an outing last Friday at the local tea room in Woodstock, Tea Leaves and Thyme. It's a girly place for special occasions and is always packed with ladies celebrating special events.  A 90th birthday is cause for a big celebration and we were happy to treat mom to this!
Mom and her namesake, Iris.  Iris loves her Nana!
This isn't the best pic, but here we all are at the tea room.  The girls did pretty well during our time here and lasted a long while before getting fidgety. Parker especially likes the teas and most especially they both like the sugar cubes.
Happy 90th to Iris!
It's all about the presentation at a tea room, with finger sandwiches, scones, and tea.
I got a chicken salad plate and it was really good.  You know the thing I've noticed about tea rooms, it's not the quantity of food, it's all about presentation and ambience.  The food is good, but not exactly filling if you know what I mean.
They brought Mom a piece of chocolate cake and Parker was all about helping her blow out the candle.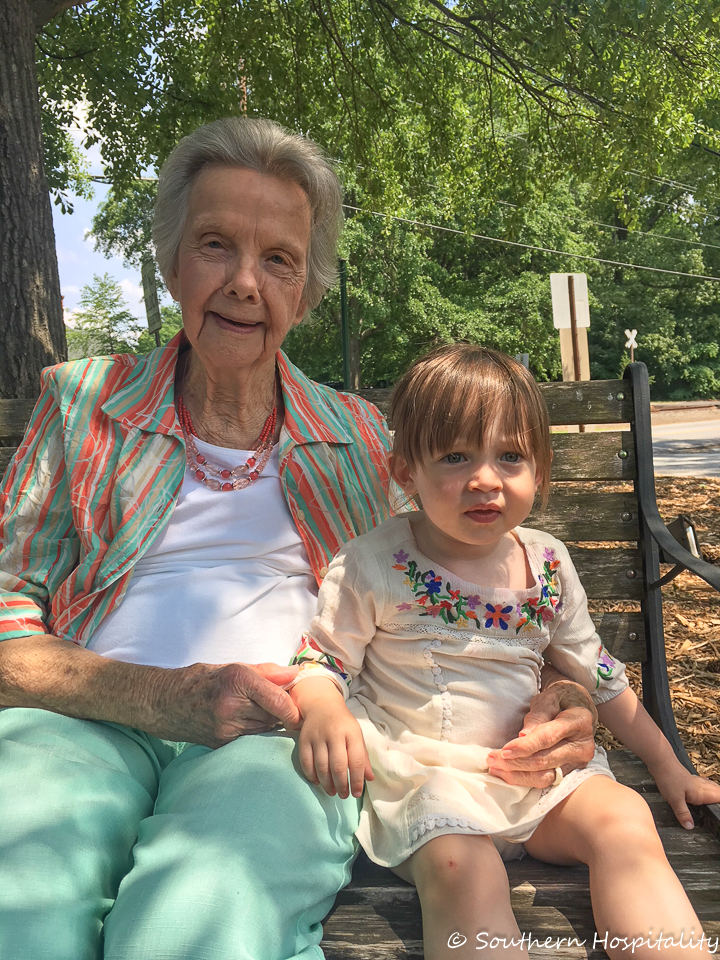 Mom and Iris enjoying the shade on a bench outside.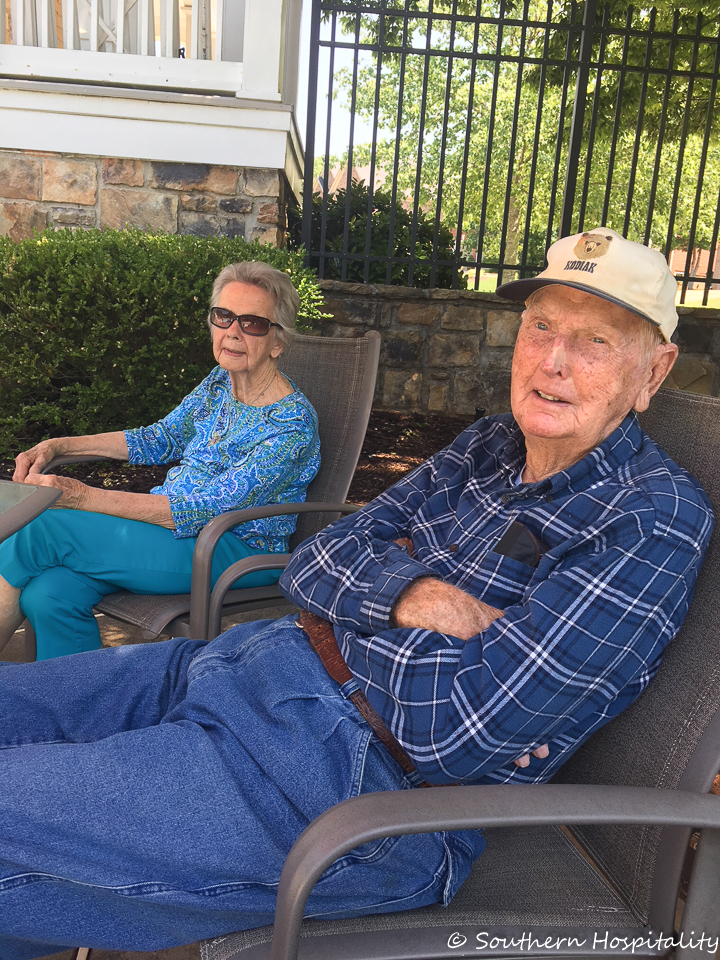 Mom and dad came over one day to sit by the pool and watch the girls play. They found a shady spot under trees and umbrella and it was a pleasant temperature out there.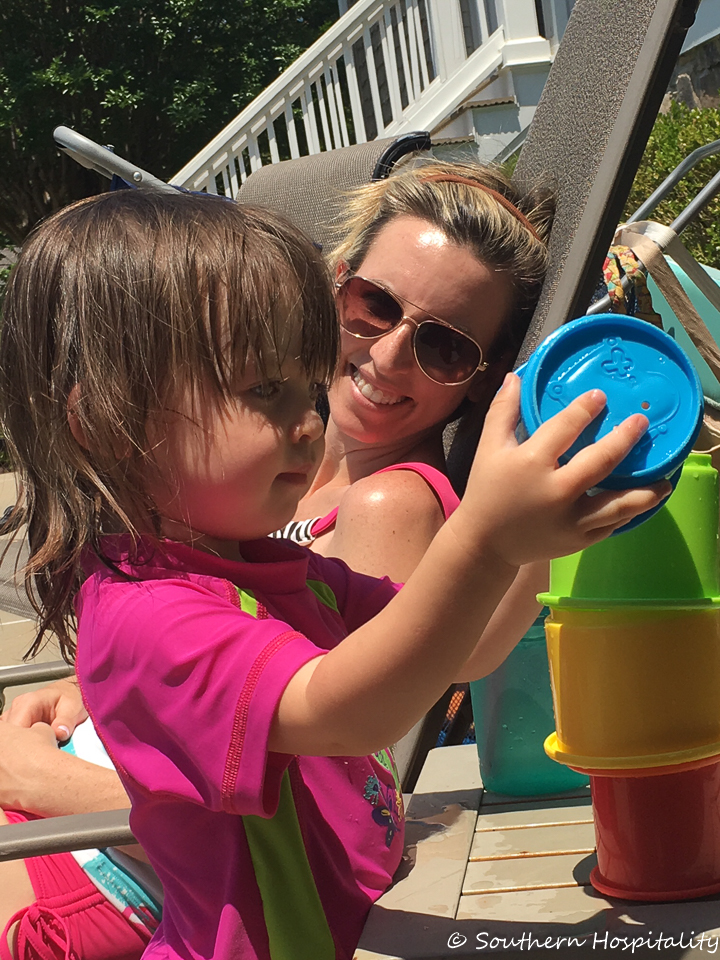 Those girls love the pool and playing in the water.
Iris loves containers of any kind and especially if they stack together.
Parker and her Papa Bruce having fun in the pool.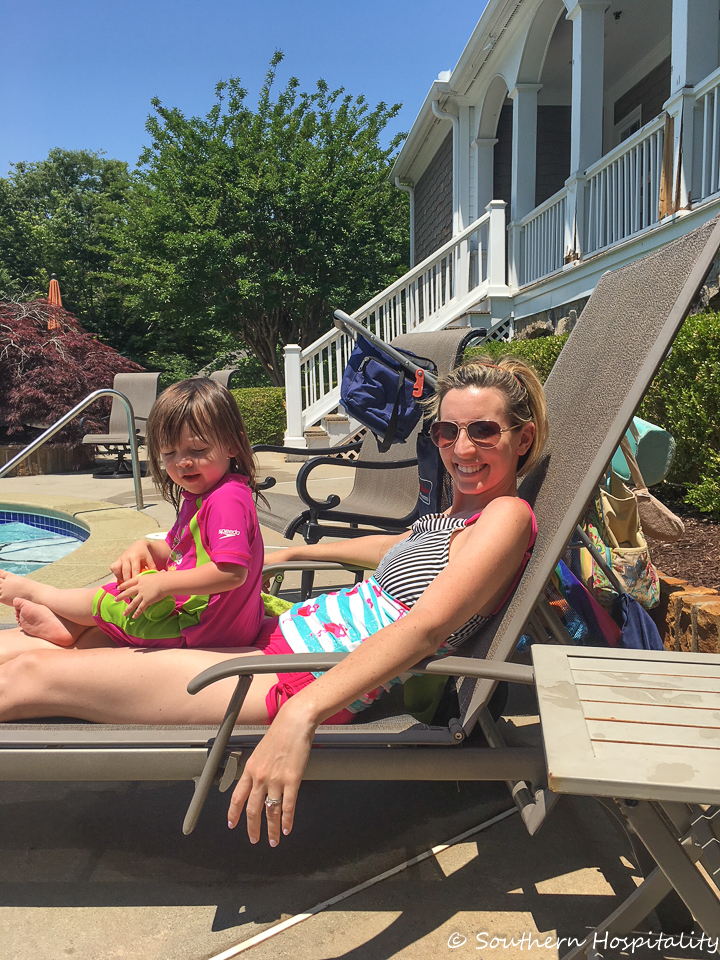 Enjoying a beautiful day in Georgia!
Dad and Parker, she loves him too.
On Mother's Day, we gathered at my sister and BIL's house, Renee and Bruce, to celebrate Mother's Day. Bruce's mom was there too along with his brother and sister-in-law and grandkids.
We ordered BBQ this year to make it easier on all of us and my sis bought a homemade pound cake and I made homemade vanilla ice cream.  She added fresh fruit and homemade whipped cream and boy, was it good!
We were very proud of our Mother's Day picture this year, all of us were looking at the camera!  And yes, we do color coordinate our outfits for the pictures, it just looks so much better if we do that. We need to frame this one!
Mom got a new outfit from my sister for her birthday so wore it for Mother's Day. We shop for her at Steinmart and she loves new clothes.  Doesn't she look pretty?
Lauren got her a refurbished iphone for her birthday and she's giving her lessons on how to use it. Maybe we can get her to text now, won't that be fun? We also have text messages going sharing pics of the girls, so now she can be on that too.
Lauren gave mom a cute photo collage of Iris from birth to 1 year old.  So cute!
Mom is a dear lady and we are happy to celebrate her every year. She truly is the best mama I could ever have asked for and I'm so grateful that God gave me my parents. I wouldn't trade them for anyone else in the world!
Thanks for stopping by and hope you have a great week!
SaveSave
SaveSave
SaveSave
Don't Miss a Post, join my list!