As usual in my 10 years of blogging, I always try to share our family times too, especially since you all seem to enjoy it so much.  Our family is close and we get together for all holidays and big family occasions and fortunately Lauren can come home often and bring those girls with her.  Mother's Day this year was no exception. That makes for such a festive time for all of us and the babies have changed our family events so much, as you can imagine.  I know that Lauren wants those girls to get to know their great grandparents just as much as they possible can for all the years we have left with them, so we don't take any holiday or event for granted as we know that things could change in an instant.
I hope you all had a wonderful Mother's Day too, it's an honor to celebrate our moms and how much they have impacted our lives.
So, when they are here, we just gather and hang out together for a bit.  Mom comes over to my sister's house or they take the baby or both girls over there to stay for awhile, in between naps.  Parker has plenty of toys here at my sis's house and makes herself right at home.
Baby Iris is finally starting to walk at 1 and is really standing and walking a lot now, practicing her balancing and getting used to being mobile.  It's so cute!
Parker does pretty well with her and they do play together sometimes, except when Iris tries to get into her things.  So, this is what we do….watch and play with those girls.
Mom likes to just be there too and spend time with them, she's such a good Nana.  Dad came over for awhile that day to see them too.
Lauren is such a good mama too and takes good care of her girls.
Mom, looking stylish in her black and white.
Parker, looking intently on as mom cut her homemade coconut cream pie.  The recipe is here on the blog if you missed it!  One of our family faves!
Parker, sitting in her grandaddy's lap having a deep conversation, just like Lauren used to do (and still does on occasion).
She's a happy curious, very smart little girl who delights us all.
Mom is so good with them and will play outside with them both. They were hiding Easter eggs again. Who says Easter has to be over?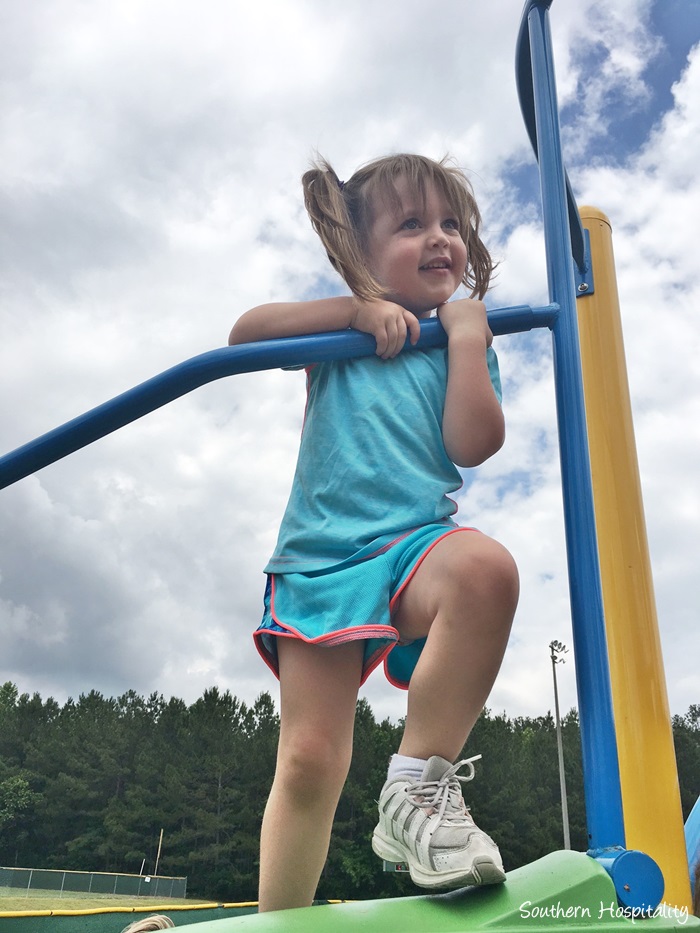 We took Parker to a local park one day so should could get some of that energy out and she loves to climb and play on the playground.
For Mother's Day, we all gathered at my sister and brother-in-laws house and it was a picture perfect spring day.  We ate a delicious meal (steaks, potatoes and fixings, salad, bread and dessert and it was a wonderful day.  We all sat out on the porch afterward visiting and watching the kids play.  Bruce's brother was there too with his wife and grandchildren, so those girls had so much fun together.  We always take time to take a picture together and once again coordinated our colors.  It's so fun to look back and see all of our Mother's Day pics over the years and now with the addition of the girls. Four generations!
Mom and her precious great grand children, the light of her life.
Renee, Lauren, and the girls.  We had to snap pics fast, someone doesn't alway cooperate.
Lauren and her girls, we just love them!  That's a typical Parker face right there.
Girls playing outside. They dearly loved that stream and waterfall and played in it all afternoon.
Lunch was delicious. I wanted to get a pic of mom and dad and made them pause during lunch, so that's why they look so serious.
Mom, opening her cards and reading.  My sis got her that beautiful blue orchid, I've never seen one so vivid blue.
Parker playing in the stream and having a ball. She ends up getting her clothes wet, so off they come.  She's just like her mama was growing up, they are so much alike.  These are dear times in our family and we love spending time together as a family.  So glad I get to share it with all of you too, so thanks as always for the interest in my family and what we do.  I love sharing them all and sharing our family times too!
Don't Miss a Post, join my list!