Happy Labor Day weekend to you all!  It's been a week since we officially moved into the new house and even though there's not a lot of pretty to share with you yet, I figured you all would like to see the process we are in getting this house organized and ready to live in.  As you all know, since most of us have moved a time or two (or for some dozens of times), it's definitely a process to get a house unpacked and organized.  It's always a challenge to move in a new space, get to know your surroundings, and figure out how to organize everything in the best possible way. Not to mention figuring out furniture arrangements and making things work that you already have.  That's turning out to be a challenge for us, more than I initially thought!
I know it will take awhile and things may move around a few times before we settle into the best thing for us and it's going to take living here awhile before we figure all that out, I'm sure.  One of the first things I've noticed since we moved in is just how small the hall closets are.  I had big deep closets in my 70's house and this house, even though it's bigger in square footage has smaller closets overall, so I'll have to figure those things out too.  Where to put the vacuum cleaner and cleaning supplies.  Where to put all the towels and sheets.  The upstairs hall linen closet is about 12″ deep, so that's pretty small.   Where to put my hanging dresses, since the master closet has sloped ceilings and I can't hang dresses in there without them dragging the floor. All of those are trivial things in the long run, but it's those small things that we have to figure out and make the best of.
So, with all that in mind, I'll show you where we are so far this first week. We really are loving our new house and just looking forward to getting all of the initial projects done, furniture in place, and feeling more organized and settled.  All of those things take a little while after a move, but I'm sure in a month or two we will be feeling like this really is home for us.
Mark is working on the dining room right now, so all the dining room and living room furniture is crammed in the small living room for now.
He's almost finished with the dining room and I'll share that soon, so hopefully we can move this furniture in place this week.
One of the best things we have in this house is that full, unfinished clean and dry basement, so thank goodness that most everything is out of the way for now.  I know that's where the overflow of storage will end up when we finally get unpacked and go through everything.  We will unpack, do more decluttering and then finally get organized in the basement and elsewhere.  I'm determined that I'm not going to keep a lot of extra stuff in this house.  If it's not getting used (within reason, seasonal decor accessories), then I'm getting rid of it!  This move really made me get over the "stuff" I have accumulated and I just do not want to keep it all.  Maybe getting older has something to do with that, but for sure packing and moving "stuff" around just about did me in this time.
Right before I moved, I painted the media cabinet that I got a few years ago from Homegoods.  Mark doesn't love really chippy furniture and I don't have a lot of it anyway, but this piece wasn't his fave, so I painted it. I'll share that later too, but I love the color and how it turned out. In fact, I love it even better now too and it's perfect for this wall in the family room.  Real life here, see the Angel Soft on there! Ugh, I can't wait to get organized!
The den space isn't huge, so I have to figure out this layout too.  It made sense to put the curved sofa in the bay window. Love all those windows, by the way, this house has so much light streaming in and I love that! These two large chairs are really too big in here and I want to do something else in this space.  I saw some swivel rockers at Scott's that I would love to get in here, so maybe that will happen soon.  I'm not sure where I'll put these chairs, but they just overpower this room.  This room will no doubt evolve as we go along, but I got lamps in place to make it cozy.  It will be awhile before the decorating really begins.
Just getting furniture in the house with a place to sit and watch TV was so nice and we are loving our small family room space off the kitchen.  But, again it's way smaller than my living room and den space was at my old house, so all the furniture doesn't fit the same.  There are a few things I left behind in my old house for my step daughter to use, first my large French armoire with mirror that was in my master bedroom.  There's no place to put it here.
All my bedroom furniture that I had in my master will now go in our guest room here and it's a very small room, so the king bed, nightstands and chest of drawers is all that will fit in there.
Mark and I are staying in the guest room for now since our new master bedroom furniture hasn't arrived yet and we still have to paint and do some things in the master before we move in there. It will probably be a few more weeks before we move in, but at least we have a comfy bed in the guest room and it's great to be in here. That rug from Shaw Floors will go in Mark's man cave space.  The master bedroom is still being figured out. We've got new furniture coming, but I'm still figuring out what all we want in here as far as colors, linens, drapes and more.  So much to figure out!
Looks like I'll be painting that green vanity a new color that was in my old living room.  It definitely won't go with the master bedroom stuff now and I'm going to use it as my new vanity table in here. My old vanity stayed at my house in that nook.  With the mirror on it, it's a bigger piece that wouldn't fit in here so well, so I left it for now. See what I mean about furniture not fitting the same?  Several pieces didn't make the cut.
My French antique cupboard ended up in the kitchen space. There's a nook here by the fridge and it fits there perfectly so it will come in handy for extra storage in the kitchen.
I mulled over adding built in cabinets or kitchen drawers here in this space and who knows, I may do that eventually, since the kitchen is so much smaller than my Ikea kitchen was.  But, for now the antique piece can hold quite a bit of overflow and I'll use it for kitchen storage for serving pieces.  I've got a Ballard Designs shelf that will go above it eventually and I can decorate that.  We hate that the fridge sticks out so far, so on the list is a counter depth refrigerator in the future. We'll put this one in the garage for extra things. So grateful that the previous owners left it though, it's a nice GE Profile fridge, but it just sticks out into the room too far.
Mulling this over, but I'm still trying to decide what I want to do in the breakfast nook.  It's not a large space at all, so I just don't know what will work best here, still thinking it over. I'm trying out my 2 wood chairs that I've had forever along with a small round end table that works with it, although the table could be bigger.  I think I like it here and I know it looks smallish, but I don't want to put anything too large in this space, so I may leave this for now.  Again, trying to use what we have.  If you have any ideas, throw them my way!  I'm adding 2 barstools to the bar over to the right.  My sister suggested a tall bistro table with 2 chairs. I'm just not sure yet what we want to do here.  We probably won't use this for eating, it's more for looks, but the ceiling fan will be staying.  We like being cool and there are fans all over the house, so we will probably leave it even though a pretty light fixture would be look better. I know it's not popular in blogland to leave ceiling fans, but we are more about being comfortable rather than having a magazine worthy space.  But, don't get me wrong, I want this house to be pretty too!
What to do, what to do??
I did get the kitchen mostly organized and cleaned up. We have been working out of the kitchen and it was just a mess, but at least I got it looking better and the counters mostly cleaned off.  With a small kitchen, I want to be careful about how much I put on the counters, but I use this stuff all the time, so it will stay out, the coffee pot/coffee station, bowl for fresh fruit, knife block, and kitchen spoons/utensils in a large pitcher.
I will definitely miss my old kitchen. That Ikea kitchen I put in had so much storage and was so versatile and just overall a great kitchen.  The cabinets in an Ikea kitchen are much more open, the drawers are deeper and longer and the thing I'll miss the most is those 4 large pullout drawers that I stored so many things in, along with the huge pantry with large pullout drawers.  But, I am sure I'll adjust to this smaller one and it will force me to pare down to what I use all the time.  This kitchen is just a basic one with no bells and whistles, but I've got some ideas on organizing this kitchen better with adding some pull out drawers to the pantry, so that will come later.  The layout of the kitchen isn't bad, it has a great triangle work space area, with the fridge, sink and stove all within steps of each other, which is supposed to be the ideal working space for a kitchen.  You can see the painted cabinets we had the painter spray and I'll do another post on the kitchen when I get it even prettier and talk more about that process. We are so glad we did all of that before moving in!  I have plans to get new countertops, sink and faucet later on.  I miss my big single sink!
The other piece that won't move to this house is my china cabinet that was in my old den space.  My foyer table and large antique mirror won't fit in this house anywhere either (that we've figured out anyway), so I'm leaving it there too.  The corner cabinet in the dining room stayed there too.  I'll have my dining room table and buffet in the dining room here and that's about all that will fit in that space. This house has lots more open space and less walls, so there are less places to put furniture.  All of that we are figuring out now that we're in here.  The leather loveseat that I had in my den was going in Mark's man cave, but right now we haven't figured out a way to get it through the door, so that's to be determined too.  My grandma's sewing table that was in the den won't have a good spot here, so I'm leaving it there for now.
My office is changing up some and I'm using the same furniture with some different pieces that I had in the den.  Some new looks using what I have.  We can't go out and get all new stuff, so we are trying to make things work with what we have and then will fill in some pieces along the way as it all comes together.  You know how that is.  I was very fortunate in my old house that everything fit in there so well, I had a place for all  my furniture, but it's not the same with this house, so we'll just have to see how it evolves. Whew, that was long, but I wanted to tell you how that all is working out with placing furniture and all of that.
I really don't want to put too much furniture in this house, we would rather keep it open and less cluttered, so I'm keeping that in mind too.  I don't have built in bookcases to display things or a foyer table yet, so I'll have less room for accessories and boy, do I have a lot of accessories!  I'm not even going to show you the basement yet, with all the rest of my things moved in there, but it's crazy how much I had to move. But I really am determined to use only what I need to use in this house to make it pretty and livable and I'll get rid of the rest. It's going to be much more streamlined and less cluttered because it's more open.  So, I'm excited to take this on and figure out where we want to go with everything.
Mark has been working on the dining room and I can't wait to show you all of that too.  He added Cape Cod style beadboard panels in here with a pretty top molding treatment.
Here's how it's looking with one coat of paint. We'll get the dining room furniture moved in this week, so I can't wait to see it all in place.  I'm going to put grasscloth above the wainscot and I think it will be such an elegant space. I've got to find just the right one to add in here.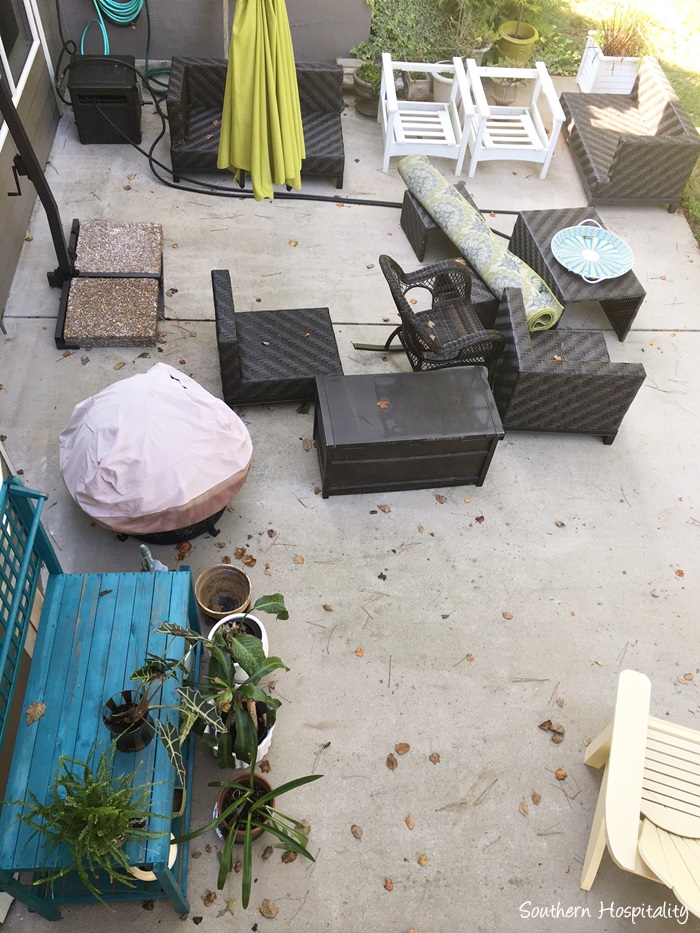 All of my patio furniture was moved over too, so it will be nice to get this space organized and ready to use for Fall this year.  The leaves are already starting to turn here just a bit and I'm feeling that Fallish feel in the air already and love it!  This will be our outdoor space for now until we can figure out the screened porch.  I'm going to get someone out here to see about doing a screened porch next spring/summer and see  how much it will cost, plus we have those bay windows on the back to deal with so we need a professional opinion on all of that.
In the meantime, we'll get the patio space together and will be sitting out here enjoying our backyard space. We have all those woods back there that will be a nice backdrop. We've already seen deer coming in the yard next door, so I'm sure there are plenty in these woods.  We also have a new wood fence going in very soon, as soon as they can get to us.  We are fencing in the backyard for Mark's dog, Hollie and she will be here with us soon. We'll get her settled in before too long. Right now, she's with his parents in the country.
We have lots of exploring to do in our new little town of Acworth and we can't wait to get caught up on house stuff and start to enjoy living here.
We ate downtown over the weekend at Henry's, the Louisiana restaurant that's so popular here and really enjoyed it.  I had heard it was really good for a long time and it was, we loved it and will definitely be going back often!
That's where we are this week!  It feels so good to get in here and now we can breathe and work on everything a little at a time. It will be a process decorating this house and making it look the way we want it to look, but we are so excited to have this house and make it our own!
SaveSave
SaveSave
SaveSave
- Rhoda