It's the start of a new week and we are diving into November full speed ahead. Thanksgiving is later this year and we don't have that extra week at the end of November this year so it seems like Christmas will be here before we can blink.
I'm joining on of my longtime blog buddies, Melissa at 320 Sycamore today for a Favorite Things party. She's been doing this party for 10 years! I don't know about you, but I'm pretty nosy when it comes to what everyone likes and I love to see what everyone is using and what they love around the house, from makeup, to home gadgets, to home decor and more.
My list has a lot of different things on it, but these are really and truly favorite things of mine that I own and use. I've shared them before, but this is a good place to put them all together and let you all see them. From home decor, to gadgets we love around the house, and outdoor stuff too, the list is varied and you just might get some ideas for gifts.
I'm sharing all the links below these pictures in a big clickable grid, but I'll highlight a few of the things with my home pics so you can see them in action. These pillow covers I got a few years ago continue to be a fave of mine, the Chaing Mai Schumacher fabric is so vibrant and pretty. I still love them! The fabric isn't cheap, but it makes a nice impact and worth the splurge.
There's my SixThreeZero bike that I really really love, I've linked it below too. I have ridden over 300 miles already on this bike and it works like a champ. I've linked the Nantucket basket too which anyone with a bike would love. It's the cutest basket ever!
Aqua glass bottles have been so fun to collect, so I added a couple of those on my favorite things list.
These bells that I found from another blogger (Kris from Driven by Decor) are a big fave of mine now too, after ordering them a couple of years ago. They make a perfect accent for a stair banister or on the front door.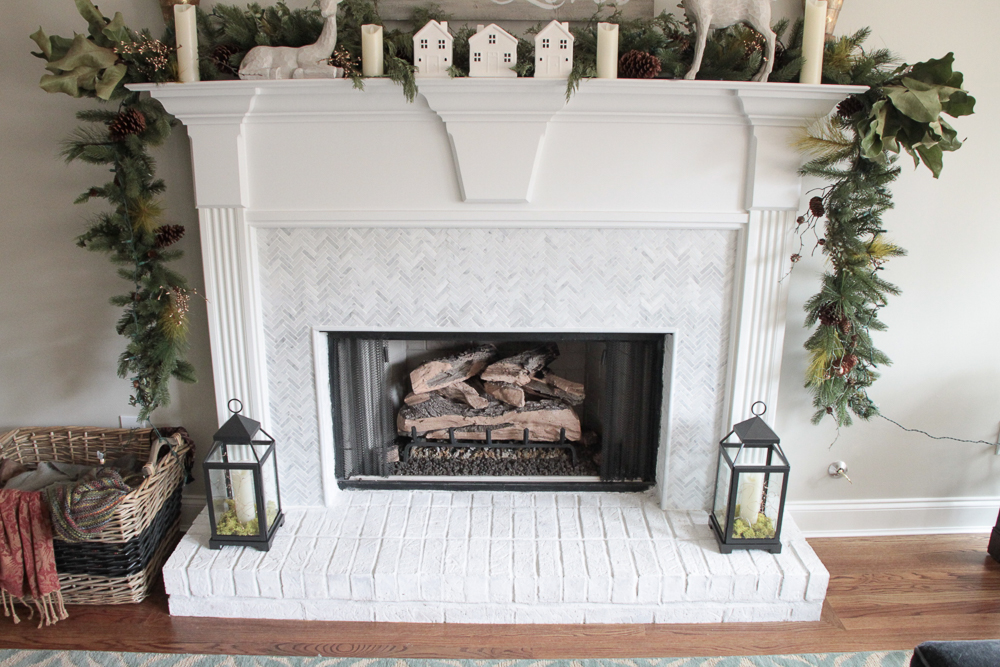 These Pottery Barn lanterns we picked up last year and I love how they look with twinkle lights inside. I've also linked my favorite twinkle lights that I found on Amazon last year. I've already changed the batteries and they are ready to go again this year. I love that these take AA batteries.
I also included the battery powered realistic wax candles that Mark and I ordered last year. We have these and use them all over the house, a set of 3 and a set of 9. They are great candles for the money! They will make appearances for Christmas again this year.
Beauty Items:
You'll also see on the grid my favorite concealer by IT, the houndstooth shower cap I bought last year that I love  (extra points if you're an AL fan!) and my favorite round hairbrush that I've had for a few years.
Home Gadgets:
I've also included the Conair steamer I bought a year ago and have used it many times since. It's so easy to grab when you need to press something and it quickly steams out wrinkles. I use it pretty often now and haven't set up my ironing board in months. I followed directions and only use Distilled water in the steamer to keep it clean.
There's our favorite small Black and Decker cordless vacuum that gets a lot of use at our house! We have one upstairs and one downstairs for those small spills.
In the kitchen, I can't live without my Aerolatte frother, so if you don't have a fancy coffee maker, this is for you! I love being able to froth milk and add it to the top of my flavored coffee for a fancy coffee feel at home. Sprinkle with cinnamon for maximum effect!
Also on the grid you'll see a long set of wind chimes. I bought these for Mark for his birthday from Amazon and we have so enjoyed the beautiful sound they make, like church bells.
So, here are all the things I've talked about and all you have to do is click the pictures to go to each item. Affiliate links used, which means I earn a small commission for anything purchased from my links. Thank you for that if you order anything!
I hope you enjoy this party and next on the party hop is my friend Stacy, with Not Just a Housewife. I'll be checking out everyone's lists as well. There will be 4 days of Favorite Things shared this week with a lot of bloggers, so check out Melissa's blog for all the details.
Why is it so fascinating to see what everyone likes and uses?! There's just something about that and I can't resist looking. 
All the pictures below are live links, so you can find everything I've shared above!

Check out these participating bloggers in the hop for more great finds!
Stacy at Not Just a Housewife
Amy at The Idea Room
Stefanie of Brooklyn Limestone
Richella of Imparting Grace
Ann at On Sutton Place
Diane at In My Own Style
Chris at Just a Girl
Marian at Miss Mustard Seed
Don't Miss a Post, join my list!