One of my most favorite spots in my new/old house has to be my office.  To have a dedicated space that is all for ME feels quite indulgent and nice and I wanted it to be a space that reflects me and my personality.  I think it does that.  I chose to paint it a vibrant chartreuse-y green called Fennel by Pratt and Lambert (mixed at Sherwin Williams) and it is a wonderful backdrop color to my all black furniture in this room.
Of course, I kept all my black furniture that I had in my old office nook (which by the way, was a sweet spot as well, I really enjoyed that little office space too).  So, having a 10 1/2 by 10 1/2' room of my own for my office is such a treat.
I filled it up with things that are important to me and things that I enjoy looking at and having around every day, as well as storage items to help keep me organized.  Cause, I sure need all the help I can get with that part.  Paper clutter is my nemesis.  I can't seem to get a handle on it once and for all, but this new bookcase system I have in place in my closet will surely help.
So, please don't hate me for sharing too many pics.  There are a lot and I just can't help myself.  It's packed with a lot of stuff (probably too much for many), but I love it!  It just feels so cozy to me.  I can be an over-sharer of pics sometimes, but I know you love to see  the details like I do.
We can't start this tour without a decent Before shot, can we?  That's half the fun of seeing the AFTERs! Take note of the untrimmed window too.  UGLY, can I get an Amen!?
BEFORE, of course, the closet.  This room had a vivid shade of blood red that I couldn't wait to get rid of.
AFTER:  Coming in the door, it's a happy space with lots of color and pattern.
My black desk from Target has served me well for many years now and still going strong.  You will recognize many things from my old office nook.  I am using it all again and added a few more things since this is an actual room and not just a nook.  Surprise, my old nook was green too!
Did I say I love it?  I do…love it.  It's a nice mix of vintage and modern and all the color just makes me smile. The light fixture was a $5 find from a thriftstore in Birmingham that I brought with me.
The yardsale bookcase that I found and painted years ago is corralling lots of things in the corner.
The Ikea drapes are really what got me jump-started in this room.  I just loved them and wanted those happy colors to surround me.  Didn't hurt that they had my fave blues and greens in there.
Did you spot that cute turquoise chevron chair?  Thanks to Wayfair for providing that for my office, I'm very grateful to them.  It was the finishing touch in here and I love it.  The Life is Beautiful pillow came from a Joss and Main sale and I got it with credits.
The vintagey clock was also a Joss and Main find on one of their sales.  Love it!
Once again, Payless Décor provided my bamboo blinds and this one is Tibet in their Premium shades. This one is unlined, since I want the light to filter in softly to this room.  Again, Payless Décor has great products and affordable prices.
This little corner got a painted shelf bracket and some of my yardsale finds.  The cute original artwork is from Fifi Flowers, a very talented artist and this is my old laundryroom, so yeah, I've been loving these colors for awhile.
Yardsale bracket newly painted in Rustoleum Lagoon blue, along with a vase and birdie.
My long time Ballard Designs shelves are still going strong.  I just added all my fave framed pics of family and friends to the shelves, along with a few cute accessories.  It's not necessarily styled to perfection, but I like it.
Initials, yardsale finds, vintage prints, all of those things find a place with me.
The stenciled wall was done with a stencil from Royal Designs and here's the tutorial on all the details and how I did this one in my sister's bedroom.  Same exact method is used for my wall.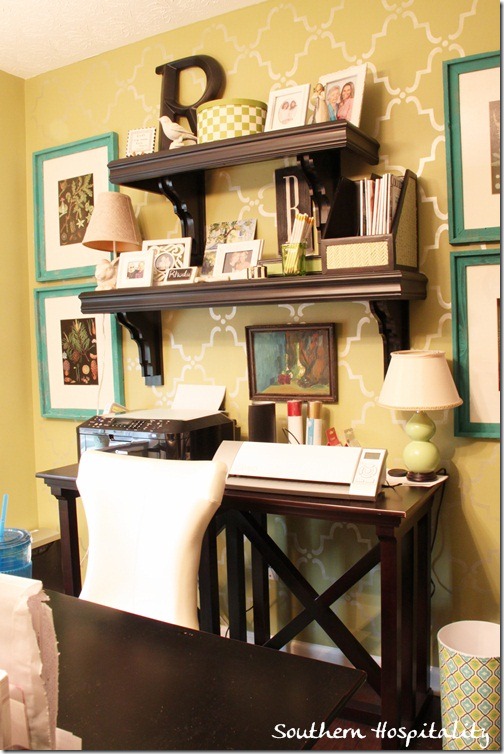 The black console table came from JC Penney Linden Street collection and works great as a printer stand.
Framed botanicals from Saturated Colors Etsy shop, love the black and green in these.
Framed pic of my niece, Lauren and me at her wedding.
Personalized pencils that someone gave me.
Better look at the yardsale bookcase I repainted a few years ago.  It was originally pine.  I spray painted those baskets in a pretty shade of blue (Rustoleum Lagoon too), which works well in here and they help organize notecards and small things.
Top of bookcase holds some favorite finds.  Old vintage fan, a vintage print and globe, all yardsale finds.  The planter in the middle was a wedding present to my parents and yep, it is vintage too at 59 years old.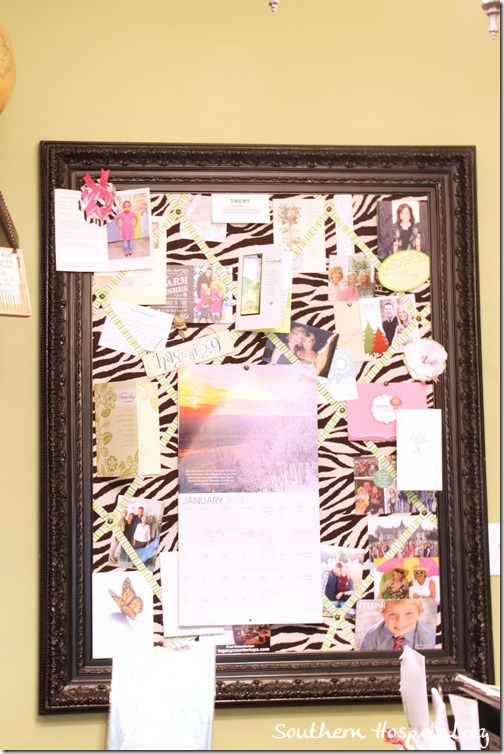 This zebra bulletin board started off as a yardsale frame find (it's HUGE) and I turned it into this cute and functional bulletin board a few years ago.  Still love it!
Another yardsale find, this very favorite Bible verse of mine, Proverbs 3:5-6, hangs from the corner of the bookcase.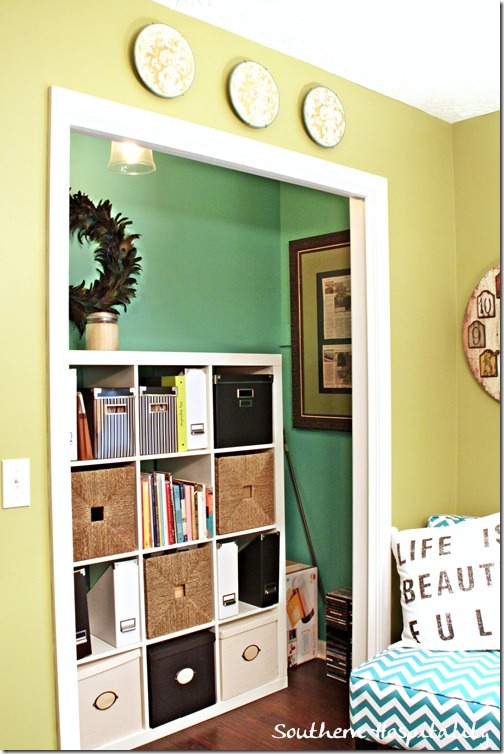 Now, let's get to the closet!  I took off the original closet doors and left this wide open.  It was the perfect size to hold an Ikea Expedit shelving unit, so I brought it home several weeks ago and got it together and in place.
And that pop of turquoise inside is Sherwin Williams Larchmere.  I pulled out the teal from the drapes and knew that adding it in the closet would make this room even more fun.
Above the closet, I added these 3 plates that I've had forever.  The colors were too perfect in here.
These shelves are going to keep me organized after buying all the baskets and boxes from Ikea that go in the cubbies.  I think after I get them labeled, it will really keep me on task. I'm going to use my Cameo machine to label all of these with cute little labels.  Always wanted to do that!  Every bin will hold something different, from paint chip samples, to paint supplies, plenty of room to store things out of sight.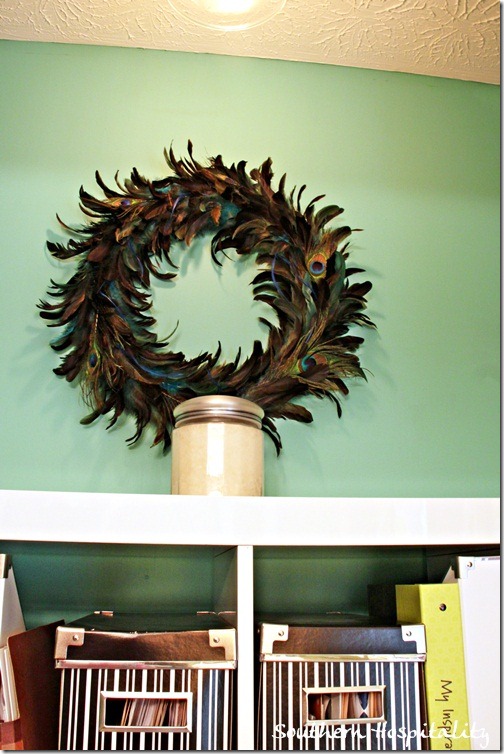 Peacock wreath came from Kirklands.
My book collection and baskets. Eventually, I'm going to add some built-ins to the downstairs den room too, there's a perfect spot for that in the corner of the room.
For now, I'm going to enjoy my organized office space and enjoy looking at the Expedit, all neat and tidy.
I would highly recommend one of these units if you have room for it.  They are very versatile.
I hung my 2 framed prints from the newspaper in Birmingham on either side of the closet.
And you know what?  Life is definitely beauty full!  I'm proof of that.  Smiling ear to ear in my new office.  This is where blogging central happens.
My new space feels so good and is a good reflection of me, don't you think?
Just for fun, do you remember the Olioboard mood board I designed for my office space??  Take a look at it and how amazingly like the real room it turned out to be!

Life's too short not to enjoy the spaces we live in and I plan to live mine to the max, right here in this cozy colorful office.
Thanks for stopping by today!
Don't Miss a Post, join my list!